£200,000 For A Broken Leg Injury: A Guide To Claiming Compensation
Should you suffer a broken leg through no fault of your own, you may seek legal advice about filing a compensation claim. But it pays to know what to expect. Therefore, this guide provides an example case study for a £200,000 payout for a leg fracture. We'll also be covering care claims, general damages and special damages, free compensation calculations and No Win No Fee agreements.
In the meantime, please speak to our expert team for guidance on making a claim for your broken leg. Our panel of personal injury lawyers could handle your case from that point on.
You can call 0800 408 7826, use our Live Chat or complete our contact form. Our advisors are accessible 24 hours a day, 7 days a week.
You can head to a particular section via the headings below.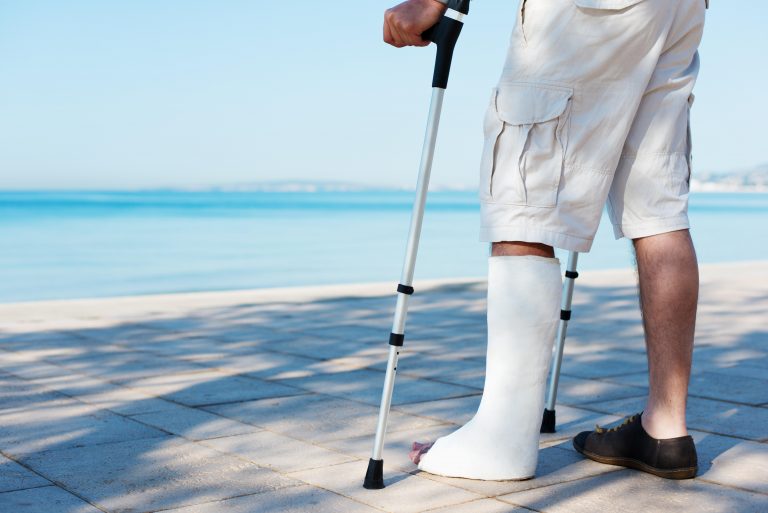 Choose A Section
A Guide To Calculating Leg Fracture Compensation Claims
So, what do you need to know about making a claim for your broken leg? This guide will take a closer look at:
What a tibia and fibula fracture is

The financial repercussions of a broken leg

Care claims

General damages and special damages

A case study of a £200,000 compensation payout

Our free compensation calculations

Benefitting from our No Win No Fee service
For all broken leg injuries, there is a time limit. You have 3 years to claim from the date you suffered your broken leg. For a child (someone aged under 18) or a victim who lacks the mental capacity to take legal action, a close relative or another appointed representative could act as their litigation friend. The litigation friend then processes the claim on their behalf.
You can contact our expert team about any of the topics that we will be covering here.
What Is A Tibia And Fibula Fracture?
The tibia and fibula are the two long bones at the front of your shin. A fracture is where a break in a bone occurs. Tibia and fibula fractures can range in severity. Stress fractures are minimal, while hairline fractures create limited tissue damage. A displaced fracture sees the bones move apart, and a comminuted fracture sees the bone shatter into pieces. The most serious example is an open or compound fracture. This is where a bone breaks through the skin, or where an injury exposes the bone.
To successfully claim negligence for a leg fracture, the following 3 criteria must be met:
Someone owed you a duty of care

But a breach in that duty of care caused an accident

And that accident resulted in you suffering a broken leg.
We can help you with three general scenarios which could result in you making a negligence claim after a broken leg accident. Number one is employers' liability (EL), which handles workplace accidents. The Health and Safety at Work etc. Act 1974 states an employer should so far as reasonably possible uphold an employees' health, safety and wellbeing. An accident at work due to a breach of this duty of care may result in a broken leg at work claim. A work injury payment could be the outcome in this situation.
Number two is public liability (PL), which covers accidents in a public place. The Occupiers' Liability Act 1957 imposes a duty of care on those in control of public spaces to prevent accidents. If someone is injured in a public place (such as an accident while shopping), it could be the result of a breach of this duty. If so, a public injury or a public accident claim is a possibility. 
And number three is a road traffic accident (RTA). Under the Highway Code, all drivers have a duty of care towards fellow motorists and road users such as pedestrians and cyclists. If your leg breaks due to a duty of care breach, a car accident claim may be possible. And if the accident leaves you with multiple injuries, you could file a multiple injury claim. 
But don't limit your options by specifically looking for a car accident lawyer. Instead, you would be better off talking to us. Once we know all the details, our panel of lawyers could handle your broken leg claim. Therefore, we suggest using our contact form or call us to make the first move.
Types Of Financial Losses From Leg Fractures
Financial losses for your broken leg may seem obvious initially. After all, medical expenses are a given for such an injury. But you should also analyse the medium and long-term financial impact. 
Consider lost earnings, both now and in the future. Think about any plans that can no longer take place, such as holidays or even weddings. And ponder any lifestyle changes that may become permanent due to your accident. 
All of these could combine to form your special damages claim. For further details, please speak to us by calling the number at the top of the page.
Can I Add A Care Claim To My Broken Leg Compensation?
A care claim could allow you to demand compensation for various things relating to your care following the accident, such as:
Extra support from relatives or friends

Nursing

General professional services including cleaning and gardening
However, it couldn't cater for any previous care you received for your leg. You can use our Live Chat and speak to our team for free, no-strings-attached advice.
How Solicitors Calculate Compensation Amounts
When you undergo an independent medical examination, the resulting medical report could shape a solicitor's compensation calculation. A full medical check diagnoses the injury, with recovery time included. And it also establishes the link between the accident and your subsequent condition. This is an important and necessary part of the process. 
Compensation is then identifiable by general damages and special damages.
General Damages
General damages relate to the pain, suffering and impact on your quality of life due to your broken leg. They focus upon the physical and psychological impact.
Special Damages
Special damages cover the financial fallout of your injury. Lost earnings, medical expenses, transportation costs and physiotherapy can make up special damages. Nursing care costs could also be a factor if you don't file a separate care claim. Want to know more? Call the number above to chat about general damages and special damages.
A Case Study: £200,000 For A Broken Leg Injury
Jonathan Cane, 32, works as an RE teacher in a secondary school in Portsmouth. He lives with his partner Lucas, and they often travel together on European excursions during the various half-term breaks. They have a pet dog named Rover. Jonathan also enjoys playing football on a weekend for an 11-a-side team.
Just before the students were set to return from the Christmas break, Jonathan was called into the school. This was to put preparations in place for the coming months leading up to GCSE examinations. While he was there, however, disaster struck. 
Jonathan was using a staircase from the headmaster's office down to the main corridor. But a faulty handrail caused Jonathan to lose his balance. He twisted his right ankle and fell down the stairs. Upon landing, Jonathan was in intense pain and realised his right leg was bent in an unusual direction.
An ambulance was quickly called, and Jonathan was rushed to the hospital. He was diagnosed with a severe leg fracture. The impact of the fall on the sharp-edged stairs had removed several layers of skin from his right leg. 
Jonathan was told that a six-month recovery window would be required. Even after that, regular X-rays and similar checks would be needed. The injury left Jonathan devastated. Firstly, he felt the accident could have been avoided if the handrail had been in a good state of repair. Secondly, he could potentially take a major financial hit while he recovered. Thirdly, he was also dismayed that his GCSE students would complete their studies without him. In addition, he wondered if he could ever play football again. Even if he did, would his abilities be impacted by the injury?
Because Lucas works as a retail manager, he tried to care for Jonathan, but this could only extend so far. Therefore, a professional nurse was brought in for the duration of his rehabilitation. Physiotherapy began around three months after the accident, and it continued until Jonathan had fully healed. Jonathan and Lucas paid for professional cleaning and gardening services. They also paid for a professional dog-walker to look after Rover while Lucas was in work. In addition, the couple were dismayed that a number of planned European visits had to be cancelled.
After seeking legal advice, Jonathan filed a compensation claim. He received £200,000 as an out-of-court settlement. This included £175,000 in general damages and £25,000 in special damages.
| Type Of General Damages | Includes: | How Much? |
| --- | --- | --- |
| Severe Leg Fracture | Costs relating to a severe leg fracture which included degloving of the injured leg | £125,000 |
| Moderately Severe Post-Traumatic Stress Disorder | The mental toll of his accident, which includes the potential end of his amateur football career | £50,000 |
| Type Of Special Damages | Includes: | How Much? |
| --- | --- | --- |
| Current Loss | Lost earnings from being unable to work for the remainder of his rehabilitation | £15,000 |
| Professional Care | Regular professional nursing care costs | £2,500 |
| Additional Care | Other professional care costs including cleaning, gardening and dog-walking | £2,500 |
| Physiotherapy | Professional recuperation treatment | £1,500 |
| Medical Expenses | Costs of medical care relating to the accident | £300 |
| Transportation Expenses | Costs of public transport to and from the hospital | £200 |
| Additional Costs | Added costs relating to the impact on the sufferer's life | £3,000 |
The case of Mr Cane is purely an example. It is based on our past experiences of handling and valuing claims and serves to illustrate how accidents can happen and how they are valued.
Get A Free Compensation Estimate On Tibia And Fibula Breaks
Personal injury claims calculators can prove relatively popular with regards to determining potential compensation amounts. However, we find that they have many limitations. That's because they provide set figures for similar scenarios and they don't factor in a victim's particular circumstances. And that's exactly what we focus on. 
We want to know about your accident, your injury and your current condition. This allows us to make a far more accurate estimation of your potential payout. Best of all, it's free, even if you choose not to pursue your claim. So, talk to our team today about calculating compensation amounts.
No Win No Fee Claim Specialists For Broken Legs
Making a No Win No Fee claim is ideal for anyone who has suffered a broken leg. If you work with one of our No Win No Fee solicitors, the benefits include:
No need to pay for legal fees up-front

And no need for legal fees before or during the case

If the claim fails, you won't need to pay any of your lawyers fees. 

And if the claim does succeed, your solicitor takes a small amount of your compensation award to cover their costs (called a success fee and capped by law)
That all means you pay nothing to your solicitor unless your case succeeds. This means minimal stress and maximum savings. So, to benefit from our No Win No Fee service, get in touch today by phone or you can use our 24/7 Live Chat.
Specialists Personal Injury Solicitors With A High Success Rate
Here, there are numerous factors to consider. A successful track record, examples of positive reviews and particular specialities are amongst those. Locality, however, should not be one. After all, our nationwide service looks after claimants all over the UK. 
What's more, our panel of personal injury lawyers works with clients who have suffered all manner of injuries. Therefore, your broken leg would certainly be familiar territory for them. Plus, we take on cases that are likely to succeed. 
Why not talk to our expert team today? Our personal injury lawyers could then handle your situation.
Call Us For Support
So, you now know a lot about broken leg claims. Now, we want to hear from you. To proceed with your claim or to receive our free legal advice and support, please get in touch by:
Remember that we are accessible 24 hours a day, 7 days a week. And as noted, there is no obligation to proceed with your case.
Additional Resources
Thank you for reading our guide on making a compensation claim for a broken leg. You can find out further details at the links below.
Read the full NHS guidance on leg injuries by clicking here.
Click here to understand how to identify broken bones.
For more information on the NHS' variety of services, you can click here.
Click here to check out our guide on rib fractures.
Click here to check out our guide on broken tooth injuries.
Guide by AR
Edited by BI