By Lewis Presley. Last Updated 20th January 2023. This guide is to help you better understand if you have a valid personal injury claim and if you're entitled to receive compensation for a broken heel. In this article, we will be discussing the varying severity of broken heel injuries, focusing especially on how you may sustain one in a road traffic accident. Our team of expert advisors are on hand 24/7 to answer any questions you have regarding your personal injury claim. We may be able to put you in touch with our panel of personal injury solicitors too.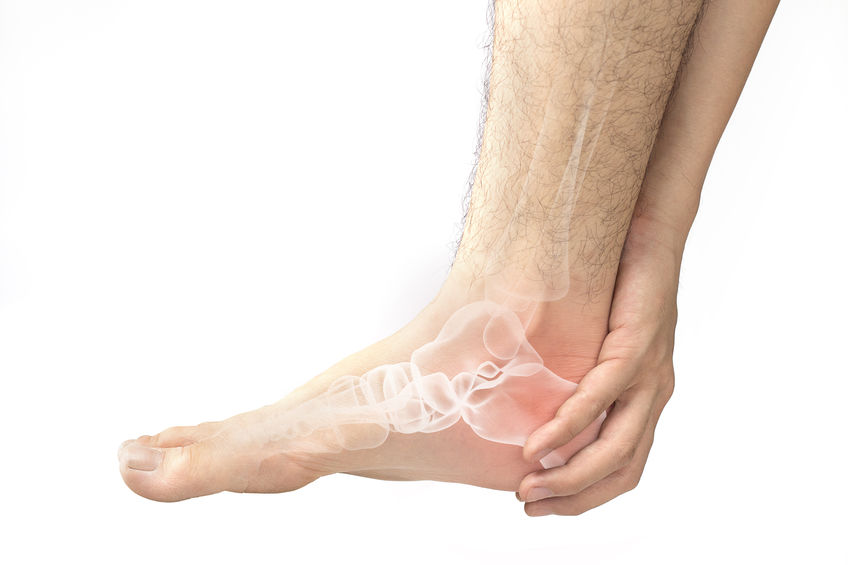 We'll also be illustrating how much it is possible to receive in compensation for a broken heel via a fictional case study. 
If you need any clarification at any time then reach out to us and we will do our best to help you.
Call us on

0800 408 7826

.

Access the live chat feature in the bottom right-hand corner.

You can

message us

directly through our website.
Read on to find out more.
Jump To A Section
A Guide On The Average Compensation For A Broken Heel
A broken heel can be quite a serious injury. They can take place due to a high-impact incident such as a car accident or a fall from a height where you land on your heel first.
The amount of compensation you could receive for an injury of this nature varies and can depend on whether your heel fully heals or not. If you're left with limited mobility as a result of the accident then it could be that your final settlement amount will be much higher.
The variables that can affect your compensation for a broken heel are so numerous that the final amount you could be eligible for — for your injuries alone — can range from roughly £12,000–£100,000. (These figures are taken from The Judicial College Guidelines, a publication solicitors may use to value injuries.)
Statistics
—

Injuries Caused By Road Traffic Accidents

During a high energy event like a car accident, you may suffer a calcaneus fracture (heel fracture). This can be very painful and potentially disabling.

In 2019, over 153,000 personal injuries were reported in road traffic accidents in Great Britain. Serious injuries, the category that broken heels would fall under, made up 25,945 of these.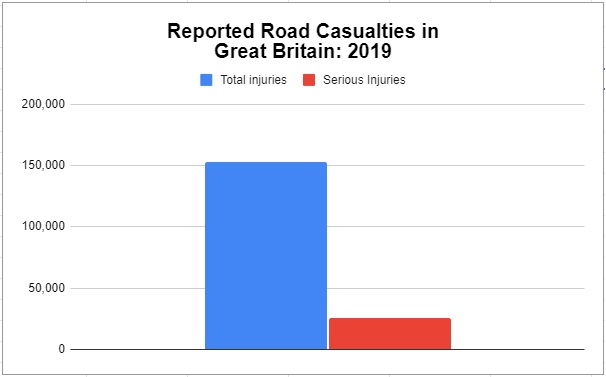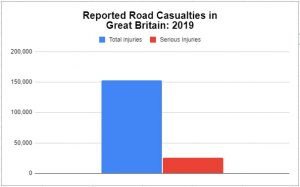 What Is A Broken Heel?
There are a number of ways in which you could injure your heel. It's important to know whether or not you have suffered a heel fracture. The main culprit for being mistaken for a heel fracture is plantar fasciitis. This injury will make it uncomfortable to put pressure on the heel. The pain will usually subside during exercise, returning while at rest.
A heel break, or a calcaneus fracture, will be extremely painful and it may be impossible for it to bear any weight at all. A snapping sound or popping sensation will often accompany an injury of this nature.
Some more severe calcaneus fractures may require surgical treatment and lead to a slightly longer recovery time. However, the recovery plan remains roughly the same. You may be required to use crutches and a protective boot when walking for at least the first six weeks. The boot can be removed while resting and sleeping.
In the following two weeks, you should be ready to reduce the usage of the boot and the crutches. Although, the NHS advises that you should still use the boot when walking longer distances.
By the eighth week, your broken heel should be almost fully healed. However, more strenuous exercises could still cause some swelling at this stage.
In week twelve of your recovery, you should be roughly back to where you were before your injury occurred. You could still have some minor lingering symptoms, but most will reduce even further over the next few months.
You may also be given various physical therapy exercises to complete during the different stages of your recovery.
The above is based on guidance from the NHS. While we can't help with medical queries, our advisors can offer free legal advice. To find out how your injury could be valued, give them a call on the number at the top of the page.
Case Study
—

£49,000 Compensation For A Broken Heel In A Road Accident

Mrs Sanchez is a primary school teacher who suffered a heel injury in a road traffic accident.

How Mrs Sanchez fractured her heel

Mrs Sanchez was driving her car on the motorway. There was a truck driving just in front of her, hauling a large amount of timber.

Suddenly, the equipment securing the wood in place loosened slightly. Long planks of wood started to tumble from the back of the truck. With traffic on either side of her, Mrs Sanchez had nowhere to go. She had begun to decrease her speed, but it was too late. The wood landed in the road and her car collided with it head-on. It brought her car to a dead stop and Mrs Sanchez felt a crunching sensation in both heels as she collided with the truck.

The rest of the traffic ground to a halt around the accident. People left their cars and went to check on Mrs Sanchez. She was conscious but in a great deal of pain. 

An ambulance was called to tend to Mrs Sanchez. When she arrived at the hospital, she received an X-ray and it was confirmed she had sustained a fracture in both heels due to the vehicle accident.

She managed to get in touch with the people who first called the ambulance, as they witnessed the events unfold and could confirm that she was not at fault for the accident. Paired with her medical evidence, which included her X-rays, she sought out legal advice to make a personal injury claim due to the accident.
What settlement was the claimant awarded?
Due to the fact that Mrs Sanchez's injury was serious and required prolonged treatment, the payout she was awarded was towards the higher end of the scale. The persistent discomfort she experienced also contributed to this amount. She was awarded £36,6500 in general damages. This amount is paid to reflect the extent of the pain and suffering that occurred as a result of the accident.
Following this amount, Mrs Sanchez was also awarded an additional sum known as special damages. This figure accounts for any financial loss or additional outgoings that take place due to the injury. This can include a variety of things from medical costs to travel expenses. We've included a table below containing Mrs Sanchez's special damages breakdown.
How this settlement breaks down
| Type of Special Damages | Includes | How Much? |
| --- | --- | --- |
| Travel Expenses | Miss Sanchez required alternative travel arrangements due to her injuries | £650 |
| Medications/Prescriptions | Prescription painkillers | £100 |
| Adaption to Property | Temporary ramps fitted to ease the entry to her house | £150 |
| Additional Care | Assistance with childcare | £300 |
| Loss of Earnings | Lost wages during absence from work | £2500 |
| Damage to Property | Car was badly damaged due to the incident | £8500 |
| Future Loss | Theatre tickets purchased for a show she was unable to attend | £150 |
The case of Mrs Sanchez is purely an example. It is based on our past experiences of handling and valuing claims and serves to illustrate how accidents can happen and how they are valued.
What Causes Heel Fractures?
In a Road Traffic Accident
As discussed in the above case study, heel fractures can be a consequence of high energy events such as car accidents. However, passenger accidents can also result in such fractures. For example, a motorist may drive carelessly and suffer a head-on collision, causing a back-seat passenger's feet to be crushed under the driver's seat.
If a passenger accident occurs, then they may file a personal injury claim against the driver if they were the ones responsible for the accident.
In a Public Place
There are many ways a heel fracture could occur in a public place. Parks, supermarkets and even pavements can have hazards that could cause you to suffer injury. For example, you could trip on poorly maintained stairs in a council-run area. 
The act of quickly twisting your ankle as you fall can result in an avulsion fracture. An avulsion fracture is when the tendon is separated from the bone due to a quick change in direction.
At Work
People who work at heights are at risk of sustaining heel injuries. In roles such as construction, you may try to land on your feet when falling from a faulty ladder. The impact as your heels hit the ground could be enough to cause a fracture.
Drivers and road users' duty of care
All road users are required by law to act in a safe and responsible manner at all times. By doing so, they stand the best chance of keeping each other safe from harm whilst using the road. The guidelines that need to be followed are listed in The Highway Code.
When road users are in breach of this duty of care
One way a road user could breach their duty of care is when they don't adhere to traffic lights. Traffic lights are in place to safely control the flow of traffic. However, some road users choose to disobey them. In 2019, 1,308 accidents were caused by traffic lights being ignored.
However you suffered a broken heel, our expert advisors could let you know if you have a valid claim. They give free legal advice with no obligation for you to proceed with our services. They're also here for you 24/7, whenever you're ready. Call on the number at the top of the page to find out more.
Broken Heel – How Your Settlement Is Calculated
When calculating your settlement for a crushed heel, solicitors will consider the severity and impact of any pain or suffering. They'll also take into account if you've experienced a loss of amenity. For example, if you like to jog, you won't be able to with a broken foot. This head of claim is known as general damages.
The Judicial College Guidelines (JCG) is used by solicitors to help calculate general damages. Therefore, we have taken figures from this publication to create the table below. It features compensation amounts relating to broken heel injuries as well as potential psychological injuries.
| Injury | Compensation Amount | Notes |
| --- | --- | --- |
| Foot Injuries (a) | £169,400 to £201,490 | Both feet are amputated because of your injury. |
| Foot Injuries (b) | £83,960 to £109,650 | One foot is amputated. |
| Very Severe Foot Injuries (c) | £83,960 to £109,650 | A substantial portion of your heel is lost. |
| Severe Foot Injuries (d) | £41,970 to £70,030 | Both heels are fractured. |
| Serious Foot Injuries (e) | £24,990 to £39,200 | Treatment may be prolonged. |
| Moderate Foot Injuries (f) | £13,740 to £24,990 | You may suffer permanent deformity. |
| Modest Foot Injuries (g) | Up to £13,740 | Ongoing symptoms include a permanent limp. |
| Moderate Psychiatric Damage Generally | £5,860 to £19,070 | The award in this bracket is influenced by the extent of which treatment is successful. |
| Less Severe Psychiatric Damage Generally | £1,540 to £5,860 | You may struggle with sleep or daily activities. |
| Less Severe Post-Traumatic Stress Disorder | £3,950 to £8,180 | Only minor symptoms continue past two years. |
The figures above should only be used as guidelines. The final personal injury settlement you could be awarded could also be influenced by special damages, which compensate you for any financial harm or expenses incurred because of your crushed heel injury.
For example, you might experience:
A loss of earnings
Specialist equipment – Your broken heel may leave you needing to pay for specialist equipment in order to get around. For example, you could need a wheelchair or crutches.
Care costs
Medical expenses
Evidence you should consider collecting to prove any special damages include:
Wage slips
Bank statements
Receipts
Invoices
Speak with us at any time to find out if you could benefit from working with an expert solicitor from our panel. They'll be able to offer a more accurate value of your fractured heel compensation claim. You won't be obligated to continue using our services after your free consultation either.
How You Could Get Free Legal Advice
If you feel that you are owed compensation for a broken heel then we may be able to help and offer free legal advice. Our valuation service will give you an accurate estimate of how much you could stand to receive.
The more we know about how your injury happened, and any lasting effects, then the more accurately we will be able to assist you. Unlike a personal injury calculator, our expert advisors will ask you follow-up questions instead of just landing you with a vague, often inaccurate, figure. 
Our panel of personal injury solicitors are ready to help too. If our advisors believe you have a valid claim, they can put you in touch.
No Win No Fee Compensation For A Broken Heel
We can help you to pursue your claim under a No Win No Fee agreement, which our panel of personal injury solicitors can offer. This conditional arrangement means that you won't need to cover any solicitor costs until the conclusion of a winning case. Should your case be unsuccessful then you won't be responsible for any solicitor fees accrued.
Other possible benefits include:
No ongoing solicitor fees during the case.

No payment of solicitor fees until you receive your compensation. 

Legal support throughout your claim. 

Solicitor representation in the unlikely event that the case goes to court.
Should you win your No Win No Fee case, the solicitor's payment will be covered by a legally capped percentage from your final settlement amount.
Talk To Our Team Today
Start your claim for compensation for a broken heel today. Across Great Britain, we are continually helping people in their legal battles under a No Win No Fee agreement.
Our team of advisors are ready and waiting and could put you in touch with an expert from our panel of personal injury solicitors.
Get in touch with us in any of these three ways:
    Our telephone number is

0800 408 7826

.

    Talk to us using the live chat window in the bottom right-hand corner.

   

 

Message us

through our website.
Related Case Studies And Guides
Here are some additional resources for you to read
Broken Heel Injury Claim FAQs
Can you claim for another person?
Yes. If the injured party is incapacitated or underage then you can pursue their claim for them. You would be known as a litigation friend.
How much time do I have to make a claim?
From the date of the accident, you have three years to make a personal injury claim. You also have three years from the date you are made aware of the accident at least contributing to any injury sustained, which could be later than the date the actual accident took place. 
The latter could be a much more difficult case to win should you go over the initial window. You must have legitimate evidence to prove you were made aware of the damage at a date later than the actual accident.
How long do compensation claims take?
Each case is different, so it's difficult to know how long the process may take for your claim. However, once the case has been settled, the money is often received by the claimant in around 2–4 weeks.
Will I have to go to court?
Some estimate that only around 5% of personal injury cases actually end up going to court. The vast majority of defendants will pay a final settlement before a trial takes place.
Written by EL
Checked by TH