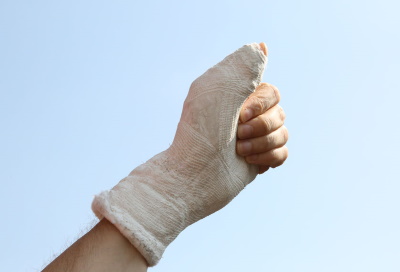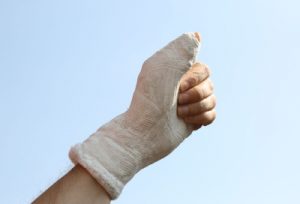 By Marlon Harewood. Last Updated 20th January 2023. When it comes to payouts for accidents that were not your fault, what compensation for broken thumb injuries is possible? Perhaps you've broken or torn your thumb in a public place because of the negligence of someone else? Are you looking to see what it could be worth? This article is designed to help you in your search for personal injury compensation.
A thumb injury can be very painful and cause a huge amount of inconvenience. The repercussions could disrupt every aspect of your daily life, preventing you from working properly and creating a dent in your income. Who picks up the bills for an accident you did nothing to cause? We explain how a No Win No Lawyer could help and what steps you can take to give yourself the best chance of winning damages.
To see how a solicitor could help you receive the maximum compensation on a No Win No Fee basis, speak to our personal injury claims team for a free initial consultation right now. You can:
Jump To A Section
Broken Thumb – The Claims Process
There are many scenarios in which you are owed a duty of care. This includes in public, your workplace and on the roads. Generally, the duty of care is to take steps to reduce the risk of harm to you.
For example, your employer must take all reasonably practicable steps to ensure your safety whilst in the workplace. This could include providing PPE, performing regular risk assessments, and ensuring any hazards are dealt with in due time.
If your thumb had been broken because this duty of care was breached, then you could be eligible to make a claim for compensation.
The rest of this guide goes into more detail about this responsibility, explaining the areas in which it can apply and when you could be eligible to make a claim. We will also explain how compensation can be calculated for an injury, and what could be included in this calculation.
Our advisers are available to speak with you at any time and can guide you through what you could do if you had suffered from a broken thumb and were eligible to make a claim. If you would like to receive a free evaluation of your eligibility to claim, then please reach out to one of our trained professionals for free.
What Is A Broken Thumb Injury?
The thumb has two main bones called the distal phalange and proximal phalange. While fractures could occur within the thumb, the thumb could also suffer a dislocation. A thumb injury can occur when a force or impact pushes the thumb in an unnatural direction, crushes the bones or both. Symptoms can include:
A sudden severe localised pain
Protruding bone (in severe fractures)
Restricted or no movement of thumb/hand
Acute tenderness and swelling
A misshapen appearance
Coldness or numbness
Nausea and faintness
A crunching noise or sensation
A thumb injury will make itself known in no uncertain terms. Our digits are particularly sensitive and any injury to this part of the hand would require immediate medical attention. The NHS provide useful information on the best course of action for broken thumb treatment and what to do if you have just suffered a broken thumb injury whilst out and about.
The NHS A&E department would probably start by taking a broken thumb x-ray and seeing the extent of the injury. The nurse or doctor may attempt to straighten the finger and place it in a splint or cast. There may be a tetanus shot required or antibiotics to prevent infection.
The nature of the thumb is such that it plays an integral role in gripping and most manual dexterity, so it's possible that the hand will have severely limited use until after the thumb has healed. After treatment, the recovery period can vary from weeks to months, possibly longer if you factor in physiotherapy or rehabilitation timescales.
Case Study – £19,000 Compensation For Broken Thumb Injuries
Mr Blake only needed a couple of items in the supermarket and went in during his lunch break from work. As he walked along one of the aisles, there was an unattended spillage of vegetable or olive oil.
Concentrating on making his selection, Mr Blake who did not see the wet patch, slipped and landed badly, fracturing his right-hand thumb as he attempted to break his fall.
After receiving medical treatment, he was told that he had fractured his thumb. It was his dominant hand which meant he had to attempt all the usual tasks with his left hand.
This in itself was awkward for him and greatly slowed his ability to cope with normal demands. Frustrated, he started to notice a slipping in standards in his life that was distressing.
The Decision To Sue
After a period of trying to cope like this, Mr Blake decided to see what his legal options might be. He knew that an unattended patch of vegetable oil was a hazard in a public place. He also knew that there was a very strong likelihood that the accident would not have happened if the spillage had been properly attended to. This causation formed the basis of his claim.
After reaching out to a No Win No Fee lawyer, he was able to get a good working idea of the compensation for broken thumb injury amounts possible. His personal injury solicitor explained how all the financial 'knock-on' effects of the injuries could be calculated. Things such as time off work and physiotherapy costs. The owner of the supermarket could be liable for these costs.
Mr Blake's public liability claim was successful. Importantly, he was awarded £19,000 for general and special damages. The table below shows the break down of these damages which make up his compensation.
General damages
How much?
Special damages
How much?
The JCG give a guide award bracket of between £11,820 - £15,740 for symptoms and
problems similar to Mr Blake's injuries
£15,500
Unable to work
£2,500
Care costs
£750
Travel costs to work and hospital as he was unable to drive
£100
Help around the home, ; cleaner, cook, gardener, child care etc.
£250
TOTAL
£19,100
It's important to note that our case study is just a typical example of the claims valuation process and in reality, each case varies. It demonstrates the scope of what is claimable with the right evidence and how an experienced  No Win No Fee lawyer can interpret your circumstances to your best advantage.
How Could You Suffer A Broken Thumb In A Public Place?
As we go about a typical day, we are perhaps not considering personal safety at the forefront of our thoughts. We expect publicly accessible environments to be both reasonably safe and safely run. The law supports us in this assumption.
Under The Occupiers' Liability Act 1957 anyone who operates a public area has an applied duty of care to the safety and wellbeing of all visitors or users. Virtually every area that is open to the public is obliged under this law to create the safest possible environment. With this in mind, they should:
Keep safety at the forefront of all operations
Create a consistent atmosphere of safety
Resist allowing unsafe practices on their premises
Properly train staff
Warn in advance of any unavoidable risks (low ceilings, steep stairs etc)
Provide adequate signage about risk
Maintain the highest food and hygiene standards
State clearly (in advance, ideally) if these are responsibilities they do not wish to assume (disclaimers, 'at your own risk' signs etc)
Those in control of public places run the risks of damage to their reputation as well as serious penalties for breaching this duty of care. The basis for your compensation for a broken thumb injury will hinge on your ability to prove this duty was ignored.
It's important to note that there are limits to this lawful expectation. We are also obliged to take as much personal care to avoid an accident when frequenting places or using facilities.
Calculating The Average Compensation For Broken Thumb Injuries
General damages are the first calculation your No Win No Fee solicitor can make for you. They do this by taking the results of an independent medical examination and cross-referencing your injuries with those in the Judicial College Guidelines. This publication lists potential award amount brackets for a full-body array of injuries. The idea is to standardise (as much as possible) the effects of an injury that are difficult to accurately quantify, such as:
The pain and suffering caused
Any emotional or psychological impacts
The long-term health consequences
Damage to personal relationships
Any detriment to the quality or amenity of your life as it was before
An independent medical assessment is also the ideal opportunity to rule out any suggestion of injuries coming from a prior health condition or some other event. This is important, as it closes off the chance for your defendant to minimise or deny responsibility for your injuries.
How Do You Calculate Special Damages?
These are amounts that you have identified as being costs to you personally as a result of the injuries.
As long as you can demonstrate that these amounts had to be paid in your efforts to deal with the injuries, you can have them built into the overall claim. Potentially winning them back from the defendant in a successful personal injury claim. Special damages cover a surprisingly wide range of monetary losses, some examples are:
Any loss or damage to your income, both present and future
The cost of needing someone to care for you (perform domestic tasks etc)
Travel expenses to work or hospital
Counselling costs for shock or trauma
Physiotherapy
Remedial treatment
Painkillers or medical equipment needed
Scar damage repair – cosmetic help
Childcare costs
Pet care (dog walking etc)
Impact on pensions or work attendance bonus
Damage to hobbies, forfeited deposits on night classes
Missed holidays
In short, a skilled No Win No Fee lawyer will be able to recognise all the many hidden expenses that your injuries have created.
If the failure on the part of another to prevent injury caused you harm in a public place then call our advisors to have your case assessed for free. A good No Win No Fee lawyer can navigate your claim for compensation and help you arrive at a figure that truly reflects the amount you are due.
How Do I Get Free Legal Advice About Making A Claim?
There are three main points that it's important to establish at the beginning of your compensation for a thumb injury claim:
Was the accident unavoidable?
Were the circumstances that caused it preventable and the responsibility of others?
Did I suffer actual harm as a result?
When you have satisfied these points to yourself, you're in a good position to use the services of a No Win No Fee lawyer. When you get in touch with us, you will speak with a trained advisor. They may ask what evidence you have to support your claims. When they assess your case this will be free and if your case looks set to be awarded compensation they may ask if you would like to be connected to a personal injury solicitor.
The initial consultation is free and you can start the process right now simply by calling the number above or emailing us. If you feel sure that you fell victim to an accident that should not have happened, get in touch. The more information you can give us, the greater level of assistance with your claim we could offer.
No Win No Fee Compensation Claims For Broken Thumb Injuries
Deciding whether to make a claim can often be made all that more difficult when people factor in the cost of hiring a solicitor. Although personal injury claims do not by law need solicitors to represent them, they can offer many benefits. We always advise claimants to use No Win No Fee solicitors.
When working with a solicitor that offers No Win No Fee terms the contract will usually state;
There are no fees to pay upfront to hire your solicitor
As your claim develops, there are still no fees due to the solicitor
a case that does not succeed requires no payment at all – to the solicitor
Compensation for broken thumb injury claims that win means you pay a 'success fee' to your solicitors. This is a small capped percentage of the overall settlement amount.
The bulk of the award does to you
It's also important to bear in mind that the solicitors will be particularly focused on your case as they have a vested interest in achieving the best result.  Speak to our team today to see how your claim could be valued.
Get Free Legal Advice From Our Team
Thank you for taking the time to read this guide on compensation for broken thumb injuries. We hope that the information in it will be useful to your case. If you require any details or clarity on the topics we've discussed, then please do not hesitate to get in touch. We're happy to help. You can:
Case Study Resources
If you are considering starting an accident in a public place claim or suffered a slip, trip and fall on public transport, statistics are available to offer more information.
Broken thumb NHS treatments are explored in detail and you can read about how to prevent potential injury or making an injury worse.
Check out this guide for broken teeth compensation calculations.
And finally, why not look at our guide on broken leg injury claims.
We also have some other guides that you may find useful:
FAQs in Broken Thumb Injuries
How long do I have to claim?
There is a three-year time limit for launching personal injury claims. There are exceptions. It's important to act as promptly as you feel able. A personal injury lawyer can help with this.
Do I have to go to court?
Oftentimes cases are settled before the requirement to go to court. If your personal injury solicitor can agree on an amount with the defendant that is considered fair and appropriate on both sides, there's no need to take it before a judge.
Will I need to meet my solicitor in person?
No. Thanks to the internet, it's possible to receive high-quality legal representation remotely from lawyers who practice all over the country. If it goes to court you will meet, obviously but otherwise, much can be done through various communications techniques.
Can I get an early payout? 
Yes, sometimes. If your defendant agrees that they were liable for your injuries and they accept your losses, the settlement amount can be sooner rather than later.
Page by FT
Editor LN