By Lewis Presley. Last Updated 15th December 2022. If you have suffered a broken foot injury because of negligent behaviour by another party, then you may be able to claim compensation. If you have strong grounds to make a foot injury claim, then Compensation Calculator UK can offer free advice if you get in touch. Our advisors may even be able to connect you with our panel of personal injury solicitors. They cover all areas of the country, helping represent people in cases such as foot injury claims.
There are various types of accidents that can cause foot injuries. They can be the result of an accident at work, a road traffic accident or an accident in a public place. Our panel of solicitors have handled many successful foot injury claims before and they may potentially be able to support yours.
Below is a case study which is purely an example but is based on past cases handled by our panel of personal injury lawyers. We hope it sheds some light on the claims process.
If you have any questions that arise when reading this guide or if you would like to make a claim for a broken foot, you can begin by contacting us today on 0800 408 7826. We've available 24/7 to discuss your situation with no obligation to proceed.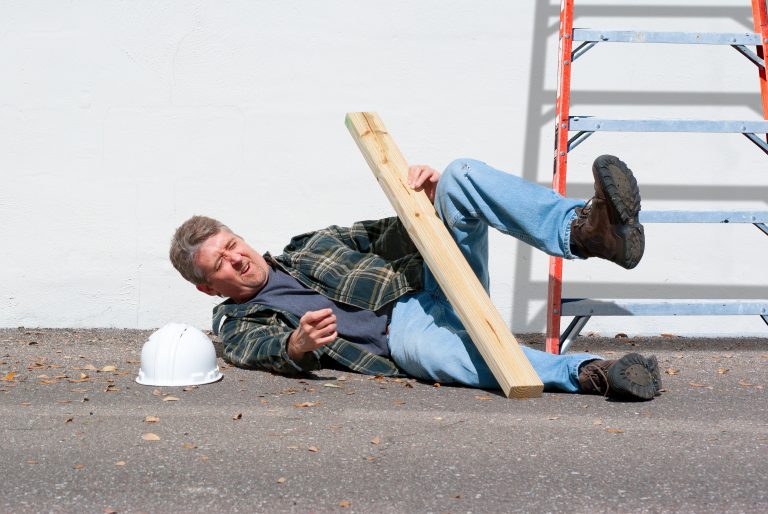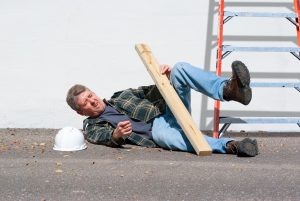 Select A Section
A Guide To Calculate Broken Foot Compensation Claims
The Labour Force Survey, published through the HSE, found that over 690,000 people sustained injuries at work in 2019/20, many of which could have involved broken ankles or foot injuries. In this article, we'll explain how to identify a broken foot injury. We'll discuss what a personal injury solicitor could obtain for you in compensation if this happened either as a workplace accident, an accident in a public place or as a result of the reckless driving of someone else.
A successful personal injury claim hinges on proof that the defendant was in breach of the lawful 'duty of care' that they owed to you, so we'll look at the legislation that binds them to that. Also, we will explain the process of valuing compensation amounts, followed by a case study to illustrate a typical scenario involving a serious foot injury.
At the end of this article, we'll explain how we can help you calculate your own compensation, and how you can take advantage of our No Win No Fee service. Finally, we look at where to find the best lawyers to handle your claim for a foot fracture at work, or as a public liability claim anywhere else.
What Are Metatarsal Fractures?
A metatarsal fracture is a break or hairline crack to any of the 26 bones in the foot. An injury like this usually happens as a result of impact with a heavy object or repeated strain on a certain part of the foot. It can also happen when a person twists their ankle.
Foot injuries are very painful given the necessity to use our feet so much, and multiple injuries can require a healing time of 4 – 6 weeks, or longer depending on severity. For more information on feet and toe injuries visit the NHS website.
After the shock of your accident has subsided, there are three crucial points to establishing negligence and blame in your broken foot claim. These are:
That the defendant owed you a duty of care

This duty was breached, leading to an accident

As a result of that accident, you suffered an injury
We're able to assist with claims against employers (employer's liability claims) against bodies in control of public spaces (public liability claims) and those harmed in road traffic accidents. Let's consider the duty of care in each type of case.
Your employer is required by law to uphold a 'duty of care' under the

Health and Safety at Work etc. Act 1974

to ensure their employees are safe and free of the risk of harm at work, so far as it is reasonably possible. Were your employers fully compliant with this? Did they breach their duty to you?

Likewise, those in control of public places have a duty of care under the

Occupiers' Liability Act 1957

which outlines precisely the expectations made upon them.

Lastly, in Road Traffic Accidents or RTA's, all other road users, irrespective of age or experience have a duty of care as described in the Highway Code. This applies to everyone on the roads and if your broken foot was the fault of someone else here, you could make a claim.
Financial Losses From Broken Feet
Given their crucial importance in body function, it's almost certain you will suffer a financial impact from a broken foot. Serious foot injuries can make every movement very painful and learning to use crutches or even a wheelchair can be a massive upheaval.
The implications of this injury may mean that you cannot go to work, use your home properly, drive, look after children or function at anything near normal ability in your daily life for some time. A double foot injury is a very serious incapacitation that will undoubtedly have a financial impact.
At this point, a lawyer handling your claim for a broken foot will explore special damages with you. An umbrella term for all the various financial expenses you might incur, this is a way to ensure you are restored to the financial position you were in before the accident, as well as taking into account any future financial repercussions of the injury.
Broken Feet – Claim time Limits
Claims for foot injury compensation payouts in the UK must be started within the time limit set by the Limitation Act 1980. This will usually be three years from the date of the accident that caused your broken feet. However, the time limit could be suspended in certain circumstances. These include:
If a claimant suffered broken feet due to negligence before the age of 18. The time limit starts when the person turns 18, giving them three years until their 21st birthday to start a broken feet claim. While the time limit is suspended, a litigation friend could begin a broken feet claim on their behalf.
The time limit is also suspended for claimants who lack the mental capacity to start a broken feet claim themselves. Should they regain their mental capacity, they will have three years from that date to start a claim for a foot injury. However, during the time limit suspension, a litigation friend could start their broken feet claim on their behalf.
Call our advisors to learn more about time limits when seeking foot injury compensation payouts.
We Can Calculate Compensation Amounts
In order to prove a personal injury claim, it's always necessary to have a medical assessment. The object of this is for a medical professional to establish that the injuries you are suffering were a direct result of the accident and not caused by some underlying or pre-existing condition. Once this has been satisfied there are two types, or 'heads of claim' you can access.
General damages
General damages are designed to account for the physical pain, psychological suffering and the detrimental impact the injury has had on your life.
An organisation that provides guidance on compensation awards called the Judicial College offers a set of guidelines on the potential pay-outs in general damages' for a broken foot claim.
According to them, a severe injury to both feet, or particularly very bad injury to one, can have a potential payout bracket between £40,000 to £65,000. This applies to a foot injury that includes life-altering consequences and permanent damage.
Special damages
Special damages cast a wider net and allow you to really consider the financial impact of your accident. The types of costs you can apply for under special damages are:
Loss of earnings

Medical expenses such as medications

Travel costs to hospital appointments and physiotherapy

The cost of any care
It's important to note that you can claim under both, so under the correct circumstances, even a simple injury to the foot could result in substantial damages.
Average Settlement For A Foot Injury
As discussed in previous sections, broken foot injury lawsuit settlements can be made up of general and special damages. This is part of why we cannot provide an average settlement for a foot injury, as every case is assessed on an individual basis.
In the table below, you can find bracketed fractured foot settlements, as well as figures for other foot injuries. These have been taken from the April 2022 update of the Judicial College Guidelines (JCG). Legal professionals use the JCG to help them value general damages in claims.
| Injury Description | Compensation Bracket |
| --- | --- |
| Amputation of Both Feet | £169,400 to £201,490 |
| Amputation of One Foot | £83,960 to £109,650 |
| Very Severe Foot Injury | £83,960 to £109,650 |
| Severe Foot Injury | £41,970 to £70,030 |
| Serious Foot Injury | £24,990 to £39,200 |
| Moderate Foot Injury | £13,740 to £24,990 |
| Modest Foot Injury | Up to £13,740 |
| Amputation of All Toes | £36,520 to £56,080 |
| Amputation of the Great Toe | In the region of £31,310 |
| Severe Toe Injuries | £13,740 to £21,070 |
| Serious Toe Injuries | £9,600 to £13,740 |
| Moderate Toe Injuries | Up to £9,600 |
Please remember that the figures in our table above are only intended to be used as guidelines, and the final settlement you may receive will also be influenced by any special damages. An expert solicitor from our panel could work out an estimate of your final award amount.
To seek advice from our panel of solicitors, speak to our advisors first, and they can verify if you have an eligible claim. This service is available for free.
£80,000 Case Study: Foot Fracture Compensation Payouts
Peter had worked at the brewery for about 3 years and was in charge of quality control on the factory floor. Each day he was required to spot check random kegs of lager and beer to ensure that they met the standards to go on to distribution. It was a fairly fast-paced environment and it was important that the machinery and conveyor belts were maintained well to keep things moving.
On the day of his accident, the brewery was working at full capacity to meet a large order. A few of his colleagues had raised concerns that working at this capacity would cause problems and that trying to process too many of the 60kg metal barrels would risk overloading the system. Management told them to press ahead anyway.
Sure enough, the conveyor belt malfunctioned and a steel barrel rolled off, landing directly on the bridge of both Peter's feet, crushing the metatarsal bones in several places.
After the medical assessment, it was determined that Peter would need at least 3 months off work. He was confined to a wheelchair for a month with broken foot 'boots' and crutches required for the majority of his rehabilitation. With his life turned upside-down, Peter considered his options with a No Win No Fee lawyer.
With both witness statements and onsite CCTV footage, Peter's lawyer was easily able to prove that the management had been in breach of their care of duty by insisting that the machinery be overloaded to meet this order, which in turn endangered the welfare of their workers.
Peter's case was successfully settled in his favour and he won £80,000 in compensation. In addition to general damages, the amount reflected his loss of earnings, medical costs and the pain and suffering inflicted due to this accident as follows:
General damages
Special damages
Severe, life-altering injuries to one or both feet have a potential compensation award of between £40,000 - £65,000 according to the Judicial College Guidelines.

In Peter's case, he was awarded £65,000.
Loss of earnings for 3 months - £9,000
Carer costs - £2,500
Rehabilitation and physiotherapy - £2,000
Travel costs - £500
Special modifications and use of wheelchair/crutches - £1,000
The case of Peter is purely an example, but it illustrates the scope for much wider-ranging damages when you consult a personal injury lawyer. If you feel that an accident was preventable at work or in any public space, contact our team today and discuss your broken foot claim with them.
Call For A Free Compensation Estimate
The calculations above are based on the guidelines provided by the Judicial College but it's important to note that personal injury compensation calculators can easily generate misleading figures that may, in fact, be underestimating the potential payout to you. You might be entitled to more.
It's always advisable to speak to knowledgeable experts like our team who can assess your broken foot claim value and advise you on what payout you could recover. Every caller receives totally free, legal advice and support during our no-obligation consultation.
You Can Use No Win No Fee Agreements
No Win No Fee claims are designed to help people access the justice and compensation they deserve for their foot injury at no upfront cost to them. This can be particularly helpful when it comes to fractured foot injuries, as mobility issues are immediate and expensive. The maximum compensation possible will go a long way to help with this.
Essentially, if your case does not succeed, you will not have to pay any of your solicitors fees. Under such an agreement, you won't have to pay any upfront costs, nor any costs while the case is ongoing.
If your case is successful, your personal injury lawyer will seek a nominal fee called a 'success fee' (capped by law) which is deducted only after the compensation has been won, leaving the bulk of the money for you.
Where Are The Top Quality Personal Injury Lawyers?
The precise location of a solicitor is no longer important thanks to the internet. Google searches will generate thousands of personal injury firms to choose from, so how do you find the right one for your broken foot case? We recommend that you read reviews. They give great 'first hand' information about a firm. Specifically, look out for the following:
See how quickly the case was settled for other claimants

How well did the solicitors communicate?

Did the client get the desired result?
Contact Our Team
Thank you for reading our guide. We hope that it's been informative and helpful in your search for how to approach a broken foot claim and sets out the advantages of using a No Win No Fee lawyer to recover the best possible compensation award. For free, legal advice and support, with no obligation to proceed,
Call our friendly team on 0800 408 7826 to discuss your case today.

Or you can talk to our 'live support' team online by using the box, bottom right.
Further References
Thank you for taking the time to read our guide about making a claim for a broken foot. Below, you can find some further resources you may find useful.
https://www.hse.gov.uk/legislation/hswa.htm
https://www.legislation.gov.uk/ukpga/Eliz2/5-6/31/contents
https://www.gov.uk/guidance/the-highway-code
https://www.nhs.uk/conditions/broken-toe/
https://www.hse.gov.uk/riddor/reportable-incidents.htm
https://www.hse.gov.uk/riddor/specified-injuries.htm
Guide by WA
Edited by BI