In this guide, we will look at the process of claiming compensation for broken jaw injuries. If you've been injured as a result of the negligence of someone who had a responsibility to ensure your safety, you may be able to claim.
This guide will examine how broken jaw accidents can occur. We will also look at how compensation claims are calculated and what an injury of this nature is.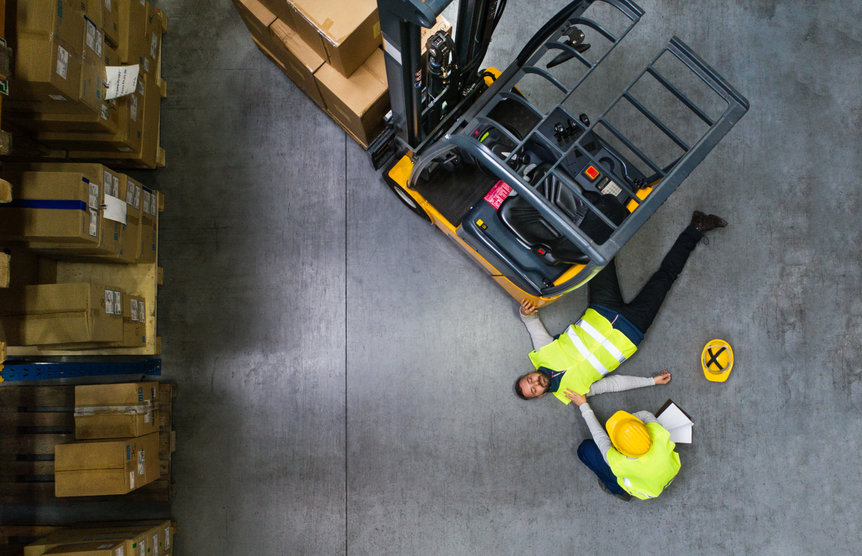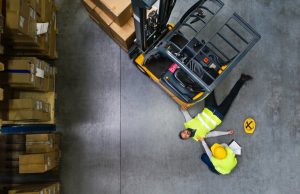 There will also be a case study in this article to indicate how much you may win due to your potential personal injury claim. It's important to note that the person named in the case study is not real. Their circumstances are however based on clients we have helped in the past.
Read on for more information. If you would like to speak with an advisor, you can:
Jump To A Section
A Guide To The Average Compensation For Broken Jaw Injuries In An Industrial Accident
Broken jaws can vary in severity. Factors that affect how severe they are and whether they could cause permanent issues include whether the break is displaced or undisplaced and the number of fractures you've sustained.
You can only claim compensation if the accident that caused you to be injured happened as the result of someone breaching the duty of care they owed you. There are a number of scenarios in which another party is responsible for ensuring your safety.
While on the road, all road users owe a duty of care to one another. This means that they are expected to act in a way that reduces the risk of others being injured. They can do this by following the guidance set out in the Highway Code.
While you're in a public place, the Occupiers' Liability Act 1957 is the legislation that outlines the duty of care that you're owed. It means that the person in control of the space needs to reduce the risk of injury to those using the space for the intended purpose.
While you're at work, your employer owes you a duty of care as per the Health and Safety at Work etc. Act 1974. This means that they need to take all reasonably practicable steps to ensure your safety while at work. If they fail to do so and you sustain a work injury as a result, you may be able to claim. This guide will focus in particular on accidents at work that result in broken jaws.
Work-Related Jaw Injuries
The Health and Safety Executive (HSE) is the regulator for workplace health and safety in Great Britain. They collect statistics relating to how common certain workplace accidents are.
Some of the statistics that they collect relate to the sites that have been injured. Below, we have included a graph showing the number of non-fatal head injuries to different areas of the head in 2020/21.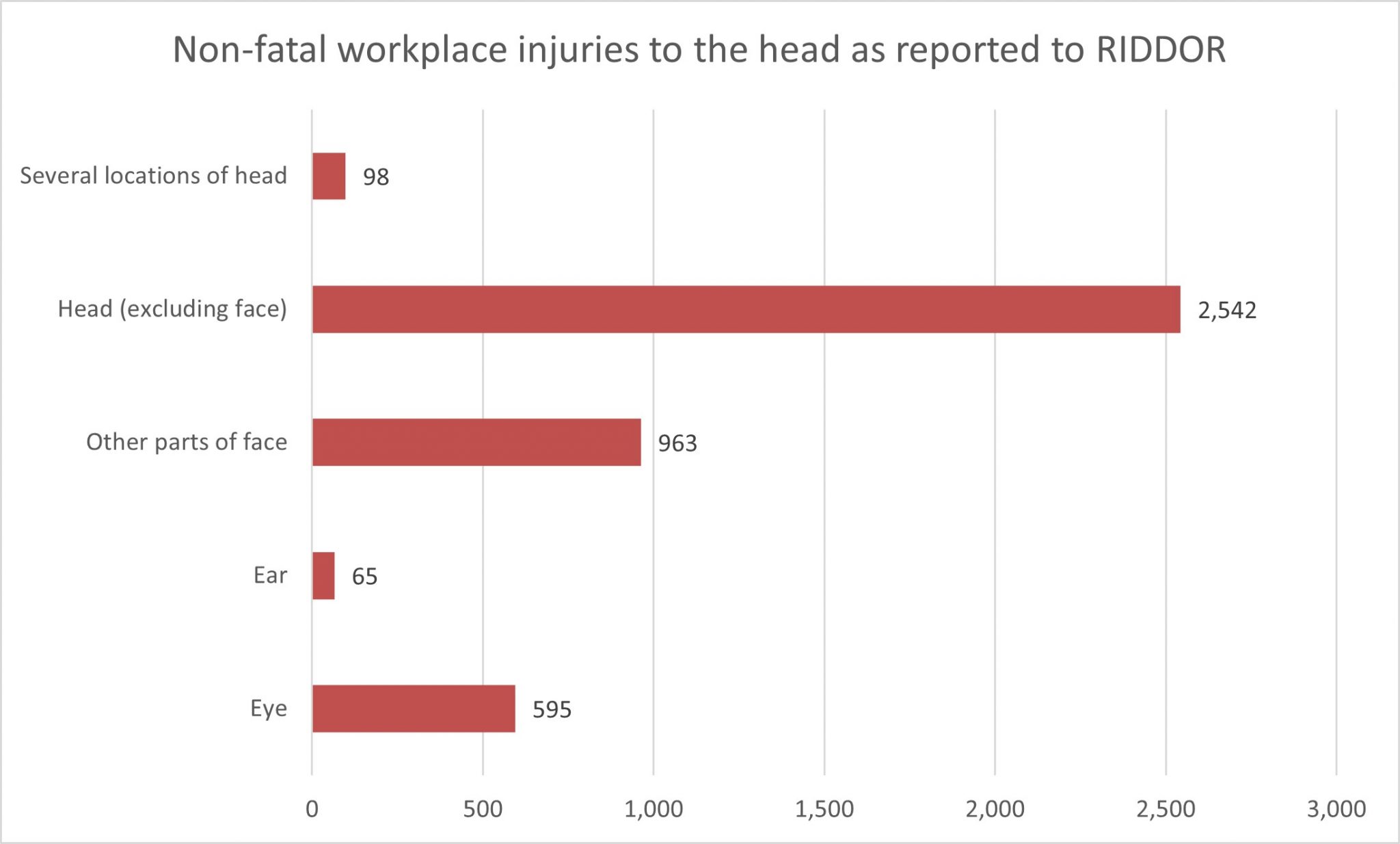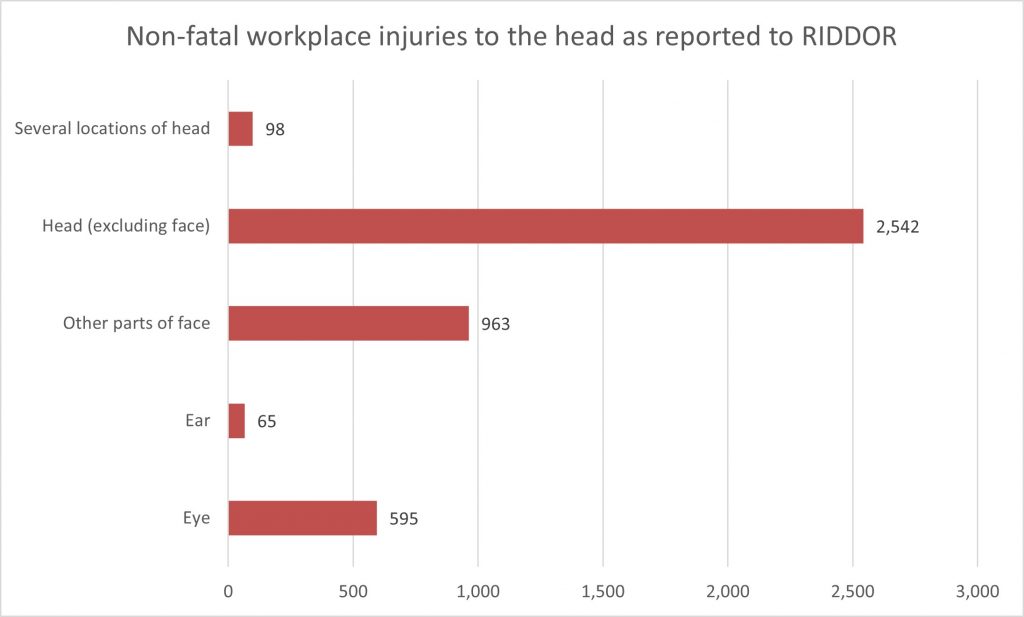 As you can see, the most common area of injury was the head excluding the face. The second most commonly injured site was the face excluding the ears and eyes. This could include the jaw.
It's important to note that these statistics do not relate to negligence but just to injuries overall. Therefore, we cannot surmise how many of these could form the basis of claims for compensation for broken jaw injuries.
What Is A Fractured Or Broken Jaw?
Broken jaw symptoms to look out for are similar to ones from other broken bone injuries. According to the NHS website, these symptoms can include pain, swelling and visible deformity.
If you do have a fractured jaw, then it's unlikely you'll be able to move it without noticeable pain. There could also be bruising present on the skin near the site of the injury.
In some cases, if you've sustained a broken jaw, then you might need surgery to help your injury heal. This involves small metal screws and plates being inserted into the jaw to hold the bones together as they heal.
You might also need wires and elastic bands around your teeth so that your jaws and teeth can be guided into the correct bite.
In some cases, if an incision is required then there is a chance that this could damage the nerves that control the muscles of your face. This is often temporary but can be a permanent effect. If you do require an incision as part of the operation, this could leave a scar.
For further free legal advice about claiming compensation for broken jaw injuries, speak with one of our advisors today. You could be connected with a No Win No Fee solicitor from our panel to work on your case.
Case Study – £36,000 Compensation For Broken Jaw Injuries In An Industrial Accident
Gregory Carson is a construction project manager who suffered a broken jaw at work after sustaining a heavy blow from construction materials to the side of his face.
How Mr Carson Broke His Jaw At Work
Mr Carson was working on the construction of a new high-rise office building. Whilst on the building site, a new employee had been given the task of utilising the crane to move some of the heavier construction materials.
The new employee in question had not been sufficiently trained to use such specialised equipment and lost control of the machinery. Mr Carson was struck in the face by the end of the pole. He immediately felt a wave of nausea and a crunching sensation in the side of his face.
Mr Carson's colleagues called for an ambulance as soon as possible and waited for its arrival. During that time, they logged the incident in the accident book for the construction site.
An x-ray was performed upon his arrival at the hospital which confirmed multiple jaw fractures. His injury required surgery to correct the placement of the bones before securing them with screws so they could heal more effectively.
A few days later, Mr Carson made sure to obtain the CCTV footage from the site of the accident. Paired with the witness statements from the official accident book, he felt prepared to reach out and seek legal advice and begin his personal injury claim for compensation.
What Settlement Was The Claimant Awarded?
Multiple fractures were present along the lower jaw and he was left with a permanent and unpleasant prickling sensation at the site of the injury known as, "paraesthesia".
Because of this and his increased risk of developing arthritis due to the fractures, he received £31,000 in general damages. This amount is designed to reflect the amount of pain and suffering experienced by the claimant.
This amount was then increased further due to the addition of special damages. Special damages aim to reimburse the claimant for any outgoings which were a direct result of their accident.
They can also factor in costs that are likely to appear in the future. We've listed how Mr Caron's special damages are broken down in the table below.
How This Settlement Breaks Down
| Type of Special Damages | Includes | How Much? |
| --- | --- | --- |
| Travel Expenses | To and from medical appointments to monitor the recovery from the injury | £500 |
| Medications/Prescriptions | Pain management and antibiotics to reduce the risk of post-surgery infection.   | £300 |
| Loss of Earnings | Money Mr Carson would have earned had he not needed to be absent for his recovery | £4500 |
| Loss of Enjoyment | Lost deposit for family party at a restaurant | £200 |
| Special Equipment | A new blender to accommodate his recommended soft diet | £75 |
The case of Mr Carson is purely an example. We've based it on our previous experiences of handling and valuing claims. We've included it to illustrate how accidents happen and the compensation that can be awarded. 
Causes Of Broken Jaw Injuries In Industrial Accidents
Below, we have included some examples of how this kind of injury could occur as the result of an industrial accident. These aren't all of the ways you could be injured in this way; if your jaw has been broken in a way that we haven't covered below, then you may still be able to claim. Get in touch with our team of advisors for more information about claiming compensation for broken jaw injuries.
Slips on the same level
If you slip and fall, this could cause a broken jaw. For example, you may slip near a table or other object and hit your jaw as you fall, fracturing it.
As we've already mentioned, your employer has a duty of care towards you. This means that they need to act in a way that ensures your safety as much as is reasonably practicable.
One of the ways that they could breach this duty of care is failing to prepare unsuitable or worn-down flooring, which could cause employees to slip or trip. Furthermore, there might be a spill in the area that was not cleaned up or signposted in a reasonable timeframe that could cause someone to fall and injure themselves
Falls from a height
Employer negligence could also cause someone to fall from a height. For example, you may have to work from a height if you work in an industry where you have to use a ladder to do your role.
As part of your employer's duty of care, they must provide you with equipment that is safe for you to use. If they know (or should have known) that a piece of equipment is faulty (for example, a ladder with a broken rung) but allow you to use it anyway, they could be considered responsible for your injuries. As a result, you may be able to claim compensation for broken jaw injuries.
Contact with moving machinery
If you work in an industry where moving machinery is used, then this could pose a risk of injury. As well as ensuring that the machinery is safe and well-maintained, it's also your employer's responsibility to ensure that everyone who uses the equipment is trained to do so.
If, for example, you were working in a plant and someone using a forklift truck was not properly trained in this, they could collide with you. This could cause you to fall and for your jaw to collide with another object or hit the floor.
Calculating Compensation For Broken Jaw Injuries In An Industrial Accident
We're often asked the question, "how much compensation will I get for a broken jaw?". It's important to note that there isn't a standard amount of compensation that you can be awarded for a broken jaw injury.
We first need to consider the part of your potential payout called, "general damages". General damages can be paid to you to compensate you for any physical or emotional pain or suffering experienced due to your fractured jaw symptoms. If your quality of life has been affected by the injury, then this might also be taken into account.
You can claim for multiple injuries that you sustain. Each injury will be compensated individually.
As part of your claim, you will usually be invited to a medical assessment. Here, it will be assessed how severe your injuries are and the independent expert will confirm that they're consistent with the incident.
Special damages is the second potential head of your claim. This is the part that compensates you for any financial costs or losses that have arisen as a direct result of your injuries.
For more information on what damages could be awarded in compensation for broken jaw injuries, please read on.
What Special Damages Could My Case Be Awarded?
Special damages can cover a wide range of costs and could affect how much compensation for a broken jaw you could receive. They are calculated on a case-by-case basis.
Some things that can be considered under special damages are loss of earnings whilst you recover and future loss of earnings, as well as the cost of any medication or treatment you need to pay for a result of your fractured jaw.
Make sure you maintain detailed records and receipts of any of these outgoing costs. If you don't, it's unlikely that they'll be considered for reimbursement.
Where To Get Free Legal Advice
You can get in touch with us at any time for free legal advice. Our advisors are here to help you on the first steps of your potential claim for compensation for broken jaw injuries.
You can also use our compensation calculator for an idea of how much you could be owed. However, please be aware that this calculator will only take into account general damages and any loss of earnings you receive; additional special damages will not be included in this calculation.
The more information we have from you, the better advice we can provide. Once we have all of the relevant information, our team of advisors will use their expertise to help you. Get in touch with us today.
No Win No Fee Compensation For Broken Jaw Injuries In An Industrial Accident
A solicitor from our panel may be able to offer representation on a No Win No Fee basis. This means that you don't need to worry about making a payment to your solicitor unless your claim is successful.
In the event that you are awarded compensation, then your solicitor will deduct a success fee from your compensation. This fee is legally capped to prevent you from being overcharged.
To find out more about the benefits of a No Win No fee agreement, speak with one of our advisors today. You could be connected with a No Win No Fee solicitor from our panel to work on your claim.
Get Free Legal Advice From Our Team
If you want to find out how much compensation for a broken jaw you could be owed, we can help. Our advisors can answer your questions regarding the relevance of your claim and offer you free legal advice about claiming compensation for broken jaw injuries.
In addition to this, they may also be able to put you in touch with a personal injury solicitor from our panel.
Get in touch with us by:
    Calling us on – 0800 408 7826
    Using the live chat function in the bottom right corner of this page
    Message us through the contact form on our website
Related Industrial Accident Case Studies
Below, we've included some additional links that you may find useful.
Find out if you're eligible to receive Statutory Sick Pay (SSP) for time you've taken off work.
The Personal Protective Equipment at Work Regulations 1992 outlines the responsibilities that your employer has towards you in relation to personal protective equipment.
There are certain reportable incidents in the workplace that must be reported to HSE. Read more about them on this page.
Our guide on claiming for a broken tooth could illustrate how much compensation you're entitled to for this kind of injury.
Read our page on hernia injuries for more information on how much compensation you could be owed.
If you've experienced a cheekbone fracture due to negligence, you could be entitled to claim. Read our page for further guidance.
Frequently Asked Questions On Industrial Accident Claims
Who Pays My Compensation?
Compensation for a personal injury claim is usually paid by the insurance company of the party deemed responsible for your accident.
Do I Have To Visit The Solicitor In Person?
You don't have to visit a personal injury solicitor in person. The process of claiming can be carried out over the phone and online; furthermore, a solicitor from our panel may be able to arrange a medical assessment locally to you.
Will My Claim Go To Court?
Only a small proportion of personal injury claims end up going to court. The vast majority of claims will be settled before this point in the process.
Thank you for reading our guide on calculating compensation for broken jaw injuries.
Page by NB
Editor RO