If you're looking for guidance on the accident at work claims process, this guide may be able to help you. You might have injured yourself whilst in the workplace and are now thinking, "can I claim for injury at work?".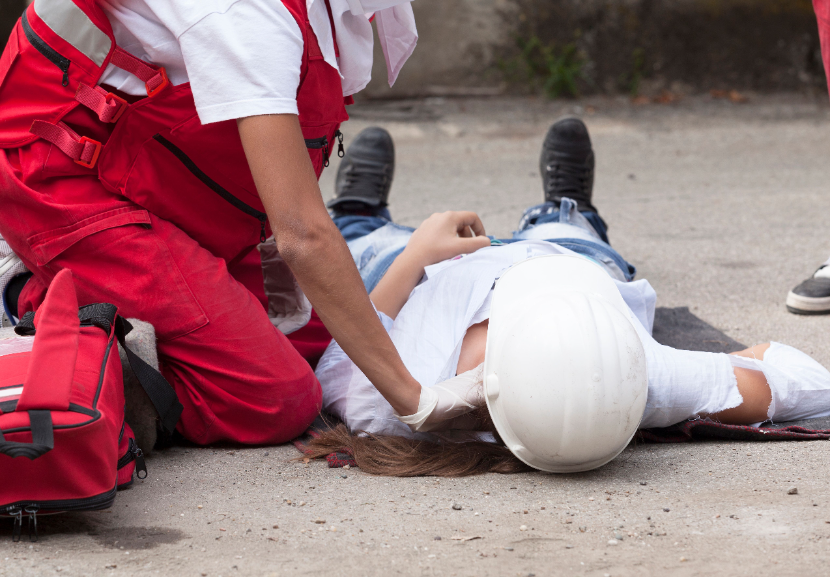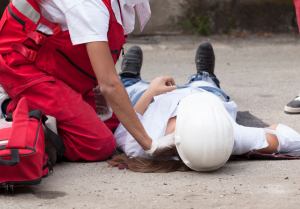 If you sustained injuries as a result of the negligence of your employer, you might be able to make a workplace accident claim. We will explore negligence in greater detail later in this guide. 
Furthermore, you could be wondering: 
After my accident at work, what should I do to help my case? 

How do I sue my employer for negligence? 

How much workplace injury compensation could I receive? 
We will aim to answer all of your queries while also looking at the key factors surrounding the process of claiming.
For instance, we will look at the time limit a claim must begin in, the legislation that sets out the duty of care employers owe, and how the accident at work solicitors from our panel can help you. 
Although if you would rather speak directly to a member of our team about your claim, you can do so by: 
Choose A Section
A Guide To Accident At Work Claims
As previously stated, you might be able to make a claim if you were injured in an accident that was caused by your employer breaching their duty of care towards you. 
However, not all injuries in the workplace will lead to a claim. If the accident was your fault or your employer did everything they reasonably could to prevent it, you would not be able to sue them. 
It is crucial to start your claim within the 3-year time limit outlined in the Limitation Act 1980. This time limit could start from the date of the accident, the date your injuries presented themselves or the date you connected your injuries to negligence. 
There are some cases where this time limit can vary, however. Our team of advisors could let you know whether one of these exceptions applies to your circumstances.
If you would like to know more information on the accident at work claims process, please get in touch with a member of our team. 
Accident At Work Claims – When Are You Eligible To Claim?
The duty of care that employers owe their employees is outlined by the Health and Safety at Work etc. Act 1974. The legislation that they must take all reasonable steps to ensure the safety of the workplace, environment, equipment and facilities without the risk of being injured. 
This is set out by law, and a failure to uphold this duty of care could see your employer liable for any injuries that occur.
Examples of scenarios that could lead to a workplace accident claim include: 
You may

slip, trip or fall

on a trailing lead that has not been covered in the office. Consequently, you fall and suffer a

wrist injury

. 

Your employer might not have given you the proper forklift training when starting your warehouse job. As a result, you crash and experience a

shoulder injury

and

hand injury

when asked to operate it. 

Your employer may not have cleared or signposted a spillage despite being aware of it. Subsequently, you slip and sustain a back injury. 
Please do not hesitate to get in touch with an advisor from our team to find out more about accident at work claims. If they feel your case is valid, they could connect you with a No Win No Fee solicitor from our panel. 
What Evidence Can Be Used In Accident At Work Claims?
Work accident claims can only be successful if, as previously explained, you can prove that you have experienced negligence at work by your employer. Negligence is a breach of duty of care that causes injury. 
One way you can support your claim is by gathering as much useful evidence as possible. This can be done by: 
Seeking medical attention – This allows you to be treated for your injuries but also generates medical records that you can use to support your case. 

Filling out the accident at work book. If you're unable to do this yourself, then a colleague could do it for you. 

Gathering footage of the incident, the scene and your injuries through CCTV or photographs where possible. 

Acquiring witnesses' details for statements to be taken at a later date 
You could also seek legal advice. Our advisors can help provide more details on the type of evidence that can be gathered to support accident at work claims.  
What Workplace Injury Compensation Could You Receive?
If your personal injury claim is successful, the accident at work claims compensation you receive may be split into two heads of claim.
Firstly, you could be awarded general damages for the physical and psychological pain and suffering you endure as a result of your injuries. 
For example, you could be awarded a payout after suffering a back injury at work. If the accident caused you to develop anxiety and post-traumatic stress disorder, then this could be taken into account alongside the physical impact of the injury when your claim is valued.  
We have drafted a table using compensation amounts from the Judicial College Guidelines (JCG), a document legal professionals use to aid them when valuing claims. 
Despite these figures also being taken from previous court settlements, they should only be used as guidance. This is because each claim is unique, and your personal injury compensation could differ depending on the factors of your case. 
| Body Part | Severity | Compensation Bracket | Details |
| --- | --- | --- | --- |
| Arm | Amputation | £240,790 to £300,000 | The amputation of both arms which reduces the injured party to considerable helplessness. |
| Arm | Permanent and Substantial Disablement | £39,170 to £59,860 | Severe damage to one or both forearms that causes continuing permanent residual disability whether functional or cosmetic. |
| Hand | Loss | £140,660 to £201,490 | Total or effective loss of both hands. |
| Hand | Serious | £55,820 to £84,570 | Serious damage to both hands which causes permanent cosmetic disability and significant loss of function. |
| Back | Severe (i) | £91,090 to £160,980 | The most serious back injuries that include damage to the spinal cord and nerve root resulting in complicated symptoms not ordinarily found in typical back injuries. |
| Leg | Amputation (iii) | £104,830 to £137,470 | Above the knee amputation of one leg. |
| Foot | Amputation | £83,960 to £109,650 | Amputation of one foot. |
| Toe | Amputation | £36,520 to £56,080 | Amputation of all toes. |
| Knee | Severe (iii) | £26,190 to £43,460 | Permanent symptoms, such as pain and discomfort and limitation of movement that require remedial surgery. |
| Neck | Serious | £24,990 to £39,200 | Serious injuries that lead to permanent pain due to traumatic arthritis or the risk of future arthritis and prolonged treatment. |
Alternatively, you could use our compensation calculator to see how much your claim is worth. Get in touch with our team today for guidance on the value of your claim. 
When Can You Receive Special Damages Compensation In Work Injury Claims?
In addition, you could receive special damages for any financial losses you sustain due to your injuries. For instance, a serious leg injury could see you unable to work for a prolonged period of time. If you suffer a loss of earnings, special damages could account for this.
This head of your claim may also cover: 
Travel expenses 

Care costs 

Medical expenses 

Home adaptations 
It is advisable to keep a record of all financial losses to be fully reimbursed for them. This can be done via receipts, invoices or bank statements, for example. 
Make A No Win No Fee Accident At Work Claim
The accident at work claims process can be a lot less daunting when you have professional legal assistance. There are also many financial benefits to claiming through accident at work solicitors; for example, they can ensure that all aspects of your claim are covered. This is important as you cannot go back and claim again if something was missed the first time. 
The solicitors from our panel could offer a Conditional Fee Agreement (CFA), which comes under the No Win No Fee umbrella. This means that you will generally not be required to pay any legal fees upfront or while your case is ongoing. 
Furthermore, if your case is lost, you will usually not have to pay any of your lawyer's fees. However, if your case is won, you will pay your solicitor a legally capped success fee. This will be subtracted from the accident at work compensation you are awarded.  
You could be able to work with a lawyer on a No Win No Fee basis; please get in contact for more details. 
Contact Us For Free To See If You Can Make An Accident At Work Claim
Our advisors are available 24 hours a day, 7 days a week to assist you with any queries you may have about accident at work claims. They can offer you a free consultation with no obligation to make a claim afterwards. 
Furthermore, if they judge you to have a valid accident at work claim, they may connect you with a solicitor from our panel. To get in touch: 
Learn More About Work Injury Claims
Here are some of our own guides relevant to work injury claims for compensation: 
We have also included some additional reading that can be of use to you: 
Thank you for reading our guide on accident at work claims. Please remember, if you still have any questions, do not hesitate to get in touch. 
Writer Beck Pratt
Publisher Fern Scott