Has your child been injured in an accident? Did this accident happen because someone breached their duty of care towards them? If so, our child injury compensation calculator could help you work out what compensation your child could be owed for their pain and suffering.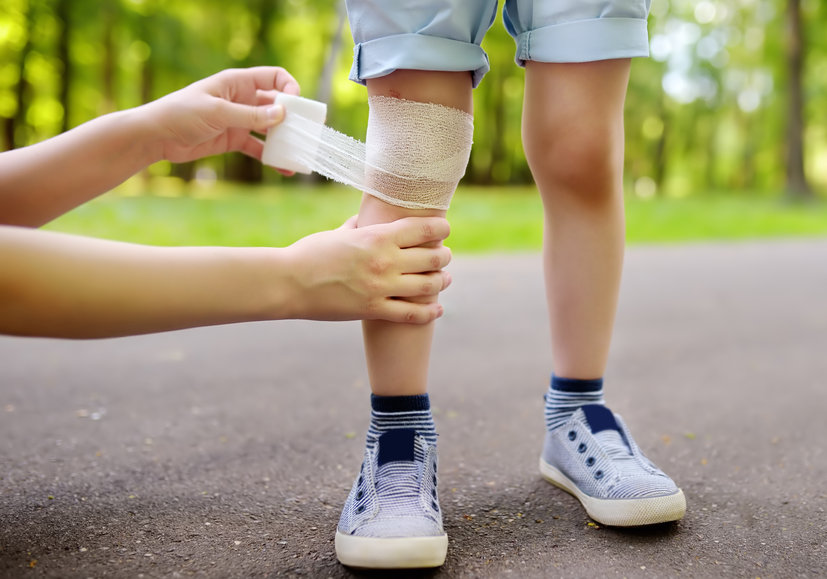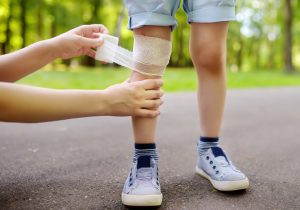 Whether the accident happened in nursery, school or out in public, if someone who was responsible for their safety breached their duty of care, you could have grounds to make a personal injury claim. Our guide will explain how to do this, so you can take steps to get compensation for your child's injury. 
Child Accident Compensation Calculator
If you still have questions after reading, you can contact our team 24/7, and they can provide you with free legal advice. They may also be able to connect you with a solicitor from our panel to represent you. 
For more information, call our team on 0800 408 7826. Otherwise, continue reading for more information on child injury claims.
Jump To A Section
A Guide To Using A Child Injury Compensation Calculator
Our guide will be looking at the different circumstances that your child may be involved in an accident resulting in injury. For example, we'll look at road traffic accidents, accidents in school or nursery and harm caused by medical negligence. Furthermore, we'll be looking at the duty of care your child is owed in a number of different circumstances and how this can be breached. 
We have also included detailed information about how to use our compensation calculator and how it works. Additionally, we will explore the types of damages you could claim as a result of your child's injury. 
This guide will also explain the benefits that a No Win No Fee agreement can offer you. We will look at how one of these agreements could help you access legal representation with no upfront costs.
We hope that you find this guide useful. However, if you have any further questions after finishing reading, you can get in touch with our team for free legal advice. 
What Is A Child Injury?
Children can suffer various injuries in different accidents. Some examples of accidents involving children might include:
Burns and scalds

Fractures 

Poisoning 

Falls from height
A child injury might cause serious implications to the child. For instance, if they break their leg, then this could cause them severe pain. While the leg is in a cast, they may be unable to participate in sports or play in the way they usually do. 
Furthermore, child injuries can cause long-term implications. For instance, a birth injury could cause a child to experience life-long brain damage that permanently impacts their quality of life.
Children under the age of 18 are not legally able to represent themselves in a claim. But this does not mean that they are not able to receive compensation.
If a child under the age of 18 suffered an injury, you could claim on their behalf by acting as a litigation friend. You would have until they're 18 to do so. After your child turns 18, they would then have 3 years to start a claim for themselves from the date of their 18th birthday. 
However, there are exceptions to these rules, so if you have any questions, you can call our team. They'll be happy to offer you further help and advice on the limitation period for a child personal injury claim.
What Expenses And Damages Could I Claim Compensation For?
The compensation your child could be awarded may be made up of two different heads of claim. These are referred to as general and special damages. General damages cover your physical and psychological suffering as well as the impact the injury has had on your quality of life. Our compensation payout calculator will give you an estimate for these. 
Special damages may also be awarded to cover past and future financial losses or expenses. For example:
Loss of earnings for the time that parents or carers have taken off work

Cost of care

Medical expenses, e.g. medication or treatment like physiotherapy that you cannot get elsewhere

Travel expenses to and from medical appointments 
Evidence is important in building a valid claim to ensure you are awarded the compensation you deserve. For general damages, you may need:
CCTV footage

Pictures of the thing that caused the accident, e.g. broken playground equipment

Police reports, if applicable 

Records of the accident in a school accident book 

Medical reports to show the injuries your child sustained
Additional evidence will be required for any special damages you may claim. For example, receipts, payslips and invoices. 
How long does it take to receive an offer of compensation?
Each claim can vary in time, and the final compensation offer you may receive will depend on whether both parties can agree on the settlement amount. If an agreement can't be made, further negotiations may be required.
Causes Of Child Accidents And Injuries
There are many causes of child accidents, and a number of injuries can be sustained as a result. However, we have provided examples of some possible accident circumstances to help you understand when you may be eligible to claim. 
If you're still unsure, you can contact our team, and they can assess whether you have a valid child injury claim. If you do, they may be able to connect you with one of our solicitors to start work on your claim right away.
Road Traffic Accidents
Road traffic accidents can affect people of all ages, and there isn't one overarching cause. However, some specific examples of how a child could be injured in a road traffic accident might include:
A child suffering a broken tooth after a car knocked into them at a pedestrian crossing, such as a toucan or pelican crossing 

Drivers speeding in an area with lots of schools around and knocking a child over as they cross the road. This could cause serious, life-changing injuries such as brain damage. 

A motorcyclist, who didn't pay attention to the road, caused a child to suffer severe soft tissue injuries by crashing into a car in which they were a passenger. 
You might be able to claim compensation for injuries your child sustained in a car accident even if the driver of the car they were travelling in was at fault. Speak to a member of our team today to find out more about claiming.
Accidents In A Children's Playground
There are approximately 40,000 injuries to children on playgrounds each year, which lead to a visit to the hospital. The Royal Society for the Prevention of Accidents (RoSPA) suggested that common causes of a playground accident include:
Poor quality equipment being installed

Playground equipment not being inspected or maintained 

Unsuitable equipment for the intended age group being provided or installed, for example, a very large climbing frame in a nursery school playground 
The responsibility of keeping public playgrounds safe for children will usually fall to the local council under the Occupiers Liability Act 1957. This states that those in control of public spaces have a duty to keep those spaces safe for members of the public to use. 
If the accident occurred on a school playground, you might still be able to claim for your child's injuries. The school also has a duty of care to regularly check that equipment isn't faulty or defective and to provide adequate supervision to reduce the risk of injury. 
Accidents At Nursery Or School
Although accidents involving children may occur even when no duty of care breach has occurred, teachers and other members of staff at the school still have a duty of care to keep your child safe. 
If they fail to do so, accidents resulting in injuries could occur. This might include:
Burns and scalds from hot taps that have no warnings on them

Poor maintenance of school grounds, e.g. fallen fences or trees that aren't repaired

A child suffering an allergic reaction to peanuts resulting from cross-contamination in the school kitchen, despite this allergy
The Occupiers' Liability Act states that the controller of a public space should be prepared for children to be less safety-conscious than adults. They should take this into account when ensuring the safety of the premises.
Slips, Trips And Falls In A Public Place
Slips and trips account for half of all reported injuries to members of the public in workplaces that allow public access. This includes places like shops, restaurants and hospitals.
For instance, you might be out shopping with your child, and someone has failed to put a wet floor sign down where there was a spill. As a result, your child could slip and break their ankle. 
A head injury could occur if there was a loose floor tile in the restaurant you were eating at. This could cause your child to trip over and hit their head on the corner of a table. 
Paediatric And Child Medical Negligence
Medical and health care professionals have a duty of care to provide an appropriate level of care. If they don't, this could inflict an unnecessary injury that could have been avoided. Breaching this duty of care is an example of medical negligence. 
For instance:
Misdiagnosis of any condition leading to worsening symptoms 

Prescribing the wrong medication

Giving a child an adult dose of medication 
It's important to note that just because your child has been harmed or their condition worsened in the course of receiving medical care doesn't mean that medical negligence occurred. For example, sometimes your doctor might misdiagnose your child's condition despite doing all they could to correctly diagnose the condition. This would not be an example of medical negligence, even if their condition worsened as a result.
Additionally, sometimes a medical professional needs to cause additional harm in the course of treating your child. For instance, if they needed an emergency operation, then the surgeon would need to cause injury in the form of an entrance wound. This would be part of an acceptable standard of care, and you would not be able to claim.
Birth Injuries And Trauma
As mentioned above, medical professionals have a responsibility to keep your child safe. This includes ensuring your baby is delivered safely in childbirth. Examples of conditions that could result from medical negligence during childbirth include:
Cerebral Palsy 

Brain injuries

Erb's palsy

Brachial plexus injuries 

Stillbirth
You could claim compensation for any birth injuries to your child that happened because the doctor or midwife breached their duty of care towards you and your child. For further information on medical negligence claims, contact our team. 
How Many Children Are Injured In Road Traffic Accidents?
The Reported Road Casualties in Great Britain: Annual Report 2019 recorded 13,574 total casualties involving children under the age of 15 in 2019. Of the 13,574 casualties, this included 39 child fatalities. 
The graph below highlights that accidents involving child pedestrians account for the highest number of fatalities in those aged 15 and under. 
The figures on child fatalities from road traffic accidents come from data released by the Department for Transport.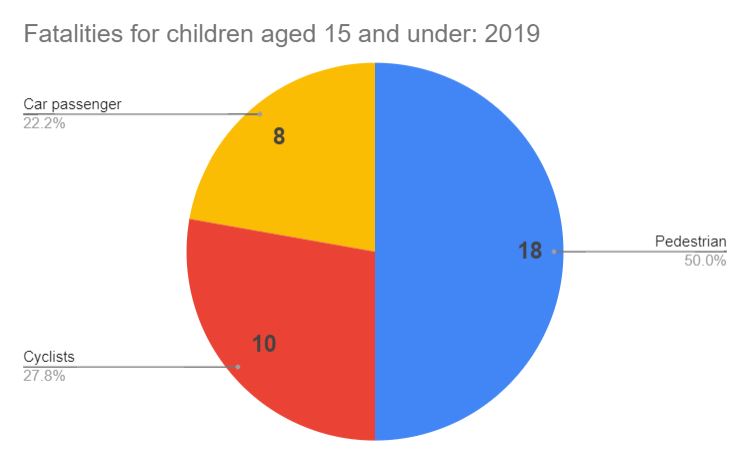 Could I Claim The Costs Of Care A Child Needs?
When you make a claim for compensation for your child's injury, the compensation may consist of two different kinds of damages. These are general and special damages.
General damages cover your child's injury and the pain and suffering it caused. Special damages cover the financial losses or expenses that you incur as a result of the injuries.
Any care costs resulting from your child's injury could be claimed under special damages. Some situations where you could claim back care costs include:
Your child sustains a long term disability, such as paralysis, which leads to you requiring adaptations to your home, e.g. stairlifts, handrails in the bathroom or wheelchair access 

You and/or your partner are unable to take time off work to care for your child after they have fractured their pelvis, so you need extra care for your child while you're working 
Other care costs you can claim for might include:
Visual aids, e.g. glasses

Hearing aids or hearing implants 

Walking aids, e.g. walking stick or wheelchair
How To Use A Child Injury Compensation Calculator
Whether you have a minor personal injury claim or you're claiming for a severe child injury, our compensation payout calculator will take this into account when calculating your overall award. 
Our calculator will be able to give you an estimate of the settlement offer you could expect to receive during the claim. However, it's important to note that you don't have to accept the first offer you receive. Instead, you can make a counteroffer. 
If you're unsure of the settlement process, a solicitor may advise during your claim. 
What Payout Could You Expect For A Child's Injury?
Our calculator provides figures for the general damages you could claim. These figures are based on amounts from the Judicial College Guidelines (JCG), which is a document legal professionals can use to value claims.
Additionally, a solicitor will usually arrange for your child to attend an additional medical assessment to assess the state of any injuries sustained. The report from the medical assessment, alongside the JCG, will help the court value your claim. 
Although the calculator can provide an estimation of the compensation you could be awarded in general damages, as well as any lost earnings, it does not include the compensation you could claim for additional special damages. 
Contact our team, and they can provide more information on what else may be added to your claim. 
Child Injury Compensation Calculator
We have created a table to use alongside our compensation calculator. The table provides guideline figures based on the JCG for specific injuries your child may have suffered. If your child's injury is not listed, don't worry; you can use our calculator to value your child's claim. 
You can also contact our team for more information if you have any problems using the personal injury calculator or table to work out how much you could claim. 
| Injury | Description | Award |
| --- | --- | --- |
| Arm | A fracture to the forearm that is simple and uncomplicated. | £6,190 to £18,020 |
| Wrist | An uncomplicated and simple Colles' fracture. | In the region of £6,970 |
| Brain | Very severe brain damage: The injured person will have little to no meaningful environmental response and will require full-time nursing care. | £264,650 to £379,100 |
| Brain | Minor brain or head injury: If there is any brain damage at all, it will be minimal. | £2,070 to £11,980 |
| Digestive system | Illness/damage resulting from non-traumatic injury (iii): Where a condition like food poisoning causes discomfort, cramps and fatigue. The injured person will be admitted to hospital for some days and the symptoms will last for weeks. A full recovery will be made within a year or two. | £3,710 to £8,950 |
| Scars | Where plastic surgery is able to reduce worst effects of the cosmetic disability. | £8,550 to £28,240 |
| Psychiatric Damage | Where the injured person has some problems related to life, education, relationships and work. | £17,900 to £51,460 |
No Win No Fee Child Injury Compensation Claim Agreements
Having a solicitor represent you can help the process of claiming run more smoothly and could maximise the amount of compensation you receive. However, having a solicitor act on your behalf could mean that you have to pay upfront or ongoing legal fees.  
Our advisors can connect you with a personal injury solicitor who could represent you on a No Win No Fee basis. This means that if they are unsuccessful with your claim, you won't pay solicitor fees. You also won't pay any upfront or ongoing fees to them. 
If they are successful, you'll pay a success fee. However, this is legally capped, and you can agree upon the fee with your solicitor before your claim begins. 
If you would like to know more about No Win No Fee agreements, speak to a member of our team today. You could be connected with one of our No Win No Fee solicitors. 
Get Legal Advice About How To Claim
We understand how daunting the process of claiming compensation on behalf of your child might seem. However, we're here to help. Our advisors are available to provide you with free legal advice 24/7. 
Furthermore, if you're ready to start your claim, our team can connect you with a personal injury solicitor who can help take you through the next steps of your claim. 
For more information, contact our team by:
Ask If We Can Help You Calculate Child Injury Compensation
If you have any issues or further questions regarding using our calculator to work out how much compensation you could claim, call our team. 
Our advisors are available to talk you through how to use the calculator; alternatively, they can estimate your claim value themselves. They can take you through the questions step by step to help provide you with an accurate estimate of your claim. 
The most important thing to remember is that we are here to help, so get in touch with our team today.
Resources And Case Studies
For further information on whether you're eligible to act as a litigation friend, see the government website for further advice. 
The NHS website provides information on children's health.
For further information on keeping children safe, see the Royal Society for the Prevention of Accidents. 
Other Personal Injury Claims Guides You Can Read
FAQs About Child Injury Compensation Claims
See below for answers to some common questions we're asked regarding child injury claims.
Can I claim compensation for my child?
If your child was injured in an accident that someone else could have prevented, you could claim child accident compensation on their behalf by acting as a litigation friend.
Can children claim damages?
The compensation award for your child could consist of general and special damages. General damages is the compensation awarded for their pain and suffering, and special damages cover any financial losses. 
What happens to children's compensation?
If your child is awarded compensation, it will be kept in an account with the Court Funds Office until they are 18 years old. After they turn 18, they can access the money, and any interest gained. 
Can parents take their child's money?
A parent or guardian who acted as a litigation friend for their child cannot access the money awarded to the child. However, they can apply to the court for early release of the money if they can show that it will benefit the child. For more information on court money for children, see the government website.  
We hope you found our guide on using our child injury compensation calculator helpful. Thank you for reading.
Page by GT
Editor RO