£40,000 For A Broken Ankle Injury: A Guide To Claiming Compensation
In this guide, we will take you through the process of making a claim for a broken ankle. If you were injured in an accident at work, a road traffic accident (RTA) or injured in a public place and suffered one or more broken ankles, we explain in a simple step by step way how to seek compensation.
We'll show you how to prove negligence and will look at an example case study with a breakdown of damages. We'll then show you the best place to find a lawyer for your personal injury claim. 
If you have suffered an injury because of the negligence of another person, you can contact our team today on 0800 408 7826 to see how you can get the justice and compensation you deserve.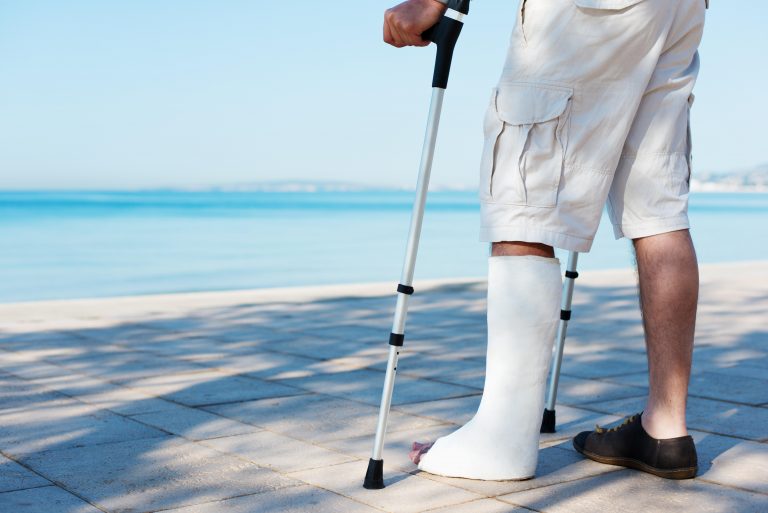 Select A Section
A Guide To Leg Injury Compensation
You can file a personal injury claim against any employer, council, private operator or fellow road user if you are able to prove that their breach of duty caused your accident. 
There are three main requirements for proving negligence, which we will look at below. We'll also discuss how to accurately establish blame, and how to identify who breached their legal 'duty of care' to you which resulted in your ankle injury. We'll also explain the two specific types or 'heads of claim' that can boost compensation to a figure like £40,000.
We'll show you a case study (merely an example) of someone who used a No Win No Fee lawyer to handle his case. We look at how the legal professional accurately valued the potential compensation and guided their client to a successful conclusion. 
Lastly, we will look at how and where to find the best personal injury lawyer for you.
What Counts As A Broken Ankle?
A broken ankle is an extremely painful injury, rendering use of that foot and a great part of the leg impossible until healed. Breaking both ankles could result in complete lack of mobility and a long period of rehabilitation requiring a wheelchair, casts or crutches. The NHS gives details about this injury and you can click here for more information. 
Government statistics indicate that 25% of accidents are caused by falling from heights with road traffic accidents accounting for a great many as well. Accidents involving broken ankles are remarkably common and it's an accident that could happen all too easily. 
When making a personal injury claim against your employer, the council or private operators, there are three main requirements to prove negligence:
A third party owed you a duty of care

This duty was breached, leading to a risk of harm

As a result of the breach, you suffered an injury
The law states that your employer has a legal responsibility to provide as safe a working environment as possible for you under The Health and Safety at Work etc Act 1974. The Act also sets out a number of measures your employer can take to ensure they uphold this duty.
The Occupiers' Liability Act 1957 states that those in control of public spaces are likewise covered by laws protecting your safety when using their premises. This includes the council and municipal areas they are responsible for such as parks and open spaces. 
Road users owe each other a duty of care as outlined in The Highway Code.  All road users have a responsibility to exercise due care and diligence to other road users and pedestrians. This responsibility applies to all road users, regardless of age or experience. The road user should also anticipate that other drivers or persons on the highway may not show this requisite level of skill, experience and care.
Our case study describes someone who claimed for a serious broken ankle injury that resulted from negligence in the workplace. Such accidents are sadly, all too common. In 2019/20, over 600,000 people suffered an injury at work.  So, if you're one of them, contact our team today to discuss your compensation options.
Calculating Financial Losses For Ankle Fractures
In addition to general damages, which are intended to compensate you for the physical pain and psychological suffering inflicted by the injury, it's possible to add special damages to your compensation package. 
These are calculated on the basis of how the accident at work and subsequent injuries financially impacted you. It takes into account past and future losses, such as loss of earnings, travel costs, carer's costs, physiotherapy and rehabilitation costs.
For more information on what you can claim, please get in touch with our friendly team.
Broken Ankle Care Claims
Multiple injuries involving one or both ankles will severely impact on your ability to function normally, the most obvious impact being difficulty walking. The NHS states that the rehabilitation period for such an injury is at least 8 – 10 weeks with a cast, plus however many weeks thereafter are required to move the foot properly and put weight on that leg.
To cope, a victim may rely on the assistance of family and friends which is described as 'gracious care' and is performed without the expectation of financial gain. 
Compensation can be claimed for the time that another person has spent looking after you. For instance, if you've had to pay for a professional carer to visit you and assist with general mobility, shopping, personal care and cleaning, these costs can form part of your compensation. The NHS estimates that carer costs can run as high as £1,500 per week.
For more information on care claims, why not get in touch with our team? They offer free advice on any aspect of the legal process.
How Lawyers Calculate Compensation
In order to prove help a claim, you need a medical assessment. The purpose of the assessment is to establish that your injuries were a direct result of your accident and not a pre-existing medical condition, a vital distinction to the strength of your case.
It's also an opportunity for the medical professional to advise you of any long-term damage and potential health issues in the future. This prognosis can have a bearing on your compensation. When calculating payouts for your broken ankle injury, your No Win No Fee lawyer looks at two types of compensation, or heads of claim:
General damages – this is compensation awarded in relation to physical and psychological injuries. The value is dependent on severity and can range anywhere from £23,000 to £36,000 for very serious breakages to the ankles. They may require fusion surgery and prolonged physiotherapy or rehabilitation with a high risk of future arthritis.

Special damages – is compensation designed to cover your financial losses stemming from the injury. Things such as lost earnings, travel expenses, and any future losses, such as if you're unable to return to work, can be taken into consideration under this head. 
A crucial part of claiming special damages is proof of these expenses, so it's important that you retain all bills, receipts and invoices. Without sufficient evidence, it will be difficult to persuade the defendant to pay.
If at any point while reading this guide you have a question about the types of compensation claims or if you'd like to proceed with a claim, our team of friendly advisers are on hand to take your call 24 hours a day, 7 days per week.
£40,000 For A Broken Leg Injury: A Case Study
Kevin was the handyman for an office block in a busy town centre. Part of his duties were to clean the windows for the building, which was three storeys high. He was provided with the correct equipment but they were old and had not been maintained as they should have been.
Kevin got on with his tasks without complaint and on the day of his accident he was cleaning the outside of the windows on the top floor. Mid-way through the job, one of the pulleys that secured the window cleaning cradle slipped from it's rusted safety catch, throwing Kevin over the side to a 30 ft drop.
Kevin landed on both of his ankles, breaking them immediately. He sustained some other minor injuries as well. After the emergency surgery to repair his broken ankles, he was confined to a wheelchair for a month and had both feet in casts for 11 weeks.
After physiotherapy to help him try to walk normally again, it became clear that he was unable to apply full pressure on one side and subsequently walked with a painful limp. This was a result of irreversible nerve damage. He also suffered from on-going pain and arthritic discomfort as a result of this accident.
Kevin sought legal advice and issued a claim against his employer. His lawyer argued that the equipment should have been better maintained and subject to regular assessments to determine their safety. Upon disclosure of records, it was confirmed that no maintenance checks had been carried out for some time. 
Kevin's employer subsequently admitted liability.  It was also confirmed by the medical assessment conducted as part of the claim that Kevin would suffer long term consequences due to this accident, which greatly enhanced the value of his compensation. 
The case was settled in Kevin's favour in the sum of £40,000.
His compensation breakdown was:
| General damages | Special damages |
| --- | --- |
| Kevin was awarded £30,000 in general damages for his injuries. | Loss of earnings - £3,000 |
| | Modifications to home for wheelchair use - £2,000 |
| | Travel to hospital and physiotherapy - £500 |
| | Carer for 4 weeks - £3,000 |
| | Physiotherapy - £1,500 |
Whilst this is only an example, it's based on our past experiences of handling and valuing claims and serves to show how accidents can happen and how they might be valued.
Get A Free Estimate Of Your Compensation
Some companies offer 'compensation calculators' and it's important to note that whilst personal injury compensation calculators may seem to give an 'instant' figure for your broken ankle accident at work, they often lack the precise details to offer a truly accurate idea of the compensation due to you. You may be entitled to more.
The best way to establish exactly what your payout might be is to contact our team who can talk you through the process step by step. Once they learn more about your case they can focus on a more accurate estimate. 
Use the number above to speak 24/7 to our team.
Making A No Win No Fee Claim For A Broken Ankle Injury
No Win No Fee claims are designed to help people get the justice and compensation they deserve at no upfront cost to them. Essentially, if your case does not succeed, you will not have to pay any of your solicitors fees. You also won't have to pay any fees upfront or during the claim.
If your case wins, your personal injury lawyer will seek a nominal fee called a 'success fee' (capped by law) which is deducted only after the compensation has been won, leaving the bulk of the money for you.
For more advice on making a claim for a broken ankle and No Win No Fee agreements, please get in touch with our team.
Finding A Top Quality Personal Injury Solicitor For You
If you're seeking legal advice on making a claim for a broken ankle, you may start with a Google search and be confronted with thousands of results. How do you know who is the best personal injury lawyer to handle your broken ankle claim? One way to narrow down the options is to look at reviews from past clients. Also, look out for the following:
How did they rate the solicitor's communication skills?

Did they get the result the client hoped for?

How long did the claim take to settle?
Thanks to the internet, it's no longer essential that the personal injury lawyers you choose are local to you, either. Communication can be conducted effectively by phone, email, post and smart devices, thereby opening up the market and allowing you to choose the best solicitor for you.
It is important that you discuss your case with a lawyer and our team is available 24/7 to take your call and offer you all the free legal advice and support you need without any obligation to proceed.
Contact Our Experts
Thank you for reading our guide; we hope you've found it informative. For free, legal advice and support, with no obligation to proceed:
Call us on 0800 408 7826 to discuss your case today.

Chatting with us via our live chat feature, bottom right.
Additional Materials
Thank you for reading our guide on making a claim for a broken ankle. We've included some more guides below you may find useful.
https://www.nhs.uk/conditions/broken-ankle/
https://www.gov.uk/guidance/the-highway-code
https://www.legislation.gov.uk/ukpga
Guide by WA
Edited by BI