By Megan Hale. Last Updated 15th December 2022. When considering making a claim for personal injury, it's important to be aware of what you could gain from engaging in the process. In this guide, you can find examples of slip and fall compensation amounts.
Did you suffer an injury in a slip, trip or fall accident? Did this accident happen because someone breached their duty of care towards you? If so, you may be able to claim.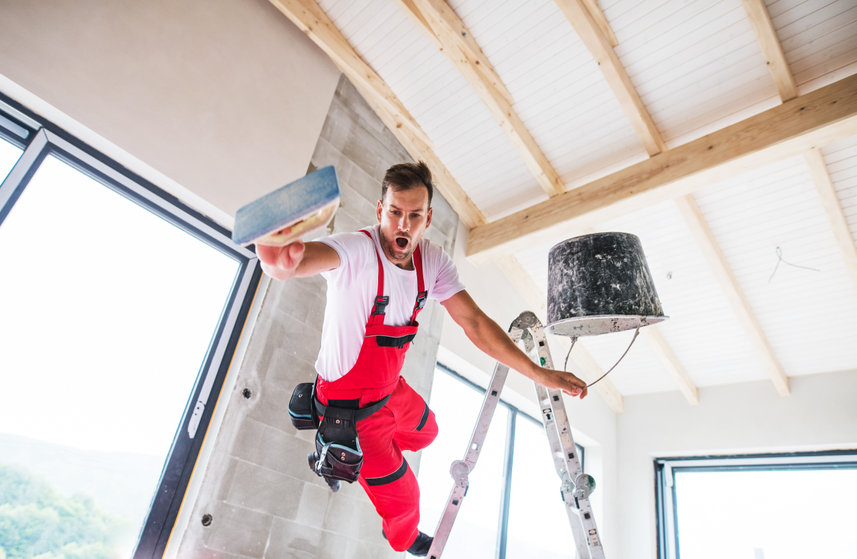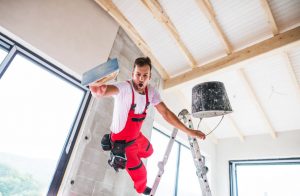 A slip, trip or fall accident can cause a wide range of injuries. In some instances, you may just experience some minor bruises or cuts. But in some instances, you could sustain more serious injuries like a brain injury or fractured pelvis.
Our article will be guiding you through how to use our slip and fall compensation calculator to work out how much you may be owed. We'll also look at how a breach of duty of care might cause an accident like this to happen. 
Slip And Fall Compensation Amounts
We've tried to include as much information in our guide as we can. However, we understand that you may still have questions after reading. Our advisors are on hand to help. They're available 24/7 to provide you with free legal advice. 
For further information, contact our team on 0800 408 7826 or using the live chat feature to the bottom right of this screen. Otherwise, continue reading to find out more about the typical payouts for a slip, trip or fall causing injury at work or in public. 
Jump To A Section
What Are Slip And Fall Accidents?
In order to claim following an accident, you need to show that it happened because someone else breached their duty of care towards you. You also need to show that the accident you were involved in caused you to be injured.
There isn't one overarching cause that contributes to these types of accidents.  For example, a slip, trip or fall accident may happen because of:
Uneven paving stones that the local council failed to address.

Wet or slippery floors that weren't cleaned up or signposted in a supermarket aisle.

Trailing cables in an office that your employer failed to keep tidy.

Poor lighting in a stairwell that a restaurant failed to address in a risk assessment. This could mean that you're unable to spot a hazard. 
What injuries might be sustained after slips, trips and falls?
There are numerous injuries you could suffer after a slip accident. However, some injuries that you might sustain following a slip, trip or fall might include:
Sprains and strains

Head or brain injury

Scrapes, cuts and bruises 

Back injuries 
What Could You Be Compensated For If You Suffered A Slip Or Fall?
When you make a personal injury claim, it will allow you to claim for your pain and suffering under general damages. This includes both physical injuries and psychological injuries. 
The figures for general damages may be based on the Judicial College Guidelines. The amount of compensation awarded to you will depend on the severity of the injury you sustained and the impact that it had on your quality of life. The length of time it takes you to recover will also be taken into consideration.
In addition to general damages, you can also claim special damages. This part of your compensation will aim to reimburse you for any out-of-pocket expenses or financial loss you have experienced as a result of your injury.
What Are The Main Types Of Slip And Fall Accidents?
One question we're often asked is, 'what factors contribute to slips?'. There are various ways a slip, trip or fall could happen as the result of a breach of duty of care. Below, we have included some common types to provide you with an idea of whether you have grounds to claim. 
Slips And Falls From A Height At Work
Employers should provide you with a safe working environment as stated by the Health and Safety at Work etc. Act 1974. If they fail to do everything reasonably practicable to ensure your safety, it could result in a preventable accident that causes injury. 
As part of their duty of care, your employer is expected to:
Maintain good housekeeping
Provide you with the Personal Protective Equipment (PPE) that you need to do your job properly
Carry out regular risk assessments so that they can remove or reduce hazards
Provide you with safe and well-maintained equipment, such as ladders
Slips And Falls On The Same Level At Work
In addition to falls from height, an employer should ensure they are doing everything reasonably possible to prevent any slips, trips and falls on the same level. 
For example:
If employees work in an environment where floors can often get slippery, an employer should provide slip-resistant footwear. 

Ensuring there are no trailing cables or other equipment that an employee could trip over 

Making sure that walkways and staircases are well-lit so that employees can see hazards as they are moving around
Slip And Fall Claims Against The Local Council
The local council has a duty of care to members of the public who use the spaces that they are responsible for, e.g. public parks, roads and pavements. The Occupiers Liability Act 1957 outlines this duty of care.  
Failing to do so could result in accidents such as:
Someone tripping over uneven pavement and suffering a fractured wrist

A member of the public falling down a defective manhole and suffering multiple injuries such as a fractured skull and damage to their spinal cord
Slip And Fall Accidents In Businesses, Shops And Restaurants
The Occupiers Liability Act 1957 is not just related to councils and local authorities; it also covers the duty of care owners of other public places owe you. One possible cause of slip, trip or fall accidents is flooring. 
For instance, it could be that water is walked into a shop from outside on a rainy day, but there is no doormat to stop this from being tracked through the store. Alternatively, cleaning staff could use unsuitable products when cleaning floors. This could cause wet  slippery floors and result in a customer slipping over and suffering an injury.
Slip And Fall Accidents In A Public Place
Other common causes for accidents in other public places might include:
Changes in levels on the steps in a swimming pool which a member of the public has not been made aware of, causing them to hit their head and suffer a concussion

A leaking water fountain in a gym causing a large puddle to form on the floor, which is not cleaned up or signposted
Statistics On Slips And Falls In The Workplace
The Health and Safety Executive recorded 19,219 non-fatal slips, trips, and falls on the same level in 2019. 11,0509 of these required over 7 days off work. Additionally, 2 fatal slips, trips and falls on the same level and 29 fatal falls from height were reported in 2019. 
The graph below highlights the number of slips, trips and falls resulting in injuries that have occurred since 2014. It shows that the number of accidents of this nature has fluctuated, and there is no clear decline or increase in slips, trips and falls in British workplaces.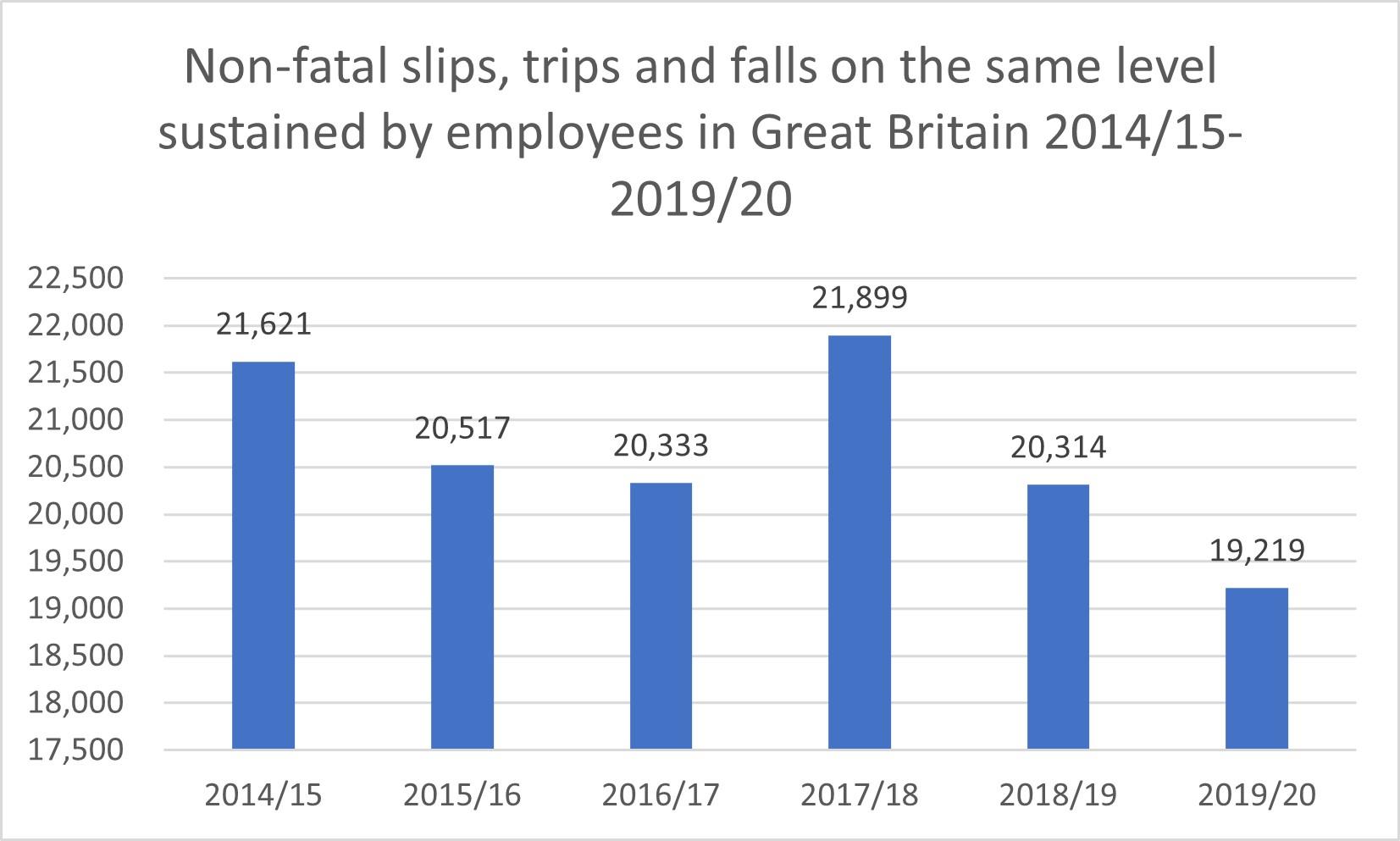 Claim For A Fall – Time Limits
Slip trip and fall claims must be started within a certain time period. The general time limit is 3 years from the date of the accident that caused the injuries, but exceptions to this time limit do exist.
If you only became aware of your injuries, or what caused them, at a later date, then you could be able to use this date (called a "date of knowledge") as the start of your 3-year time limit.
People under the age of 18 cannot start a claim for themselves. They will have a three year time limit to start a claim when they turn 18, but it will be suspended before this point. However, a claim for a fall can be started on their behalf by a litigation friend during this time.
People who lack the mental capacity to represent themselves also are not subject to a time limit. A litigation friend may be appointed to start a claim. If they recover to the point of being able to represent themselves, the time limit will again apply.
Our advisers can give you more information about slip, trip and fall compensation and directly answer any questions you may have, such as how much compensation for a fall in a UK claim could be awarded.
How To Use A Slip And Fall Compensation Calculator
Our compensation calculator can provide you with a fast, accurate estimate of your claim. It takes a few minutes and just requires you to input some details about the accident and your injuries. It can also take into consideration any loss of earnings that you have experienced. 
It's important to note that the figures provided by the calculator are a guide only. It only takes into consideration loss of earnings and can't value any other special damages you could be eligible to claim. However, our team can advise on the additional damages that could be included in your personal injury claim. 
The overall settlement offer you receive may look a little different to the figure provided by our personal injury calculator. However, if you receive an offer you're not satisfied with, you don't have to accept it. Instead, you could make a counteroffer and negotiate until you get the compensation you deserve. 
Please call our team if you have any questions regarding how the calculator works. If your claim has a good chance of success, you could be connected with a solicitor from our panel. 
Average Payout For A Slip And Fall In The UK
You may be wondering, 'what are the average personal injury settlements following a successful claim?'. However, we cannot provide an average figure, as every case is different. As we have previously stated, compensation for slip, trip and fall claims may include general and special damages.
Our compensation calculator may be able to give you a clearer idea of how much compensation you could receive in general damages. It works by asking you various questions about where and how you suffered your accident and by asking questions about your injury.
Alternatively, you could refer to the table we have created below using the figures listed in the 16th edition of the Judicial College Guidelines (JCG). The JCG is a document that is used by many legal professionals, such as lawyers, to help them value various claims. This is because the JCG lists compensation brackets for different psychological and physical injuries.
It is important to remember that there is no average payout for a slip and fall in the UK that we can provide. This is because compensation awards are assessed on a case-by-case basis. This means that the various factors affecting your claim will also impact how much you could receive. So, you should only use this table as a guide.
Injury
Description
Amount
Severe back injuries (iii)
Where disc lesions or fractures, or soft tissue injuries, result in chronic conditions which cause severe pain, impaired sexual function and depression despite treatment.
£38,780 to £69,730
Serious leg injury (iii)
Serious, compound or comminuted leg fractures. The results could include instability, lengthy treatment and extensive scarring.
£39,200 to £54,830
Moderate leg injury (iv)
Where the fractures to the leg are complicated or there are multiple fractures affecting a single limb. Higher awards will be appropriate where the treatment has been extensive and employment has been impacted.
£27,760 to £39,200
Less severe elbow injury
Major surgery is not required despite the injury impairing the elbow's function.
£15,650 to £32,010
Serious shoulder injury
Where the shoulder has been dislocated and the brachial plexus has been damaged, causing shoulder and neck pain.
£12,770 to £19,200
Arm injury
Simple forearm fractures.
£6,610 to £19,200


Moderate neck injury (iii)
Where a pre-existing condition has been exacerbated or accelerated because of the injury. In this bracket will also fall soft tissue injuries where recovery has taken longer than expected.
£7,890 to
£13,740

Modest ankle injury
Less serious fractures or ones that are minor or undisplaced. Awards to the top end of this bracket will be appropriate where recovery is incomplete.
Up to £13,740
Moderate knee injury (ii)
Bruising or twisting injuries or lacerations that cause occasional pain with aching and discomfort.
Up to £13,740

Wrist injury
A soft tissue injury or fracture that takes longer than a year to recover.
£6,080 to £10,350


Contact our advisors today if you have any question concerning your potential claim.
No Win No Fee Claim Agreements For Slip And Fall Compensation
Our advisors can connect you with a personal injury solicitor who could represent you on a No Win No Fee basis. 
This means that if your solicitor is unsuccessful with your claim, you won't pay any fees to them. They also won't ask for payment in order for them to start working on your claim or while it's still ongoing. 
If they are successful, you'll pay a success fee that's legally capped. This will be agreed upon before they start working on your claim. 
Most importantly, you will have an experienced solicitor whose support and guidance could help the process run much more smoothly. They will work hard to get you the maximum compensation you deserve. 
Could You Get Free Advice About Your Case?
Our advisors are available 24/7 to provide you with free legal advice on your claim. They can assess whether you have a valid claim following a quick, no-obligation consultation.
If your claim has a good chance of being successful, they can connect you with a personal injury solicitor. They will then be able to take you through the next steps of your claim. 
Our advisors are on hand to answer your questions and offer you free legal advice. Contact us on:
   

Telephone number – 0800 408 7826

   

Live chat at the bottom of the page

   

The enquiry form and we'll get back to you at your specified time
Ask If We Could Calculate Your Slip And Fall Claim
Our advisors can offer help and advice if you have any issues with our compensation payout calculator. They can take you through the process step by step to get an estimate for your claim. Furthermore, they can help you understand the additional damages you could claim for. 
Get in touch with any problems, and our advisors will be happy to help!
Slip And Fall Compensation Amounts – Learn More
For further information on slips, trips and falls in the workplace and how they could be prevented, see the government health and safety website. 
For information on when to use 111, see the NHS website. 
See the Royal Society for the Prevention of Accidents for further details on slips, trips and falls in other settings. 
If you suffered a broken thumb in a public place accident, our guide could help you see how much compensation you could claim.
Other Personal Injury Claims Guides You Can Read
FAQs People Ask About Slip And Fall Claims
Below, we've included some additional answers to common questions we receive about slip and fall injury claims. 
How much should I settle for a slip and fall?
The settlement offer you receive for a slip, trip or fall accident will vary depending on the severity of the injury you've suffered. You should never feel pressured into accepting a compensation settlement that you're not happy with. 
What factors contribute to slips?
There isn't one overarching cause of slips. However, some contributing factors to slips or falls might include slippery floors, unsuitable footwear and uneven floor surfaces. This may be due to a breach of duty of care; if so, you could claim compensation. 
How much is pain and suffering worth in a slip and fall?
The severity of the injury you suffered in a slip, trip or fall can impact the compensation you receive for your pain and suffering. For example, you could expect to receive more compensation for a severe head injury that causes brain damage than for a sprained wrist.  
Can I claim for a slip and fall accident?
If you suffered an injury in an accident caused by a breach of duty of care, you could claim. However, you should ensure you have evidence to build a valid claim. This might include a report in an accident book. 
Thank you for reading our guide on slip and fall compensation amounts.
Guide by GT
Checked by RO