Have you suffered an elbow injury at work due to an accident you weren't liable for? Has a road traffic accident caused by another person's negligence resulted in you having a fractured elbow? Are you looking to make an elbow injury claim due to you suffering high impact trauma due to a slip, trip or fall that wasn't your fault? If you've suffered an elbow injury and it wasn't your fault, you could claim. What's more, you could calculate what you could claim using our broken elbow compensation calculator.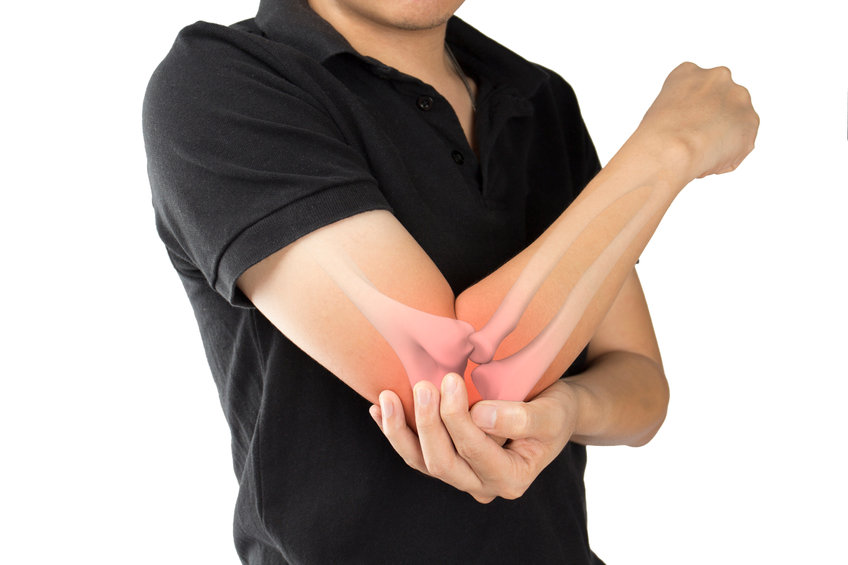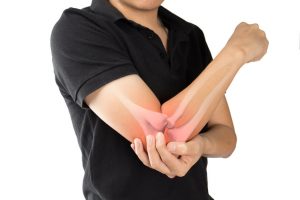 This guide aims to: 
Explain the personal injury claims process

Define elbow injury compensation

Highlight examples of negligence that lead to injuries so you can better understand if you'll be able to make a personal injury claim
Our advisors give free legal advice and are ready to talk to you whenever you need them, so if you want to see if you can claim, reach out at a time that suits you.
Contact us on 0800 408 7826 or use our live chat. Alternatively, to see how a compensation payout calculator could help you, continue reading. 
Jump To A Section
A Guide To Using A Broken Elbow Compensation Calculator
An elbow fracture can be caused by many different types of incidents, the circumstances of which could leave you wondering if you're able to claim compensation. If you're able to show that the injury you've suffered is due to someone else's negligence, you may be able to claim. This is the crux of making a successful personal injury claim—receiving compensation by showing that the injury was due to another person's negligence. 
Our broken elbow compensation calculator can, in minutes, it can give you an estimate of the compensation you could claim. It assesses the core aspects of your injury to provide you with a compensation bracket showing what your injury is worth. This can also include any financial losses you've suffered due to the injury.
However, if you need free legal advice or an estimate from one of our advisors, get in touch today.
What Are Broken Elbow Injuries?
Injury to your elbow joint involves up to three bones. The radius and ulna bones lead from your wrist to your elbow. The humerus then extends from the elbow to the shoulder. These three bones make up the joint, so a fractured elbow will involve an injury to at least one of them. 
An olecranon fracture can severely affect the elbow flexion as it affects the bending, straightening and rotation of the arm. The NHS states that symptoms of a broken bone can include:
Hearing a snapping noise when the injury occurs. 

Intense pain, swelling and potential deformity. 

Feeling a greater amount of pain when pressure is applied. 
According to further NHS guidance, your fracture treatment plan will usually involve using a sling to support your arm. The sling would be used for some days, but it can take around weeks for the fracture to fully heal.
Occasionally, the injury may require surgery. The length of recovery time could affect the amount of compensation you receive. 
Please consult your doctor or a medical professional to confirm the extent of your injuries. If you'd like free legal advice, please call the phone number at the top of this page to speak to one of our advisors. 
What Could A Personal Injury Claim Compensate You For?
When making a personal injury claim, there are two possible types of compensation.
General damages are compensation for the emotional turmoil and physical suffering that the accident that wasn't your fault caused. Special damages are compensation for the financial losses the elbow injury causes. So, you could potentially claim for: 
Travel costs

Medicine/prescriptions

Lost deposits for recreational activities (such as holidays)

Loss of future earnings

Loss of earnings
This may be why you'd like to use a personal injury calculator because, when using it, you get to input all the losses you're looking to claim. It will then give you an accurate estimate of what you could receive if your claim was successful. 
If you're successful in receiving general damages compensation, it doesn't always mean you'll be able to claim any or all of the special damages. That's because they're assessed independently using the evidence you supply. 
Accidents Which Could Cause A Broken Elbow
Any type of high energy trauma to your elbow could cause it to fracture. As such, many different incidents could cause this injury. This section will consider scenarios in which you could claim.  
Trips, Falls And Slips Causing A Broken Elbow
A slip, trip or fall can happen anywhere due to many unfortunate or unforeseen circumstances. In terms of making a successful claim, it's about proving that the reason you injured yourself was due to someone else's negligence. So, in terms of injuring yourself in a public place, for example, the controller of the space has a duty of care established in the Occupiers' Liability Act 1957.
Their responsibility is to reasonably make sure the space that's accessible to the public is safe to be used. They can't account for every circumstance, but if there's a clear health and safety issue, they are expected to remedy or fix it within a reasonable timescale.
If the space is not fit for purpose or safe for the public, they could be liable for any damage caused as a result of that, as it means they've breached their duty of care. Examples of this include:
Slipping due to a wet floor that has no warning signs present, despite staff being aware of it. As such, you could injure your elbow joint and look to use a broken elbow compensation calculator. 

Falling down the stairs due to a faulty handrail that was meant to be fixed. The elbow injury caused could greatly affect the extension and straightening of your arm, which could leave you unable to work. 

Poorly-fitted carpet resulting in you falling over and injuring yourself. 
Broken Elbow Injuries In A Vehicle Crash
A vehicle crash can cause serious injuries due to the high impact trauma that can be caused as a result. Thousands of drivers use the roads in the UK every day, and it can only take one lapse in judgement to injure someone.
The Highway Code clarifies every road user's duty of care. The aim of this is to stop negligent driving. Unfortunately, it can still happen, but if you've been injured by reckless driving, it would mean that the other driver has breached their duty of care to you. As such, you could successfully claim compensation.
Examples of negligent driving can include:
A motor vehicle running a red light, resulting in them colliding with your car. 

Cars reversing without the driver fully paying attention to their surroundings. This could result in a side collision and elbow injury. 

A reckless motorcyclist causing a road traffic accident that turns into a multi-car pile-up. 
Elbow Injuries Caused By Sideswipe Accidents
Leading on from this, a sideswipe accident could result in you researching elbow injury compensation. A sideswipe accident is when the side of one vehicle crashes against the side of another one. Due to the area of impact, this could cause injuries to your arm and elbow. This could require surgery.
Examples of sideswipe accidents include:
One vehicle slamming into yours due to them swerving and mistiming when to drive into your lane. This could cause an arm injury which could affect the flexion of your elbow, for example. 

A broken elbow caused by another driver causing a vehicle crash as a result of drink-driving. 

An olecranon fracture due to another driver on a roundabout suddenly swerving to drive to another exit. This could cause a collision which could result in your injury. 
It's important to note that, regarding road traffic accident claims, if the damage caused to you comes to less than £5,000, you will need to use another method to make a claim. This is explained and detailed in the Whiplash Injury Regulations 2021. However, please give us a call before deciding to do this as your injuries could come to more than £5,000 in compensation. Our advisors offering free legal advice could be able to help you. 
Elbow Injuries Caused By High Impact And Energy Trauma
A road traffic accident or collision can cause such damage that's considered high energy trauma. This means that due to the speed they're travelling, the injury is caused by the force of the vehicles when they collide.
The potentially devastating injuries can affect the amount of compensation you could receive should your claim be successful. Examples of high energy trauma injuries that could cause an elbow fracture include:
A motorbike crashing into the side of your vehicle due to it being ridden quickly and recklessly. 

Your humerus bone and elbow are fractured due to a lorry colliding with your vehicle because the driver didn't check for the presence of your vehicle. 

A front-end collision caused by another driver being under the influence of drugs. 
Broken Elbow Injuries In The Workplace
If severe enough, injuries in the workplace can result in a loss of income that can cause a decline in your quality of life. Injuries like this can happen at any moment, particularly when you work in manual labour due to the physical aspects and hazards of the role.
Regarding whether you could claim for the injury, it depends on whether your employer has been negligent by breaching their duty of care. Their duty of care is clarified under the Health and Safety at Work etc. Act 1974.
The Act states that your employer must ensure that you can work in a reasonably safe and secure environment. If you're not able to do that, and you injure yourself as a result, you may be able to claim.
Examples of workplace accidents include:
An accident at work caused by using a faulty ladder that your employer provided, resulting in you falling and landing on your elbow. This could result in you damaging your radius and ulna bones. 

Health and safety procedures not being adhered to by your employer. So, for example, a knowingly and obviously faulty door could slam forcibly into you. As it was a known risk, you could look into claiming compensation for the injury. 

You are looking into receiving elbow injury compensation due to the work environment not being assessed correctly. This could be from debris falling on you because of insufficient planning and management on behalf of your employer. As such, the bending and extension of your arm could be greatly affected. 
Dangerous Machinery And Equipment Causing Broken Elbow Injuries
Another aspect of claiming due to injuries in the workplace comes from using dangerous machinery or dangerous equipment. This is because your employer usually supplies the equipment being used and ensures it's safe to use. So if the equipment is unsafe through no fault of your own, the employer could be liable for any damage caused.
Examples of these kinds of incidents include: 
An accident at work caused by dangerous machinery malfunctioning because there haven't been any timely risk assessments, resulting in a foreign object being slammed into you. 

Suffering an elbow injury at work due to a known lighting malfunction causing you to slip and fall. 

An injury affecting the rotation of your arm, caused by dangerous equipment you were made to use. This could lead you to use a broken elbow compensation calculator.  
Statistics: Types Of Accident In The Workplace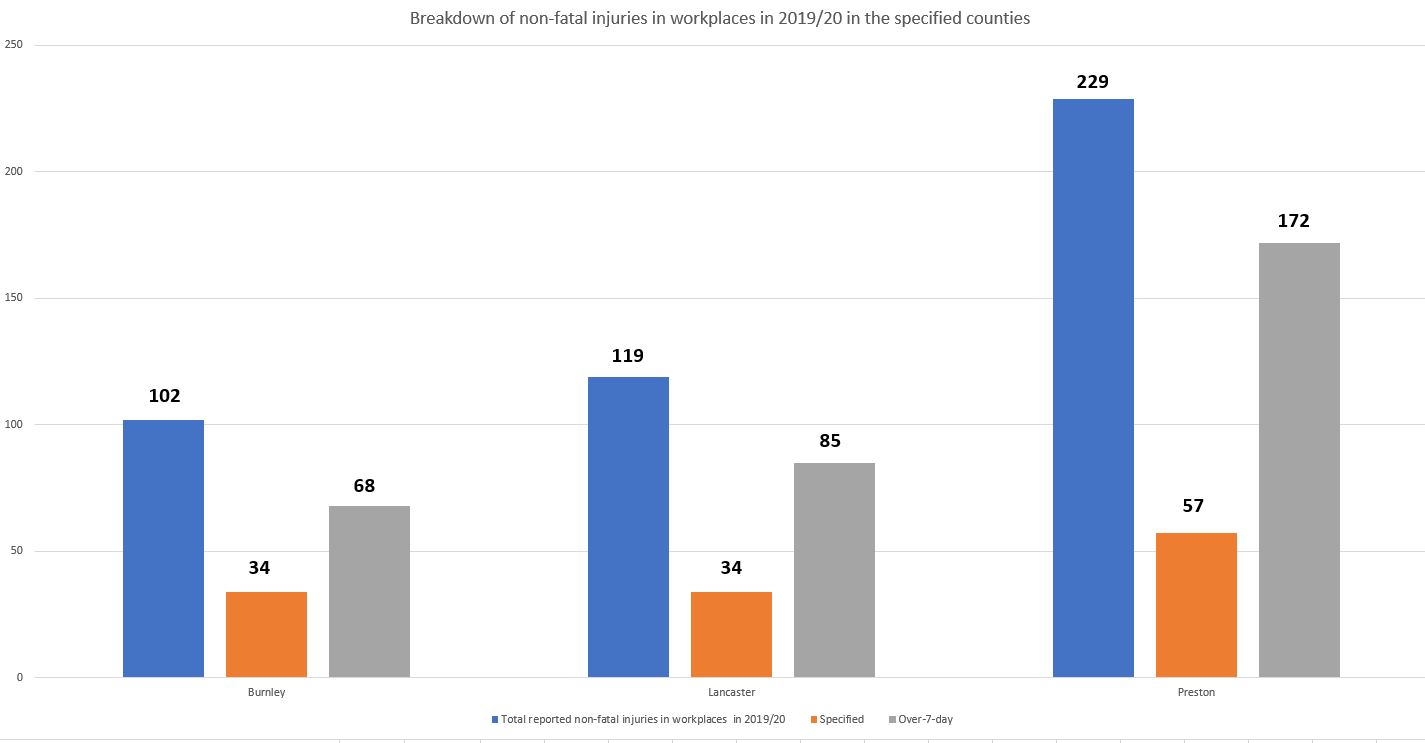 The Health and Safety Executive (HSE) is a government agency that encourages, regulates and enforces workplace health and safety in Great Britain. It also monitors work-related injury statistics.
Above are statistics regarding the amount of non-fatal work injuries experienced in three separate locations in Lancashire in 2019/20. 
The HSE defines specified injuries as relating to injuries such as:
most diagnosed fractures 

amputations 

crush injuries to the torso or head (causing brain or organ damage)

burn injuries that cover over 10% of the whole body's total surface area or cause eye, respiratory system or organ damage
any injury that could lead to reduced or permanent loss of sight in at least one eye
Serious work-related injuries may happen more frequently than you might think. Our personal injury calculator could help you work out the amount of potential compensation. If you'd prefer, please speak to one of our advisors who offer free legal advice using the above phone number.  
Could I Claim The Cost Of Care For My Elbow Joint Injury?
When claiming for financial losses caused by the injury, you could also claim for care costs. If you do want to claim for these, our broken elbow compensation calculator makes it easy for you to put in the amounts you wish to claim and to provide evidence you wish to use. For example, you could claim for:
Healthcare costs for physiotherapy that the NHS couldn't cover

Travel costs related to the injury (such as travel to and from medical appointments)

Costs of a nurse or gracious care (if a loved one, for example, needs to take time off work to drive you to appointments)
How To Work Out Your Payout Using A Broken Elbow Compensation Calculator
Our compensation payout calculator can easily and quickly give you an estimate of what you could receive. It's simple, quick and easy to use. All it asks is for you to clarify the type of injury you've suffered, the circumstances regarding the injury and any financial losses you'd also like to claim. 
We refer to the Judicial College guidelines to get our general damages compensation estimates. The Judicial College has analysed the different types of injuries and their relevant severity to create accurate compensation brackets. They indicate the amount you could receive for your injuries should your claim be successful. 
What Is A Typical Payout For A Broken Elbow Injury?
It's difficult to give a typical compensation figure for a broken elbow injury. That's because injuries differ (as do the consequences of them) from claimant to claimant. Therefore, they're valued on an individual basis.
The general damages payout could be supplemented by special damages compensation. Regarding claiming for financial losses, however, you need to provide evidence to your personal injury solicitor that shows the relevant losses. Examples of evidence you could need includes:
Receipts

Invoices

Bank statements
Broken Elbow Compensation Calculator
Our broken elbow compensation calculator could help you work out the amount of elbow injury compensation you could receive. It analyses the core aspects of your injury to provide you with an estimate in a matter of minutes. 
Below is an injury list and their potential respective general damages compensation brackets. The Judicial College supplies these figures in their guidelines publication. Solicitors use this publication to help them value injuries.  
| Injury | Severity | Compensation Bracket | Details |
| --- | --- | --- | --- |
| Amputation of Arms | (i) Arm Amputated at the Shoulder | Not less than £128,710 | Loss of one arm - arm amputated at the shoulder. |
| Moderate Brain Damage (c) | (ii) Moderate | £85,150 to £140,870 | Cases in which there is a moderate to modest intellectual deficit, the ability to work is greatly reduced if not removed and there is some risk of epilepsy (unless a provisional damages order provides for this risk). |
| Post-Traumatic Stress Disorder | Severe (c) | £56,180 to £94,470 | This severity involves permanent effects that stop the injured person from working or at least from functioning at the pre-trauma level. |
| Post-Traumatic Stress Disorder | Moderate (c) | £7,680 to £21,730 | In these cases the injured person will have largely recovered and any continuing effects will not be grossly disabling. |
| Deafness/Tinnitus | Total Loss of Hearing in One Ear (c) | £29,380 to £42,730 | Total loss of hearing in one ear. |
| Injuries to the Elbow | (a) A Severely Disabling Injury | £36,770 to £51,460 | A severely disabling injury. |
| Injuries to the Elbow | (c) Moderate or Minor Injury | Up to £11,820 | Most elbow injuries fall into this category. They comprise simple fractures, tennis elbow syndrome, and lacerations; i.e., those injuries which cause no permanent damage and do not result in any permanent impairment of function. |
| Hand Injuries | (f) Severe Fractures to Fingers | Up to £34,480 | Severe fractures to fingers. These may lead to partial amputations and result in deformity, impairment of grip, reduced mechanical function, and disturbed sensation. |
| Leg Injuries | (iii) Serious | £36,790 to £51,460 | Serious compound or comminuted fractures or injuries to joints or ligaments resulting in instability, prolonged treatment, a lengthy period of non-weight-bearing, the near certainty that arthritis will ensue; extensive scarring. |
| Ankle Injuries | (a) Very Severe | £46,980 to £65,420 | Examples of injuries falling within this bracket are limited and unusual. They include cases of a transmalleolar fracture of the ankle with extensive soft-tissue damage resulting in deformity and the risk that any future injury to the leg might necessitate a below-knee amputation, or cases of bilateral ankle fractures causing degeneration of the joints at a young age so that arthrodesis is necessary. |
We completely understand if you'd like a more accurate estimate. So we can provide this for you, please get in touch. We can only help if we know more about your injury. Use our calculator today or, if you'd prefer, simply give us a call to speak to one of our advisors by using the phone number at the top of this page.
Claim For A Broken Elbow With A No Win No Fee Agreement
Our panel of solicitors work on a No Win No Fee basis. This means that:
Your personal injury solicitor will not request legal fees either upfront or during your claim. Instead, they will take a legally capped portion of your compensation as payment upon your claim being successful. 

Your personal injury solicitor will not request legal fees from you if the case is unsuccessful. 
As such, you can rest assured knowing that your solicitor won't waste your time. They will only agree to work your case if they feel you have a decent chance of winning. 
Get Free Personal Injury Claims Advice
Use our broken elbow compensation calculator to get an accurate compensation estimate in minutes. Our advisors provide free legal advice so, if you want to see if you can claim or have any questions or queries, please just give us a call. Our No Win No Fee panel of solicitors could help you receive compensation. 
Call us on 0800 408 7826

Write to us using the Live Chat window on the right-hand side of your screen

Contact us via our website. 
Ask If We Can Help Calculate Your Broken Elbow Compensation Payout
If you don't want to use our personal injury calculator to work your potential elbow injury compensation, don't worry. Our advisors offer free legal advice, are available 24/7 and can help give you an accurate estimate of what you could receive. Don't delay – call them today, and you could be through to someone in minutes. 
References
For more useful information, please view the below information. 
The HSE analyses the trends in work-related injury and work-related ill-health. You can see more about this in their publication of statistics in Great Britain. 
The Department for Transport supplies road safety factsheets which you can find here. 
To know more about recovering from a fractured radius at the elbow, view this NHS guidance. 
Broken your arm? If so, and you want to potentially claim, visit our website. 
Other Personal Injury Claims Guides You Can Read
Personal Injury Claim FAQs
For answers to frequently asked questions about making an elbow injury claim, see below. 
How do you claim if a child has broken their elbow?
You can be appointed their litigation friend via the court. This means that you could deal with the claim on their behalf. You would need to do this before their 18th birthday. From the date of their 18th birthday, they'd have 3 years to make a claim if nobody's already done so on their behalf. 
What will happen to a payout awarded to a child?
The payout would be put in a secure account until the child reaches the age of eighteen. At that point, the compensation will then be rewarded to them. 
How long would it take to recover from a broken elbow?
It depends on the extent of the injury. Injuries like this can take around 6 to 12 weeks to heal fully. To see what you could claim for this injury, use our broken elbow compensation calculator today. 
Page by XR
Editor TC