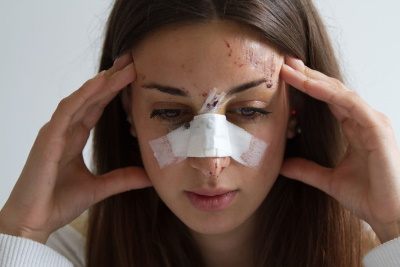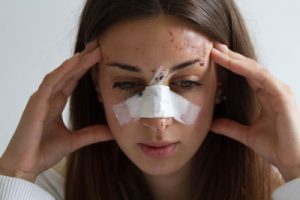 If you have suffered a broken nose injury in an accident caused by a third party's negligence you may be wondering what your options are. But what do you need to know before you seek legal advice? Could you make a broken nose injury claim? This guide provides an example illustrative case study for a payout on a nose fracture. The purpose of this case study is to examine the claims process. It's also going to be covering care claims, general and special damages, compensation calculators and No Win No Fee. 
Meanwhile, you can always speak to our team to learn more about your potential broken nose injury claim. Our advisors could assess your eligibility to claim compensation. If they think there is a chance of your case being successful they could offer to connect you with a personal injury solicitor. Call 0800 408 7826, use our Live Chat or alternatively complete our online form. Our advisors can be contacted 24 hours a day, 7 days a week.
Use the headings below to jump to a particular section.
Choose A Section
A Guide To Calculate Compensation For A Broken Nose Injury Claim
This guide has been produced to help understand how a broken nose injury claim might work. Deciding whether to pursue a personal injury claim for a broken nose can be understandably not a straight forward decision. Those who have never made any type of compensation claim before may not know how to begin such a process. That is why this guide may be just what you need.  This guide will be covering the following topics:
What a nose fracture is

The financial repercussions of a broken nose

Care claims

General and special damages

A demonstrative case study of a £20,000 compensation payout

Compensation calculations

Examination of a No Win No Fee service    
For any personal injury claims, there is a personal injury claims time limit. You have 3 years to claim from the date that you suffered your broken nose. If the injury was not apparent straight away or you were not aware negligence had caused it you have 3 years from the date you become knowledgeable. For a child (someone aged under 18) or a victim who lacks the mental capacity to claim, a close relative or another appointed representative could be their litigation friend to process the claim on their behalf. If the child turns 18 or the claimant regains their mental capacity then the 3-year window begins for them. 
Before reading on, feel free to speak to our team about any of these topics.
What Is A Broken Nose?
A nose fracture occurs when any bones within the nasal region are broken. Such an injury is identifiable via numerous symptoms. They include significant pain, swelling, redness, difficulty with breathing, a changing shape and a cracking noise. Bruising and cuts are also a possibility.
You could make a compensation claim based on negligence shown which led to the accident taking place. To make a successful negligence claim for a nose fracture, you must meet the following 3 criteria:
Firstly, were you owed a duty of care

Secondly, was that duty of care breached, causing an accident

And the result of that accident was you suffering a broken nose.
Health and Safety Law and Legislation
There are three sets of circumstances below that may explain the duty of care further. For any broken nose accident to qualify for compensation the duty of care must have been in breach. The first of these is employer's liability (EL), which would handle any workplace accidents. The Health and Safety at Work etc. Act 1974 informs that an employer should so far as reasonably possible uphold the health, safety and wellbeing of all employees. An accident at work via a duty of care breach could result in a broken nose at work claim. This could then result in a work injury payment.
The second of these is public liability (PL), and this is covering any accidents in a public place. According to the Occupiers' Liability Act 1957, a duty of care may prevent potential accidents in public places. But if someone is injured in a public place due to the fact those in control of the area failed to adhere to such legislation a claim for a broken nose may be possible. In that situation, a public injury claim or a public accident claim becomes a possibility. 
Lastly, we have a road traffic accident (RTA). Based on the Highway Code, all drivers should show a duty of care towards fellow motorists this includes vulnerable road users like pedestrians and cyclists. If there is an accident due to a negligent driver those who are injured may file a road traffic accident claim against the liable party. Should an accident leave you with multiple injuries, there is potential for a multiple injury claim. A car accident lawyer could help with these type of cases. Personal injury lawyers have the experience to be able to answer any questions you may have concerning road traffic accidents. You can use our contact form today to contact our advisors who could offer you a free eligibility check.  
Can A Nose Injury Cause Financial Losses?
Financial losses for your broken nose could include many things. For starters, there would be medical expenses. Although most treatment is free on the NHS you may have to pay for prescription medication. When it comes to nose fractures it may be that you want reconstructive surgery. This may mean you have to pay privately. You would also have potential transport costs. And then there would be lost earnings from work, which could be very significant depending on your career. These are just some of the potential financial losses. When making a compensation claim there are 2 Heads of Loss: general damages and special damages. As part of the special damages claim you could claim back any expenses that were caused because of your injury.  Call us via the number at the top of the page to learn more.
What Can I Receive From A Care Claim?
Claiming for care you have received because of your injury would come under the special damages part of your claim. A typical care claim would be covering:
Additional support from relatives or friends

Professional nursing costs

General services such as cleaning and gardening
However, it wouldn't include any previous care that you may have been receiving for your nose. To get further information about care claims, use our Live Chat feature.
Calculate Broken Nose Injury Claim Settlement Amounts
Your personal injury lawyer would probably ask you to undergo an independent medical evaluation. A full medical check provides a full diagnosis of the injury, along with the typical recovery period. It may also confirm a direct link between your original accident and your subsequent broken nose. Compensation is then estimated by being split into general damages and special damages.
General Damages
General damages would be covering the pain, suffering and loss of amenity due to your broken nose. The primary focus here is on the physical and psychological consequences on your life.
Special Damages
Special damages would handle the financial impact of your injury. This is where you would mention lost earnings, medical expenditures, transportation costs and any recommended physiotherapy. Care claims, would also include any professional nursing costs here. Please call us on the number above to discuss exactly what general damages and special damages may entail.
A Case Study On £20,000 Broken Nose Injury Claim
Miss Adams, 24, is a secretary based in London. She takes the tube to work every day then walks through the city to the building where she works. She had worked here for some time now so knew the route to work like that back of her hand. 
One afternoon, around 1 o'clock she took her lunch break, Throughout the city, there were always buildings being put up everywhere. Or buildings having repair work done. She was always aware that construction was happening. As she walked through the street she noticed that a new scaffolding was being put up around an old building. 
Miss Adams proceeded as normal to the bakery where she bought her lunch each day. As she was walking back she passed the same buidling where the scaffold was. All of a sudden she felt a severe impact to her face. the pain was so severe she fell to the floor. Immediately people began to crowd around her. A passerby called for an ambulance as they could see she had been severely injured. Miss Adams face was covered with blood and she was in a lot of pain. 
It appeared that a scaffold bar had not been secured correctly. So when one of the builders walked on to the scaffold's first floor a metal bar had come loose. This had hit Miss Adams straight in the face. Miss Adams was rushed to the hospital. After being examined the doctor told her that she had suffered a serious break to her nose and would need an operation straight away. 
Miss Adams was upset, to say the least. She had never felt pain like it in her life. Moreover, she was really concerned that her face would be disfigured. The doctor had advised that she would need more surgery going forward and her breathing may be affected.  
Broken Nose Injury Claim Settlement
After seeking legal advice, Miss Adams filed a compensation claim against the buidling firm. She received £20,000 as an out-of-court settlement. This included £13,000 in general damages and £7,000 in special damages.
| Type Of General Damages | Includes: | How Much? |
| --- | --- | --- |
| Nose Fracture | Costs relating to a significant nose fracture | £13,000 |
| Type Of Special Damages | Includes: | How Much? |
| --- | --- | --- |
| Current Loss | Lost earnings | £2,000 |
| Medical Expenses | Costs of private nose reconstruction | £4,750 |
| Transportation Expenses | Costs of public transport to and from the hospital | £100 |
| Additional Costs | Added costs relating to the impact on the sufferer's life | £150 |
The case of Miss Adams is purely an example. It is based on our experiences dealing with past cases. We have designed it so that you can see how the claims process may work for you. 
Your Free Compensation Estimate For Nose Fractures
We often hear about personal injury claims calculators. Their purpose is to determine potential compensation amounts. Yet we find that they only provide template figures for general scenarios. However, each accident is different. And that means that the impact of each injury is different too. Of course, this would also depend on the victim's own personal circumstances.
But that's why we choose to learn as much as we can about you. That way, the estimate that we give you would be far more accurate. Crucially, the estimate is free, even if you decide not to pursue your claim. Take a step towards receiving a compensation estimate for your claim for a broken nose by speaking to us.
Broken Nose Injury Claim No Win No Fee Services
When making a claim for compensation having a solicitor pursue it on your behalf can be really beneficial. Not only do they have the experience needed to ensure your claim is filed correctly but they could also make sure that you are compensated fully. If you are worried about the costs involved when hiring a personal injury solicitor then you may be glad to hear about No Win No Fee solicitors: This is how they work; 
There is no requirement for any legal fees up-front

Nor is there any requirement for solicitor fees before or during litigation

And your personal injury solicitor will only take a nominal amount (called a success fee and capped by law) if you receive compensation
This may reduce your stress and expenditure greatly. Why? Because, if your case happens to be unsuccessful, the solicitor wouldn't cost you a penny. Find out more about No Win No Fee services by using our Live Chat.
Where Are High Quality Personal Injury Lawyers?
For this aspect, you should think about a number of things. Is there a proven track record of successful cases? Do they have a range of positive reviews that should be easily accessible? And then are they specialists in your type of injury claim? All these questions may help when deciding which solicitor you would like to use. But be careful about agreeing to use a solicitor just because they are local.
If you call our advisors today they could offer you free advice about the merits of your claim. In a no-obligation chat, you could ask them any questions you may have. Then they could assess your case for you, looking at any evidence you may have already collected. If they can see your case may be successful they could offer to provide a No Win No Fee personal injury solicitor who would handle your case. 
Speak With Our Team
With all that being said, it's time for you to tell us your story. To discuss a claim or to receive free legal advice and support, you can contact us by:
Don't forget that we are available to speak 24 hours a day, 7 days a week. And, of course, there is no obligation to proceed with your case.     
Extra Guides
Thank you for taking the time to read our guide on making a compensation claim for a broken nose. You can find out further information by using the links below.
You can read the full NHS guidance on nose injuries by clicking here.
To learn more about bone breaks and fractures, click here.
If you wish to learn more about an employer's duty of care in the workplace, you can click here.
How to claim for a broken foot click here
How to claim for a broken ankle click here
Page by RM
Editor LN