Were you in an accident caused by someone else's negligence? If so and you suffered an injury as a result, you may have grounds to claim. Our guide will provide information on using a broken bone calculator to work out your compensation.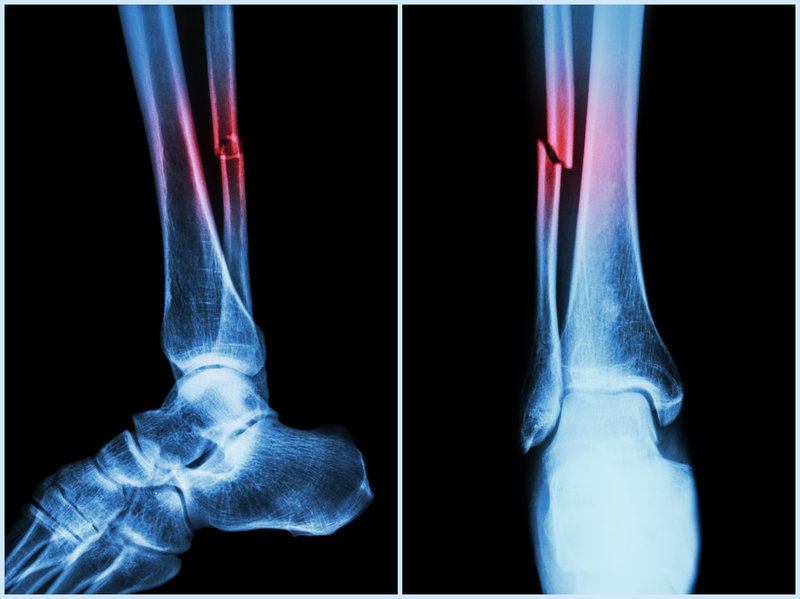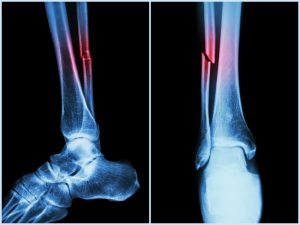 We understand this may be a difficult time for you. It's never easy when you're involved in an accident that isn't your fault, and it may have caused a lot of stress for you. However, making a claim could help you get the compensation you deserve for your pain and suffering. 
You might be feeling a little apprehensive about whether you're eligible to claim. However, this guide aims to clear up any confusion. No matter whether you suffered a fractured finger or a fractured hip, if someone else who owed you a duty of care caused the accident, you could claim. 
Calculate Compensation For A Broken Or Fractured Bone
Our guide aims to give you detailed information on making a personal injury claim. However, if you need anything else after reading, our advisors can provide free legal advice. 
For more information, call our advisors on 0800 408 7826. Alternatively, continue reading to find out what types of damages you could claim for. 
Jump To A Section
A Guide To Using A Fractured And Broken Bone Compensation Calculator
Have you suffered a fractured arm caused by a faulty machine at work? Did a slip trip or fall in a restaurant cause you to suffer a fractured shoulder? Or maybe you were in a road traffic accident that damaged your knee and caused you to suffer a fractured patella? 
No matter the broken bone you suffered, we'll be taking a detailed look into the compensation you could claim if it was someone else's fault. This includes how compensation is calculated, how it is awarded to you and the different damages you could claim for.  
Our personal injury calculator can provide an idea of what your claim is worth. Additionally, in this guide, we have created a broken bone calculator compensation table which provides guide figures for various broken bone injuries. 
Throughout this article, we'll also be exploring different causes of broken bones. This will help you understand how someone could be liable for an accident. 
Additionally, we'll be looking at how you could claim with a personal injury solicitor as well as ways you can avoid upfront legal costs of having a solicitor representing you. 
Don't forget that our advisors are on hand to answer your questions so if you require any additional information, get in touch on the number above. 
What Is A Broken Bone?
A broken bone occurs when a strong enough force causes it to fracture.
There are many broken bone injuries you could suffer in an accident. Whether in the workplace, a road traffic accident or a public place.
Some examples of bones you could break include a fractured:
Shoulder, which could damage the scapula and collarbone

Back, which could cause damage to the cervical, thoracic, lumbar, sacral and coccygeal vertebrae 

Hand, which could include damage to other bones in the hand such as the metacarpal, scaphoid and phalanges 
What are 4 common symptoms of a broken bone?
The symptoms of a broken bone can vary depending on the severity and the particular bone that gets damaged. However, some common symptoms might include pain, swelling and deformity of the affected area. 
Additionally, for more severe breaks or fractures, you might experience cuts or a broken bone piercing through the skin.  
If you require any further medical information, visit the NHS website or seek advice from a medical professional.
What Damages Could Be Claimed After A Broken Bone Injury?
If you suffered an injury as a result of someone else breaching their duty of care to you, you could claim compensation in the form of general and special damages.
General damages cover the physical and psychological suffering you've endured. How the injury has impacted you and your quality of life would also be considered under general damages.
A personal injury calculator can provide an estimated compensation figure you may receive for general damages. However, there are additional damages you may be able to claim. You could claim for financial losses your injuries have caused, such as:
Prescription costs

Care costs if someone cared for you while you recovered

Home adaptations if you suffered a disability that required them

Physical aids if your injuries necessitated them

Loss of earnings for the past and future if you needed to take time off work to recover, or can no longer work due to your injuries
These would fall under special damages, which cover any past and future financial losses incurred as a direct result of your injuries. 
Common Types And Causes Of Broken Bone Injuries
Although there are many types of broken bone injuries and various causes, we'll be looking at some common ones below. For example, we'll look at broken bones caused by slips, trips and falls and road traffic accidents. 
Some of the information on specific broken bones comes directly from the NHS website. If you require any medical advice, visit the NHS or seek help from a qualified medical professional. 
However, if you'd like to know more about a broken bone calculator, why not reach out to our advisors?
Broken Bones Caused By Trips And Falls
Slips, trips and falls in any setting could result in a broken bone such as a fractured wrist or a fractured pelvis. For instance, statistics show that 29% of non-fatal accidents in 2019/2020 in the workplace were caused by slips, trips and falls on the same level. An additional 8% were caused by falls from height. 
These figures only highlight slips in the workplace and don't include the percentage of falls in other situations. However, some examples of how you might suffer this type of injury could include:
Breaking your leg by slipping on a spill in a supermarket

Sustaining a fractured skull by tripping on an uneven paving stone on the street

Tripping over misplaced equipment in work and breaking your arm

Falling down a staircase that has a broken handrail and sustaining damage to your spinal cord
Broken Bones Caused By Road Traffic Accidents
There were 153,158 casualties of all severities in road traffic accidents recorded in 2019 in Great Britain. This included a range of injuries such as broken bones. In 2020, there were 115,333 casualties of all severities estimated.
Road traffic accidents that cause fractures can include:
A driver hitting you from behind causing your knees to shatter from the impact of hitting against the interior of the car  

A cyclist being knocked off their bike and suffering a fractured forearm 
Fractured Skull Injuries
A fractured skull could cause damage to the frontal, temporal and occipital bones in the head. If you suffer a severe head injury such as a fractured skull, the NHS advises that you may suffer any of the following symptoms:
Difficulty speaking or staying awake

Vomiting repeatedly 

Memory loss

Fits or seizures
Head injuries could be caused by:
The airbag not going off in a car accident

A passenger being thrown through the windshield in a car accident

Not being provided with a necessary hardhat on a building site by your employer
Broken Collarbone Injuries
Various accidents could result in a broken collarbone. For instance, you could be hit by a speeding car when riding on a motorcycle or fall down the stairs in a restaurant due to poor lighting. Additionally, you may have been trapped under faulty machinery at work. 
If your accident caused you to suffer a broken collarbone injury, you may have experienced the following symptoms:
Swelling or tenderness around the affected area

Bruising

Numbness to the affected area
Broken Arm Injuries
A broken arm injury can be debilitating and can cause some unpleasant symptoms. The NHS recommends seeking advice if you have any of the following symptoms: 
A lot of swelling or bruising

Unable to use your arm or wrist due to the pain

Its extremely painful
Arm injuries can be caused through several accidents, such as:
Falling down the stairs at work

Not being trained to use specialist equipment and suffering a fracture as a result of an accident with it
Broken Leg Injuries
A common search on a broken bone calculator would be broken leg injuries. There are three major bones in the leg, the femur, tibia and fibula. If you break any of these bones, you may experience some unpleasant symptoms such as swelling, pain and bruising.
Although there are many ways you could suffer a broken leg, some common causes might include a fall or a road traffic accident as any type of road user.  For instance:
Being hit by a car when crossing the road as a pedestrian

Falling from a faulty ladder as an employee 
Broken Rib Injuries
Several accidents can cause a broken rib. Perhaps you were hit by a vehicle at work due to another employee not being trained properly. Or you might have fallen down a defective maintenance hole in the street that wasn't properly marked.
No matter how the injury was caused, the symptoms of a broken rib may be unpleasant. For example, you may have heard a crack at the time of the accident. Additionally, you may have experienced the following:
Strong pain in the chest

Swelling 

Bruising
Musculoskeletal Injury At Work Statistics
480,000 workers were suffering from a new or long-standing work-related musculoskeletal disorder (MSD) in 2019/20. According to the Labour Force Survey, in 2019/20, of those who sustained work-related MSD:
19% suffered it in the lower limbs

37% suffered it in the back 

44% suffered it in their upper limbs or neck
MSDs can be caused by a continuous problem. For example, your employer failing to provide chairs with proper lumbar support can affect your back. However, they can also be caused as a result of suffering an injury in an accident. For example, a break could have led to damage to the nerves, muscles and tendons.
Additionally, certain industries have a higher rate of MSD. The graph below highlights which industries are at a higher risk of employees experiencing MSD.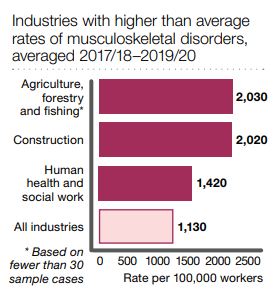 If you've suffered a long term condition, you could use our broken bone calculator to work out how much you could claim.
Could I Claim Care Costs Related To My Injuries
If broken bones are severe or left untreated, they can lead to more serious symptoms, which might mean you need extra care. If this is the case for you, you could claim care costs for yourself or anyone else dependent on you in your potential claim. 
For instance:
Care costs for an elderly parent 

Child care costs 

Home adaptations e.g. to make your home wheelchair accessible

Physical aids e.g. wheelchair or walking stick
These care costs would all be covered under special damages.
How Do I Use A Fractured Or Broken Bone Compensation Calculator?
The broken bone calculator can be used by anyone who suffered an injury in an accident caused by someone else. The calculator will be able to estimate the compensation award you could receive. 
Although the calculator asks where the accident happened, e.g. at work, on the road, in public or through medical negligence, this won't affect the compensation you receive. It will take into account the severity of your injury to determine how much you could claim. 
It will only provide an estimate though, and the settlement offer you potentially receive could be different. However, it's important to note that you don't have to accept the first offer you may receive. Instead, you can make a counteroffer. 
If you're unsure of the process of accepting an offer, a personal injury solicitor could provide advice based on their experience of handling similar claims.
What Payout Could I Get For A Fractured Or Broken Bone?
Compensation could comprise general damages and special damages. A solicitor may use a publication called the Judicial College Guidelines (JCG) to work out general damages. The JCG contains lists of injuries and corresponding potential awards. 
Additionally, a solicitor may invite you to attend an independent medical assessment. This provides an unbiased medical report about your injuries which helps solicitors assess how much the claim is worth. It can also be used to prove that your injuries were exacerbated or caused by an incident that wasn't your fault.
The figures for each fracture or broken bone can vary, e.g. a severely broken leg may be awarded more compensation than a simple finger break. 
Special damages are worked out separately and vary from case to case. You would need evidence to prove these financial losses such as:
For more information on how you can work out your compensation, see below for our broken bone calculator compensation table.
Fractured And Broken Bone Compensation Calculator
We have included a compensation table below using figures from the JCG. The table shows the compensation you could claim for different injuries at various severities.
However, if your injury isn't listed, you can use our compensation calculator to get a different estimate of your claim value. 
| Injury | Description | Award |
| --- | --- | --- |
| Back injuries | Moderate (i) Injuries such as damage to a spinal disc with nerve root irritation and reduced mobility. | £26,050 to £36,390 |
| Head | Minor Brain or Head Injury | £2,070 to £11,980 |
| Skeletal | Le Fort Fractures of Frontal Facial Bones | £22,350 to £34,480 |
| Skeletal | Multiple fractures of facial bones, involving some facial deformity of a permanent nature. | £13,970 to £22,470 |
| Arm | Injuries resulting in permanent and substantial disablement including serious fractures of one or both forearms where there is significant permanent residual disability whether functional or cosmetic. | £36,770 to £56,180 |
| Arm | Simple fractures of the forearm | £6,190 to £18,020 |
| Shoulder Injuries | (b) Serious: Shoulder dislocation and injury to the lower brachial plexus that causes shoulder and neck pain. | £11,980 to £18,020 |
| Shoulder Injuries | Minor (iii) Where a full recovery is made within three months. | Up to £2,300 |
| Rib Injuries | (g): Fractures of ribs or soft tissue injuries causing serious pain and disability over a period of weeks only. | Up to £3,710 |
| Hand | Less serious hand injury such as a severe crush injury resulting in significantly impaired function without future surgery or despite operative treatment undergone. | £13,570 to £27,220 |
| Wrist Injuries | An uncomplicated Colles' fracture. | In the region of £6,970 |
| Hand Injuries | Severe fractures to fingers | Up to £34,480 |
| Hand Injuries | Moderate injuries to the thumb | £9,080 to £11,820 |
| Injuries to the Pelvis and Hips | Severe (i): Extensive fractures of the pelvis involving, for example, dislocation of a low back joint and a ruptured bladder, or a hip injury resulting in spondylolisthesis of a low back joint with intolerable pain and necessitating spinal fusion. | £73,580 to £122,860 |
| Less Serious Leg Injuries | Less serious leg injuries (ii) Simple fracture of a femur with no damage to articular surfaces | £8,550 to £13,210 |
| Less Serious Leg Injuries | Less serious leg injuries (iii) Simple fractures to tibia or fibula or soft tissue injuries | Up to £11,110 |
| Knee Injuries | Moderate (i) Injuries involving dislocation, torn cartilage or meniscus which results in minor instability, wasting, weakness, or other mild future disability. | £13,920 to £24,580 |
| Foot Injuries | Moderate: Displaced metatarsal fractures resulting in permanent deformity and continuing symptoms. There may be a risk of long-term osteoarthritis and/or future surgery. | £12,900 to £23,460 |
| Ankle Injuries | Modest: The less serious, minor or undisplaced fractures, sprains, and ligamentous injuries. | Up to £12,900 |
For more information on compensation, contact our advisors on the number below. They also offer free, accurate estimates. 
No Win No Fee Fractured And Broken Bone Compensation Claim Agreements
If you're concerned about the cost of legal representation, you could have a solicitor represent you on a No Win No Fee basis. This essentially means that you won't pay solicitor fees if your solicitor doesn't win the case. 
Alternatively, if they are successful, you'll pay a success fee. However, this is legally capped and is made known to you before the claim starts. 
Most importantly, you'll be able to avoid any upfront solicitor fees and any ongoing solicitor fees. For more information, see below for our contact details so an advisor can connect you with a solicitor from our panel to perhaps start your claim today. 
Get Free Advice About Your Claim
We understand how overwhelming everything might seem at the moment. However, our advisors are here to help by providing free legal advice. They can respond to your enquiries any time of day, seven days a week. 
No matter what you need, whether it's answers to your questions or whether you're ready to start your claim, please get in touch with us by:
Calling on 0800 408 7826

Chatting with us on live chat at the bottom of the page

Contact us for a callback whenever is best for you 
Ask Our Team To Calculate Your Fractured Or Broken Bone Injury Compensation
Although we've tried to ensure our compensation payout calculator is easy for you to use, we understand if you have questions. 
For that reason, you can contact our advisors and they can talk you through each step. Additionally, they can advise on what other damages could be included in your claim value. 
Please don't hesitate to contact us so you can start your claim and get the compensation you deserve. 
Case Studies And Resources
For any medical advice, visit the NHS website. 
If you're interested in accident prevention, see the Royal Society for the Prevention of Accidents.
For further information on accidents at work, see the Health and Safety Executive site.
If you require more information on making a personal injury claim, our guide could help. 
Did you break your back in an accident that someone else caused? If so, our case study guide on claiming for a broken back may help you understand how much compensation you could claim. 
Other Personal Injury Claims Guides You Can Read
FAQs About Broken Bone Injury Claims
In this section, we look at commonly asked questions regarding broken bone injury claims.
How much is a broken bone settlement worth?
The settlement offer you could receive would depend on a number of factors including the severity of your injuries and the evidence you can provide. It's important to have a valid claim before making a start with the claims process. 
How is injury compensation calculated?
Compensation is calculated by looking at the physical and emotional suffering your injury has caused as well as the impact the injury has had on your quality of life. You may also be able to claim for any financial losses the injury causes. 
How much compensation will I get for a broken tibia and fibula?
Compensation amounts can vary depending on the severity of your break. However, you could estimate your claim by using a compensation calculator like the one on our website. 
Who is at risk of fracture?
Employers, road users and occupiers of a public place and medical professionals have a duty of care to keep you safe. If they don't, they could put you at risk of suffering a break or fracture.
Thank you for reading our guide on using a broken bone calculator to work out the compensation you could claim. We hope you found it useful. 
Page by GT
Editor TC