£15,000 For A Broken Index Finger Fracture: A Guide To Compensation Claims
You could claim for a broken index finger suffered in an accident in the workplace, in a public area or if you were involved in a road traffic accident that wasn't your fault. Our panel of No Win No Fee personal injury lawyers are successfully winning cases like this for people involved in accidents all across the country.
If you have been injured as a result of someone else's negligence, contact us today on 0800 408 7826 or email us by clicking here. Our team of friendly and knowledgeable advisers can tell you more about how to get the justice and compensation you deserve.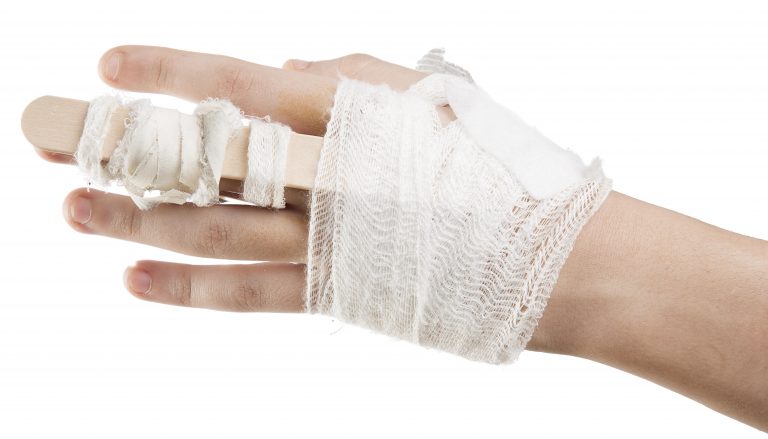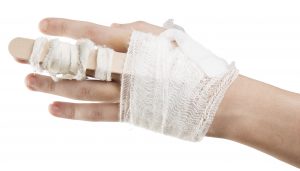 Select A Section
A Guide To Finger Fracture Compensation – Index Finger Injuries
A personal injury claim for a broken finger could be brought against any employer, local council, private operator or fellow road user if you're able to prove that they breached a 'duty of care' which resulted in your accident.
There are three main requirements for proving negligence which we will look at in detail below. We also discuss how to determine who breached their legal 'duty of care' to you, how to accurately establish blame, collect evidence and work with a lawyer to win the maximum damages possible.
We show you a typical case study of someone who worked with a No Win No Fee lawyer to handle his claim for a broken index finger. Whilst it is merely a typical example of the sort of cases our panel handles, it clearly describes the process. Specifically the two types, or 'heads' of claim open to you that can boost your compensation for a finger injury to a figure like £15,000.
Lastly, we provide you with the resources to locate and contact the best personal injury lawyer to handle your case.
What Classes As A Broken Finger?
The NHS website gives detailed guidance about how to diagnose a broken index finger, from a slight dislocation to badly broken bones. Fragile and used constantly, our fingers undertake thousands of tasks per day and an injury to any of our digits is bound to be more inconvenient than unbearably painful.
However, a severely broken index finger can still require a healing time of 3-4 months. This is a lengthy period to attempt tasks without using that finger and the impact on your life could be far-reaching and expensive.
If you believe you have a case for negligence against your employer, a public operator, or as a result of someone else's reckless driving, there are three things to consider first.
Who had a duty of care in that environment?

Did they breach that duty of care?

Did this cause or contribute to your consequential injuries?
Your employer has a legal responsibility to provide as safe a working environment as possible for you under The Health and Safety at Work etc Act 1974. To achieve this, they must conduct  risk assessments, regular inspections of machinery and equipment, and to supply you with adequate personal protective equipment (PPE). A failure to do so could lead to a breach in their duty of care, which in turn could cause an accident.
The Occupiers' Liability Act 1957 states that those in control of public spaces are likewise bound by laws protecting your safety when using their premises. This includes the council and municipal areas such as parks and open spaces. 
Road users owe each other a duty of care as outlined in The Highway Code. All road users have a responsibility to exercise due care and diligence to other road users and pedestrians, regardless of the age or experience of other drivers. The road user should also anticipate that other drivers or persons on the highway may not show this requisite level of skill, experience and care.
Our case study describes someone who claimed for a serious broken index finger that resulted from an injury in the workplace. Each year 581,000 people on average are involved in workplace accidents many of which involve delicate extremities such as fingers and toes. 
If you're one of them, contact our panel of experts to discuss your options today on the number at the top of this page.
What Should I Take Into Account For Financial Losses?
In addition to general damages, which account for the pain, suffering and impact on your quality of life, it's possible to add special damages to your compensation package. 
Special damages are calculated on the basis of how the accident at work and subsequent injuries impacted you in reality and are designed to cover any losses you've incurred because of the injuries. Loss of earnings, travel costs, carer's costs, physiotherapy and loss of amenity can all be taken into account.
Calculating Care Claims For Finger Injuries
Depending on your dominant hand, your broken index finger injury is likely to make your life more complicated. In a digital age, where most people use computers on a daily basis, fingers are our primary tools, making normal work with an injured one very difficult.
To cope domestically, a claimant may rely on the assistance of family and friends which is described as 'gracious care' and is performed without the expectation of financial gain on their part. If this is not enough, a professional carer may be required, and if so, compensation can be claimed for the time that another person has spent looking after you.
If you've had to pay for a professional carer to visit you and assist with basic tasks, these costs can form part of your compensation. The NHS estimates that these costs can run as high as £1,500 per week.
Your Solicitor Requires Information To Calculate Compensation
In order to prove a personal injury claim, a medical assessment is required. The purpose of the assessment is to establish that your injuries were a direct result of your accident and not a pre-existing medical condition, a vital distinction to the strength of your case.
It's also an opportunity for the medical professional to advise you of any long-term damage and potential health issues that may arise because of your accident in the future. This prognosis can have a considerable bearing on your compensation.
When calculating payouts for your broken finger injury, your No Win No Fee lawyer looks at two types of compensation:
General damages – these are awarded with reference to the Judicial College Guidelines and depending on severity, can range anywhere from £3,000 to £8,000 for an index finger injury that resulted in diminished dexterity, scarring or hand damage.
Special damages – is compensation designed to cover all the various financial implications a serious injury to the finger can create. Things such as loss of earnings, personal care, travel expenses, physiotherapy and any future losses can be accounted for under this head.
When it comes to recovering costs and expenses, it's important that you keep all bills, receipts and invoices for any services performed on your behalf due to the injury. Without sufficient evidence, it will be difficult to persuade the defendant to pay.
If at any point while reading this guide you have a question about the types of compensation claims or if you'd like to proceed with a claim, our team of friendly advisers are on hand to take your call 24 hours a day, 7 days per week.
£15,000 For A Broken Index Finger: A Case Study
As an operative in a busy call centre, Adrian was a very fast typer who needed to use a keyboard all day. To access the office, employees had to enter through several security doors and on the day of his workplace accident, several of these doors were undergoing repairs requiring manual use and makeshift doorstops to prop them open.
On his way through one of these doors, the correct door stop was not in use and the heavy door slammed shut on Adrian's finger. This very painful injury broke his index finger in two places, requiring emergency medical treatment. The health and safety officer recorded the accident and the company CCTV also captured the moment. This became vital evidence for Adrian's case.
Adrian had his finger set in a cast and missed work for a week. He needed help doing basic tasks for much longer as the finger took a long time to heal. Adrian also noticed that dexterity in that finger was now impaired. He couldn't type as fast as before and felt this very real obstacle was now stopping him from optimum performance at work.
After discussing his options with a lawyer, Adrian decided to seek damages to help meet the costs of physiotherapy and to cover financial expenses while he re-trained in a completely different industry and found a job that did not take such a toll on his damaged finger. This period of job insecurity was both expensive and distressing.
After the company admitted liability for not providing proper door safety measures, Adrian's broken toe case was settled in his favour for £15,000. Adrian's compensation break down was:
| General damages | Special damages |
| --- | --- |
| Adrian was awarded £9,000 for the injury to his index finger. | Loss of earnings, career and retraining expenses - £4,000 |
| | Professional carer for 4 weeks - £1,500 |
| | Painkillers, medical equipment, adapted utensils - £500 |
The case of Adrian is merely an example designed to illustrate a potential scenario. It's based on our past experiences of handling and valuing claims and serves to show how accidents can happen and how they might be valued.
Your Free Estimate To Calculate Compensation
Many personal injury websites claim to give an instant figure for your compensation in the form of a personal injury claims calculator. But it's important to note that whilst compensation calculators may seem to give an 'instant' settlement amount for a broken finger accident at work, they often lack the precise details to offer a truly accurate idea of the compensation due to you. You could be due more. 
The best way to establish exactly what your payout might be is to contact our team who can talk you through the process step by step. Use the number above to speak 24/7 to our knowledgeable team or send us an email about your accident by clicking here for a precise estimate.
No Win No Fee Claims For Index Finger Injuries
No Win No Fee claims are designed to help people access the justice and compensation they deserve at no up-front cost to them. Essentially, if your case does not succeed, you will not have to pay any of your solicitors fees. You also won't have to pay any fees upfront or during the process.
If your case wins, your personal injury lawyer will seek a nominal fee called a 'success fee' (capped by law) which is deducted only after the compensation has been won, leaving the bulk of the money for you.
Locations Of High-Quality Personal Injury Lawyers
If you're seeking legal advice, you may start with a Google search and be given thousands of results. But how do you know who is the best personal injury lawyer to handle your broken finger claim? One way to narrow down the options is to look at reviews from past clients and look out for the following:
How did they rate the solicitor's communication skills?

Did they get the result the client hoped for?

How long did the claim take to settle?
It's important that you discuss your case with a lawyer too. These are all facts that we appreciate and is why our team is available 24/7 to take your call and offer you all the free legal advice and support you need without any obligation to proceed.
Guidance From Our Support Team
Thank you for reading our guide on how to claim for a broken finger. For the best free, legal advice and support, with no obligation to proceed:
Quick Resources
For further reading on your claim for a broken finger, please click the links below:
https://www.nhs.uk/conditions/broken-finger/
https://www.gov.uk/guidance/the-highway-code.
https://www.hse.gov.uk/statistics/causinj/index.htm
Guide by WA
Edited by BI