Our ankles don't just support our bodies. It's only after an injury to them that we can often see how they support our whole way of life. A broken ankle injury is frustrating and inconvenient in the extreme, causing anything from a painful limp to the need for a wheelchair. How would you cope with a sudden injury that can cause so much disruption? Compensation for broken ankle injuries could get you and your finances standing on your own two feet again and this article explains how.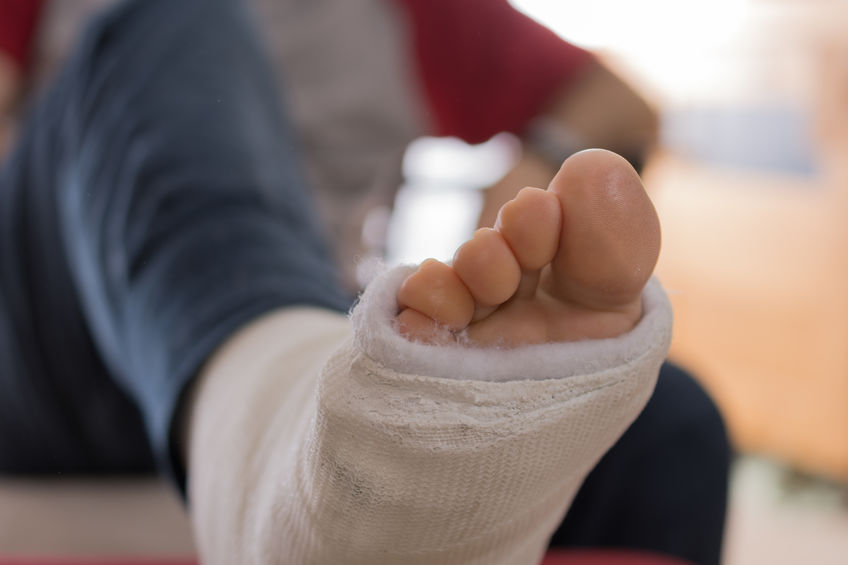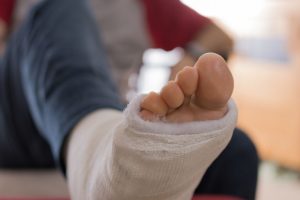 Using a fictitious case study of someone who was awarded £30,000 for a broken ankle injury that was not their fault, we look at liability and blame. We explain the advantages of working with a No Win No Fee personal injury solicitor and how they can offer a way to build a case for compensation with you. Whether it was an accident at work, in a public place or a road traffic accident, we can help.
Get Started Now
Our personal injury claims specialists are available 7 days a week, 24 hours a day to take your call. It's a free initial consultation just to assess your eligibility and listen to what happened to you. If we can help, we offer excellent free legal advice and could connect you with a personal injury lawyer from our panel to get your ankle injury claim started today. Simply:
Jump To A Section
A Guide On The Average Compensation For Broken Ankle Injuries
You may be unfamiliar with starting a personal injury claim and have questions or concerns that put you off making one. Will it be expensive? Could I lose my job? What happens if I don't win? All these points and more may suggest to you that it's easier to simply minimise the significance of the accident, tolerate the injuries and pick up the pieces yourself.
This is unfair when you were the victim of an accident that could have been prevented. There are laws (which we will look at in detail further below) that oblige employers, fellow road users and people in charge of public spaces to ensure, to the best of their ability, your safety and wellbeing. 
If these laws are breached because of a lack of care on their behalf or because of negligence, you can seek personal injury compensation.
What Is 'IBEC'?
We examine the four basic steps which can be described by an acronym IBEC
I – Injuries

– did you suffer harm?

B – Blame

– who was responsible for preventing the hazard? How did they fail in their legal requirements?

E – Evidence

– Can you prove the impact on your health and finances that the injuries have created?

C – Compensation

– how can compensation be calculated properly to reimburse you?
We will walk through these steps in detail over the course of this article and illustrate a typical accident in the workplace with our case study. We then demonstrate how a possible amount of compensation was calculated.
You can get in touch with our personal injury team at any point if there's something you don't understand or would like further information about.
What Is A Broken Or Fractured Ankle?
The three main bones of the ankle are the tibia (shinbone), the fibula (lower leg bone) and the talus which is the heel bone that sits between the two. The medial, posterior and lateral malleolus parts of the tibia, and the syndesmosis joint ligaments can all be affected during an injury to the ankle.
Broken or fractured ankle accidents that involve one or more of these bones can occur from twisting, crushing and over-extended separation. You can refer to this link about broken ankles for more detailed information about broken ankles. Suffice to say that it's a very painful injury and greatly diminishes the ability to walk or bear weight on that leg. Symptoms include:
Immediate localised or shooting pain

Bruising and discolouration

Instant swelling

Tenderness to the touch

Inability to bear weight on the injured foot

Strange, abnormal angle of the foot

Nausea, headaches, fainting
A proper medical diagnosis would require an x-ray, CT or MRI scan and the use of a 'stress test' whereby your doctor would apply pressure on the ankle to take a specialized x-ray to determine the full extent of the damage.
Recovery periods vary depending on the severity. Unless it's a case of actual mutilation or amputation of the foot at the ankle joint, it's possible to recover from most broken ankle injuries fully in 6 – 8 weeks. The use of a boot cast or crutches may be necessary, and in some extreme cases, surgery may be required. All of these can impact recovery times.
Case Study – £30,000 Compensation For Broken Ankle Injuries
Mr Jacobs had been with the decorating company for under three months and was given the task of painting the outside of a three-storey building. His company supplied all ladders and tools and he was well familiar with how to correctly use them. As he climbed up to start painting, the ladder he was using broke due to a faulty support lock and he fell roughly 10 feet onto the grass verge. He landed on his ankle and broke it.
As he recovered from his accident he began to turn the events over in his mind. He knew that he had correctly set the ladder up and had taken as much care as he normally did. Yet here he was, unable to work and suffering a loss of earnings with his foot in a boot cast for at least six to eight weeks. Worse still, he was unable to perform any of the domestic tasks that needed doing and was forced to seek professional help in relation to care, such as with cooking, washing and cleaning. This was very expensive and bore into his savings.
His partner mentioned a No Win No Fee lawyer after seeing an advert on TV. Mr Jacobs was wary of hiring a personal injury solicitor. Firstly he worried about the costs of working with a legal expert and then he had concerns about suing his employer. He didn't want to generate bad feelings at a fairly new job. But the facts remained stubbornly clear. He was in this predicament because of their failure to check the tools they provided to their workers.
Deciding To Sue – Compensation for broken ankle injuries
After chatting things over with a personal injury specialist on the phone he discovered several interesting details. Firstly, he was told that he had a very solid case for compensation. 
Secondly, he was informed that every company that employs people in the UK carries employers' liability insurance to deal with the possibility of accident claims. It wasn't his boss or the company that would need to pay out to help him recover his health and financial losses, it was the insurance company. Most helpful to Mr Jacobs was learning that there was no financial risk on his part if he pursued his case on a No Win No Fee basis.
He was able to hire a lawyer with no upfront costs and nothing to pay as the case developed. He could sit back relax, safe in the knowledge that his lawyer was committed to securing the best possible compensation amount on his behalf as their fee would come from the final settlement amount—if the case was successful. All Mr Jacob had to do was share as much information about his situation as possible, gather any evidence available to him, and wait for the result.
Conclusion
The case did not even need to go to court. Mr Jacob's firm admitted that the ladders should have been updated and that the faulty tools had directly resulted in causing him injury. They admitted liability and Mr Jacob was paid out the amount that is calculated in our table below:
General damages
How much?
Special damages
How much?
For an injury like Mr Jacobs, the JCG
recommend a potential award bracket of between
£12,900 - £24,950
£24,950
lost earnings
£1,500
care assistance for a month
£2,500
Physiotherapy costs
£1,000
Painkiller medication
£50
TOTAL
£30,000
The case of Mr Jacobs is meant as an example. It is based on our past encounters of handling and valuing claims. It seeks to depict how accidents can happen and how they are valued.
What Are The Most Common Causes Of Broken Ankle Injuries?
Falling from a ladder and landing with your full weight straight on to your ankle is almost a guaranteed way to snap the bones in this part of your foot. But there are other scenarios that could happen both in the workplace, in public places or during road traffic accidents. Some examples:
You could slip on an unattended spillage in a supermarket and crack your ankle

As a cyclist, another road user could knock you from your bike or trap your foot

At work, a heavy object could hit your ankle and fracture it

If there are poorly lit stairs or uneven surfaces you might fall or trip

Overcrowding or badly managed public events might create the risk of injury

Any form of impact with the lower leg caused by crushing, twisting, falling or pulling might dislocate and fracture the ankle bones.

Slips, trips and falls of any kind caused by the negligence or actions of another could expose you to the risk of this sort of injury.
Duty of Care
Other factors can predispose you to an enhanced risk of ankle fracture and difficult recovery. Age and weight factors can play a part. Of course, blame-free accidents do happen and we have a responsibility under the law to take as much care of our own safety as we can in the workplace and in public.
However, if your accident happened because of a clear breach in the legal duty of care as outlined in the Health and Safety At Work etc Act 1974 or The Occupiers' Liability Act 1957, you could have strong grounds for compensation for broken ankle injuries. 
Both these pieces of legislation apply a duty of care to employers or those in control of a public space to create environments that protect the safety and wellbeing of employees or visitors.
Calculating Compensation For Broken Ankle Injuries
After you have made the decision to use a No Win No Fee lawyer, how exactly can they help calculate the value of your broken ankle compensation? It's important to say at this point that you can start a claim for personal injury on your own. You do not have to use a lawyer. But the legal terminology and the complexities of the law are something that many people find too time-consuming to grapple with. Inexperience could cause your claim to falter or even fail.
Some websites offer personal injury claims calculators that promise instant figures for those seeking compensation. Without actually speaking to the person, it can be very difficult to adequately assess their circumstances and these calculators can often overlook important details that could have a significant bearing on the final settlement amount.
You don't want to put your trust in something that under-values or over-promises your potential award. It's better to consult with a personalised and professional claims calculation service like ours.
General damages – Compensation for broken ankle injuries
Firstly, your personal injury solicitor will help arrange for an independent medical assessment as part of the claims process. The point of this is two-fold. First, it's necessary to establish the exact nature and extent of your injuries. And secondly, to rule out that a pre-existing medical condition that cannot be attributed to the accident was the cause.
Once the results of your assessment are made, your lawyer can refer to the Judicial College Guidelines to see what award amounts they recommend for injuries like yours. The JCG is a compendium of suggested award brackets for a head to toe panoply of injuries. The idea is to provide a financial guide to compensating victims for the impact of things that are difficult to consistently estimate. These are things that vary from person to person. Such as:
The pain and suffering caused by your injury

Ongoing long-term damage

Mental health impacts like anxiety or increased likelihood of depression

Damage to personal relationships

Any diminution in the quality of life as previously enjoyed before this accident and injury.
Our table illustrates what the JCG would estimate as appropriate compensation for broken ankle injuries in this instance. It could be more or it could be less in your case. They offer only a guide for your personal injury solicitor to argue for on your behalf. 
Compensation amounts are never absolute certainties and each case is decided on its individual merit, but your medical assessment can form a good basis for your general damages.
What Are Special Damages In Personal Injury Claims?
The second head of potential compensation is called special damages. This evidence can be slower to gather together. It relies on you being able to prove both the immediate and long-term financial impact the injuries have had on you. 
For example, you may have been unable to work and have lost earnings which in turn caused you to borrow money to pay essential bills. Items like this accumulate as you recover from your injuries. But with a No Win No Fee lawyer at your side, they can ensure that these fees are caught and reflected in your claim to be used as evidence against the defendant. 
Other cost implications after your no-fault injuries might include:
Lost earnings

Care costs as you recover from your injuries

Physiotherapy or counselling

Any cosmetic surgery costs to remove scarring

Child care costs

Loss of work bonuses or impact on pensions

Any special occasion that had to be cancelled, costing you money

Travel expenses to hospital or therapy
With the right bills, receipts or statements it's possible to calculate an exact amount that you are out of pocket. This can then be used as evidence, giving you a chance of winning all of this money back.
How To Get Free Legal Advice For Compensation for Broken Ankle Injuries
At Compensation Calculator UK  we offer a service that aims to take all the potential stress and confusion out of ankle injury compensation claims. When you call our friendly team for a chat, they can assess your circumstances and advise you on your options. If it's a weak case, we won't waste your time with promises that cannot be kept.
There is no such thing as an 'average' compensation payout for broken ankle injuries. Each case has varying factors that may add more or less to every case. But it is possible to get excellent advice on how to calculate broken ankle compensation payouts. This can give you the best chance of being awarded the maximum amount.
If we can, we will connect you with a skilled personal injury lawyer from our panel who can take your case up. They can calculate the potential damages properly and work tirelessly on securing you the best possible outcome. There is no fee for this service unless your case wins.
No Win No Fee Compensation For Broken Ankle Injuries
As our case study demonstrates, Mr Jacobs needed to start a personal injury claim as there was a clear breach in the duty of care of his employer. But he was worried about the cost. No Win No Fee arrangements enable you to use the services of a solicitor with no financial risk to you. There are no upfront fees to get the case started. There's nothing to pay as the case progresses. If your case fails, there is nothing to be paid to your solicitor at all.
Successful outcomes mean that a small, capped percentage of your total settlement amount needs to be paid to your lawyers. This is a fee for their efforts on your behalf. This amount is nominal. It also does not need to be paid until you receive the full payout from the defendant or their insurance company. 
The law keeps this amount low to protect you from paying more than you should. We are confident that after speaking with us, you will consider it money well spent when a skilled personal injury solicitor from our panel was able to boost the amount you might be due.
Get Free Legal Advice From Our Team
Thank you for reading our guide about making a personal injury claim for broken ankle compensation. If you're ready to start your claim, or would just like to talk over any questions or details, please get in touch by:
More Cases Studies And Resources 
For more information about how to avoid slips, trips and fall accidents, please read here
This link gives details on government statistics pertaining to accidents in the workplace
You can refer here for more information on the duty of care of fellow road users under The Highway Code
We also have some other guides that you may find useful:
Broken Ankle Injury FAQs
Can you still walk on a broken ankle?
Possibly, but it's not advisable. You could create further damage. If possible stay off that leg until you have received a proper medical assessment
How painful is a broken ankle?
Very. If you refer to our symptoms section above you'll see that it's possible to experience any or all of these effects.
Can you fully recover from a broken ankle?
Yes. As long as there are no complications like blood infection or anything that would cause the bones to re-fuse poorly.
How do you know if an ankle injury is serious?
A broken ankle is serious. You should always seek medical advice if you think you may have fractured your foot in any way.