Have you sustained a broken foot in an accident? Did a breach of duty of care cause your accident to happen? If so, you may have grounds to claim compensation. Our guide will take you through how you can use our broken foot compensation calculator to work out how much you may be owed.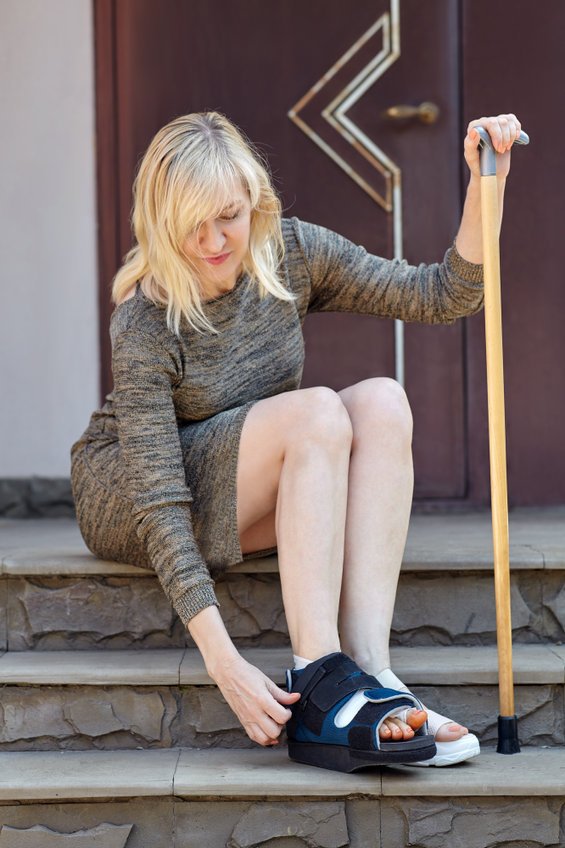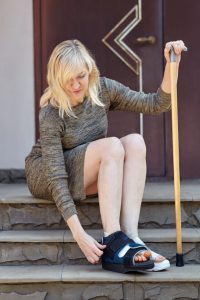 Understandably, you may be unsure of your rights after an accident in which you were injured. You might also have difficulty telling whether a third party owed you a duty of care. This guide will look at what steps you should take after you've been injured and in what circumstances a third party is responsible for your injuries.
Foot Bone Fracture Compensation Calculator
Our guide has tried to provide as much information as possible about making a personal injury claim. However, we understand you may still have questions after reading. If so, our advisors are available to provide you with free legal advice 24/7.
Additionally, our advisors can assess whether you have a valid claim. If they feel your claim has a good chance of succeeding, they can connect you with a personal injury solicitor who can take you through the next steps of your claim.
For more information, call us on 0800 408 7826. Alternatively, continue reading for more information on the typical payouts for a personal injury at work, on the road or in a public place.
Jump To A Section
A Guide To Using A Broken Foot Compensation Calculator
Did you suffer a foot fracture in an accident at work after falling over? Or did you slip on a spill in a supermarket aisle? Perhaps your injury was caused by a car accident?
Either way, if someone breached their duty of care towards you, resulting in you breaking your foot, you may be able to claim compensation for your injuries. Our guide will be taking a look at some common causes of a foot fracture. Furthermore, we'll explore what a duty of care is and the circumstances in which a third party has a responsibility for your safety.
Additionally, we'll look at the different damages that a compensation claim could consist of. We'll also go through the evidence you'll need to support your claim. And crucially, we'll guide you through using our compensation calculator to work out what you may be owed.
Furthermore, our guide will look at the benefits that a solicitor can offer when claiming. In addition to this, we'll look at how a No Win No Fee agreement could be useful when you're looking to fund legal representation.
Don't forget, if you have any questions whilst or after reading our guide, you can contact our team on the number above. One of our advisors will be happy to take your call and offer you free legal advice about the claims process.
What Is A Broken Foot Compensation Claim?
It's important to seek medical advice if you suffer a broken foot to ensure you receive the proper treatment and to prevent any complications. Leaving a broken bone to heal without medical intervention could cause it to heal incorrectly, which could cause long-term complications.
A doctor may determine the nature of your injury by ordering a CT scan or X-ray to assess the type of fracture you have. For example, you may suffer a hairline fracture to the foot or a foot stress fracture.
There are various bones in the foot that you may have broken. These include the:
Metatarsal bones, which are in the middle of the foot
Talus, which is at the base of the ankle
Phalanges, which are the toe bones and could be affected by a broken foot
Cuboid and cuneiform bone (including the lateral cuneiform bone and the intermediate cuneiform bone) and the navicular bone all form the top of the foot
Calcaneus, which is the bone that makes up the heel.
If you damage any of these, you may experience broken foot symptoms such as pain, swelling and deformity of the affected area, as well as bruising and tenderness. However, some fractures, such as hairline fractures, may not be particularly painful; in some cases, you may not even realise you have broken a bone.
The healing time for a foot fracture is usually up to 12 weeks; however, this can be longer depending on individual circumstances and which bone in your foot was injured. For instance, a heel (calcaneus) fracture can be difficult to treat and may take longer to heal.
In some cases, you might be given a boot or cast to keep your bones in position as they heal. You should ask your doctor about things like driving and returning to work.
What Am I Entitled To Claim After A Personal Injury?
When making a personal injury claim, there are different damages that your compensation could be made up of. General damages cover any physical and psychological pain caused by the injury. They also take into account the impact the injury has had on your quality of life and how long your injuries are likely to affect you.
Additionally, if you have incurred any past or future financial losses as a direct result of the injury, you could claim for these under special damages. They might include:
Lost earnings, including bonuses and future pension losses
Medical expenses
Travel costs
The cost of care, either professional care or gracious care from loved ones
It's important to note that you will require evidence to support your claim for compensation. You'll have to show that the accident that caused your injuries was not your fault. Evidence to support this might include:
CCTV or dashcam footage
Police reports, if applicable
Pictures of the accident and injuries
Witness details and statements
Medical reports
Additionally, evidence will be required to support your claim for special damages. This might include payslips to show a loss of earnings or receipts for other costs.
For more information on what you'll need to build a valid claim, contact our team on the number above.
Causes Of Fractured And Broken Foot Accidents
There are various situations where a third party owes you a duty of care. This means that someone is expected to do everything reasonably possible to keep you safe. If they don't, this is a breach of this duty and could result in an accident.
Below, we will look at how a foot fracture might happen as the result of a breach of duty of care. We'll look at the duty of care owed to you at work, in public spaces and while on the road.
If you have any questions about whether your accident happened because of a breach of duty of care, get in touch with our team today for free legal advice. Otherwise, you can read on for further information.
Stress Fractures Caused By Overuse
Your employer has a duty of care towards you under the Health and Safety at Work etc. Act 1974. If they fail to take all reasonably practicable steps to ensure your safety at work, then you could be able to claim for any injuries that occur.
A stress fracture is caused by repetitive force, usually by overusing a certain body part. There are several ways an employer's negligence could have caused a stress fracture to the foot.
For instance, your employer might not give you enough time between shifts. If you work in a physical job role, this could mean that your bones don't have enough time to heal before being subjected again to repetitive force.
Alternatively, your employer may not provide supportive footwear if you're in a job that requires you to carry out the same role on your feet over and over again. Failing to provide suitable footwear could put employees at a higher risk of a stress fracture from the lack of support.
Manual Handling And Falling Object Accidents
According to the Health and Safety Executive (HSE), 14,895 workers in the manufacturing industry suffered a non-fatal injury while handling, lifting or carrying in 2019/2020.
This type of accident could have resulted in a foot fracture in a number of different ways. For instance, if you're not trained in proper manual handling techniques, this could result in you attempting to carry a load that is too heavy for you. As a result, you could drop the load on your own foot, which could cause it to fracture.
You may also suffer from a foot fracture as the result of a falling object that you did not drop. For example, poor shelf loading techniques might result in heavy objects being stored on high shelves instead of closer to the ground. If one of these loads fell because it was unsecured, you could fracture your foot.
Your employer's duty of care also includes providing you with the Personal Protective Equipment (PPE) that you need to do your role safely. For instance, they may be required to provide you with steel-toe boots if you work in construction. If they fail to do this and something drops on your foot and fractures it, you may be able to claim.
Falls From A Height Or On The Same Level
According to HSE, falls from height accounted for 8% of non-fatal injuries in the workplace in 2019/20. Furthermore, reports from employers show that there were 4,046 falls from height in the manufacturing industry alone.
An employee could fall from a faulty ladder if an employer hasn't carried out a risk assessment to check that the ladder was safe to use. All equipment that you need to do your job should be safe and well-maintained.
However, just because a piece of equipment broke or malfunctioned, causing you injury, does not mean that you can claim. You need to show that your employer was negligent in their maintenance of the equipment.
So if your employer performed a check on a ladder that you use for your job and found it to be functional, but then it broke a week later when you used it, you would not be able to claim. This is because your employer did everything they could to provide you with safe work equipment.
Additionally, falls from height could happen in a public place. For example, a member of the public could fall down a defective maintenance hole and suffer a fracture to the foot. The person in control of the space would be in breach of their duty of care according to the Occupier's Liability Act 1957. This states that the "occupier" of a public space needs to take all reasonably practicable steps to ensure the safety of those who use the space for the intended purpose.
Vehicle, Car And Other Road Traffic Accidents
All road users have a duty of care to one another. This is outlined in the Highway Code.
Road users are expected to act in a way that ensures the safety of everyone else on the road. There aren't any allowances made if you're inexperienced or a new driver.
There are many ways someone could suffer a fractured foot in a road accident. For instance, a cyclist could get knocked off their bike by a car driver who swerved into the cycle lane. Or a motorcyclist could ride through a pedestrian crossing without stopping and run over a pedestrian's foot.
Non-Fatal Road Traffic Accident Injury Statistics
According to the Reported Road Casualties in Great Britain Provisional Results: 2020, there were 131,220 casualties of all severities. 106,750 of these were slight injuries. These figures relate to all road users, including pedestrians, motorcyclists and cyclists.
The graph below shows how slight injuries occurred across different categories of road users and is taken from the table of figures on the Gov.uk website. Although the figures don't specifically relate to broken foot injuries, they provide an idea of how often road users are affected by slight injuries such as a fractured foot.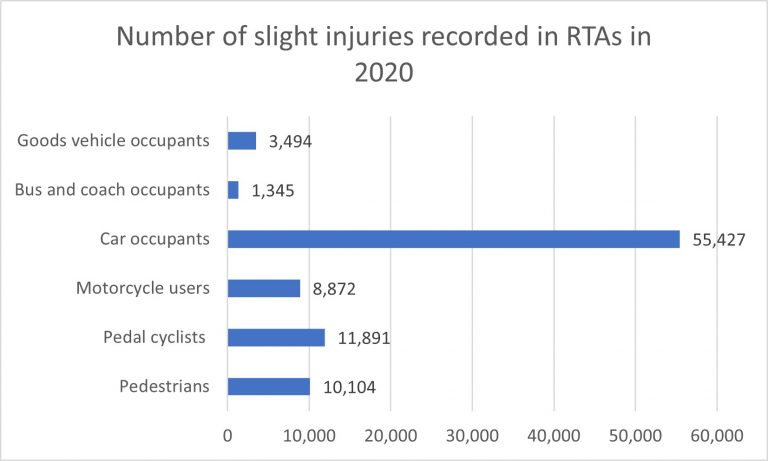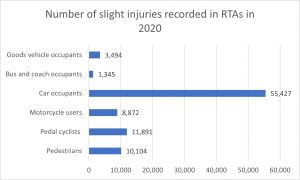 Could You Claim For Care Costs As Part Of A Personal Injury Claim?
We understand that even after you've suffered an injury, you may still have responsibilities that can't be ignored. For example, you might be responsible for caring for an elderly parent or providing care for your children. Alternatively, you may have had to arrange additional care for yourself, depending on how severe your injury is.
You can claim back the cost of care as part of your compensation claim. This can include professional care or gracious care from loved ones.
For example, your partner may have to take time off work to care for your child as you're no longer able to do so. This could be included in the special damages head of your claim.
Check How To Use A Broken Foot Compensation Calculator
The personal injury calculator on our website could provide you with an estimate of how much your claim is worth. All you need to do is input some details about the accident and the injury that occurred as a result.
Additionally, the calculator may consider any loss of earnings that you've incurred. However, it won't take into account any other losses that could be included in special damages.
Although we've tried to ensure the estimate is as accurate as possible, the actual settlement figure you receive may vary. It can depend on how severe your injury is and any additional damages that may be added to your claim. For that reason, the figures our calculator provides should only be used as a guide.
What Payout Could You Get For A Broken Foot?
General damages are calculated with the help of a document called the Judicial College Guidelines (JCG). You will usually be invited to attend an independent medical assessment as part of the claims process. This can provide a report which will allow a solicitor to value your claim with the help of the JCG.
The report will provide information on the state of your injuries and help to prove that you sustained your injuries in an accident. It will also detail your prognosis and how long it will take you to recover from your injuries.
If you're claiming any special damages, these may be added to the compensation figure you receive for your injury. It's advised that you keep a record of any costs you have incurred as a result of your injuries. Without evidence, it will be difficult for you to claim these costs.
Broken Foot Compensation Calculator
We have created a table that can provide an idea of the compensation you could claim for specific foot injuries. The figures in this table are based on the guidelines provided by the Judicial College. The figures should only be used as a guide as they can vary depending on the severity of your injuries.
If you can't find your injury listed on our table, don't worry.  You can use our compensation payout calculator to work out how much you could claim.
| Injury | Description | Award |
| --- | --- | --- |
| Foot | Severe: The award for a severe foot injury includes a fracture of both heels or feet with substantial restriction on mobility and permanent considerable pain. | £39,390 to £65,710 |
| Foot | Moderate: The award given for a moderate foot injury includes a displaced metatarsal fracture which causes permanent deformity and ongoing symptoms from the injury. | £12,900 to £23,460 |
| Foot | Modest: Modest foot injuries might include simple metatarsal fractures and other simple foot fractures as well as any continuing symptoms e.g. permanent limp, pain or aching. | Up to £12,900 |
| Toe | Serious: This includes an injury to the big toe or crush and multiple fractures of two or more toes. The injury will result in permanent symptoms such as pain, discomfort or scarring. | £9,010 to £12,900 |
| Ankle | Very severe: Ankle injuries such as a transmalleolar fracture with extensive soft- tissue damage which results in deformity and ongoing problems. | £46,980 to £65,420 |
| Ankle | Moderate: This includes injuries such as fractures and ligamentous tears and may result in difficulty walking, standing or walking for long periods of time. | £12,900 to £24,950 |
| Ankle | Modest: Fractures, sprains and ligamentous injuries that are not displaced or that are minor. The award given will depend on the severity of the symptoms of the injuries listed for this award e.g. how long recovery takes, whether there's any scarring, loss of movement or a chance of long term osteoarthritis. | Up to £12,900 |
For any further information on how much compensation you could be owed or how claims are valued, call our team on the number above. They can offer you free legal advice about making a claim.
No Win No Fee Broken Foot Compensation Claim Agreements
There are many benefits to having a personal injury solicitor represent you during your claim. For example, they can provide expert knowledge and advice based on their experience of handling similar claims.
Many people might associate legal representation with large upfront and ongoing fees. However, our advisors can connect you with a solicitor who can represent you on a No Win No Fee basis.
This means that if your solicitor doesn't win your claim, they won't ask that you pay solicitor fees. You also won't be expected to pay them anything at all in order for them to start work on your claim or while the claims process is still ongoing.
If they are successful, you'll pay a success fee which is capped by law. However, you'll be made aware of this fee before the claim begins, and the legal cap ensures you will always get the compensation you are owed for your injuries.
For more information on making a personal injury claim on a No Win No Fee basis, get in touch with our team today. If they feel your claim has a good chance of success, they could connect you with a personal injury lawyer from our panel to represent you.
How To Get Free Advice About Your Case
Although we've tried to cover as much as possible in this guide about claiming compensation for a broken foot, we understand you may still have questions. If so, our advisors can offer free legal advice 24/7.
For more information, get in touch by contacting us using the details below:
Call us on – 0800 408 7826
Please chat with us using the live chat feature at the bottom of the page.
Send us an enquiry using the form, and we'll contact you at your specified time.
Ask If We Could Help Calculate Your Compensation Claim
We've tried to make our broken foot compensation calculator accessible and easy to use. However, if you have any problems, please get in touch.
Our advisors can guide you through the questions to get you an accurate estimate of your claim value. Additionally, they can provide further details on the special damages you may be able to claim.
You could start your claim and get the compensation you deserve today, so please don't hesitate to contact us for free legal advice.
References
If you're still unsure about claiming compensation for a broken foot, we have created a case study that could help.
Our guide on claiming for a broken back could show you how much you're entitled to for this kind of injury.
For any medical advice on how to tell whether you have a broken bone, visit the NHS guide or seek advice from a health care professional.
Visit the Royal Society for the Prevention of Accidents for further guidance on road safety.
For any further information on health and safety in the workplace, see the government website.
Other Personal Injury Claims Guides You Can Read
FAQs On Broken Foot Compensation Claims
Please find answers to some common questions we get asked below.
Who could make a personal injury claim?
You could make a personal injury claim if you have suffered an injury in an accident that was caused by someone else's negligence.
When could you claim for another person?
If someone under the age of 18 has been injured, you could act as a litigation friend and claim on their behalf. You could also claim on behalf of someone who lacks the mental capacity to claim for themselves. Get in touch with us to discuss how acting as a litigation friend could affect the time limit you have to start a claim.
What do you do if you do not have evidence of your injury?
It's important that you have evidence to support your claim, so you should try to obtain as much as you can. For example, you could collect medical evidence, CCTV footage and witness statements.
Could you claim if partially at fault?
If you contributed to your injuries, you could still claim. However, your compensation will be reduced accordingly. For example, if you were a passenger in a road traffic accident and didn't wear a seatbelt, you may receive less compensation than you otherwise would have.
Thank you for reading our guide on using a broken foot compensation calculator to work out how much you could claim.
Writer AC
Checked by NC