By Megan Hale. Last Updated 20th January 2023. Have you suffered from a broken rib injury at work, through no fault of your own? If you have, then you may be entitled to compensation. Claiming compensation for broken rib injuries can be confusing, so this guide will take you through all of the key points you need to know to make a claim.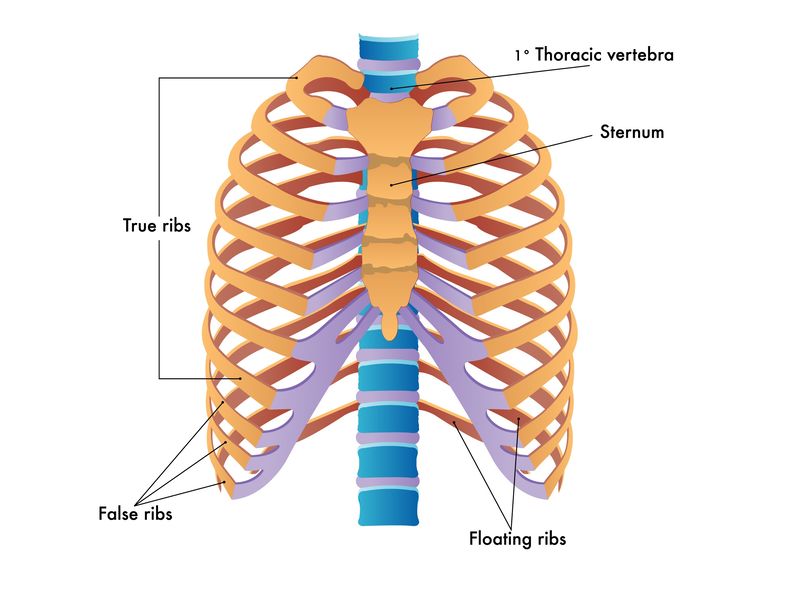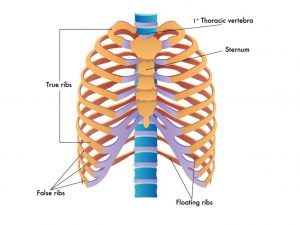 We'll be defining what actually constitutes a broken rib and how this kind of injury can occur. We'll simplify legal jargon and explore the law that was created to protect your health and wellbeing at work. (It should help you understand who could be liable for your accident and how.)
Additionally, our guidance on how personal injury claims are really calculated could prove useful if you'd like to estimate the potential value of yours. We'll also explain what evidence you might need to successfully support your case and the steps you could take after reading this article.  
If you require any additional help or advice regarding claiming compensation for broken rib injuries, our helpline is open 24/7. Our team of advisors will be happy to help. You can reach us at 0800 408 7826. You can also speak to us using the live chat window in the bottom right corner of this page, or send us a message using the website contact form.
Jump To A Section
A Guide On Claiming Compensation For Broken Rib Injuries At Work
Broken rib injuries can occur almost anywhere, including at work. If your accident occurred in the workplace and you weren't to blame then your employer could have been the one at fault. It's important to have a clear understanding of what caused your injury and how severe it is.
Your levels of pain and suffering may also affect how much your claim could be worth. An online personal injury calculator can't truly reflect the nuances of this so, even though they can provide helpful estimations, they aren't always accurate. The more information you have regarding the circumstances and aftermath of your broken rib injury, the easier it will be for your personal injury solicitor to calculate the potential worth of your broken rib claim.
Workplace accident statistics
Almost three thousand non-fatal workplace trunk injuries were reported in 2019/2020, with over half of these necessitating more than a seven-day absence from work. This makes trunk injuries the second most common upper-body injury in the workplace for that year, with only back injuries occurring more frequently. 
The graph below shows the amount of other non-fatal workplace torso injuries reported in 2019/2020.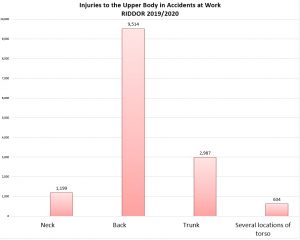 What Is A Fractured Or Broken Rib?
Fractured ribs are usually caused by blunt force trauma, a fall (or something falling on you) or severe coughing. Whilst broken ribs can be painful, they quite often heal by themselves. However, a broken rib injury can also lead to more serious complications such as a punctured lung, which can result in more long-term health issues down the line.
If you suffer a rib or chest injury then you may hear or feel a crack if a break occurs. However, this is not always the case. Another sign of a fracture can be pain or discomfort in the area of the suspected break, made more noticeable when you breathe in. There could also be swelling or tenderness, and possibly even visible bruising.
Whether a rib is bruised or broken, there is unfortunately very little that can be done to expedite the healing process. It's an injury that usually takes a matter of 3–6 weeks to heal naturally unless there has been additional internal damage caused by a broken rib, which can lead to a much longer recovery period.
If the injury is limited to just your ribs, plenty of rest and time off work is advised by the NHS, should you feel you need to. Painkillers such as paracetamol should help ease the discomfort.
Ibuprofen could help too, although should be avoided for the 48 hours following your broken rib injury, as it could impede the healing process. You should also try and breathe as naturally as possible for the duration of your injury.
Our advisors could give you free legal advice on what your injuries could be valued at. They're ready to take your call at any time of any day.  
Broken Rib Signs – What Are The Symptoms?
You could be eligible for compensation if a third party's negligence has caused you to suffer a rib injury. The NHS lists some broken rib signs and symptoms, such as:
Hearing or feeling a crack if the rib has broken.
Tenderness and swelling around the affected ribs.
Strong chest pain when breathing in.
Bruising on the skin around your ribs.
It is important to note that ribs cannot be easily supported or splinted like other bones, and there are usually left to heal naturally. The recovery time is generally 3 to 6 weeks for bruised or broken ribs.
You can use our injury claim calculator for free to find out how much compensation you could be entitled to. It will ask you a variety of questions about the nature of your accident and injury to provide you with an estimation.
Contact our team of advisors today to receive free legal advice regarding your specific claim. They are available 24 hours a day, 7 days a week, to answer any questions you may have.
Case Study: £8,000 Compensation For Broken Rib Injuries At Work
Mr Hancock is a supermarket warehouse worker who suffered a broken rib injury after falling from an unstable ladder. Falling from a height, in this instance, was the result of his employer not supplying a safe and reliable ladder for him to carry out his job without the risk of sustaining injury. 
How Mr Hancock suffered the broken rib injury at work
The feet of the ladder which Mr Hancock was supplied with had worn-down rubber grips. There was also a pool of liquid near the base of the ladder, furthering its instability. As a result of these unsafe conditions, he fell from the ladder as the friction which should have held the ladder in place during its use was far below acceptable standards. He landed on the hard warehouse floor, sustaining a fractured rib and bruising the surrounding soft tissue.
As Mr Hancock sought first aid, his colleague documented his surroundings following his injury. She took photographs of the worn-down grips on the feet of the ladder, as well as the pool of liquid which contributed to the fall.
Mr Hancock also later acquired written contact details from nearby witnesses who would be happy to make a statement for him. These witnesses would confirm that he wasn't using the ladder in a reckless or unsafe manner. 
He backed this up further by requesting the CCTV footage of the event. Once he had all the relevant evidence gathered, he reached out to a personal injury solicitor to clear up his understanding of compensation for broken rib injuries and to start the process of his claim.
What damages may be awarded to the victim?
It was determined that Mr Hancock was not to blame for the fractured rib he suffered at work and was successful in pursuing his personal injury claim. He was awarded £3,710 in general damages.
The overall amount that Mr Hancock received did increase, however, due to being awarded special damages in addition to general damages.
Special damages are extra costs that are accumulated as a result of your injury. Where the broken ribs compensation amount received in the form of general damages compensates you for your physical and mental suffering, special damages compensate you for financial loss. Examples of special damages are travel expenses, medical costs and loss of earnings. Mr Hancock's special damages are listed in the table below.
Breaking down this rib injury compensation settlement
| Type of Special Damages | Includes | How Much? |
| --- | --- | --- |
| Travel Expenses | To and from hospital check ups in taxis, trains etc. | £150  |
| Medications/Prescriptions | Prescriptions for pain management | £50 |
| Holiday Cancellation | Inability to travel or fully enjoy a family holiday that he had already paid for | £1,500 |
| Loss of Earnings | Loss of salary while he was on sick leave | £500 |
| Additional Care | Childcare, assistance with housework, difficulty with day to day activities  | £900 |
| Dependent Care | Mr Hancock's mother need his regular care so, while he was physically unable to help her, he paid for a carer. | £1,190 |
The case of Mr Hancock is to be used for illustrative purposes. Past experiences of the personal injury claims process influenced the case study.
 Other Ways You Can Break Your Ribs
In a Road Traffic Accident
When you're on the road, other road users have a duty to protect your safety under The Highway Code. However, accidents still happen and there are a number of relevant situations in which you'd be able to claim compensation for broken ribs whether you are driving a car, riding a motorbike, or as a pedestrian.
Any collision with another road user could result in a crush injury and cause a rib or ribs to break. For example, if you were a cyclist and a driver were to knock you off your bike, you would possibly sustain a rib fracture.
In a Public Place
This covers a variety of scenarios. Many people who sustain a rib or chest injury in a public place may do so due to the negligence of those responsible for the area, such as the local council. (Under the Occupiers' Liability Act 1957, anyone in control of a place accessible to the public has a duty to protect your safety.)
Workers have been known to remove manhole covers to access areas that need repair, without clear warning signs. Unsuspecting pedestrians could then be distracted by their phones and fall into an open manhole, sustaining a severe rib injury.
At Work
This is another place in which people will claim compensation for broken rib injuries. There are a wide range of incidents that could result in a rib fracture at work; whether it be due to blunt force trauma or a crush injury.
Items falling from warehouse shelves onto the chest of an employee is an example of this. A window cleaner falling from a reasonable height due to an unsafe ladder is another example.
No matter how you endured your workplace injury, if it wasn't your fault, your employer could be liable. This is because the Health and Safety at Work etc. Act 1974 requires your employer to ensure your wellbeing is protected at work. If they fail to take reasonable steps to do so, they could be held accountable.
Remember that for you to be eligible to claim compensation for your rib injury, the person responsible for protecting your health and safety in that area needs to have acted negligently.
If your injury was merely sustained due to your own reckless or unsafe behaviour then it is less likely you will receive any compensation. If you're concerned about whether or not you are liable for your injuries, call our advisors. They offer free legal advice and can clear things up for you.
Calculating Compensation For Broken Rib Injuries At Work
When making use of a personal injury calculator, there are two kinds of compensation that need to be considered. These are general damages and special damages. General damages always make up at least part of the compensation for broken ribs claim.
General damages are paid for the pain and suffering that you will have endured as a result of your employer's negligence.
As part of your claim, you would need to attend an independent medical assessment. A medical professional would create a report that should conclude whether your injuries were caused by the accident or not. If your injuries were pre-existing but worsened by the accident, you could still claim. If they were pre-existing and not linked to the accident at all, you wouldn't be able to claim. This report would act as medical evidence and could help your solicitor value your injuries.
Personal injury lawyers may use the Judicial College Guidelines to help them value general damages. This is a publication that is regularly updated and gives recommended lower and upper limits on the amount of money you are eligible to receive, depending on the injury you've suffered.
There is then the matter of special damages. Special damages can be difficult to calculate, especially during the early stages of a personal injury claim. This is partly due to the fact that they can include what you may need financial aid with in the future, as well as any loss of earnings. Don't hesitate to get in touch if you require any more information.
How Special Damages Compensate You
Whilst rib injuries may seem minor at first, it's important to know that broken ribs are a reportable injury under RIDDOR, providing you have a doctor's confirmation of the injury. It's also vital that you keep a record of any medical expenses that arise as a direct result of your rib injury, so you should always obtain evidence such as prescriptions or any other medical bills.
If you do not have proof of your financial losses, the total may not be added to your special damages payment.
Other things that can be considered under special damages include:
Travel expenses

Additional childcare

Loss of earnings

Future loss of earnings
How To Get Free Legal Advice
Our advisors can offer you free legal advice if you have any questions regarding workplace-related broken ribs, and the compensation amount. Our advisors may be able to put you in touch with our panel of personal injury solicitors who are very experienced in helping people claim compensation for broken rib injuries.
It won't be possible to give definitive advice without knowing more about your injury. We will be able to advise you better once you supply us with more information. 
Get in touch today if you feel like you may be owed compensation for any broken rib injuries and you'll be in very capable hands.
No Win No Fee Compensation For Broken Rib Injuries At Work
If you're worried about being able to afford big lawyer fees whilst pursuing your claim, then we may be able to help you. With us, you might be able to make a No Win No Fee claim.
This means that should our panel of solicitors determine that you have a relevant claim, you won't be required to pay for any solicitor fees unless your claim is successful.
Once you have received the compensation for your broken rib injury, your solicitor will take a small percentage of your damages as payment. This percentage is kept minor by law, so you can get the compensation you need. If you'd like to find out more, get in touch by any of the methods below. 
Contact Our Team For Legal Advice
You can start your No Win No Fee claim today by getting in touch over the phone or through our website for free legal advice. As personal injury specialists, our advisors will be able to let you know if you have a claim and even give you a rough estimate of how much you're likely to receive as a result. They're also available for you 24/7 if you:
   Call us on

0800 408 7826

.

   Use the live chat window in the bottom right corner

   Reach us through the

contact form

on our website
More Cases Studies And Resources
We aim to offer you as much assistance and information as we possibly can whilst you consider pursuing your claim. We've provided these additional sources so you can be as informed as possible about your situation.
We also have some other guides that you may find useful:
FAQs Broken Rib Injury
Can you work with broken ribs?
Any non-physical professions such as office work should be fine for you to continue. Continuing to work in environments that require even minor physical labour could be uncomfortable and could slow the healing process.
It can be difficult to know which roles could cause you difficulty. If in doubt, seek medical advice before returning to work.
Should your claim be successful, any loss of earnings may also be recoverable via special damages.
Cracked Rib Recovery Time – Will It Affect My Payout?
According to the NHS broken rib guide, the cracked ribs recovery time can be between 3 to 6 weeks. As different factors will go into your claim, such as time off work and the severity of your injury, your crack ribs recovery time may impact your payout.
Written by EL
Checked by TH