This guide will explain how our neck injury compensation calculator can help generate an accurate estimated value for your personal injury claim.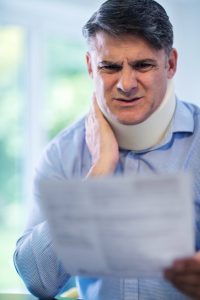 Furthermore, this guide will explain the importance of establishing that negligence caused your injury in order to claim. To clarify, negligence is the breach of a duty of care. To hold a valid claim, you must prove that someone owed you a duty of care, which was breached, resulting in a neck injury.  
An accident can leave you suffering from physical and psychological injuries, as well as financial losses. This guide will explain how you could injure your neck and what you should do in the aftermath of an accident.   
Read on to learn how much compensation for a neck injury you could be entitled to. Alternatively, don't hesitate to contact our 24/7 team of advisors for more information:    
Call on 0800 408 7826

Please fill out our online

contact

form

Use our live chat feature on this page
Choose A Section
Neck Injury Compensation Calculator
There are two different heads of claim that your personal injury settlement could comprise following a successful claim:
General damages

– This compensates you for the pain and suffering of any mental and physical injuries you sustain. There is consideration of the extent of recovery and the impact on your quality of life. 

Special damages

– This compensates you for the financial losses resulting from the injury, such as loss of earnings, care and travel costs. You must keep evidence of special damages to claim reimbursement. 
A neck injury compensation calculator could provide you with an accurate estimation of the general damages portion of your claim. It uses figures from the Judicial College Guidelines (JCG). 
This is a document solicitors can use to help them value your injuries. It contains compensation brackets based on past court cases that relate to different injuries.
We have used figures from the JCG to create the table below. The figures come from the most recent edition of the document, published in April 2022.
Injury
Details
Compensation Bracket
Severe Neck Injury (a) (i)
The injured person may have had to wear a collar for 24 hours a day for years and still has minimal to no movement in the neck. They also may suffer severe headaches.
In the region of £148,330
Severe Neck Injury (a) (ii)
Fractures or damage to discs in the spine. The person is left with considerably severe disabilities.
£65,740 to £130,930
Severe Neck Injury (a) (iii)
Fractures, dislocations, severe soft tissue damage or ruptured tendons. The person is left with chronic conditions and significant disability that is permanent.
£45,470 to £55,990
Moderate Neck Injury (b) (i)
Fractures and dislocations that cause severe immediate symptoms. Other issues may occur.
£24,990 to £38,490
Moderate Neck Injury (b) (ii)
Injuries such as disc lesions that may lead to cervical spondylosis, limited movement or recurring pain.
£13,740 to £24,990
Moderate Neck Injury (b) (iii)
This bracket covers moderate soft tissue injuries.
£7,890 to £13,740
Minor Neck Injury (c) (i)
Injuries where there is a full recovery in one to two years.
£4,350 to £7,890
Minor Neck Injury (c)
(ii)
Injuries where there is a full recovery in three months to a year.
£2,450 to £4,350
Minor Neck Injury (c) (iii)
Injuries where a full recovery is made in three months.
Up to £2,450
Severe Shoulder Injury (a)
An injury that's associated with neck and brachial blexus damage.
£19,200 to £48,030
However, please remember that the unique details of a case determines the neck injury compensation payout you will receive. As such, you should only use the figures as a guide. 
What Is The Definition Of A Neck Injury?
There are various causes of neck injuries, such as your head suddenly jolting backwards or forwards. Additionally, injuries can be very serious and in some cases, fatal. These injuries can also be found in conjunction with back and shoulder problems. 
Examples of neck injuries include:
Pinched nerve or other nerve damage
If the injury you sustained was due to negligence, you may be able to seek compensation. Value your claim using our neck injury compensation calculator.  
Examples Of An Accident Causing A Neck Injury
There are different settings in which you could suffer a neck injury:
An accident in a public place – The

Occupiers' Liability Act 1957

states that the person responsible for a public space owes a duty of care to keep their visitors safe. A person could injure their neck by falling from a height in a multistory shopping centre. This could be due to negligence, for example, if a section of the railing was missing that the person in control of the space was aware of. 

A

road traffic accident

– The

Road Traffic Act 1988

outlines the laws surrounding dangerous driving. In addition,

the

Highway Code

provides rules and guidelines on a road users' responsibilities to keep each other safe. Road users could breach their duty of care to another road user by driving under the influence of alcohol, speeding and not stopping at red lights. 

An

accident at work

– The central piece of health and safety legislation governing an employer's duty of care to their employees is the

Health and Safety at Work etc. Act 1974

. This outlines an employer's obligation to take reasonable steps to remove or reduce the risk of harm. These steps could include providing proper training, carrying out regular maintenance and keeping the environment clean and clear of hazards. 
If someone has breached their duty of care towards you, which caused you to be injured, use our neck injury compensation calculator to value your settlement. Alternatively, call us to find out whether you're eligible to claim.
Recent Statistics For Neck Injuries
The Health and Safety Executive (HSE) website compiles workplace injury reports submitted by employers under The Reporting of Injuries, Diseases and Dangerous Occurrences Regulations 2013 (RIDDOR). As such, it allows us to see that in 2020/21, there were:
51,211 non-fatal employee injuries.

769 non-fatal and 4 fatal neck injuries. 
Additionally, according to the Department for Transport, there were:
119,850 road casualties of all severities reported by the police in the year ending June 2021.   
Potential Impact Of Suffering A Neck Injury
A neck injury may relate to the spine, cartilage, soft tissue, ligaments, tendons, muscles or the skin. They can have various physical and psychological impacts. Recovery time can also vary depending on the severity of the injuries.
You could suffer from emotional pain and suffering such as anxiety and depression while recovering and due to the impact the injury has had on your day to day activities. 
A neck injury can greatly impact your financial situation too. Adjusting to lifestyle changes can be difficult; you may have to take time off work for recovery and medical appointments and not be able to attend social events. As such, you may incur financial losses, such as loss of earnings and travel expenses.
You could be eligible to claim compensation for the damages caused by your injuries. Use our neck injury compensation calculator or talk to one of our advisors to find out how much your could be owed.  
How Can A Neck Injury Compensation Calculator Help Me?
Whilst a neck injury compensation calculator can provide you with an accurate estimate of the value of your claim, there are other steps you can take after an accident.
Immediately following the injury, you should seek medical attention. Additionally, you should begin to gather evidence proving that negligence caused your injury. Some evidence you could collect: 
Medical reports – This can provide further details on your injury and the treatment you received.

Accident report book – Workplaces with over ten employees should have one of these. You can access a copy of the incident report providing details on your accident.

Photographic evidence – You can take pictures of the scene and the hazard as well as your injuries.

Video footage – CCTV or dashcam footage showing the accident.

Witness contact details – These can be used by a third party to take a witness statement at a later date.
Lastly, we recommend seeking legal advice. Our advisors are on hand 24/7 to answer any questions you may have.  They also may be able to connect you with a solicitor from our panel to represent your claim on a No Win No Fee basis.
Connect With No Win No Fee Solicitors To Make A Neck Injury Claim
The No Win No Fee solicitors from our panel offer to represent claims under a Conditional Fee Agreement. This means you can hire legal representation without paying an upfront cost for their services.
You also do not have to pay for your solicitor's services if your case is unsuccessful. On the other hand, a successful claim will mean you pay a small amount of the awarded compensation. This is a percentage that the law caps.
Get Help Using Our Neck Injury Compensation Calculator
Do you need more advice regarding our neck injury compensation calculator or pursuing your claim? If so, please get in touch with our team of advisors for helpful answers to your questions.
They can assess your claim and determine whether you're eligible to seek compensation. If you are, they could connect you with a solicitor from our panel.
For more information:
Learn More About Using Our Neck Injury Compensation Calculator
Informative pages from our website:
Other links to learn more:
Thank you for taking the time to read our neck injury compensation calculator guide. If you need any other information, call our team.
Writer Jess Owens
Editor Meg Marshall