In this guide on using a wrist injury compensation calculator, you will find out how much compensation you could receive for a wrist injury and what a valid personal injury claim looks like. We'll also discuss using No Win No Fee solicitors and why this type of agreement could be beneficial to you.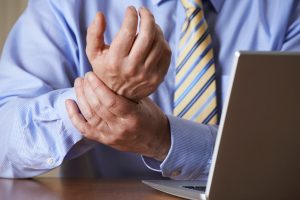 Sustaining a wrist injury can be a traumatic experience, whether it happens in the workplace, in a public place or on the road. However, wrist injury compensation amounts can be huge. While getting a payout doesn't change what has happened, it might soften the blow of the situation and make up for any financial losses you have incurred because of the accident.
If you would like to speak to our team to discuss whether you have a valid claim, you can do so by calling 0800 408 7826. Alternatively, you can contact us or use the live chat feature at the bottom of your screen. 
Choose A Section
Wrist Injury Compensation Calculator 
The Judicial College Guidelines (JCG) is a document used by solicitors to value injuries. We've taken wrist injury compensation amounts from the JCG to give you an idea of what you could be owed.
You might also wonder, how much is a broken finger worth in compensation? Not only will our wrist injury compensation calculator answer that question, but you'll also find out how much you might receive for other injuries relating to your wrist. However, please note that the compensation brackets are only illustrations of what you might receive.  Our advisors can value your injury for free if you get in touch. 
| Injury | Compensation Range | Notes |
| --- | --- | --- |
| Wrist Injuries (a) | £47,620 to £59,860 | An arthrodesis may have been performed and the wrist might be unable to move. |
| Wrist Injuries (b) | £24,500 to £39,170 | Any permanent disability will be significant, however some movement remains. |
| Wrist Injuries (c) | £12,590 to £24,500 | Pain may continue and you may suffer from stiffness in the wrist. |
| Wrist Injuries (d) | £6,080 to £10,350 | Recovery may take longer than a year, however minor symptoms will persist. |
| Wrist Injuries (e) | In the region of £7,430 | An uncomplicated Colles' fracture. |
| Wrist Injuries (f) | £3,530 to £4,740 | A recovery is expected to be made within a year. |
| Serious Hand Injuries | £29,000 to £61,910 | The hand may be left clawed and unable to function properly. |
| Severe Fractures to Fingers | Up to £36,740 | Fractures may lead to deformity and a disturbed sensation. |
| Less Serious Hand Injury | £14,450 to £29,000 | The crush injury may be severe but there is no need for future surgery. |
| Moderate Hand Injury | £5,720 to £13,280 | The level of award within this bracket is decided by whether a permanent disability remains. |
Wrist injury payout amounts that relate to the physical or mental injury are referred to as general damages. Additionally, you might be able to claim special damages, which account for any financial losses incurred because of your injury. For example, you may have to take time off work following an accident. It may be possible to claim for loss of earnings during this time. However, you must have evidence to support your claim. Therefore, it would be useful to keep hold of wage slips to prove your loss of earnings. 
Likewise, if you were claiming for medical expenses, you'd keep hold of prescription receipts. Other expenses you might claim for, include:
Travel expenses

Care costs

Future loss of earnings
For more guidance on how to use our wrist injury compensation calculator, speak to our team. Our advisors offer free legal advice with no obligation to use our services afterwards. 
What Is A Wrist Injury?
According to The Reporting of Injuries, Diseases and Dangerous Occurrences Regulations 2013 (RIDDOR), an accident can be defined as an "identifiable, unintended incident, which causes physical injury". They add that there must be "an identifiable external event that causes the injury".
However, to form a valid claim for a wrist injury, you must be able to prove that the accident happened because a duty of care that was owed to you was breached. For example, you might use ladders in your job. If a ladder is defective when your employer supplies you with it, it could cause you to fall and break your wrist. The accident could have been avoided if your employer had carried out a risk assessment on the ladder. 
Other accidents that may cause a wrist injury include:
Being hit by a car

Tripping over a pothole 

A defective machine crushing your arm
Our advisors can help you understand who was responsible for your accident. Furthermore, if you have a legitimate claim, they could connect you to our panel of personal injury solicitors.
How Could Wrist Injuries Happen?
Unfortunately, there are many ways in which an accident may occur whether in a workplace, in a public place or on the road. We'll include some examples in the following subsections, alongside key pieces of legislation that govern that particular area. Once again, we must reiterate that whenever an accident has occurred, if you wish to claim, it must be because a third party has breached their duty of care to you.
At Work
The Health and Safety at Work etc. Act 1974 was introduced to ensure that employers act responsibly when it comes to the health and safety of employers. If this duty of care is ignored, and you are involved in an accident in which you injure yourself as a result, you might be eligible to claim for a work injury. For example, if you work in a warehouse, you could sprain your wrist if your employer doesn't provide adequate training on how to lift heavy objects.
In A Public Place
When you are in a public place, you could be protected by the Occupiers' Liability Act 1957. The legislation sets out the duty of care that occupiers of a public place owe to visitors. Public places may include supermarkets, gyms or a public parks, to name just a few. An accident in a public place that may cause a wrist injury may involve tripping over an uneven paving stone on a path. The local council may be liable for this accident for not maintaining the walkway if they were aware of the hazard. 
On The Road
The Highway Code applies to all road users, including motorists, cyclists and pedestrians. If it is not followed by road users and an accident happens that causes you an injury, you might have grounds for a valid claim. Furthermore, the Road Traffic Act 1988 sets out how drivers should correctly and appropriately use vehicles on the road. A road accident that could cause a wrist injury may include a vehicle crash. The force of the crash may cave in part of a vehicle that you are in, leading to your wrist being crushed. 
Wrist Injury Statistics
Last year, 441,000 workers sustained a non-fatal injury according to self-reports from the Labour Force Survey. An additional 51,211 employees suffered non-fatal injuries reported by employers under RIDDOR in 2021. The Health and Safety Executive statistics found that slip, trip or fall accidents accounted for 33% of non-fatal workplace injuries last year, followed by handling, lifting or carrying (18%).
Elsewhere, on the road, government statistics revealed that last year 23,140 people were seriously injured compared to 95,320 who were slightly injured. However, casualties of all severities were down by 9% compared to the year before.
The Compensation Recovery Unit recorded 52,724 public liability cases registered last year, an increase of 2.8% compared to 2020. While it doesn't reveal the nature of the injuries, it indicates that accidents in a public place are common. 
If you are unsure about who is at fault for your wrist injury, speak to our team for clarification. You can also scroll to the top of this page to use our wrist injury compensation calculator.
What Impact Could A Wrist Injury Have?
Wrist injuries often include sprains or fractures, however, such injuries may lead to long-term problems like arthritis and carpal tunnel syndrome. The injury may cause repetitive stress too and could affect your mental health and cause emotional pain and suffering, particularly if you are unable to use your hand. 
Symptoms of a wrist injury may include:
A numb or tingling sensation in your arm or wrist

A bad cut that bleeds heavily

Bones sticking out of your skin

Your

wrist has changed shape
The NHS advises that you seek medical advice immediately if you think you have a broken arm or wrist as injuries are not always apparent. Medical reports can also provide crucial evidence of the extent of your injuries too, which would be useful for any broken wrist claim.
For more guidance on what you could use as evidence for your claim, connect with our team using our live chat service for free. Otherwise, read on to find out more.
How Can A Wrist Injury Compensation Calculator Help Me?
Our wrist injury compensation calculator can help you understand how much you could claim. The severity of your accident affects the average payout for a wrist injury, but we've included any additional information in the table.
As we mentioned in the previous section, it is important you can provide evidence to support your claim. Alongside medical reports, it would be useful for you to gather the following:
Witness contact details (for statements)

Photographs of the injury and where the accident occurred

CCTV footage of the accident taking place
You should also claim within the time limit. The Limitation Act 1980 sets out statutory time limits for when you must begin court proceedings. Typically, a personal injury claim would be brought to court within three years from the date of injury or act of negligence which resulted in your injury. 
Taking legal advice may also be useful to you. Our panel of personal injury solicitors could advise you based on their experience of handling similar wrist injury claims. Furthermore, they may negotiate a higher payout for you with the defendant. Our advisors may connect you to a solicitor from our panel if they think you have a valid claim.
Connect With Out No Win No Fee Wrist Injury Solicitors
If your wrist injury has already caused you financial losses, you might be put off from getting the funds for legal representation. However, you deserve to get the compensation you could be owed, no matter what may get in the way of you claiming. Subsequently, a No Win No Fee solicitor could be for you. This type of arrangement is also known as a Conditional Fee Agreement and includes benefits such as:
No upfront or ongoing solicitor fees

Paying nothing to your solicitor if your claim does not succeed

Only paying a legally capped percentage of your compensation if your claim succeeds 
Get Help Using Our Wrist Injury Compensation Calculator
Our panel of personal injury solicitors offer their services on a No Win No Fee agreement, but only if your claim is legitimate. Speak to our advisors for a free valuation of your claim. Additionally, they can guide you through our wrist injury compensation calculator. You can contact us for more information. Alternatively, you may:
Call us on

0800 408 7826

Use our live chat feature

Request a call back using the form at the top of this page
Learn More About Using Our Wrist Injury Compensation Calculator
Before we conclude this guide on how to use our wrist injury compensation calculator, we've featured some additional resources you might use.
111 – Get medical help from the NHS following an accident.
Statutory Sick Pay – Find out how much you could be entitled to if you're ill and taking time off work.
Report – Information on reporting through RIDDOR following a workplace accident
Here are more of our guides that relate to wrist injuries.
Psychological Injuries – Wrist injuries may cause psychological harm too.
Car Accident Compensation – A wrist injury could occur in a car accident.
Multiple Injury Compensation Calculator – Breaking your wrist might cause several injuries.
We hope you have found our wrist injury compensation calculator useful. Please don't hesitate to get in touch if you have any other questions.
Publisher Ruth Vito
Writer Lewis Jones