By Daniel Burnham. Last Updated 23rd November 2022. Welcome to our guide on how to use our broken jaw compensation calculator. If you have fractured your jaw in an accident that was caused by someone else's breach of duty of care, you may be able to claim. You can use our broken jaw compensation calculator to assess how much you could be owed.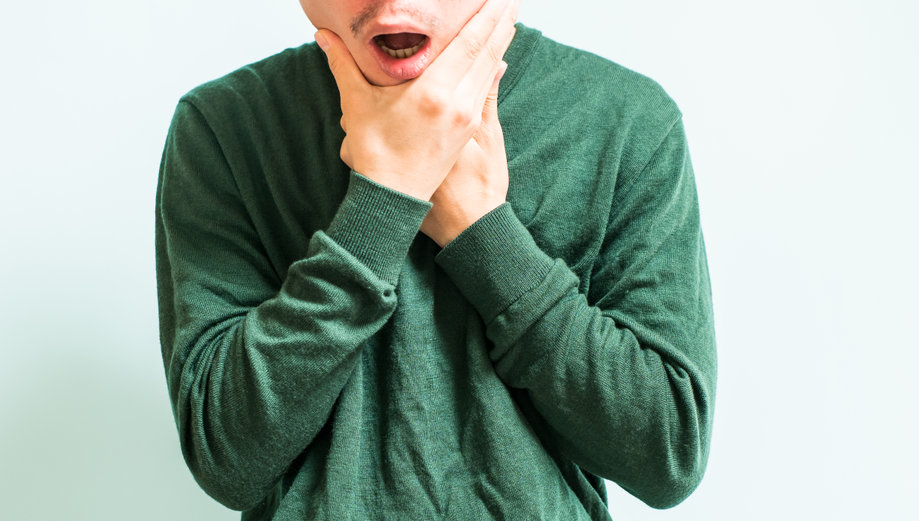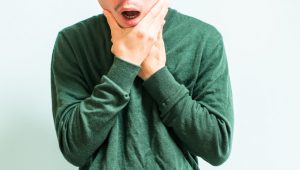 A broken jaw can be a painful injury. Furthermore, it could make it so that you are unable to do things like eat, talk or play sports while you recover. If you have a serious jaw fracture, it could cause damage to one or more of your teeth.
Calculate Compensation For A Fractured Or Broken Jaw Bone 
This guide will: 
Clarify the symptoms of a potentially broken jaw and touch upon potential broken jaw recovery times.

Provide examples of instances in which you may be able to claim for a broken jaw in order to give you a better understanding of your own situation. 

Explain how our panel of No Win No Fee solicitors could help you receive compensation for a fractured jaw. 
Our advisors offer 24/7 free legal advice so, if you have any questions or queries about making a personal injury claim, you can give them a call at a time that works for you. You call them using 0800 408 7826.  Alternatively, please read on to learn more about how our compensation payout calculator could help you. 
Jump To A Section
A Guide To Using A Broken Jaw Compensation Calculator
A fractured jaw can be a very debilitating and painful injury to deal with. This guide is designed to show if you could claim and, if you can, the level of compensation you could receive. 
In this guide, we will look at what a broken jaw is and the recovery time that you might experience after an injury of this nature. We will also look at the treatment that you could be offered to facilitate recovery.
Furthermore, we will look at how you might sustain a broken jaw. We'll examine what negligence looks like in different scenarios, as well as the difference between claiming in a standard personal injury case and in a criminal injuries claim.
In addition to this, we'll examine the two different kinds of damages that could be paid to you as part of your compensation award. We'll also provide guidance on No Win No Fee agreements.
Our personal injury calculator can give you a compensation estimate in minutes. It does this by looking at the type of injury you've suffered, the extent of the injury and any loss of earnings you've suffered because of it. It will then provide a compensation award estimate based on the details you have provided. 
What Is A Broken Jaw Injury?
NHS guidance states that symptoms of a broken bone, and therefore a broken jaw, can include: 
A grinding or snapping noise as the injury occurs

Swelling, tenderness or bruising around the injured area

Intense pain when the area is touched, pressed or moved. 
Concerning damage to the jaw bone, you may suffer from nerve damage. This could cause numbness or tingling to your chin or lip area. 
If you need surgery to treat a broken jaw, plates and screws can be used to reposition the fractured jawbones. Screws can be inserted between the roots of teeth, although wires or metal braces may also be used. Dissolvable stitches can take at least a fortnight to fall out. 
You'll be given antibiotics to make sure the fractures heal without infection. Broken jaw healing time tends to be around six weeks.
If you have any questions or queries about making a claim, please call our advisors using the phone number at the top of this page. 
What Could You Be Compensated For After A Broken Jaw?
There are two potential heads of claim when making a personal injury claim. General damages relate to the physical and psychological pain and suffering created by the injury and the decline caused in your quality of life. Special damages, meanwhile, relate to the financial losses created by the injury.
As part of special damages, you could claim for things like: 
Loss of earnings

Loss of future earnings

Travel costs

Prescriptions/medicine

Recreational activities that you can now no longer commit to. 
We will take a closer look at these two different heads of claim later on in this guide. We will also look at the evidence you will be asked to provide to support your claim for each.
Our broken jaw compensation calculator could make it easier for you to work out what you could receive. Alternatively, you could get in touch with a member of our team today. 
Common Causes Of Broken Jaw Injuries
There are many reasons you could be seeking dislocation or fractured jaw compensation. This section will provide you with information and examples of different scenarios in which you might be able to claim. 
Don't worry if you cannot see your accident circumstances listed below. As long as you were injured because someone who held a duty of care to you breached this duty, you may be able to claim compensation. Get in touch with us for more information, or read on.
Assaults And Criminal Injuries
If you have broken your jaw in a criminal attack, you might assume that you cannot claim compensation for your injuries. However, this is not the case.
If you're seeking broken jaw assault compensation, you'll do this through the Criminal Injury Compensation Authority (CICA). This is an executive agency that the Ministry of Justice sponsors. 
There are some differences between making a normal personal injury claim and making a claim through the CICA. For example, the time limit for normal claims is 3 years, but through the CICA, you only have 2 years to begin your claim. Get in touch with our team for more information about the difference between these two methods of claiming.
Examples of ways you could experience this damage include: 
Being punched in the jaw in a drunken fight.
Being pushed to the ground as the victim of sexual abuse.
Accidents On The Road Causing A Broken Jaw
If you've suffered an injury in a road traffic accident, you may be able to claim. You would need to show that the person who caused the accident was in breach of the duty of care that they owed you.
This is because every road user has a duty of care established in The Highway Code. Whether you're a driver, motorcyclist or pedestrian, you need to act in a way that ensures the safety of all other road users.
Examples of the kinds of accidents that could result from a road user breaching their duty of care include:
A side collision caused by another driver driving through a red light and crashing into your vehicle. This could cause you to suffer a broken jaw. 

A multi-car pile-up due to a motorcyclist failing to keep a safe distance from your vehicle and crashing into your vehicle. 

While on your motorbike, a driver swerves into your lane. This causes you to come off your bike, breaking your jaw and fracturing your skull as a result.
Broken Jaw Injuries In The Workplace
You could also potentially for injuries sustained in an accident at work. This is because your employer has a responsibility to keep you safe and in the workplace. This is clarified in the Health and Safety at Work etc. Act 1974. 
In this instance, the employer's responsibility is to make sure that all reasonably practicable steps are taken to ensure your safety. If they fail to do this, you could sustain a work injury. 
Examples of incidents where you may be able to claim include:
You're not given the right Personal Protective Equipment (PPE) to protect your face while you work. As a result, an object hits your face, causing your jaw to break. 

Your employer failed to maintain good housekeeping, and you trip over a loose wire. Your jaw hits the floor as you fall, fracturing it.
A shelving unit is not properly secured to the wall. As you're walking past, the shelf falls on top of you. This results in multiple injuries, including a broken jaw, fractured skull and broken eye socket.
Slip And Trip Accidents Causing A Broken Jaw
A slip, trip or fall can cause serious injuries that affect your quality of life. If you've suffered an accident like this and it was caused by someone else's negligence, you can use our compensation payout calculator to see if you can claim. Examples of incidents like this include:
The wrong cleaning products were used on the floor. This means it is more slippery than it should be. As a result, you slip and suffer from a broken jaw.

A trip caused by a loose flooring tile. If this happened in a public place and was an example of a breach of duty of care, you may be able to claim. 
Fractured Jaw Accidents In A Public Place
 The "occupier" of a public space (meaning the person in control of it) has a responsibility to make sure it's safe enough for the public to use for the intended purpose. Their duty of care is clarified in more detail in The Occupiers' Liability Act 1957.
They aren't expected to be able to prepare for every type of circumstance. However, they need to take reasonably practicable steps to ensure the safety of the general public and act in a reasonable timeframe to fix any hazards that arise.
Examples of incidents you may be able to claim for include:
A faulty handrail causing you to fall and injure yourself, resulting in you having to receive broken jaw treatment from the NHS. 

A staff member misuses a trolley in a shop, causing it to crash into you. This could lead to you seeking fractured jaw compensation. 
Could Medical Negligence Make A Fractured Jaw Worse?
When we need medical attention, we are entitled to a minimum standard of care from the healthcare professionals who treat us. If the level of care provided falls below this level, this is an example of negligence, and you could claim if you were harmed or your condition was made worse as a result. 
Examples of complications that could arise when treating a broken jaw include:
When you seek medical attention, your jaw fracture is completely missed. As a result, you aren't given the appropriate treatment, and your condition gets worse. 

You're prescribed antibiotics, but your doctor tells you the wrong dosage to take. This could lengthen your broken jaw healing time. 
For more information about claiming against the NHS, view their website. Or, you can call our advisors for free legal advice using the phone number at the top of this page.  
Statistics On Broken And Fractured Bones At Work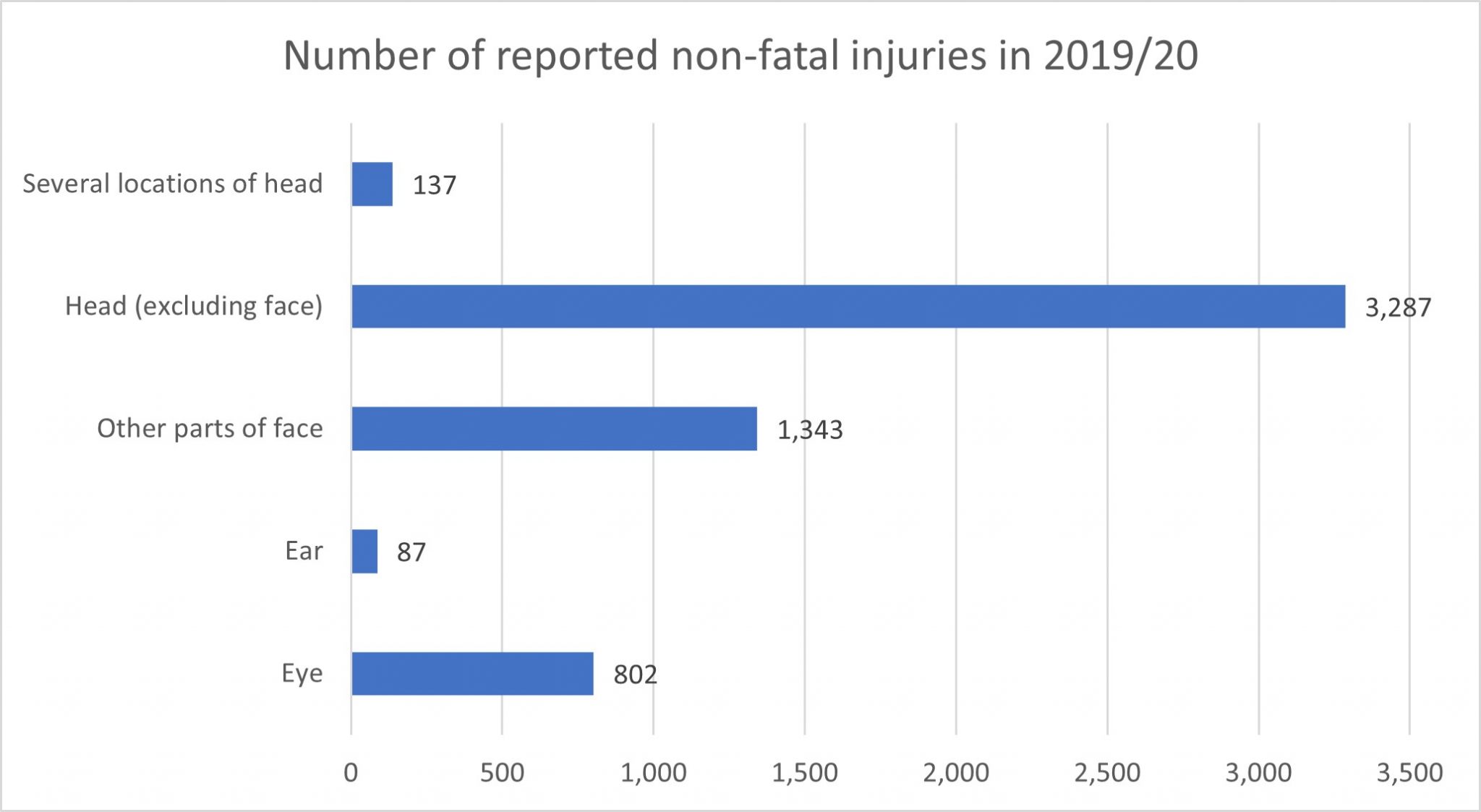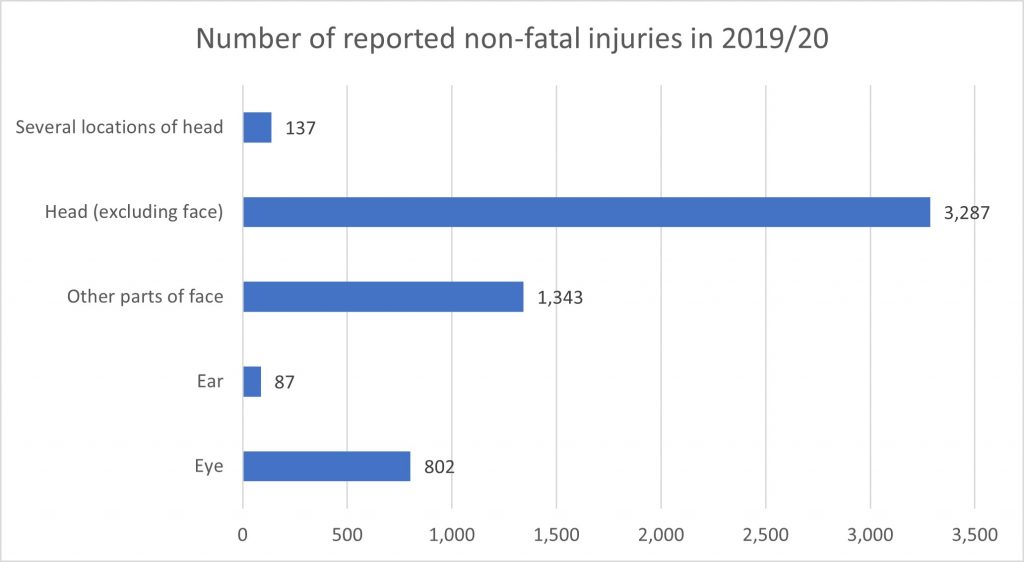 The Health and Safety Executive (HSE) reports on injuries at work using figures supplied through the Reporting of Injuries, Diseases and Dangerous Occurrences Regulations (RIDDOR). Above is a chart showing the proportion of non-fatal injuries to the head in 2019/20.
As you can see, the highest number of non-fatal head injuries were to the head (excluding the face). This could cover injuries to the jaw. 
Non-fatal injuries at work may be more common than you think. If you'd like an accurate estimate of the compensation you could claim, use our broken jaw compensation calculator.
Could I Claim The Cost Of Care For My Injuries?
When claiming for financial losses, you could also potentially claim care costs that you've incurred because of your injury. If you've suffered a broken or dislocated jaw, for example, there could be other costs that come with the recovery process.
You could also receive compensation for care costs if you provide sufficient evidence. For example, you may be able to claim for things like:
Private therapy or private group sessions to deal with the aftermath of the injury. 

A blender if you need to puree your food while you recover. 

Prescription costs for medication.
How Do You Use A Broken Jaw Compensation Calculator?
Our broken jaw compensation calculator is an easy way to see what compensation you could receive in the event that your claim is successful. It can give you a reliable estimate of the general damages you could be entitled to, as well as any lost earnings. 
For a successful personal injury claim, the compensation you receive is decided by the courts. The Judicial College has created compensation brackets for every type of injury and its respective severity after analysing what payouts successful claims were receiving. They've produced guidelines based on past claims, which we use to create our personal injury calculator.
How Much Compensation Will I Get For A Broken Jaw?
In order to value the general damages head of your claim, you will usually be invited to a medical assessment with an independent expert. Here, the expert will assess your injuries and come to a conclusion about your injuries, their severity and how long it will take you to recover. The report from this assessment will be used to value your claim. 
General damages can also be supplemented by special damages. This relates to the financial losses caused by the injury. For this part of the claim to be potentially successful, however, you would need to supply evidence to your personal injury solicitor showing the losses in question. You can do this by providing receipts of purchases you have made or payslips to show you have taken time off work to recover. 
Broken Jaw Compensation
If someone else's negligence has caused you to suffer a broken jaw, then you could be owed compensation. If you're wondering how much you could be owed, then the figures in the table below could help give you an idea. They've been taken from the Judicial College Guidelines (JCG).
The JCG is one of the resources that legal professionals use when working out your general damages payment. This is the figure you can receive for your pain and suffering. It varies in value depending on factors such as the severity of your injuries. For example, a hairline fracture to your jaw would likely be worth less than a more severe jaw fracture.
Get in touch with our advisors today and we can give you a bespoke valuation of your claim.
| Injury | Compensation | Notes |
| --- | --- | --- |
| Jaw | £30,490 to £45,540 | Multiple fractures of a serious nature which requires lengthy treatment and consequences which do not go away. |
| Jaw | £17,960 to £30,490 | Serious fractures that leave someone being unable to open their mouth. |
| Jaw | £6,460 to £8,730 | A simple fracture that needs immobilising but that leads to a complete recovery |
| Teeth | £8,730 to £11,410 | Where several front teeth are lost or damaged |
| Teeth | £4,350 to £7,630 | Where two front teeth are lost or damaged |
| Teeth | £2,200 to £3,950 | Where one front tooth is lost or damaged |
No Win No Fee Claim Agreements For Broken Jaw Compensation
Our panel of solicitors work on a No Win No Fee basis. This means that: 
Your personal injury solicitor will not request you pay them upfront or during the claims process.

They will take a legally capped percentage of your compensation once your claim has been settled

. This is a "success fee".  

You will not have to pay legal fees to your personal injury solicitor if your claim is unsuccessful. 
Because of the risk that a solicitor takes on when representing you in this kind of claim, you will usually only be offered a No Win No Fee agreement if they're confident that your claim has a good chance of success. Get in touch with our team today to find out more.
Get Free Advice About Your Case
If you've suffered a jaw break, use our compensation payout calculator to see how much compensation you could receive. Our advisors are available whenever you're ready to give them a call. What's more, our panel of No Win No Fee solicitors could help you get the compensation you deserve for the injuries you have sustained.
You can:  
Call us now using 0800 408 7826

Write to us using the Live Chat window on the right-hand side of your screen. 

Contact us via our website.
Ask Our Team To Calculate Your Broken Jaw Compensation
We understand that some people may not want to use our personal injury calculator or aren't sure how to do so. If this is the case for you, don't worry.
Our team of advisors are available 24/7 and can help you work out what compensation you could receive. Just call them today, and they'll be able to answer any questions or queries you may have. Furthermore, they could connect you with a No Win No Fee. 
Related Services And Guides
Use the below resources for more information. 
For more information about reporting workplace accidents, visit the HSE website. 
To find out more about how broken jaws are treated, read this NHS guidance. 
You can find statistics about road traffic accidents on the Department for Transport website. 
Have you broken your foot in an accident that wasn't your fault? Read this guide to see if you can claim.
Other Personal Injury Claims Guides You Can Read
FAQs On Broken And Fractured Jaw Bone Injury Claims
For answers to frequently asked questions about claiming for a broken jaw, see below. 
Can you claim for a broken jaw?
You may be able to claim for a broken jaw, but it depends on the circumstances of the injury. Negligence on the part of someone else must have been to blame for your injuries. 
How long does a compensation claim take?
This can vary. In some cases where it's clear who was to blame for the accident, it can be settled relatively quickly. More complex cases can take longer. 
How long does a broken jaw take to heal?
It can take at least six weeks for a broken jaw to heal. This can negatively affect your quality of life as you heal.
Thank you for reading our guide on how to use our broken jaw compensation calculator to see how much you could claim. 
Page by XR
Editor RO