Welcome to our guide looking at how to use our calcaneus fracture compensation calculator. Have you sustained a fracture to your heel bone in an accident? Was the accident caused by a third party? Did the third party who caused the accident owe you a duty of care, which was breached? If so, you may be able to make a personal injury claim.
Any kind of broken bone can cause you pain and discomfort. And if you break your heel bone, this can have a real impact on your quality of life. For instance, you might be unable to walk or do things you usually do. Furthermore, if you work on your feet, it might prevent you from doing your job.
Calculate Compensation For A Fractured Calcaneus
In this guide, we will look at what a fracture of this kind is and how it can be treated. We'll also examine the different kinds of accidents that could cause this kind of injury and how they can result from breaches of duty of care.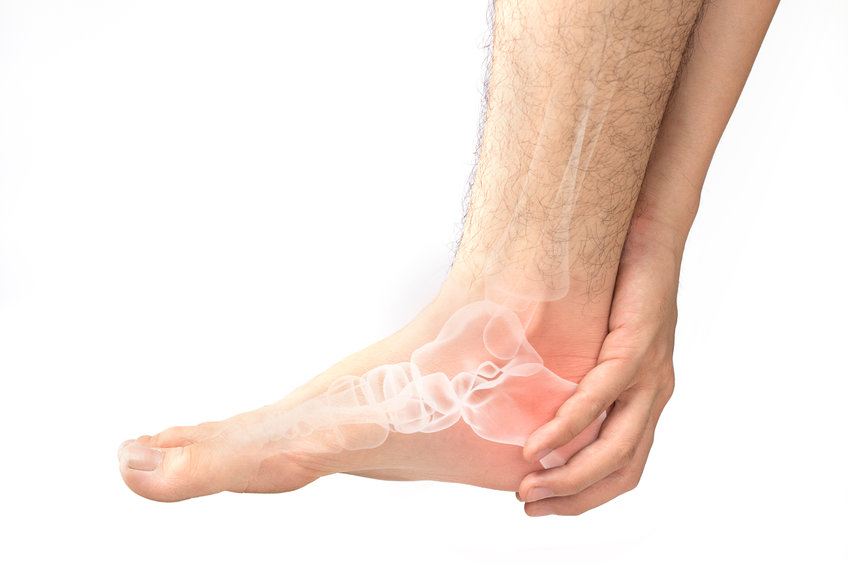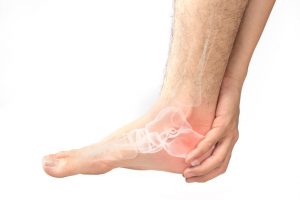 Furthermore, we will look at the different kinds of damages that can be included in a claim. We'll also take a closer look at the evidence you could use to support your claim.
If you still have questions after reading this guide, you can also contact our experienced advisors 24/7 for free legal advice at a time that works for you. You can do this by calling 0800 408 7826. Alternatively, please read on to learn more about how our compensation payout calculator could help you make a claim. 
Jump To A Section
A Guide To Using A Calcaneus Fracture Compensation Calculator
A broken calcaneus can cause pain and affect your ability to move. Because of this, it can result in a decline in your quality of life which may result in you being unable to drive or work while the injury is healing. If you've suffered this injury because of someone else's negligence, you may be able to claim. 
If this is the case, you might want to use our personal injury calculator. It quickly and effectively gives you an accurate estimate of the amount you could receive from a successful claim.
You'll just need to provide information on the nature of your injury, how it occurred and the value of any loss of earnings you would like to claim.
After you've valued your claim using our online calculator, you can then get in touch with a member of our team. One of our advisors will be able to assess the validity of the claim. What's more, if your claim has a good chance of success, you could be connected with a solicitor from our panel.
What Is A Fractured Calcaneus?
Broken calcaneus symptoms can include:
A snap or grinding sound upon the injury occurring. 

Bruising, tenderness, or swelling around the injury. 

Pain, especially upon attempting to put weight on or move the injured area.
Injury to the anterior process can cause a calcaneus fracture. The anterior process is a prominence on the heel bone that is found on the front and outer part of the ankle. Alternatively, you may have suffered from a calcaneus chip fracture, where a small part of the heel bone is pulled off by a ligament or tendon.
As part of the treatment for a broken heel bone, you will usually be provided with a supportive boot to wear as well as crutches. This is so you put less weight on the broken calcaneus bone as it heals.
It usually takes up to six weeks to recover, but it can take longer. You will be provided with exercises that can help with the recovery process. In rare cases, you may need surgery where pins and plates will be inserted to hold the bones in position as they heal.
Potential complications from a calcaneus fracture could include:
Stiffness and pain in the joint. In some cases,  this could lead to arthritis. 

Decreased ankle motion. 

Walking with a limp due to the heel bone collapsing. 
Use our calcaneus fracture compensation calculator now to see how much you could claim. Alternatively, please contact our advisors for free legal advice using the phone number at the top of this page. 
Check What Your Injury Claim Could Compensate You For
There are two potential heads of claim whenever you make a personal injury claim. General damages relate to the physical pain, psychological damage, and decline in your quality of life caused by the injury. Special damages, meanwhile, relate to the financial losses caused by the injury.
As part of special damages, you could claim for things like:
Loss of earnings

Loss of future earnings

Travel costs

Prescription and medicine costs 
If you receive compensation for general damages, it doesn't necessarily mean that you'll receive compensation for special damages. This is because both are judged independently based on the evidence you've provided.
With that said, if you do not receive general damages, you will definitely not receive any special damages as it means the courts have decided that the defendant was not liable for your injuries. 
Common Accidents Which Could Cause A Calcaneus Fracture
In this section, we will look at a variety of different ways you could be injured. We'll also examine how a duty of care breach could result in you being injured. 
Twisting Injuries
A broken calcaneus can be caused by your foot being twisted. If you can show that this happened because of the negligence of someone who had a duty of care to you. 
According to the Occupiers' Liability Act 1957, the "occupier" of a space (the person responsible for maintaining it) is responsible for taking reasonable steps to make sure you're safe and secure when using the area. 
If you injure yourself in a public space and you can prove that the accident was caused by their negligence, you may be able to claim because they may have breached their duty of care. Examples of such incidents include:
You may twist your foot due to falling down the stairs because of a broken top stair. This may leave you asking yourself, "Can you walk on a fractured calcaneus?"

Exposed wiring could result in you twisting your foot. This could cause damage to the anterior process which results in a calcaneus fracture.
Car Crashes 
Every road user in the UK has a duty of care to one another. They are expected to conduct themselves in a way that ensures the safety of themselves and everyone else on the road. 
The Highway Code is the series of rules that, as a road user, you're required to follow. Failure to adhere to this guidance could cause an accident. 
Examples of car accidents that you may be able to claim for include:
A drunk driver travelling on the wrong side of the road collides with your car at speed. The resulting accident crushes the front of your car, and your heel is broken as a result. 

While you're crossing the road, a car runs a a red light and crushes your foot with the wheel of their car. This results in a broken

calcaneus.

A car pulls out from a side road without looking and knocks you off your bicycle. As you hit the ground, you experience a broken heel.   
Falling From A Height
Your employer also has a duty of care to you, detailed in legislation such as the Health and Safety at Work etc. Act 1974. Basically, your employer needs to ensure your safety while you're in the workplace and reduce the risk of work injuries as much as is reasonably practicable.
There are a number of things and employer should do as part of their duty of care towards you. For example, they're expected to carry out risk assessments, provide proper training and make sure that all equipment used is safe and well-maintained.
So, if you've injured yourself at work and you can show that the injury was caused by negligence on your employer's behalf, you may be able to claim. Examples of such instances include:
A lack of non-slip shoes causing you to to slip and fall, injuring your foot. 

Your employer tells you to use a ladder that they know is faulty. You fall off as a result and break your heel bone. 

You could fall from a height due to poorly constructed scaffolding that was not assessed before you began working.
Non-Fatal Workplace Accident Statistics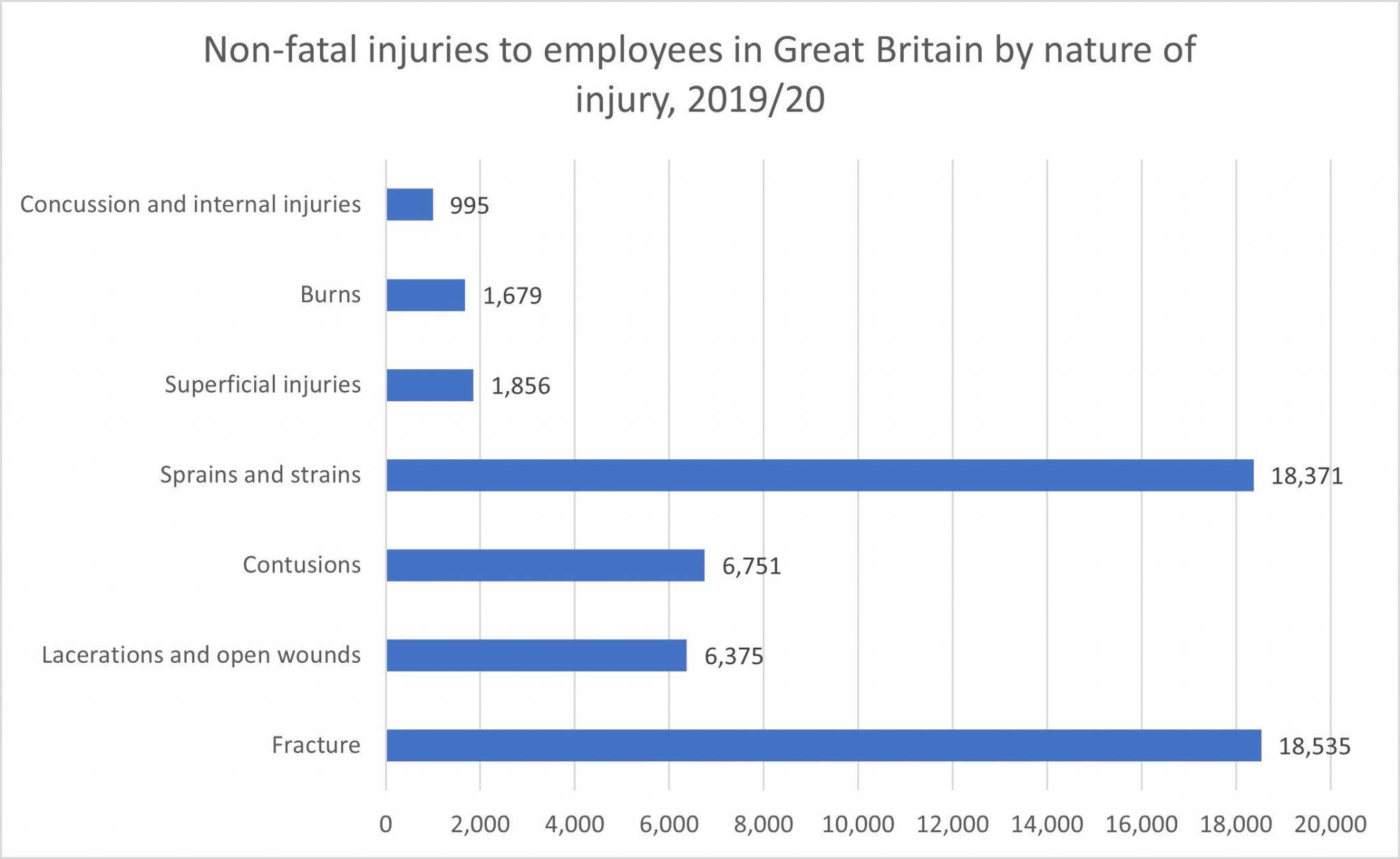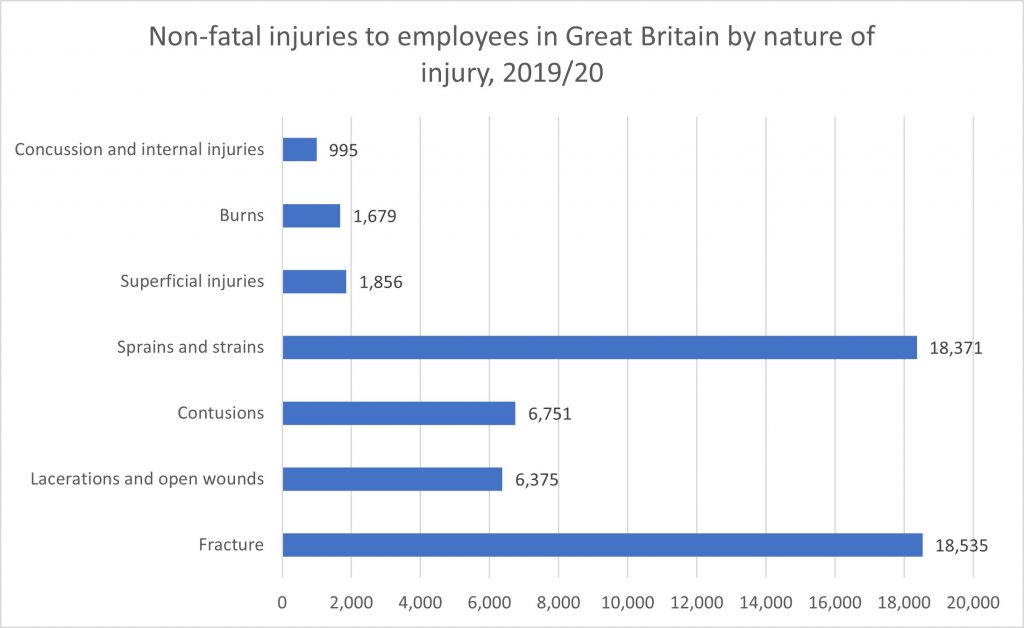 The Health and Safety Executive (HSE) builds statistics from injuries sustained at work in Britain through RIDDOR (Reporting of Injuries, Diseases and Dangerous Occurrences Regulations 2013).
As you can see from the graph above, in 2019/20, there were 18,535 fractures reported in British workplaces. This meant that fractures were the most common form of injury reported in this time frame, not only of the information used in this graph but the statistics overall.
Our calcaneus fracture compensation calculator could help give you an accurate estimate of what you could receive in only a matter of minutes. Alternatively, you can speak to one of our advisors on the phone for free legal advice using the phone number at the top of this page. 
What Expenses And Care Costs Could Be Included In Your Settlement?
As part of being able to claim financial losses, you may also be able to claim for care costs caused by the injury. However, as previously mentioned, you would need evidence showing these losses. You can claim for care costs such as:
Adjustments to your home that help you cope with any long-term or permanent effects of your injuries. For example, you might need a stairlift installed if your injuries mean you're no longer able to climb stairs. 

Travel costs to and from medical appointments. 

The cost of things like physiotherapy that you're not able to get on the NHS. 
Check How To Use A Personal Injury Calculator
A personal injury calculator quickly and effectively provides you with an accurate estimate of how much your claim could be worth. It takes into account general damages and loss of earnings; however, it won't take into consideration things like care costs or travel costs. The calculator can also consider multiple injuries that were caused by negligence. 
A large part of the amount you could receive may be through compensation for general damages. However, the Judicial College provides compensation brackets for a wide range of injuries of varying levels of severity.
They're able to provide this by having analysed the payout for different injuries across many years. However, please bear in mind that because of this, the amount you actually receive may differ from these figures. 
In order to value the general damages head of your claim, you'll usually be asked to attend a medical assessment with an independent expert. The report from this assessment will be used to value your claim.
Check How Much You Could Claim For A Fractured Calcaneus
You can supplement your compensation for general damages by including special damages in your claim for compensation. This relates to any financial losses you've sustained as a result of the injury.
However, to claim special damages successfully, you'll need to provide evidence of the losses. This includes providing them with evidence like:
Receipts

Bank statements

Invoices
If you're unable to do this, you may not be able to claim back the costs you have incurred as a result of your injuries. For this reason, we recommend keeping a record of everything you've had to spend on your recovery.  
Calcaneus Fracture Compensation Calculator
Our calcaneus fracture compensation calculator can take into account how your injury happened and how severely it affected you to provide you with an accurate estimate of what you could receive. It's not time-consuming, and you could receive an accurate valuation of your claim right away. 
Below is a list of injuries and their respective compensation brackets. These figures have come from the guidelines provided by the Judicial College. 
| Injury | Type | Amount of Compensation | Description |
| --- | --- | --- | --- |
| Foot | Modest | Up to £12,900 | Injuries such as ruptured ligaments and simple metatarsal fractures. |
| Foot | Moderate | £12,900 to £23,460 | Complex metatarsal fractures that cause permanent deformity and continued symptoms. |
| Foot | Serious | £23,460 to £36,790 | Injuries that lead to continuous pain due to traumatic arthritis and the risk of fusion surgery. |
| Foot | Severe | £39,390 to £65,710 | Fractures to both heels or feet, causing significant restriction on mobility or considerable and lasting pain. |
| Foot | Very severe | £78,800 to £102,890 | The injury must present a really serious permanent disability or intensive pain. Includes cases where there is significant portion of the heel is lost. |
| Toe | Moderate | Up to £9,010 | Fractures included in this bracket are relatively simple. Upper end of the bracket will involve cases like, for example, the need for surgery resulting in continued discomfort. |
| Toe | Severe | £12,900 to £29,770 | Severe crush injuries that lead to partial or full amputation of one or two toes. |
| Toe | Amputation | In the region of £29,380 | Amputation of the Great Toe. |
| Leg | Simple | £8,550 to £13,210 | Simple fracture of a femur which has caused no damage to articular areas. |
| Leg | Fracture | £16,860 to £26,050 | Fractures from which a complete recovery is not made. Injuries of this nature will have the injured person make a reasonable recovery but will be left with a metal implant, a limp, etc. |
Don't worry if you can't see your specific injury included in the table above; we may still be able to help. Just get in touch with our team today to find out more.
No Win No Fee Calcaneus Fracture Compensation Claim Agreements
Our panel of solicitors could offer you representation on a No Win No Fee basis. This means that: 
They will not request legal fees either upfront or during the claims process.

They also won't ask you to pay anything if your claim is unsuccessful. 

Instead, they will take a legally capped portion of your compensation as payment upon your claim being successful. We refer to this as a "success fee".
Another advantage of a No Win No Fee agreement is that, if you are offered one, it usually means that the solicitor thinks your claim has a good chance of success. This is because they are risking not being paid if you don't win your claim.
Getting Free Legal Advice
If you'd like to know more about how your claim could be worth, or if you would like to see if you could be offered a No Win No Fee agreement, why not speak to our team today? There's no obligation for you to continue, and the initial consultation is completely free of charge.
To get in touch with us, you can:
Call us now using 0800 408 7826

Write to us using the Live Chat window on the right-hand side of your screen

Contact us via our website
Ask If We Can Help You Calculate Your Settlement
We understand that some people might be unsure about how to use a compensation calculator online. On the other hand, you might simply prefer to speak to someone directly as they value your claim for you.
Whatever the reason you want to get in touch, our team will be happy to hear from you. They can walk you through the process of using the calculator or value your claim themselves, whatever you prefer.
Resources And Case Studies
For more useful information, please see below. 
The NHS gives more information on what to do if you have a broken ankle.
The Department for Transport supplies road traffic accident statistics.
The HSE supplies more guidance on how to prevent slips and falls in the workplace. 
For more information about how to claim for a broken leg, visit our relevant page 
Other Personal Injury Claims Guides You Can Read
FAQs On Calcaneus Fracture Compensation Claims
For answers to frequently asked questions about personal injury claims, please see below. 
What evidence do you need to make a personal injury claim?
For general damages, you would need things like doctor's reports and medical information about your injury. On the other hand, you will need things like receipts, invoices, and bank statements to show the special damages you wish to claim. 
When could you make a personal injury claim?
You generally have three years to start a personal injury claim for compensation. However, exceptions do apply, for example for child injuries. Get in touch with our team for more information on what these are.
Thank you for reading our guide on how to use our calcaneus fracture compensation calculator. We hope that you've found it useful.
Page by XD
Edited by RO