If you have been injured in a road traffic accident caused by negligence, you may be eligible to make a pedestrian claim against the driver. This guide will look at the eligibility criteria you must meet to make a pedestrian accident claim.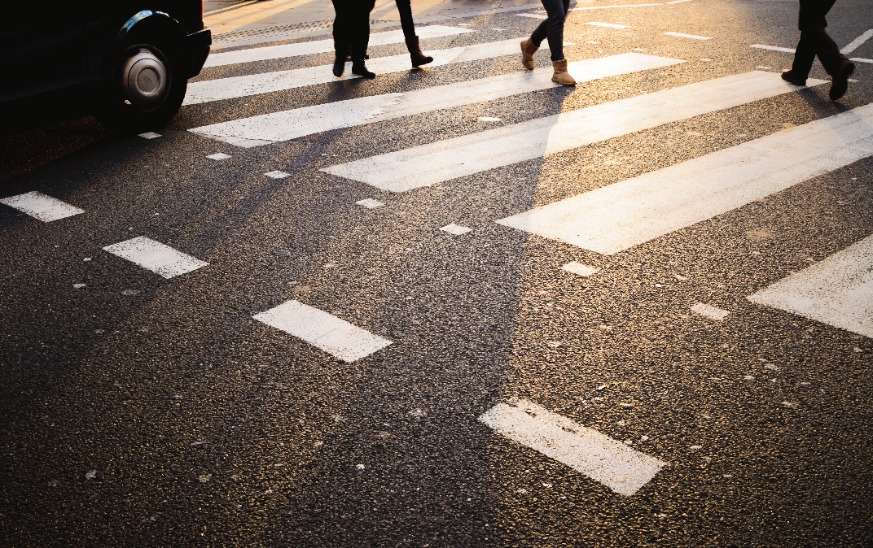 We look into the types of damages that could make up a settlement in a road accident claim. We also look at some of the various forms of evidence you could use in support of your case. 
Furthermore, No Win No Fee agreements may be beneficial to you if you're interested in claiming with the representation of a solicitor. The details of making a claim on this basis are outlined in our guide. 
You can reach us if you have any questions concerning a pedestrian claim against a driver. If an advisor feels your claim is valid, they could connect you with a lawyer from our panel to work on your claim. You can get in touch by:
Choose A Section
A Guide To Making A Pedestrian Claim Against A Driver
In certain circumstances, you may be able to make a pedestrian claim against a driver. You must be able to show that you were injured as a direct result of driver negligence in order to make a road traffic accident claim. 
Pedestrians are considered a vulnerable category of road user. This is, in part, because they don't have the protection of a vehicle which could potentially protect them from injury in a crash.
The Highway Code sets out the hierarchy of road users based on vulnerability. While all road users do have a duty of care to one another, those with the potential to cause the greatest harm on the roads have an increased responsibility to take care and mitigate the risk they pose to others.
This does not mean that vulnerable road users do not need to take care. If you caused your injuries as a result of your own failings, you'd be unable to claim.
Please contact us in the ways listed both at the top and bottom of this guide for free legal advice. Our advisors are waiting to answer any questions you have.
How And When Are You Eligible To Make A Pedestrian Claim Against A Driver?
Every road user has a duty of care towards all other road users. The duty of care on the roads is outlined by the Road Traffic Act 1988. The Highway Code also outlines proper road conduct. While not everything in the Highway Code is legally binding, it does contain instructions that can be found in legislation.
Breaching this duty could cause an accident that results in injuries. If an accident is caused by a breach of duty and results in injuries, this is an example of negligence. 
Examples of potential circumstances could include: 
A driver turning a corner too quickly and colliding with you as you cross the road causing a

head injury

and cuts to your face which leads to facial scarring

Someone in a car driving under the influence of alcohol has mounted the pavement and collided with you, causing a

shoulder injury

A driver reversing into you after failing to check their mirrors and causing you a

hip injury
To know more about making a pedestrian claim against a driver, please get in contact with our advisors, available 24/7 to answer your queries.
What Evidence Could Help You In A Road Accident Claim?
It is important to have evidence to prove that the driver's negligence caused your injuries when making a road traffic accident claim. Evidence can include: 
CCTV or dashcam footage

Photographs or a diary of your injuries

Copies of your medical records
If you are considering making a pedestrian claim against a driver, you may wonder how long after a road traffic accident you can claim. 
The general time limit is stated in The Limitation Act 1980, which explains that you have three years from the date of your accident or the date you acquired knowledge of the negligence involved in your accident. 
Exceptions in which the time limit can be suspended can be if:
A person was under eighteen at the time of the accident. They will then have three years from the date of their eighteenth birthday to make a claim. 

An individual lacks the mental capacity to claim. In the event that they regain their mental capacity, they have three years from the date this happens. 
In both of these cases, a litigation friend could claim at any point while the injured person is unable to do so.
Calculating Compensation For A Pedestrian Accident Claim Against A Driver
If you would like to see how much you could claim in a pedestrian accident, this section might be useful to you. A successful personal injury claim could be made up of two heads. General damages are a form of compensation which cover the pain and suffering you have experienced from your injuries. This can include emotional pain and suffering.  
The amount you receive for an injury claim from a car accident will depend on how the injuries have impacted your quality of life. You could use our compensation claims calculator, which can give you an idea of the worth of your claim. 
Legal professionals use the Judicial College Guidelines to help them value injuries. These figures should only be used as a guide, however, as the amount you receive may vary. 
Injury
Severity
Notes
Value
Brain and Head Injury
Moderate (c) (i)
Intellectual deficit of a moderate to severe degree. Significant risk of epilepsy. No employment prospects.
£150,110 to £219,070
Foot Injury
Very Severe (c)
Permanent severe pain/disability, mobility greatly restricted.
£83,960 to £109,650
Facial Disfigurement
Very Severe Scarring (a)
Young claimants
where there is a significant cosmetic impact. Severe psychological reaction.
£29,780 to £97,330
Shoulder Injury
Severe (a)
Associated with neck injuries. Damage to brachial plexus. Significant disability.
£19,200 to £48,030
Leg Injury
Moderate (iv)
Multiple fractures or severe crushing injuries. Imperfect union of fractures or limited joint movements.
£27,760 to 39,200
Arm Injury
Less Severe (c)
Significant disability but substantial recovery.
£19,200 to £39,170
Ankle Injury
Moderate (c)
Fractures and torn ligaments give rise to difficulty walking or standing for long periods. Metal plates. Residual scarring.
£12,740 to £26,590
Fractures of Nose or Nasal Compex
Serious (c) (i)
Multiple fractures. Numerous operations. Permanent damage to airways. Facial deformity.
£10,640 to £23,130
Fractures of Cheekbones
Serious (d) (i)
Serious fractures, paraesthesia in cheeks/lips.
£10,200 to £15,780
Knee Injury
Moderate (b) (ii)
Less serious lacerations, twisting or bruising. Constant ache and discomfort.
Up to £12,740
Special Damages Compensation In A Road Traffic Accident Claim
Special damages aim to cover the monetary losses you have suffered as a result of your injuries, aiming to restore you to the financial position you were in prior to your accident.
Examples of these include: 
Loss of earnings

The cost of professional care 

The cost of any adaptations you need to make to your vehicle or home.
Special damages can be supported with Examples of potential evidence you can collect include: 
Bank statements/payslips to illustrate the impact on earnings

Any proof of paying for professional care or for any adaptations you have had to make to your home in order to cater to your injury

Invoices to show the amount you have spent on home adaptations.
If you would like free legal advice on the process of claiming, speak with a member of our team today.
The Benefits Of Using Our Panel Of No Win No Fee Road Accident Solicitors
If you would like to work with a lawyer on your claim, then you could benefit from a No Win No Fee agreement. A popular type of this is a Conditional Fee Agreement.
These agreements usually mean that you do not have to pay upfront costs for your solicitor's services if your case is unsuccessful. If your claim is unsuccessful, you will not have to pay for your solicitor's services.
However, in the event that you are successful, your solicitor will take a success fee. This is legally limited to ensure you receive the majority of your compensation. 
If you would like to see if you could work with a lawyer from our panel on a No Win No Fee basis, speak with an advisor today. If you have a valid claim, you could be connected with a No Win No Fee solicitor from our panel to work on your claim.
Contact Us For Free 24/7 To See If You Can Make A Pedestrian Accident Claim
Get in touch if you have any questions about making a road traffic accident claim as a pedestrian. Our advisors can offer you free legal advice and answer any of your queries. If you have a valid case, you could be connected with a solitor from our panel. 
You can contact us by: 
Calling us on 0800 408 7826

Completing our online form with your details for a callback

Chatting with us through our live chat bubble on our website
Learn More About Making A Pedestrian Claim Against A Driver
Thank you for reading our guide on making a pedestrian claim against a driver. If you found our guide useful, you can find more of our information linked below: 
Additionally, you can also take a look at the external resources below: 
If you have more questions about making a pedestrian claim against a driver, speak with our team today.
Page by IR
Publisher RO