In this guide, we'll discuss the process of making a personal injury claim as a pedestrian who was knocked down by a car. We'll also look at the criteria your claim must meet in order to be valid.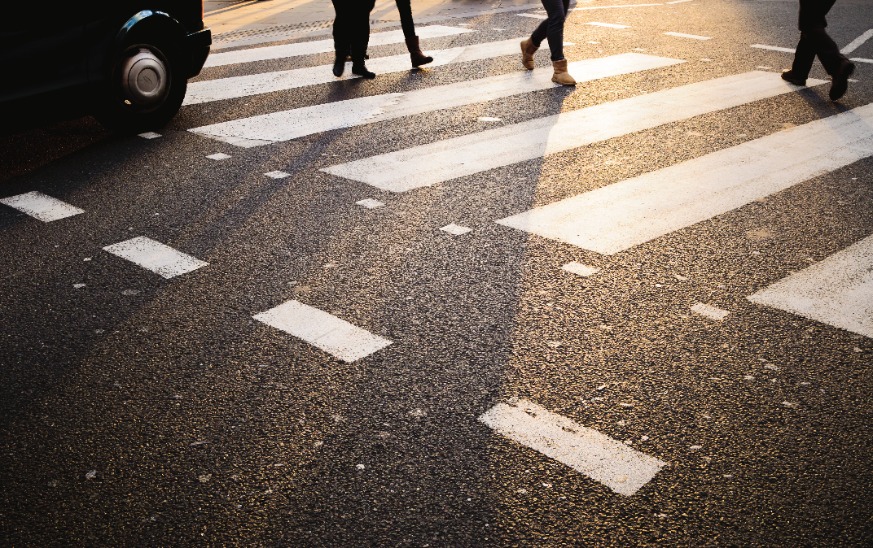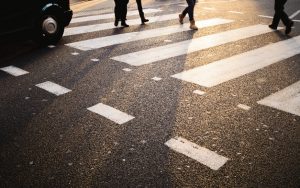 Additionally, we'll explore what you can do after being involved in a car crash and the steps you can take to build a strong road traffic accident claim, including the evidence you can gather.
Furthermore, we will look at how our panel of solicitors may be able to help you through the process of seeking compensation, providing you have a valid claim. 
We'll also be taking a look at how much compensation you may be entitled to and how legal professionals can calculate the value of your claim.
If you want to learn more, you can get in touch with one of our advisors by using the details below:
Call on 0800 408 7826
Contact us through our

website 

Chat with one of our advisors using our live support feature on our website.
Choose A Section
Can I Claim If I Am A Pedestrian Who Has Been Knocked Down By A Car? – A Guide
There are many different types of road traffic accidents, including those involving pedestrians. Pedestrians are considered a vulnerable road user. As such, the injuries they could sustain can depend on the severity of the accident. For example, if a pedestrian is knocked down by a car, this could cause severe injuries, such as:
Damage to the spinal cord which could lead to paralysis
Brain damage from a severe head injury
Traumatic amputation, such as of the arms or legs
Internal organ damage
In addition to physical injuries, a pedestrian could experience psychological harm, such as post-traumatic stress disorder (PTSD). This could happen due to the trauma of the accident itself or the injuries that have been sustained.
If you are eligible to seek compensation, the settlement you receive can reflect the level of pain and suffering you have experienced.
To find out whether you can make a pedestrian accident claim, please read on. Alternatively, call our team.
When Are You Eligible To Make A Pedestrian Accident Claim?
Road users have a duty of care to ensure that they use the road safely and act in a way that reduces the risk of others experiencing harm. This is outlined in the Road Traffic Act 1988. Additionally, the different responsibilities road users have is outlined in the The Highway Code. It also contains rules, some of which are backed elsewhere in law. 
In order to make a claim as a pedestrian who was knocked down by a car, you must be able to prove that another road user breached the duty of care they owed you and caused you to sustain harm as a result. This is known as negligence.
Examples of how a road user could breach their duty of care can include:
A drunk driver swerving into a pedestrian walking on the pavement causing them to sustain a fractured skull and a severe back injury.
A car knocking over a pedestrian after failing to stop at a zebra crossing causing them to sustain multiple injuries.
In the section below, we'll discuss the compensation that could be awarded in pedestrian accident claims. Read on for more information. Alternatively, if you'd like to know more about whether you could claim, then contact us for free by using the details above. 
Compensation Calculator For
A Pedestrian Knocked Down By A Car Claim
This section will discuss general damages, which is one of the heads of claim that can make up personal injury compensation settlements. It compensates for the pain and suffering caused by your injuries.
You may wish to use a road traffic accident compensation calculator to estimate how much you could receive. However, below is a table detailing compensation brackets for different types of injuries. These figures come from the Judicial College Guidelines and are often used by solicitors to help them assign a value to the general damages portion of your claim.
Due to the many different variables that are taken into account when valuing general damages, such as the severity of your injury, the recovery period and future prognosis, it's important to recognise that these figures are not guaranteed. As such, you should only use them as a guide.
| Injury | Compensation | Notes |
| --- | --- | --- |
| Brain Damage | £282,010 to £403,990 | (a) Very Severe: The person needs full-time nursing care. |
| Paralysis | £324,600 to £403,990 | (a) Cases of tetraplegia. |
| Paralysis | £219,070 to £284,260 | (b) Cases of paraplegia. |
| Arm Amputation | £240,790 to £300,000 | (a) Both arms are lost. |
| Neck Injuries | In the region of £148,330 | (a) Severe (i): Neck injury associated with incomplete paraplegia. |
| Chest Injuries | £100,670 to £150,110 | (a) Total removal of one lung or/and serious heart damage, with prolonged suffering and pain. |
| Leg Injuries | £96,250 to £135,920 | (b) Severe (i) Injuries, such as a degloving of the leg. |
| Leg Injuries | £17,960 to £27,760 | (c) Less Serious (i) An incomplete recovery from fractures. |
| Knee Injuries | £69,730 to £96,210 | (a) Severe (i): Serious knee injury with a disruption of the joint. There will be a lengthy treatment, considerable pain, and a loss of function. Arthritis is expected. |
| Chest Injuries | £31,310 to £54,830 | (c) Damage to chest and lung causing continuing disability. |
Special Damages Compensation In A Road Accident Claim
Special damages is another head of claim that could make up your overall settlement total. This aims to reimburse a claimant for any financial expenditures they've had to make due to their injuries. This can come in many forms, such as:
Cost of care

Loss of earnings

Cost of medical care

Cost to renovate your home. 
You should collect evidence in order to prove any financial losses. This can come in the form of any receipts you may have, invoices, or statements from your bank. 
Potential Evidence In A Claim For A Pedestrian Knocked Down By A Car
As part of the process of claiming as a pedestrian knocked down by a car, you can gather evidence to support your case. Potential types of evidence to help prove that you were harmed by negligence include:
Gathering evidence of the accident – This can include witness contact details, CCTV footage and photographs of the accident scene.
Gathering evidence of your injuries – This can include medical records from your doctor or the hospital. It can also include a report from an independent medical assessment which can be arranged as part of the claims process. 
Providing you have a valid claim, a solicitor from our panel could represent your case. In doing so, they could help you collect any evidence and guide you through the different stages of the claims process.
The standard time limit to begin a road traffic accident claim is generally three years. This can be from the accident's date or the date you became aware that your injuries were caused by negligence. All of this is illustrated in the Limitation Act 1980. There are exceptions to the time limit. Find out whether they could apply to your case by calling our team on the number above.
Why Use Our Panel Of No Win No Fee Road Accident Solicitors To Claim?
As a pedestrian who has been knocked down by a car, you may find it beneficial to hire a No Win No Fee solicitor to represent your claim. They could offer you a Conditional Fee Agreement which is one type of No Win No Fee arrangement. This is generally means you won't have to pay any upfront or ongoing fees for their services. You also typically won't need to pay for the work they have completed on your case if the claim fails.
You'll have to pay a success fee upon the completion of a successful claim. This amount is legally capped, and the proportion that a solicitor takes from your compensation is agreed upon before you use their services.
The solicitors from our panel can offer to represent your claim on this basis. Please get in touch using the contact details provided below.
Contact Us For Free Legal Advice 24/7 To See If You Could Make A Pedestrian Accident Claim
You can contact our advisors anytime for free legal advice in relation to your potential pedestrian accident claim. If an advisor finds that your case has a chance of succeeding, you may be put through to a solicitor from our panel. For more information, get in touch by using the following contact information:
Call on 0800 408 7826
Contact us through our

website 

Chat with one of our advisors using our live support feature on our website.
Learn More About Making A Road Accident Claim
You can learn more about road traffic accident claims by reading some more of our articles below:
Alternatively, below are a few external links that could help you:
Thank you for reading this guide on the steps you can take as a pedestrian who was knocked down by a car. If you have any other questions, get in touch using the details provided above.
Page by UN
Editor GT