Welcome to our guide on calculating your fractured skull compensation. Were you involved in an accident caused by a breach of duty of care? Did the accident cause you to fracture your skull? If so, you might have grounds to claim. 
Broken And Fractured Skull Compensation Calculator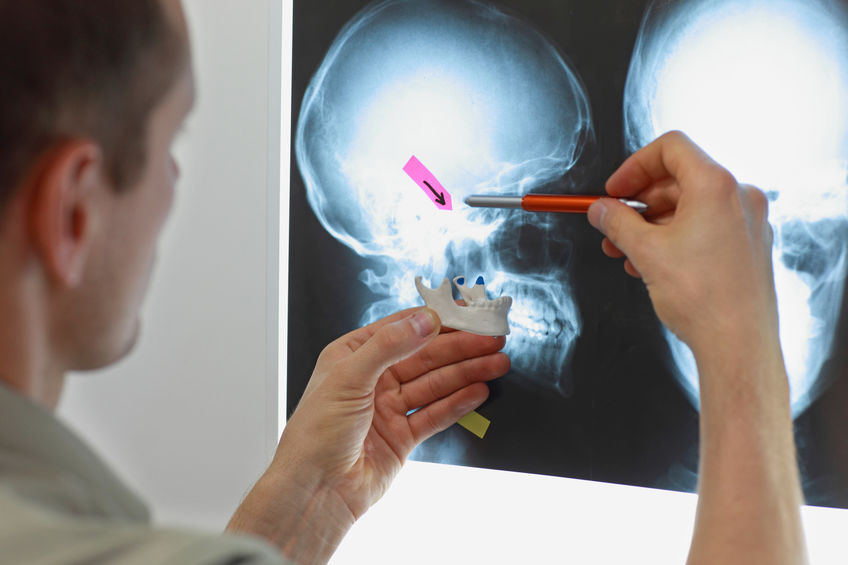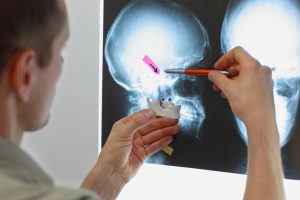 We understand that you may be feeling frustrated. However, we're here to help by providing the information you need to make a personal injury claim. If you're unsure whether you're eligible to claim, our guide will look at the duty of care owed to you in different scenarios and how to spot when this has been breached. 
Additionally, if you have any questions after reading, our advisors can provide free legal advice on anything regarding your claim. They can also take the details of your case and connect you with a personal injury lawyer if they feel your claim has a good chance of success. 
Call us on 0800 408 7826 to find out more about how we can help. Otherwise, please continue reading for further information on claiming compensation for a fractured skull.
Jump To A Section
A Guide To Using Fractured Skull Compensation Calculator
If the accident you were involved in was caused by someone's breach of duty of care towards you, you might be able to claim. Our guide will be taking a look at the duty of care you're owed in public places, work and on the road. We will also look at how someone could be liable for an accident if they fail to fulfil the duty of care they have towards you. 
Furthermore, we'll look at the different types of damages that could be included in a compensation claim. In addition, we'll examine the evidence that you could use to support your claim. 
Additionally, we have included a table of figures to give you an idea of the amount of compensation you could claim for various skull fracture injuries. Furthermore, we'll examine how to use a compensation calculator to value your claim. 
Accidents resulting in a fractured skull can cause a lot of pain and suffering, but you could be entitled to compensation for your injuries. Keep reading for more information on whether you could be eligible to claim. 
What Is A Fractured Skull Injury?
When you're involved in an accident that causes a head injury, it could result in you suffering from a skull fracture. Your doctor will usually use a CT scan to diagnose an injury of this nature.
There are a number of different types of fractures to the skull; that you could sustain. These include:
Closed fractures where the fracture hasn't broken the skin, and there is no damage to the surrounding tissue
Open fractures where the brain is exposed because there has been damage to tissue and skin
Linear fractures where the break in the bone is a straight line
Depressed fractures where the skull is crushed inwards
Basal fractures where the base of the skull is fractured
All types of skull fractures have the potential to be serious. However, open fractures are often considered serious because the skin is broken. This means that there is a higher risk of bacterial infection. Depressed fractures also pose a very serious risk to health, as pieces of bone can press against the brain.
Open fractures will often require antibiotics to prevent infection. For severe or depressed fractures, you may need to undergo surgery to reduce the risk of brain damage.
What are the long-term effects of head injuries?
There are some skull fracture symptoms that could cause brain damage that results in long term problems. For example, problems with memory, physical function and emotional and behavioural effects. For that reason, it's important to seek treatment after a head injury.
What Costs And Damages Could I Claim Compensation For?
When you make a personal injury claim, your compensation could be made up of general damages and special damages. General damages are the part of your compensation that covers the impact your injuries have had on you. It takes into account your pain and suffering and the impact on your quality of life. You can use our compensation calculator to see how much the general damages head of your claim could be worth. 
In addition to this, if you have any financial losses incurred as a direct result of the injury, you could claim for these under special damages. Special damages can include:
Loss of earnings

Care costs 

Medical expenses, e.g. physiotherapy or counselling that isn't available on the NHS.

Travel expenses, for instance, fuel and parking costs for medical appointments. 

Home adaptations if your injuries have left you with permanent disabilities. 
Evidence will be required in order for you to claim compensation. For instance, you could provide CCTV footage or photographs of the cause of the accident in order to prove that it resulted from a breach of duty of care.  For special damages, you will be expected to provide things like invoices and receipts so that these costs can be included in your claim. 
If you would like further information on the evidence required to make a claim, you can contact our team. They can advise on how you can build a valid claim to get the compensation you deserve. 
Common Causes Of Skull Fractures
There are a number of different kinds of accidents that might result in you fracturing your skull. We have included more specific examples of accidents and skull fractures to help you understand whether you have a valid claim. 
Car And Motor Vehicle Accidents
All road users owe a duty of care to one another when on the road. This duty of care is outlined in the Highway Code. A breach of this duty of care could cause a car accident in which someone suffers from a fractured skull.
For instance, a driver may not be paying sufficient attention to the road and, as a result, fails to notice that the car in front has stopped. This could cause them to crash into the back of the car in front. The force of the impact could cause this driver to be thrown forward, hitting their head on the steering wheel and fracturing their skull.
Slips, Trips And Falls
Slips, trips and falls, whether in work or a public place, can be caused by:
Slippy floors, e.g. spillages or water tracked in from outside.

Poor housekeeping, for instance, wires and boxes left out in walkways.
Uneven or unsuitable flooring.
Poorly designed walkways, for instance, a lack of lighting, which makes hazards difficult to spot.
When you're in public, your safety is protected by a piece of legislation called the Occupiers' Liability Act 1957. Your employer has a responsibility to ensure your safety according to the Health and Safety at Work etc. Act 1974.
If you are involved in a slip or trip that causes you to fall backwards, this may mean that the back of your head hits the ground, causing a skull fracture. Similarly, you may fall and hit your head on something else, such as a shelf or desk, resulting in you fracturing your skull.
Objects Falling From A Height
An object falling from a height and hitting your head could result in you suffering from a fractured skull. For instance, you may be in a supermarket when a shelf breaks, causing an item to fall on your head and cause a skull fracture. It could also result in injuries such as a scar or back injuries.
Similarly, you could suffer from this kind of accident if the items in a shop are stacked incorrectly. If heavy items are stacked onto the top shelf, and one falls and fractures your skull, you may be able to claim compensation.
Accidents In The Construction Industry
In the construction industry, any of the accident types that we have already looked at could occur. In turn, this could result in an employee suffering a fractured skull.
Construction may require workers to work at different heights. This means that objects that aren't properly secured or stored could be at risk of falling and injuring an employee working below.
Workplace machinery and vehicles may be used on construction sites. They can also pose a risk of an accident at work if used improperly or if they are faulty or not properly maintained. For instance, someone working a crane may not have been properly trained to do so, resulting in them hitting someone outside the vehicle on the head with a load. This could cause a fractured skull.
Physical Assaults And Attacks
If you've been the victim of a physical attack, this could lead to you suffering from a fractured skull. For instance, you could be pushed or shoved by someone, causing you to fall and hit your head on the ground. This could lead to your skull being fractured. Similarly, someone could use a weapon to hit you on the head, causing an injury of this nature.
When you make a claim for a violent attack, this will usually be made through the Criminal Injuries Compensation Authority (CICA). The CICA are an executive agency sponsored by the Ministry of Justice.
Serious Workplace Injury Statistics
There were 111 workers killed in accidents in British workplaces in 2019. 27 of these fatal injuries were to the head as reported by the Health and Safety Executive. 
In addition, there were 5,656 non-fatal head injuries reported to RIDDOR in the same time frame. Of these, 3,287 were to areas of the head, excluding the face. 2,472 of these injuries resulted in an absence from work of 7 days or more.
The graph below shows the number of fatal injuries to various sites of the body in 2019/20. It shows that head injuries are the highest single, specified location to sustain fatal injuries.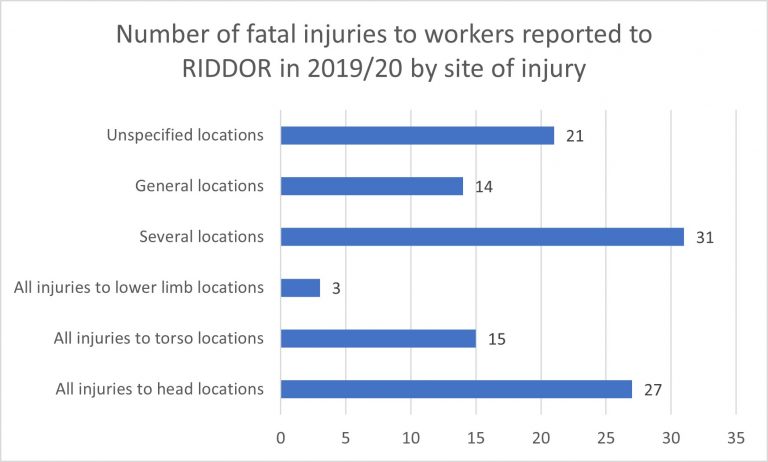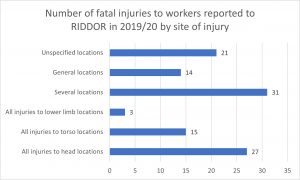 Can You Claim For Care Costs After A Skull Or Head Injury?
An accident can sometimes cause unexpected financial strain. This may be the case if you can no longer provide care to someone that depends on you. It may also apply if your injuries mean that you need care yourself. If so, this is something you could claim back the cost of.
For example:
If you're injured and can no longer provide part-time care to your elderly parent, you can claim care costs for the extra care they might need

You can claim child care costs if your injury leaves you unable to provide care for them as you used to  

If you suffer from brain damage as a result of your injuries, you may not be able to care for yourself as you did before the accident. You could claim back the cost of any care that you need that you've paid for yourself.
Speak to our team for more information on what special damages could be included in your compensation claim.
How Do I Use A Fractured Skull Compensation Calculator?
Our compensation calculator can allow you to work out an accurate estimate of your claim value. However, please bear in mind that it will only provide an estimate for general damages and loss of earnings. It doesn't include the additional compensation you could claim under special damages. 
It's important to note that you don't have to accept the first offer you receive. Instead, you could make a counteroffer to get the compensation you deserve for your pain and suffering. While it's not a legal requirement, you could seek legal representation to help you navigate the process of claiming compensation. 
How Much Compensation Could You Expect To Get For A Skull Fracture?
The figures for general damages are calculated with the help of a document called the Judicial College Guidelines (JCG). In addition, you will usually be invited to a medical appointment with an independent expert to value your claim. This expert will examine your injuries and speak with you about the impact that they have had on you. 
This report will be referred to alongside the JCG to value your claim. Remember, the compensation brackets included in the JCG are just guidelines and not guaranteed amounts.
While our compensation calculator can give you a good idea of how much you could be owed for your fractured skull, you could be owed more if you have incurred additional special damages. To support your claim for special damages, you should provide evidence such as receipts and invoices to show the costs you have incurred.
Speak with one of our advisors today to see what can be included in your compensation and how much you could be owed.
Fractured Skull Compensation Calculator
We have created a table to answer the question 'how much compensation can I get for a fractured skull?'. The figures below come from the Judicial College Guidelines and can provide an idea of the compensation you could be awarded for different injuries. 
| Injury | Description | Award |
| --- | --- | --- |
| Brain damage- moderate (i) | Where personality and intellect have been affected to a moderate degree. There might be some effects on sight, speech and the senses. The injured person will have no employment prospects. | £140,870 to £205,580 |
| Brain damage- moderate (ii) | Where personality and intellect have been affected to a moderate to modest degree. There will be some risk of epilepsy. The injured person will have greatly reduced if not non-existent employment prospects. | £85,150 to £140,870 |
| Brain damage- moderate (iii) | Here, there will be some impact on concentration and memory and a reduction in the ability to work. However, dependence on others will be limited and the risk of epilepsy will be small. | £40,410 to £85,150 |
| Minor brain/head injury | If there is any brain damage at all, it will be minimal | £2,070 to £11,980 |
| Epilepsy | Established Grand Mal | £95,710 to £140,870 |
| Epilepsy | Established Petit Mal. Award amount will be based on how well the condition is controlled by medication and the effect it has on work and socialising. | £51,460 to £123,340 |
| Epilepsy | Where there have been one or two discreet episodes of epilepsy, but the risk of further recurrence is no higher than that of the general population. | £9,990 to £24,680 |
If you don't see your injury on the table above, don't worry; this is just a selection of injuries taken from these guidelines. You can use our compensation calculator to assess how much your injuries are worth.
If you have any further questions on compensation or using our calculator, call our team for help and advice. 
No Win No Fee Claims For Fractured Skull Compensation
While there is no legal obligation to have a solicitor work on your behalf when making a claim, we believe that the legal expertise offered by a solicitor could help the claims process run more smoothly. However, many people may be hesitant about working with a solicitor because of the legal costs that are typically associated with this. 
Our advisors can put you in touch with a solicitor who can represent you on a No Win No Fee basis. This means if they aren't successful with your claim, you won't pay solicitor fees. You also won't be asked to pay them before your claim starts or while it's ongoing. 
If they do win your case, you'll pay a success fee. This is legally capped and agreed upon with your solicitor before the claim starts. 
Getting Free Claims Advice
Our advisors are on hand 24/7 to help provide you with answers to any questions that may still be unanswered after reading this guide.
Furthermore, if you're ready to start your claim, they can connect you with a personal injury solicitor. For more information, contact us on the following:
   

Telephone number – 0800 408 7826

   

Live chat at the bottom of the page
Ask If Our Team Could Calculate Your Fractured Skull Compensation Claim
We want to help you understand how much compensation you could claim after an accident. So if you have any questions regarding using our fractured skull compensation payout calculator, get in touch with our team.
They can advise you on using the compensation calculator by taking you through the questions step by step to estimate your claim value. They can also let you know what could be included in the special damages head of your claim.
Call us on the number above and start your claim to get the compensation you deserve today.
References And Guides
For any medical advice, visit the NHS website.
If you require any information on accident prevention, see the Royal Society for the Prevention of Accidents.
For further guidance on making a criminal injury claim, see the government guide.
Other Personal Injury Claims Guides You Can Read
Fractured Skull Compensation FAQs
What is the average payout for a head injury?
There isn't a typical amount of compensation you'll receive for a fractured skull, as the amount varies depending on the severity of your injury. However, you can get an estimate from our calculator. 
What are the chances of surviving a skull fracture?
It's important to seek treatment as soon as possible if you've experienced any symptoms of a head injury. This can help to reduce the risk of any complications such as infection or brain damage. 
How serious is a fractured skull?
The severity of a fractured skull can vary. A fractured skull can lead to serious complications if left untreated.
How long does it take to recover from a fractured skull?
It can depend on the severity and type of skull fracture and how long it takes to recover. However, for more detailed information, see the NHS page or speak to your doctor. 
We hope you found our guide on working out your fractured skull compensation useful. Thank you for reading. 
Page by GT
Editor RO