By Stephen Taylor. Last Updated 28th October 2022. In this article, we will guide you through how to claim compensation for a burned hand. If you have suffered an injury like this, we may be able to help you. We'll inform you of some possible causes of a burned hand, paying extra attention to how you could sustain a burn injury at work.
You can contact us in a number of ways at any point should you have any queries.
Call us on 0800 408 7826.

Use the live chat function in the bottom right corner.

Send us a

message

through our website.
Read on for more information.
Jump To A Section
A Guide On The Average Compensation For A Burned Hand At Work
Compensation for a burned hand can be a difficult sum to calculate. There are various factors to consider, such as the severity/degree of the burn and what percentage of the body had been affected. The victim's psychological reaction to the visual damage also needs to be taken into account.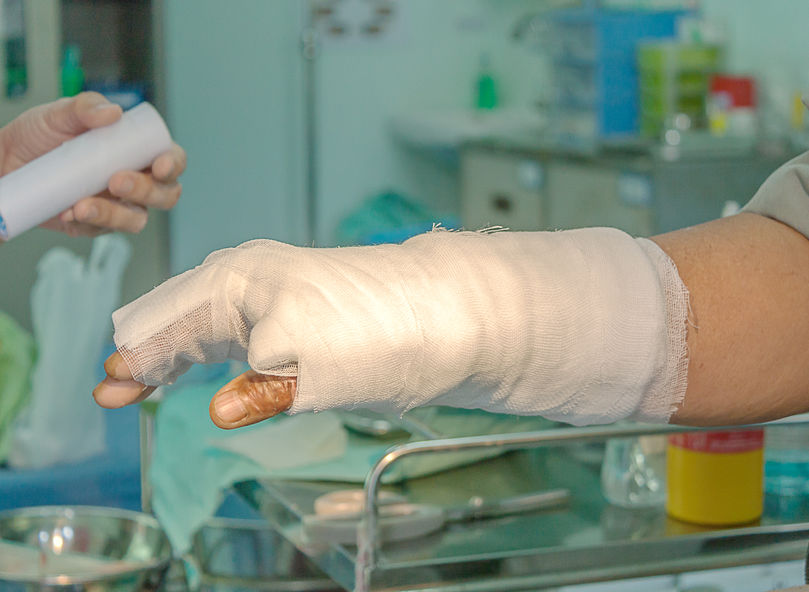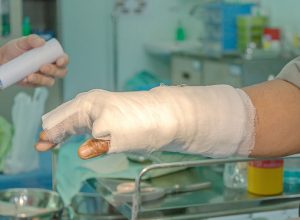 Burn injuries at work sustained to the hand, if severe enough, could be worth around £45,000-£55,000. This amount is relevant to burns caused by both extreme heat and chemical burns.
How common are burn injuries in the workplace?
Between 2017 and 2020, around 5,324 people reported suffering a non-fatal burn or scald at work. Of these injuries, 5,012 people required over a 7-day absence from work, which illustrates how serious injuries of this nature can be. 
In the table below, you can see the rates of burn injuries as reported under RIDDOR for the past 3 years. As you can see, the number of injuries fluctuates but is roughly the same each year.
What Is A Burned Hand Injury?
Burns and scalds are two forms of damage caused to the skin. They are usually caused by heat, both dry and wet. Dry heat burns occur due to exposure to things such as fire or hot surfaces. Burns caused by wet heat are usually due to coming into contact with hot water or steam. Both of these burns are treated the same way.
Pain is common when experiencing a burn, but the level of pain is not always directly related to the severity of the burn. Symptoms that will give you a better idea of how bad a burn is are: red skin, peeling skin, blistering, swelling, white or charred-looking skin. 
If someone suffers a burn, your first step should be to remove them from the source of the heat and run the affected area under cold or lukewarm water for around 20 minutes. Ice, creams and other substances should be avoided.
You should also remove anything near the part of the body that has sustained the burn. This includes any clothing or jewellery/accessories. You should not try to remove anything that is stuck to the skin.
Keeping the person warm is also important. This can be achieved by draping them in a blanket, but be careful not to touch the burned area. Cover the burn with cling film and administer painkillers such as paracetamol and ibuprofen.
Treating a Burned Hand
It's sometimes possible to treat less severe burns at home. If you keep the wound clean and avoid bursting any blisters that form then it may heal on its own. For more serious burns (and all chemical burns) it's always best to head to A&E to seek medical treatment.
At the hospital, the main goal when considering treatment is to avoid infection and reduce scarring. Wound dressings and medication will usually suffice for minor burns. For more extreme cases involving substantial scarring or other cosmetic damage, some therapy or even skin grafts may be necessary.
For minor burns, your recovery should only take about 14 days. More severe cases will require specialist care, taking months or sometimes years to recover from. Some will leave visible scars.
Case Study – £65,000 Compensation For A Burned Hand At Work
Mr Neil Grass is a lab chemist who suffered a burn injury to his hand at work. 
How Mr Grass burned their hand at work
Mr Grass was conducting an experiment at work. He added the necessary components to a glass beaker, then lit his bunsen burner. To see how the components would react to heat, he placed the beaker on a metal grill over the naked flame.
As he placed the beaker down, the flame spontaneously erupted for a brief moment, engulfing his hand and the cuff of his lab coat.
Luckily, the fire-resistant material of his lab coat ensured the flame was quickly extinguished. However, the chemicals in the beaker had also spilt onto his hand in the chaos. The heat from the flame had caused the latex glove he was wearing to adhere itself to his skin. In addition, this had exposed his bare skin to the spilt chemicals. He walked to the sink and ran his hand under the cold water tap, whilst his colleagues got hold of some cling film to wrap the injury for the journey to A&E.
When examined by a doctor, it was confirmed that Mr Grass' injury would cause lasting damage. Whilst after a while he did recover the majority of the function in his hand, he required surgery and skin grafts to repair the cosmetic damage, leaving visible scarring.
Mr Grass was obviously distressed and felt aggrieved by what had happened. He had never worked with a bunsen burner that acted so spontaneously. He spoke to his colleagues about it who informed him they hadn't encountered something like it in the past. But one of his colleagues pointed out that none of the lab equipment had been inspected for a few years, so it could be defective. 
With colleagues there to witness the event, and, as he later confirmed, no inspections of the lab equipment had taken place for some time, Mr Grass felt confident he would be owed compensation for a burned hand and so filed a claim after seeking legal advice.
What was awarded to the claimant?
Mr Grass received £48,000 in general damages, to account for the pain and suffering experienced because of his burn injuries of the hand. This high amount was due to it being more severe than just a minor burn, and the lasting cosmetic damage and psychological side-effects that followed.
Burn injuries of the hand will also usually entitle the claimant to an additional sum known as special damages. Mr Grass received this additional, bespoke amount which covered any losses/additional outgoings that occurred due to his burn injury at work. Below, we've included a detailed breakdown of his special damages payment.
How the settlement breaks down
| Type of Special Damages | Includes | How Much? |
| --- | --- | --- |
| Travel Expenses | To and from treatments, therapy and check-ups. | £450 |
| Medications/Prescriptions | Pain management, antibiotics  | £250 |
| Damage To Property | Fire/chemical damage to his lab coat and designer wristwatch | £1,200 |
| Loss of Earnings | Missed 4 months of work for recovery/work-related anxiety | £5,000 |
| Additional Care | Assistance with childcare | £400 |
| Loss of Enjoyment | Concert tickets purchased. The event was missed due to recovery. | £100 |
The case of Mr Grass is purely an example. It is based on our past experiences of handling and valuing claims and serves to illustrate how accidents can happen and how they are valued.
Common Causes Of Burn Injuries
In a Road Traffic Accident
There are a number of ways you could suffer a burn injury in a road traffic accident. Whilst fires can occur within a vehicle following a collision, you could also experience something known as road burn or road rash. 
Those travelling by bike could be thrown from their vehicle and scrape a part of their body along the hard surface of the road, causing what is known as road burn or road rash.
In a Public Place
Various entertainment venues/activities require heat to function properly. Dinner theatre venues such as teppanyaki restaurants involve the preparation and cooking of food right in front of the diners. People in such close proximity to a heat source such as this always increases the risk of people getting hurt and then seeking compensation for a burned hand.
How Can You Suffer An Injury At Work?
Burn injuries at work are fairly common in roles that work with heat such as in professional kitchens. Chefs could sustain a hand injury, burning and cutting their fingers but usually only with minor injuries occurring. Spilling hot oil or hot water could lead to a much worse hand injury, burning more layers of skin than just the top few.
What Is An Employer's Duty Of Care?
Every employer has a legal obligation to ensure their employees are kept safe at work so far as reasonably possible. This means that hazards at the place of work must be reduced and minimised as much as your employer is able to do so. If someone sustains an injury at work for which they weren't entirely to blame, it is usually due to their employer breaching their duty of care.
How Can My Employer Breach Their Duty Of Care?
If a role in the workplace requires the handling of corrosive or other dangerous substances, then the employees must be properly trained on how to do this safely. They must also be provided with proper safety equipment such as goggles and gloves. 
If none of these safety procedures is put in place and you burn your hand at work, UK law states that the employer is breaching their duty of care.
Thankfully, employer-related non-fatal injuries have been on a downward trend since 1986/87. Since 2003/2004 especially, the figures for the following year have been consistently lower.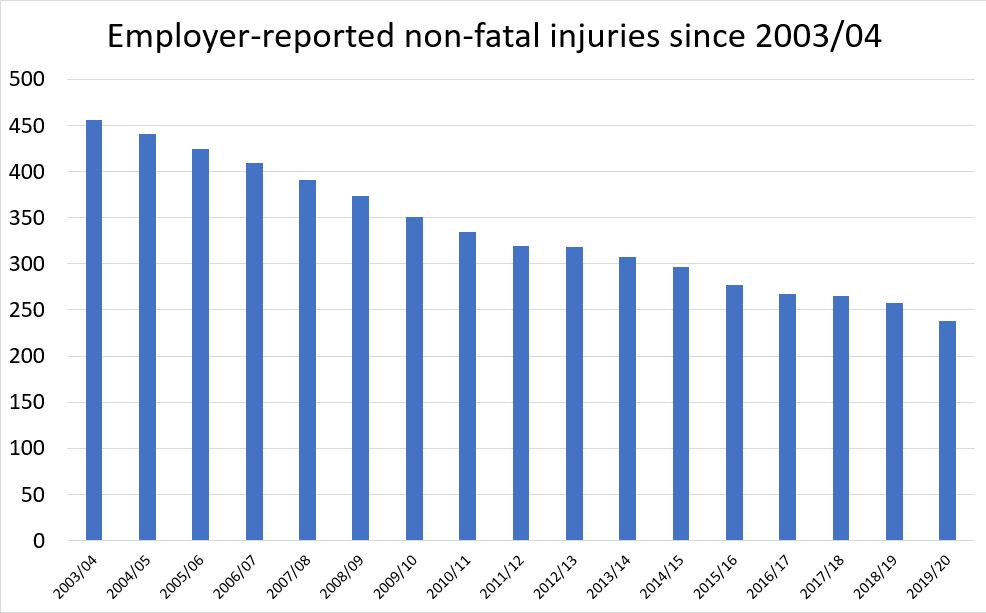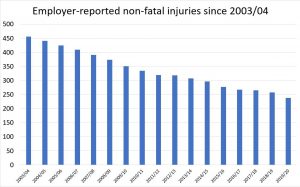 Calculating Compensation For A Burned Hand At Work
If you suffer a burned hand at work that wasn't your fault then the compensation you could be due could be made up of two parts: general damages and special damages. General damages will be paid to you to account for the pain and suffering that you experience after burning your hands while at work.
After your burn injury at work, your compensation could also include special damages. As mentioned and illustrated earlier in this article, this sum will include costs and losses you sustain as a direct result of burning your hands at work. For example:
Loss of wages
Travel costs
Damage to property
Medical or care expenses
Obtaining evidence of all of your medical treatment, losses and additional outgoings is very important. With this proof in hand, if you sustain any burns or other injury at work, compensation will be much easier to claim. The medical evidence especially will contain details regarding your prognosis or long-term recovery. The longer you take to recover, or any damage that is likely to be permanent will be reflected in your special damages figure.
Get in touch with us today if you need any additional information, or if you need anything clearing up. We can also provide a tailored compensation estimate for your claim once we know more about your case.
Burnt Hand – Examples Of The Evidence You'll Need To Claim
If you have suffered burns on your hands because of negligent behaviour by a party that owed you a duty of care, then you may be entitled to claim compensation for your injuries. However, you will need to provide sufficient evidence to claim for a burnt hand injury.
If you hire a solicitor, then they may be able to help you gather evidence that can support your burnt hand injury claim. Types of evidence you can gather could include:
Photographs of the accident scene and the burns on your hand
CCTV/security camera footage that shows the incident
A report about the incident from your work accident report book
Witness statements from any work colleagues that saw the hand burn incident
A medical report from the hospital that treated the burns on your hand caused by the work accident
For further examples of evidence or advice on claiming, get in touch with our advisors at any time.
How To Find Free Legal Advice About Personal Injury Claims
We are on hand at any time of the day to offer you free legal advice. As well as answering any questions you may have about the claims process, we will provide you with a claim valuation service which will be much more accurate than a run-of-the-mill personal injury claims calculator.
If it's determined by our knowledgeable advisors that you have a valid personal injury claim then we may be able to put you in touch with a personal injury solicitor from our expert panel.
No Win No Fee Compensation For A Burned Hand Injury
If you're worried about legal costs, we have just the arrangement for you. We operate on a No Win No Fee basis. This simple and convenient agreement means that you're not required to pay anything in legal costs until the conclusion of a successful claim.
Once you receive your payout settlement, our payment comes from this in the form of a legally capped fee which covers all of your legal costs. If you don't win your case then you won't owe your lawyer anything.
Whilst it is possible to represent yourself for your case, it is not advised as if you lose you could bear responsibility for any, usually quite high, legal costs. A No Win No Fee agreement protects you from being out of pocket as a result of losing your personal injury claim.
Contact Us To Get Free Legal Advice From Our Team
Now is the time to act. If you need free legal advice regarding compensation for a burned hand then get in touch with us today. Anywhere across Great Britain, we may be able to help you under a No Win No Fee agreement.
Speak to us in any of the following ways:
Call us on 0800 408 7826.

By using the live chat function in the bottom right corner.

Sending us a

message

through our website.
Supporting Resources
Feel free to peruse this additional information which could help you whilst claiming compensation for a burned hand.
Burned Hand Injury Claim FAQs
Can I be sacked for making a claim?
You legally cannot be sacked for making a personal injury claim. If your accident at work was not your fault, it is usually the result of your employer breaching their duty of care. If they dismiss you for filing a claim against them, you may also be able to claim for unfair dismissal.
What if the claimant is under the age of 18?
If the claimant is underage, they will need someone to represent them during the case. This person is known as a "litigation friend" and can take the form of a parent, guardian, friend or legal professional.
If the claim is successful, the payout will be placed into a protected bank account until the underage person's eighteenth birthday. They'll then receive the full amount won as a result of the case as well as any interest accrued. 
How long do you have to claim?
You have three years from the date of the accident to make your claim. Whilst you can make a claim later than this if your injury is only made known to you further down the line, it can be difficult to prove that that is the case. You'll need solid medical evidence to back up your claims.
How long does the claims process take?
The claims process varies greatly in how long it can take. Some very simple cases can be settled in a matter of months. More complicated cases can take longer to reach a conclusion.
Thank you for reading our guide to claiming compensation for a burned hand.