By Marlon Harewood. Last Updated 20th January 2023. Welcome to our guide looking at how to use our broken eye socket compensation calculator. If you've suffered injuries such as an orbital fracture, a fractured eye socket or a blowout fracture, you may be able to claim. In order to claim, you must show that the injury happened because someone breached their duty of care towards you.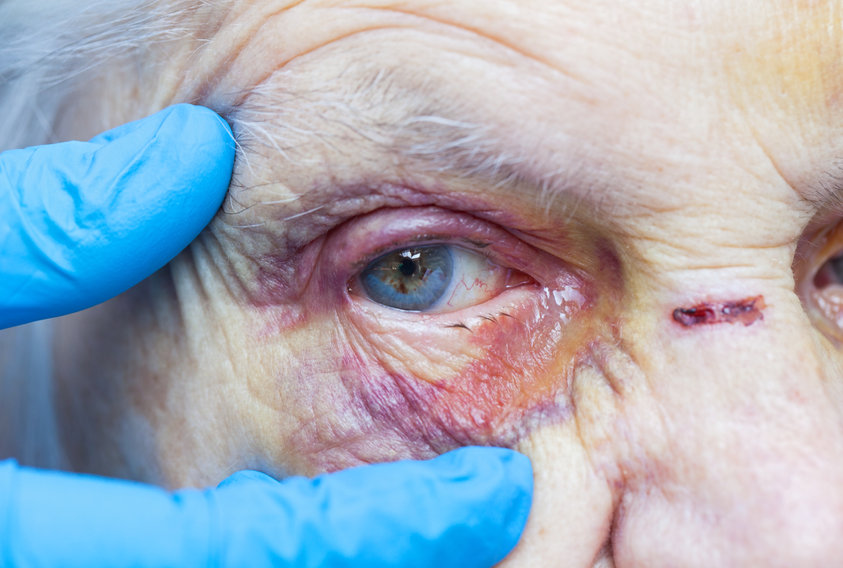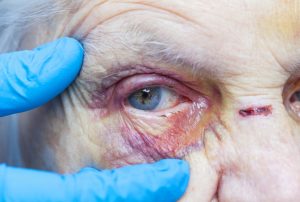 A broken eye socket can be a complicated injury to recover from. This is because of potential damage to things like eye muscles, the optic nerve and other nerves in the face. If, after the accident, you've been left with injuries that have impacted your quality of life, you could be owed compensation for the pain and suffering caused. 
Orbital Fracture Compensation Claims
In this guide, we'll aim to address a range of relevant questions that you may be asking yourself. These include: 
Can a broken eye socket be fixed?

How serious is an orbital fracture?

How is a fractured eye socket treated?

What are trapdoor fractures? 

What kinds of things can be included in a claim? 

How can a No Win No Fee solicitor help me? 
Our 24/7 advisors offer free legal advice so, if you have any questions or queries or simply want to know if you can claim, please call them on 0800 408 7826. Alternatively, please continue reading to discover more about how our compensation payout calculator can help you. 
Jump To A Section
A Guide On Using A Broken Eye Socket Compensation Calculator
Eye injuries, such as a broken orbital bone, can have lasting effects on your vision. This can create a permanent decline in your quality of life. If you've suffered the injury from an accident that was caused by someone else's negligence, you have the right to pursue a claim for compensation.  Examples of accidents that could be caused by negligence include car accidents, accidents in public places and accidents at work. 
This is where our personal injury calculator can help. All you need to do is input details about your injury and information about how it occurred. Our calculator can also take into account any loss of earnings that you've experienced and value your claim based on this information. 
If you'd like more free legal advice about making a claim, call our advisors using the phone number at the top of this page. 
What Is A Broken Eye Socket?
Depending on the severity of the injury, a broken eye socket can cause damage to many different parts of your face. To understand more about how this happens, we need to take a closer look at the bone structure of the eye area.
The orbit is the cavity in the skull that holds the globe (the eyeball without any additional appendages), muscles and blood vessels that make up your eye. Each orbital bone, of which there are seven, helps create the structure around the eye and brain.
These seven bones are the frontal, sphenoid, zygomatic, ethmoid, lacrimal, palatine and maxilla bones. The zygomatic bone, in particular, forms a large part of the cheek and the edges of the eye, as it supports the outer part of the eye socket. This bone could be damaged if you've suffered a fractured eye socket. The temporal bone is also important as it supports the lower lateral walls of the skull. 
The walls formed by the bones are important as they help form their structure. They include:
The superior wall is referred to as "the roof" and is formed by the frontal bone and part of the sphenoid. 

The medial wall – The thinnest wall of the orbit formed by the ethmoid and the maxilla, sphenoid and lacrimal bones. 

The inferior wall is referred to as "the floor" and is formed by the zygomatic bone and the maxilla and palatine bones. 
Types of broken eye socket injuries
Due to the skull's structure, eye socket fractures can involve a number of different bones. Below, we've included some examples of the kinds of fractures you could sustain. 
A blowout fracture. This occurs when the structure surrounding the eye remains intact, but the floor of the eye socket ruptures or cracks. These can be caused by something larger than the eye socket hitting it with force, such as a cricket ball or a fist. 

A comminuted orbital wall. This is when one of the walls surrounding the eye is crushed or reduced to multiple bone splinters. 

Trapdoor fractures are displaced fractures of the orbital floor that results in damage to an extraocular muscle. 

An orbital rim fracture damages the thick bone on the outer edges of the eye socket. 
People often ask questions like, "Can a broken eye socket be fixed?", "How serious is an orbital fracture?" and "How do I know if my orbital bone is broken?". Broken eye socket symptoms can include: 
Intense, immediate pain

Double vision

Blurred vision

Bruising

Sunken eye 
MRI or CT scans can help highlight the extent of the soft tissue injury or the number of broken bones in order for injuries like these to be diagnosed. In some fractures, the nasal cavity could even be damaged, causing injury to your nose. 
In some cases, a broken eye socket may just need conservative treatment. However, surgery may be required for more complex fractures. Fractured eye socket surgery can take at least several weeks to recover from.
What Does A Typical Injury Claim Compensate You For?
There are two potential heads of claim when making a personal injury claim. General damages relate to the physical and psychological pain and suffering caused, as well as the decline in your quality of life. Special damages, on the other hand, relate to the financial losses caused by the injury. 
Our broken eye socket compensation calculator can help you work out the amount you could receive. Please get in touch with our advisors using the phone number at the top of this page for free legal advice. 
Common Causes Of An Orbital Fracture
In order to make a successful personal injury claim, it's important to show that your injury was caused by the negligence of a third party. Negligence is where someone breaches their duty of care towards you. This section will provide examples of negligence to better illustrate why you may be justified in making a claim. 
Accidents Caused By Workplace Machinery And Equipment
Your employer owes a duty of care to you. This means that they need to take all reasonably practicable steps to ensure your safety. If you are injured because of substandard or unsafe conditions, you may be able to claim. Your employer's obligations are detailed in The Health and Safety at Work etc. Act 1974.
Workplace machinery and equipment need to correctly function for you to perform your role. If they don't and you suffer a work injury due to a malfunction, you may be able to claim. Examples include: 
While you're using a machine, the emergency stop button is not working. Due to the malfunction, you suffer an accident at work, causing an orbital fracture. 

You're not given the right Personal Protective Equipment (PPE) to carry out your role safely. Wearing insufficient eye protection could cause you to suffer damage to your inferior wall and medial wall of your right eye. 

A malfunctioning machine could result in a component of it falling off or breaking. This could result in eye damage as well as damage to your temporal bone. 
Traumatic Impacts Due To Road Traffic Accidents
All road users in the UK have a duty of care to one another. This is outlined in the Highway Code.
If you've suffered an injury from a car crash or a road traffic accident that was caused due to someone else's negligent driving, you may be able to claim. Examples of this include: 
A drunk driver is travelling down the wrong side of the road, and a head-on collision happens as a result. This could cause you to suffer injuries to your eye muscles, your optic nerve and frontal bone. 

Another driver fails to look out as they emerge from a side road and crashes into your car. You could suffer eye injuries as a result. 

A driver changes lanes without checking their blind spot first and knocks you from your bicycle. You experience a broken eye socket and head injury from the fall. 
Recently, the way that some car accident claims are made has changed. If your injuries are worth less than £5,000, and you're the driver or passenger of a car over the age of 18, you will need to claim through an online portal. This is highlighted in The Whiplash Injury Regulations 2021. However, before you claim through this method, please give us a call using the phone number at the top of this page. You may not realise how much your claim could be valued.
Traumatic Impacts Due To A Fall From A Height
The Occupiers' Liability Act 1957 outlines the duty of care that those in control of public spaces (the "occupiers") have towards members of the public. Essentially, they need to make sure that the space is safe enough to be used for its intended purposes.
If you fall in a public place due to the occupier not taking all reasonably practicable steps to ensure that the area is safe, you may be able to claim for your injuries. Examples of this include: 
An escalator malfunctions, and as a result, you fall from the top to the ground below. The impact of the fall on your face means that your eye socket is broken,

A loose floor tile could result in you tripping and falling. This could cause eye socket fractures in the form of broken bones in the rim of the socket. 

You could suffer an injured eye because you fell downstairs on a wet floor with no warning signs. 
Physical Assaults
If you've suffered a criminal injury in a violent attack, you could claim compensation. One way of doing this is by launching a claim with the Criminal Injuries Compensation Authority (CICA).
The amount of compensation you could receive for specific injuries are outlined in the Criminal Injuries Compensation Scheme 2012.  Examples of incidents where you may receive criminal injury compensation include: 
Being injured as a victim of sexual assault. 

Suffering an indirect orbital floor fracture due while you're being mugged   

You're the victim of ongoing domestic abuse. As a result of the attacks you experience, you could sustain a comminuted orbital wall, damage to your nasal cavity and an injured back. 
Broken Eye Socket – How Long Do I Have To Claim?
While there is no time limit to complete your claim, you will be expected to have started a claim for your broken eye socket within 3 years of the date of the injury. This is according to the Limitations Act 1980, which sets out the time limits to take action.
This time limit would not apply to a claim for a minor. A person under the age of 18 cannot start a claim for themselves. A claim can still be started on their behalf by an appointed litigation friend, but their claim will not face a time limit until the minor turns 18. At this point, if a claim has not already been made, the minor must start a claim within three years.
A similar exception can be made for a person deemed mentally incapable of starting a claim. If they had suffered from a damaged eye socket due to negligence, a litigation friend could start a claim for them at any point. They will not face a time limit to do so unless the person in question recovers their mental capability. If this happens, the person will have three years from the date they are deemed capable to start a claim.
If your eye socket has been broken due to an act of negligence, please reach out to one of our advisers for more information about when you must start a claim and how to do so. They could also discuss topics such as how your fractured eye socket symptoms could affect your payout.
Personal Injury Claim Care Costs
If you're looking to claim for financial losses caused by the injury, you may be able to claim for care costs. For injuries like a broken orbital bone, recovery can be a difficult process.
As a result, you may need extra medical assistance. With the correct evidence, you may be able to claim the cost of this back. Examples of care costs that you could claim include:
Help around the house, such as gardening and cleaning costs. You may need assistance with daily tasks if you cannot see. 

The cost of public transport if your injuries mean you can't drive

The financial losses of gracious care, which is when a loved one looks after you
How Do You Estimate Compensation Payouts?
Our compensation payout calculator can help you determine what you could claim for. It can also give you an accurate breakdown of what you could receive. 
The Judicial College analyses successful personal injury claim payouts based on the type of injury and its relative severity. They have built guideline compensation brackets for general damages concerning a range of different injuries. Our calculator uses these brackets to value your claim. 
What Amount Of Compensation Could You Expect To Claim For A Broken Eye Socket?
To work out how much you could be owed in general damages, a medical assessment can usually be arranged as part of your claim. Here, a medical expert will ask you questions about your injuries and examine them to confirm that they were caused by the accident. They will include their findings in a report, which will be used to help value your claim. We have provided further guidance on the amount you could receive in general damages in the section below.
Additionally, when making a personal injury claim for a broken eye socket, your compensation settlement may also include a head of claim called special damages.
Special damages aim to compensate you for any of the financial losses you have accrued due to your injury. Some of the losses special damages may be able to compensate you for include:
Any medical costs, such as treatment you required for your damaged eye socket.
Any care costs, such as domestic care that you may require while recovering.
Loss of earnings, this includes both past and future.
Travel expenses, such as the cost of taxis to medical appointments.
To help support your claim for special damages, you could provide evidence of these financial losses. Evidence could include payslips, invoices, and bank statements.
Do not hesitate to contact our advisors today if you would like to discuss your personal injury claim for a fractured eye socket and how much compensation you could receive if your case succeeds.
Broken Eye Socket – How Much Will I Receive?
In this section, we'll discuss how much your fractured eye socket claim could be worth in terms of general damages. The table below takes compensation brackets from the 16th edition of the Judicial College Guidelines (JCG) relating to damaged eye socket injuries. Last updated in April 2022, the JCG features compensation amounts for the pain and suffering caused by an injury.
The injury settlement amounts included in the JCG are based on awards given in previous personal injury claims. Legal professionals use these figures alongside medical evidence of your eye socket damage to give you an idea of the compensation you might receive.
| Injury | Description | Amount |
| --- | --- | --- |
| Injuries Affecting Sight - Total Blindness | A complete loss of sight in both eyes. | In the region of £268,720 |
| Injuries Affecting Sight - Loss of Sight in One Eye with Reduced Vision in the Remaining Eye | (i) There is a risk of the remaining eye's sight further deteriorating | £95,990 to £179,770 |
| Injuries Affecting Sight - Minor Eye Injuries | Injuries could include being struck in the eye, splashed by liquids and exposure to fumes. This would cause initial pain with vision interference. | £3,950 to £8,730 |
| Injuries Affecting Sight - Transient Eye Injuries | The person will have fully recovered within a few weeks. | £2,200 to £3,950 |
| Skeletal Injuries | Le fort fractures of frontal facial bones. | £23,810 to £36,740 |
| Skeletal Injuries | Multiple facial bone fractures that lead to a permanent facial deformity. | £14,900 to £23,950 |
| Fractures of the Nose or Nasal Complex | (i) Multiple fractures that are serious and may cause permanent damage to the airways, nerves, tear ducts with a facial deformity. | £10,640 to £23,130 |
| Fractures of the Nose or Nasal Complex | (ii) A complete recovery after surgery for displaced fractures. | £3,950 to £5,100 |
| Fractures of Cheekbones | (i) Lasting consequences, such as paraesthesia in the cheeks due to serious fractures that require surgery. | £10,200 to £15,780 |
| Fractures of Cheekbones | (i) Simple fractures in the cheekbone that require some reconstructive surgery but there will be a complete recovery. | £4,350 to £6,460 |
It's important to note that the above figures should only be used as guidelines. Solicitors will also take into account any special damages when valuing your eye injury claim. Speak to our advisors if you would like a more accurate estimation of your broken eye socket claim value.
No Win No Fee Broken Eye Socket Compensation Claims
Our panel of solicitors work on a No Win No Fee basis. This means that: 
Your personal injury solicitor will not request legal fees either upfront or during the claims process. 

Instead, they will take a legally capped portion of your compensation as payment once your claim has been successful. 

Your personal injury solicitor will also not request fees if your claim is unsuccessful. 
If you would like to know more about the benefits that a No Win No Fee agreement can offer, why not speak to our team today? One of our advisors could connect you with a No Win No Fee solicitor from our panel if your claim has a good chance of success.
Get Initial Free Legal Advice Today
Our personal injury calculator can give you an accurate compensation estimate in moments. Our advisors are available 24/7 and offer free legal advice, so give them a call if you have any questions or queries.
You can:
Call us now on 0800 408 7826

Write to us using the Live Chat window on the right-hand side of your screen.

Contact us via our website.
Ask If We Can Help Calculate Your Broken Eye Socket Compensation
You may not want to use our compensation payout calculator because you would rather speak to someone directly about how much your claim is worth. Or you may be having difficulty using the calculator and would like some help and guidance. 
If this is the case, we can help. Our advisors can be reached 24/7 and can provide you with an estimate after checking your claim eligibility. They can offer free legal advice at a time that works for you. 
Useful Information
For more useful information, please see below. 
The NHS provides more general advice regarding eye injuries, which you can find here. 
For guidance on how to use work equipment and machinery, visit the HSE website.
The Department for Transport provides road traffic accident statistics. 
Other Personal Injury Claims Guides You Can Read
FAQs On Orbital Fracture Claims
For answers to frequently asked questions about an orbital fracture, read below. 
Can a broken eye socket be fixed?
Usually, conservative treatment is used on orbital fractures, but sometimes surgery may be performed. Please seek medical advice from a medical professional regarding treatment for your injuries. 
How serious is an orbital fracture?
They can be serious, depending on the extent of your injury. They can lead to permanent injuries such as partial blindness or nerve damage in the face. 
What's a fractured eye socket?
Eye socket fractures occur when one or more of the bones surrounding your eye gets damaged and breaks. This can cause further injuries, like nerve damage or damage to your eyeball. 
How do I know if my orbital bone is broken?
You may suffer from symptoms like double vision, blurred vision and intense pain. If a doctor has confirmed the extent of your injury, use our broken eye socket compensation calculator to see what compensation you may receive. 
Thank you for reading this guide on how to use a broken eye socket compensation calculator. We hope that you've found it useful.
Page by XR
Editor RO