By Marlon Harewood. Last Updated 20th January 2023. You may be able to use an eye injury claim calculator to see how much you could be owed for your injuries. If you've been injured as a result of negligence then you could be entitled to make a claim.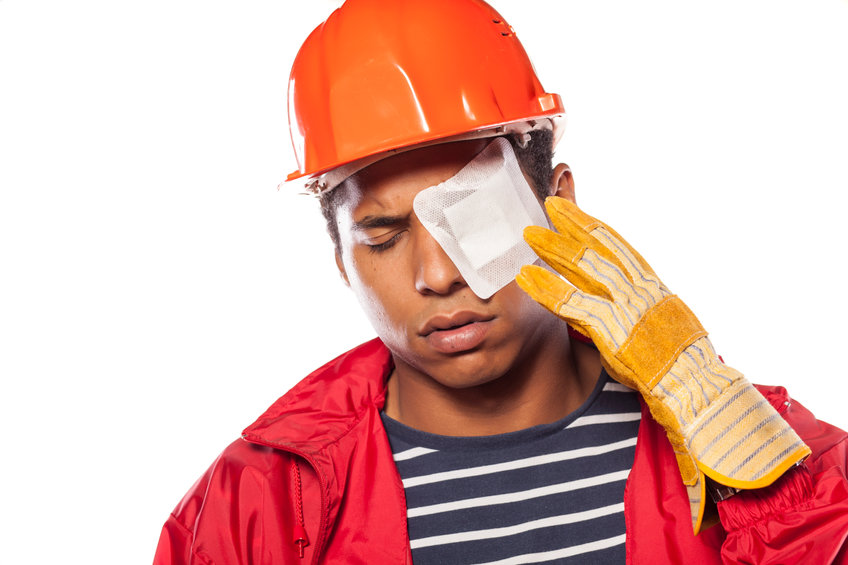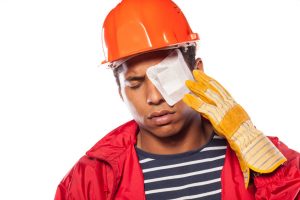 Negligence is a term used to describe when someone breaches the duty of care that they owe you. You're owed a duty of care in a number of different settings, such as when you're at work, in public or using the road.
Our advisors are available 24/7 for a free consultation without any obligation to continue with a claim. They can also give you advice on using our compensation calculator. If you have a viable personal injury claim, however, they may connect you with a team of solicitors that can make your case. 
Contact us by: 
Choose A Section 
Eye Injury Claim Calculator.
When you suffer an ocular injury at work, in a public place or in a road traffic accident, you might be entitled to claim compensation. In order to do so, you need to show that you were injured as the result of negligence. 
When someone owes you a duty of care, it means that they have a legal responsibility toward your safety. If this is breached, resulting in an eye injury, then you may be entitled to compensation.
The Judicial College Guidelines (JCG) are used to help value claims. They are made up of guideline compensation brackets for a wide range of different injuries. When calculating an injury, there are two heads of claim that you could receive: 
General damages is the part of your compensation that relates to the pain, suffering and loss of amenity that are caused by any physical or psychological injuries. This is the head of claim that the JCG relates to. We have included a table showing some guideline compensation brackets below.
Injury
Severity
Compensation Bracket
Notes
Total blindness (b)
Severe
In the region of
£268,720

Complete loss of vision in both eyes.
Severely damaged eyes. (c)
Severe (i)
£95,990 to £179,770
Loss of sight in one eye and reduced vision in the other. There is a serious risk of deterioration in the remaining eye.
Total loss of one eye (d)
Severe
£54,830 to £65,710
The amount of compensation awarded will depend on psychological impact and the age of the injured person.
Total loss of sight in one eye (e)
Less severe
£49,270 to £54,830
Awards towards the top of the bracket are appropriate where there is scarring but it does not warrant a separate award.
Eye injuries (f)
Serious
£23,680 to £39,340
Serious but incomplete loss of vision in one eye with little risk of reduced vision in the remaining eye.
Minor but permanent impairment (g)
Moderate
£9,110 to £20,980
There may be some inconsistent double vision, or permanent sensitivity to bright lights.
Minor eye injuries (h)
Minor
£3,950 to £8,730
Being struck in the eye, exposure to fumes or smoke and liquid damages.
Transient eye injuries (i)
Minor
£2,200 to £3,950
Full recovery observed in a few weeks.
Brain damage (d)
Less severe (ii)
£15,320 to £43,060
The injured will make a good recovery and be able to rejoin a normal social life but will have persistent/permanent disabilities.
Eye Injury Claim – Can I Receive Special Damages?
Special damages is compensation for the financial effect an injury has had. Not all injuries may lead to financial loss, so special damages will not be included in every claim.
Examples of what could be included in your eye injury claim under special damages could include:
Lost income
Costs towards your medical care or treatment
Requiring aids to help you cope with your pain or your affected vision
Travel expenses
Special damages can also potentially cover losses you expect to suffer in the future. For example, your compensation for an eye injury could potentially include a figure for calculable future lost earnings. You may be asked to present evidence of the losses you are claiming for, so it can be crucial to maintain receipts and any other relevant proof of your losses.
Please reach out to a member of our team if you would like to receive personalised advice about the financial losses you could claim for, for your eye injury, or a compensation value estimate of your claim in total.
What Is An Eye Injury? 
There are a range of different injuries you could sustain to the eye. These include:
Foreign object in the eye. If you get something in your eye, like dust or sand, this can be painful and interfere with your vision. In addition to this, it might cause small scratches which could worsen or get infected.
Chemicals/fumes in the eye. If you splash a strong chemical, such as a cleaning substance, in your eye, this could cause a burn injury to your eye. This could permanently affect your vision.
High-speed eye injury. If something has hit your eye at a high speed, for example, a piece glass has hit you in the face in a car accident, this could cause injury to the eyeball and surrounding socket.
Broken eye socket. This kind of injury can come about because of trauma such as a slip, trip or fall that causes you to hit the ground.
For more information on the kinds of injuries that could affect your eye, speak with us today.
How Could Eye Injuries Happen? 
Eye injuries could happen in a number of different settings, and where and how the incident happens might impact whether you can claim.
Below, we have included examples of where eye injuries could occur as the result of negligence, and how they might happen:
In work. If you sustain a work injury because of a breach of the Health and Safety at Work etc. Act. 1957, then you could be entitled to claim. For example, your employer could fail to provide you with safety goggles when handling dangerous substances. If some of the substance were to splash in your eye and cause injury, you could claim.
In public. When you're in a public place, you're owed a duty of care by whoever has control over the space. This is stated in the Occupiers' Liability Act 1957. If, for example, you were shopping in a supermarket and slipped on a spill that hadn't been cleared in a timely manner, you could fracture your eye socket in the fall.
On the road. All road users owe one another a duty of care according to the Road Traffic Act 1988. The ways that road users are expected to conduct themselves is detailed in the Highway Code. If you were rear-ended by another vehicle that failed to leave a safe stopping distance, your head could be thrown forward and hit the steering wheel. As a result, you could claim car accident compensation.
For more information on the ways in which you could sustain an eye injury because of negligence, or how to use our eye injury claim calculator, speak with one of our advisors today.
Frequency Of Eye Injuries
  According to the Health and Safety Executive's (HSE) statistics, there were 51,211 reported non-fatal injuries in 2020/21. Of these, a total of 37,111 resulted in more than 7 days off work.
There were 4,263 non-fatal head injuries, 595 of which were to the eyes. 525 of these eye injuries warranted more than 7 days' leave. 
What Impact Could An Eye Injury Have? 
There are a number of different effects that an injury to your eye could cause. They include:
Pain and irritation.
Impact on vision. Some eye injuries, such as being struck in the eye by an object or having it harmed by fumes. This could include double vision or blurred vision.
Total blindness. In some cases, you might lose the ability to see from your eye completely. This could affect one eye or both of them.
Cosmetic impact. If you've sustained a fracture to your eye socket, this could have a cosmetic impact on you even after the injury has healed. In certain circumstances, you might experience nerve damage as the result of a broken eye socket. In addition to this, losing an eye can leave a scar. The cosmetic impact can also cause emotional pain.
For more information on the kinds of injuries you could value using an eye injury claim calculator, speak with an advisor today.
How Can An Eye Injury Claim Calculator Help Me? 
An eye injury claim calculator could help you to work out how much your injury can be worth. In order to value your claim, you just need to input some information about how the injury occurred, who was at fault, and any loss of earnings you experienced as a result. 
Once you've determined how much you could be owed, you might want to think about building the strongest case you can. One way of doing this is by collecting evidence in support of your claim. This might include:
Witness statements- Take the contact details of anyone that witnessed your accident. They can provide a statement later on. 

CCTV footage- If the accident occurred in an area covered by CCTV, you can

request the footage

and use it in support of your claim. 

Seek legal advice – It's a good idea to work with a lawyer when making a claim, as they can advise you on different aspects of the claims process. 
Speak with an advisor today for more information on making a claim, or use our eye injury claim calculator to see how much you could receive.
Connect With No Win No Fee Eye Injury Solicitors.
If you have a strong case, a solicitor may offer to enter  into a No Win No Fee Agreement (NWNF) with you. This is another term for a Conditional Fee Agreement (CFA) which means that your solicitor will only be paid if your claim is a success. 
This means that there's nothing for you to pay upfront or as they're working on your claim. There's also nothing for you to pay them at all if your claim is not a success.
If you win your claim, they'll take a success fee from your settlement. This is legally capped, ensuring you get the majority of your compensation.
Our advisors are available 24/7 to offer free legal advice. If you have a viable personal injury claim, they may connect you with one of the solicitors from our panel. 
Contact us by: 
Learn More About Using Our Eye Injury Claim Calculator
Requesting CCTV Footage Of Yourself 
Types Of Reportable Injuries | HSE
If these were useful to you, you might want to consider looking at: 
Skull Fracture Road Traffic Accident
Other Personal Injury Claims Guides You Can Read
If you have any more questions about using our eye injury claim calculator, speak with an advisor today.
Page by CS
Editor AK