By Marlon Harewood. Last Updated 16th November 2022. If you've fractured your fibula as the result of someone else's breach of duty of care, you may be able to claim compensation. You can get a quick estimate of what you could receive by using our fibula fracture compensation calculator. 
Fibula Fracture Compensation Calculator 
In this guide, we will look at a number of different aspects of making a personal injury claim. We'll begin by looking at how an injury of this nature could happen and the impact it could have on you.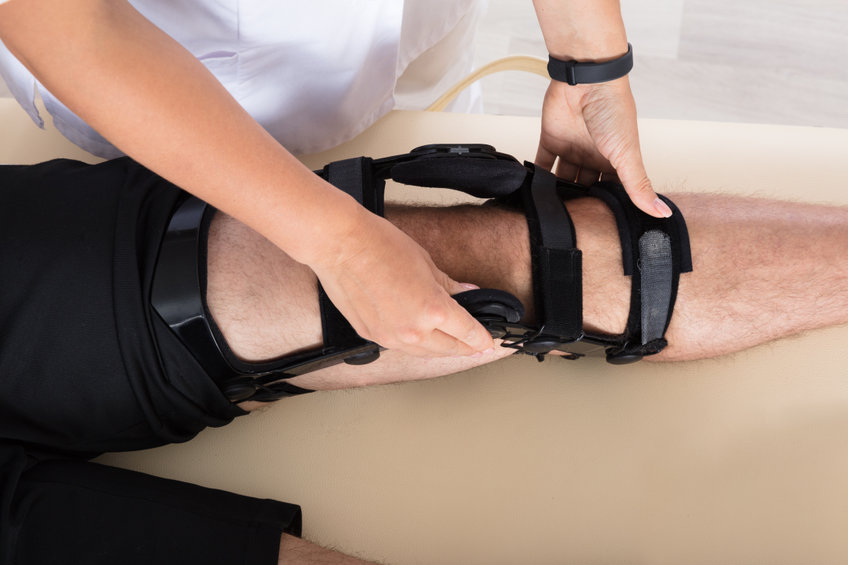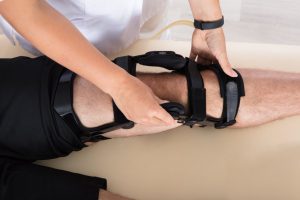 Furthermore, we will look at how much compensation you could receive for an injury of this nature. We will also look at what kinds of damages a claim for compensation could consist of.
Finally, we will examine how a No Win No Fee agreement could offer a solution to funding legal representation. We will also provide you with some additional resources that you may find useful when claiming.
Our 24/7 advisors offer 24/7 free legal advice. So if you have any questions or queries, please call them on 0800 408 7826 at a time that works for you. To discover more about how our personal injury calculator could help you, please read on. 
Jump To A Section
A Guide To Using A Fibula Fracture Compensation Calculator
A leg injury like a fibular head fracture or stress fracture could impact your quality of life. These kinds of injuries can severely restrict your mobility and, as a result, could mean that you're unable to work as you recover. 
For a quick, accurate estimate of the settlement you could receive, our compensation payout calculator can help. You just need to provide it with a few pieces of information. You'll be asked how the accident happened, what injuries you sustained, and the value of any lost earnings you would like to claim back. We'll then provide you with an estimate of the compensation you could receive. 
If, instead, you'd like to call us to receive free legal advice, you can speak to one of our advisors using the phone number at the top of this page. 
What Is A Fibula Fracture?
As with any fracture, fibula fractures can vary in severity based on how badly broken the bone is. The fibula is the outer of two leg bones that run from your knee down to your ankle.
According to the NHS, symptoms of a broken leg can include:
Pain, particularly when 

attempting to move or put pressure on the limb

Swelling and bruising

A cracking noise upon the injury occurring

Feeling faint or dizzy due to shock
The same guidance states that you'll be sent for an X-ray upon arriving at the hospital so your doctor can assess the injury. An X-ray will allow the doctor to see how badly broken your leg is, which will then inform the kind of treatment you receive. 
Some treatment options that you could be offered might include:
A plaster cast if the bone is still in position. This is because the bone will just need to be immobilised while it heals. 
A procedure called reduction may be required if the bones are misaligned. A general anaesthetic is usually used, and a plaster cast is applied after the procedure. 
Surgery if the break is a complex one. Metal wires, plates, screws, and rods may be used to fix the fractured bone back in place and hold it in position as it heals. 
You may be wondering, "Can you still walk with a broken fibula?". The answer is yes, but only with support. As shown in this NHS guidance for a fractured fibula, your healthcare provider will provide a boot and crutches to help you get about. However, you should always follow your doctor's advice about walking on a fractured leg. 
In a standard case, the fracture is usually united and healed within 12 weeks. However, more serious injuries can take longer to recover from. 
What Expenses Could You Claim Compensation For?
There are two potential heads of claim when making a personal injury claim. Firstly, general damages relate to the physical pain, emotional suffering, and decline in your quality of life caused by the injury. If the courts don't provide you with compensation for general damages, it means that you won't receive any compensation at all. This is because they've decided that the defendant was not at fault for your injuries. 
Special damages is the compensation you could receive if you suffered financial losses because of an injury caused by negligence.
To give you examples, you could potentially claim the expense back if your fractured fibula resulted in:
Loss of earnings
Care costs
Medical expenses
Home adaptations
Travel costs
If you get in touch with our advisors, they can provide more information on how fibula fracture compensation may be calculated and could potentially provide an estimate of your fibula injury settlement.
How Does A Fibula Fracture Happen?
In order to make a claim, you need to show that someone else caused your injury because they were negligent. In order for the third party to have been negligent, you need to prove that they had a duty of care towards you, which was then breached. 
Below, we have included some examples of situations where a breach of duty of care could cause you to be injured. If you have any more questions, please give our team a call.
Workplace Accidents
Employers have a duty of care to their employees. This is detailed in such legislation as the Health and Safety at Work etc. Act 1974. Basically, your employer needs to provide you with a safe workplace for you to carry out your duties. If you injure yourself in an accident at work because they haven't provided you with this, you may be able to make a successful claim.
Examples of employer negligence could include: 
Slipping on a walking surface that is poorly maintained

Suffering a work injury while working from a height because you slipped and fell on some oil that was spilt.
Falling because you weren't given the training you needed to operate a piece of machinery safely.
Manual Handling Accidents
You could also suffer an accident at work as a result of manual handling. If you perform a role that involves a lot of lifting and carrying, it can put undue pressure or stress on the body.
Examples of instances where you may be able to claim include: 
Insufficient training for lifting heavy objects. This results in you doing it incorrectly and you dropping the object, causing an avulsion fracture to your tibia and fibula. 

Poorly fitted carpet could lead to you slipping and dropping an object. This kind of accident could lead you to use a personal injury calculator. 

A risk assessment may not have been sufficiently carried out on the worksite. As a result, you carry heavy loads much further than you need to on a daily basis. This is because the transportation of goods has not been streamlined. In time, you experience a fibula stress fracture. 
Machinery Related Accidents
If you work in an industry that involves the use of machines, it's the responsibility of your employer to make sure that they're safe for you to use. If they malfunction, they can cause injury. Provided you can show that your employer's negligence resulted in the machine causing you injury, then you may be able to claim. 
Examples of these kinds of accidents include:
A crane could be carrying pieces of slate. Upon lifting it, a few pieces of slate could fall and injure you because the strap holding the load snapped. This could result in you having multiple fibula fractures.  

Lowering something with the assistance of a machine. If it malfunctions, the heavy object could fall and cause a direct strike to the body. As such, you could suffer a traumatic injury, such as a shaft fracture. 

Someone is driving a forklift truck, and the brakes are not working. As a result, they aren't able to stop and hit you with the vehicle. Your leg fractures as a result.
Stress Fractures Caused By Overuse 
Stress fractures are tiny cracks in the bone that are often caused by performing a repetitive task that has a physical impact on your body. This can be a concern if you work in a field that means you have to do the same thing over and over again.
Examples of incidents in which you may be able to claim due to a stress fracture include: 
Each day you're tasked with lifting an object that is too heavy for you. This could put unnecessary stress on your legs which could cause a leg injury. 

The repetitive motion caused by using machinery on a construction site. Vibrations from them could weaken your bones. As a result, you could suffer a stress fracture. 
Car And Other Vehicle Accidents
The Highway Code outlines every road user's duty of care to one another. It's a set of rules that establishes the things road users are expected to do to keep themselves and others safe.
Examples of negligent driving that could cause you to be injured in a road traffic accident include: 
Another driver going above the speed limit and going down the wrong side of the road, causing a collision with the front end of your vehicle. This car accident could result in multiple fractures, such as a lateral malleolus fracture and a fibular head fracture. 

Suffering a broken leg due to a car accident caused by another driver going through a red light and colliding with your car. 

Wanting to use a personal injury calculator due to a motorcyclist turning at a roundabout at the wrong time. This could cause a road traffic accident involving multiple cars. 
Trips And Falls From A Height
Those in control of public spaces are sometimes referred to as "occupiers".  They also have a duty of care to you. If they control a space that is open to the public, they need to make sure that it's safe for the purpose intended. This is outlined in the Occupiers' Liability Act 1957.
If you've injured yourself in a public space because of the occupier's negligence, you may be able to claim. Examples of this kind of injury include:
A piece of broken gym equipment causes a weight to swing down and fall on your leg as you exercise.
While you're sitting on a park bench, it collapses. You break your leg in the fall.

A maintenance hole cover isn't placed correctly. As a result, you fall down the maintenance hole and seriously injure yourself. 
Criminal Injuries
You can also claim if you've suffered a criminal injury, such as an assault. However, you'd have to do this in a slightly different way. The Criminal Injury Compensation Authority (CICA) deals with claims of this nature. The amount of compensation you could receive is explained in the Criminal Injuries Compensation Scheme 2012.
You can still use our expert panel of No Win No Fee solicitors to help you make a claim but, as with any personal injury claim, it's not legally required. The kind of incidents you could claim through The Criminal Injury Compensation Authority (CICA) include:
A broken leg caused by being mugged. This could involve you receiving a direct strike to the body, causing a severe injury. 

Being a victim of sexual assault and having your leg broken in an attack. 

You're pushed off your bike when it's stolen. You break your leg in the fall to the ground and suffer bad bruising to your arm and torso. 
How Many Injuries Are Caused By Manual Handling Accidents?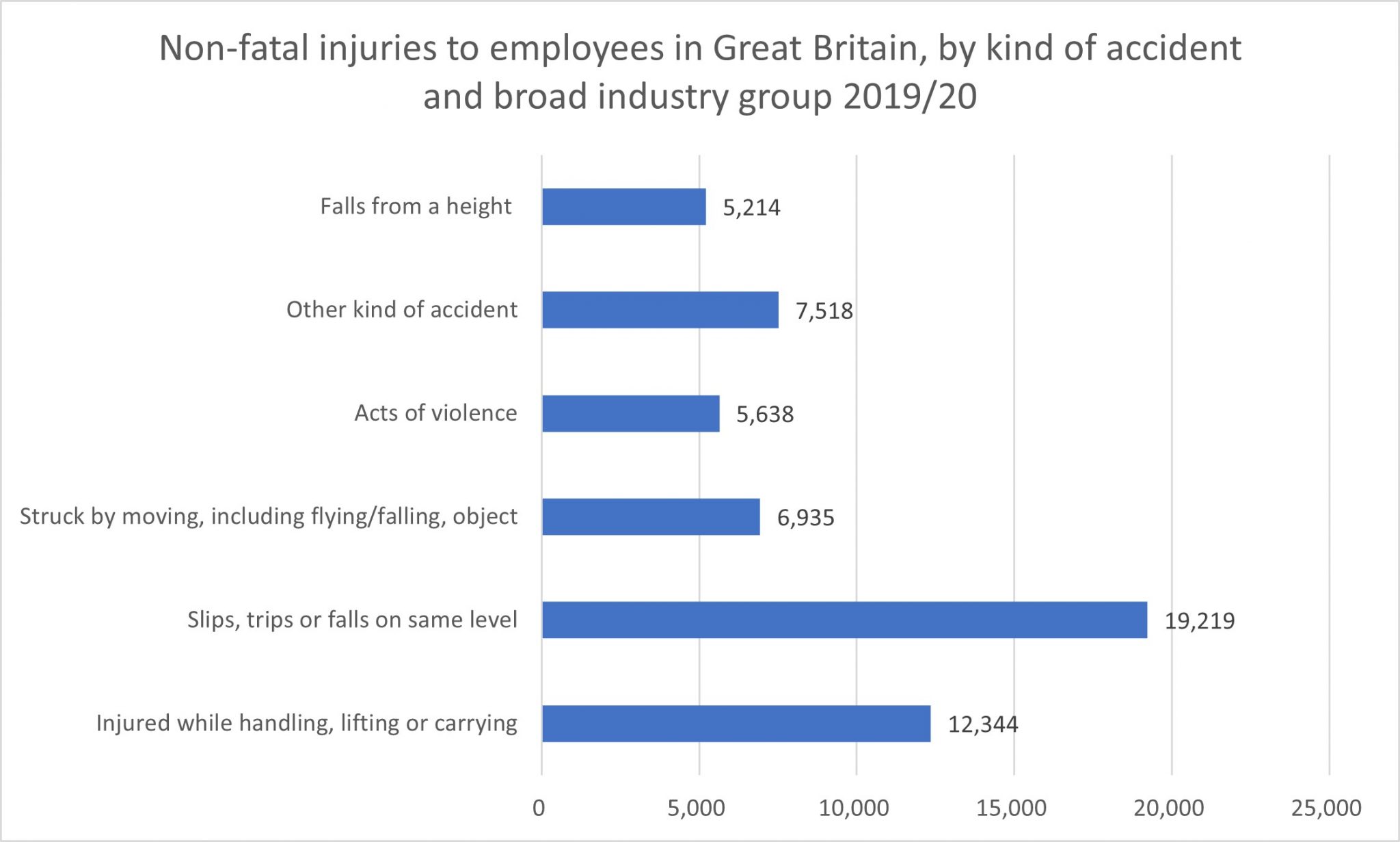 The Health and Safety Executive (HSE) collects statistics based on work-related injuries in Britain. The graph below shows the rates of different kinds of injuries that occur in British workplaces. 
As you can see, the most common kind of accident is slips, trips and falls on the same level. 19,219 of these kinds of injuries occurred in 2019/20. Manual handling was the second most common accident type. 12,344 injuries were sustained while handling, lifting and carrying.
If your accident was caused by someone else's negligence, you can use our fibula fracture compensation calculator to see how much you could receive. Alternatively, call our 24/7 advisors for free legal advice using the phone number at the top of this page. 
Could I Claim The Cost Of Medical Care?
When claiming for financial losses, one of the things you may be able to claim back is the cost of care. As with all losses, you will need clear evidence to show the expenditure.
You could claim back the cost of things like:
Adjustments to your home, such as a new handrail or chairlift for mobility. 

Amendments to your car, such as making it wheelchair accessible. 

Private physiotherapy or nurse costs to help with recovery. 

Gracious care due to loved ones having to take time off work to get you to appointments.      
How Do You Use A Fibula Fracture Compensation Calculator?
Our fibula fracture compensation calculator can provide you with an accurate estimate of compensation in a matter of minutes.
We're able to do this, in part, due to work done by the Judicial College. The courts ultimately decide the amount of compensation you'd be rewarded. However, the Judicial College has studied and analysed general damages payouts by injury type and relevant severity to provide guideline compensation brackets for every kind of injury. We use these to make our compensation payout calculator as accurate as possible. 
How Much Is A Broken Fibula Worth?
General damages can be supplemented by special damages. To claim for financial losses caused by the injury, you will need evidence. You could provide things like:
Receipts

Bank statements

Invoices
If you're not able to provide evidence of the special damages you have incurred, you will find it very difficult to claim these back.
Fibula Fracture Compensation Calculator
Our personal injury calculator makes it easy to find out what you could receive from a successful personal injury claim. 
Below is a list of injuries and their respective general damages compensation brackets. They've been taken from the Judicial College Guidelines. 
| Injury | Type | Amount of Compensation | Description |
| --- | --- | --- | --- |
| Leg | Severe (ii)- very serious | £54,830 to £87,890 | Injuries that result in permanent problems with mobility. This includes serious, multiple fractures that have taken years to heal which has required a lot of treatment. |
| Leg | Severe (iii)- serious | £39,200 to £54,830 | Comminuted or compound fractures or ligament damage causing instability resulting in extensive treatment. |
| Leg | Severe (iii) - Moderate | £27,760 to £39,200 | This bracket includes injuries like severe crush injuries to one limb or multiple fractures. |
| Leg | Less serious (i) | £17,960 to £27,760 | Fracture injury when the injured person will have a reasonably good recovery but the injury will result in a metal implant being placed in the leg or there will be issues with mobility, potentially resulting from a limp. |
| Leg | Less serious (ii) | £9,110 to £14,080 | Fracture of a femur with no other physical complications. |
| Knee | Severe (ii) | £52,120 to £69,730 | Leg fracture that has extended to the knee joint causing continuous pain that limits movement. |
| Ankle | Moderate | £13,740 to £26,590 | This bracket includes fractures and other injuries that create less serious disabilities like difficulty standing or walking for prolonged periods of time. |
| Ankle | Modest | Up to £13,740 | This bracket contains minor or undisplaced fractures. |
| Foot | Severe | £41,970 to £70,030 | Fractures to both heels that causes severe mobility issues. |
| Foot | Serious | £24,990 to £39,200 | This bracket contains less serious injuries than severe foot injuries but still lead to continuing pain from traumatic arthritis. |
If you'd like a more accurate estimate of the compensation you could receive, this is something we can provide. Speak to one of our advisors at a time that works for you using the phone number at the top of this page. 
No Win No Fee Fibula Fracture Compensation Calculator
Our panel of solicitors work on a No Win No Fee basis. This means that: 
Your personal injury solicitor will not request legal fees upfront or during the claim.

Your personal injury solicitor will not request legal fees if your claim is unsuccessful. 

Instead, they take a legally capped portion of compensation upon your claim being successful. 
This kind of agreement also usually means that a personal injury solicitor from our panel thinks you have a reasonably good chance of success. This is because they are taking the risk that if you don't win your claim, they won't be paid. 
Get Free Legal Advice About Your Case
Our personal injury calculator could give you an accurate estimate in just a few minutes. You can speak to one of 24/7 advisors for free legal advice if you have any questions or queries. Working with our panel of No Win No Fee solicitors could result in you receiving thousands of pounds in compensation. 
Call us now on 0800 408 7826

Write to us using the Live Chat window on the right-hand side of your screen

Contact us via our website
Ask If We Could Calculate Your Broken Fibula Compensation
If you don't want to use our compensation payout calculator, you can get in touch with our team for a no-obligation assessment of your claim. They can also talk you through the process of using the calculator if you're unsure as to how to do this. 
Our advisors can tell you if you'll be able to make a claim and the potential compensation amount you could be owed. They're available whenever you're ready to offer free legal advice.
Read These Guides Next
For more useful information, please see the links below. 
NHS guidance on how to tell if you have a broken bone. 
CICA criminal injury claim statistics.
Road accident statistics from the Department for Transport. 
Our broken leg claims guide.
A broken ankle claims guide that we've produced. 
Our guide to claiming for a broken heel
Other Personal Injury Claims Guides You Can Read
Broken Bone Compensation FAQ
For answers to frequently asked questions about fibula fractures, view below. 
How long do breaks and fractures take to heel?
It depends on the extent of the injury. They can heal in six weeks or can take longer. Please refer to your doctor for more information. 
How do I know if a child has a break or fracture?
If they're unable to move the injured part of the body and put pressure on it, they could have suffered a fracture. Always seek medical attention if you think a child has broken a bone. 
Can I be a Litigation Friend to my own child?
Yes. You can find out more about being a litigation friend here. You would need to apply for the position and be accepted by the courts. 
How many types of fractures are there?
Two of the main types of fractures are displaced and non-displaced. A displaced fracture is one where the pieces of bone move out of position, where a non-displaced fracture is one where the pieces are still in position. 
Is the fibula easy to break?
It depends on the impact caused by the accident. You may fracture your leg more easily if you suffer from osteoporosis. If you've suffered an injury to your leg and want to see what you can claim, use our fibula fracture compensation calculator today. 
Page by XD
Edited by RO