This guide will explain how to use a whiplash compensation calculator to help you value a personal injury claim. We will look at how a whiplash injury could affect you and how the severity of your injuries can influence your total settlement.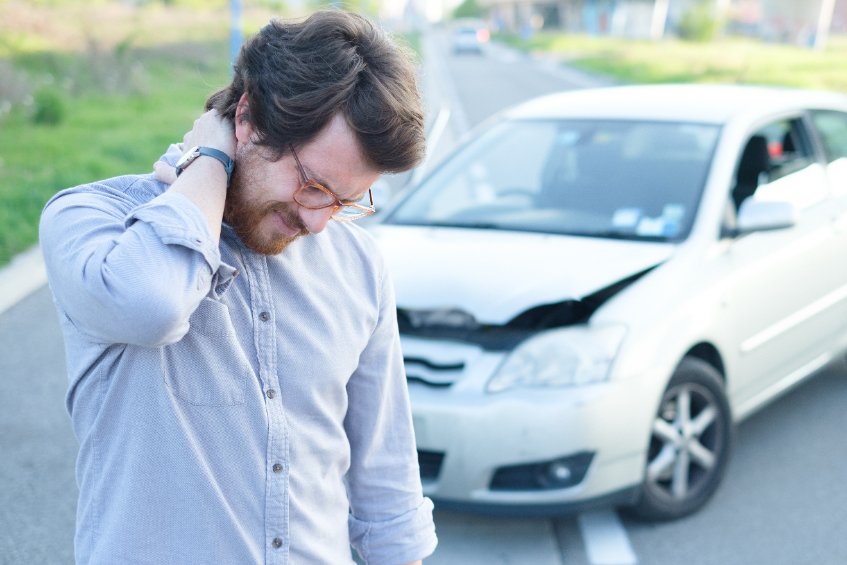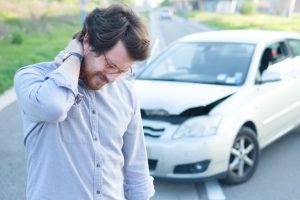 All road users owe each other a duty of care. If your injury was caused by negligence, you might have grounds to claim. We'll look at what a duty of care means further in this guide.
We'll also discuss No Win No Fee agreements and how working with a solicitor could help strengthen your case.
Our advisors can give you free legal advice relating to your personal injury claim. They are available to speak to you 24/7. You can reach our team using the following contact details:
Choose A Section
Whiplash Compensation Calculator
When making a personal injury claim, compensation can be split into two heads:
General damages compensate you for the pain and suffering that your physical and psychological injuries have caused you. You can claim for multiple injuries if applicable.
Special damages reimburse you for any financial losses that you've incurred following an accident in which you were injured. This can include travel costs to hospital appointments, prescriptions for necessary medication and loss of earnings after being unable to work while injured.
Our whiplash compensation calculator is created using figures from the Judicial College Guidelines (JCG). The JCG publishes guideline compensation brackets for a number of different injuries.
Legal professionals often use these compensation brackets to help value claims. However, you should treat these as a guide, not a guarantee.
| Injury | Compensation Bracket | Description |
| --- | --- | --- |
| Severe Back Injuries (i) | £91,090 - £160,980 | Damage to the spinal cord, causing a number of severe outcomes that aren't usually found in back injuries. |
| Severe Back Injuries (ii) | £74,160 - £88,430 | Could include damage to the nerve root with associated sensation loss, impairment of mobility, bladder and bowel function, and scarring. |
| Severe Back Injuries (iii) | £38,780 - £69,730 | Disc lesions or fractures, soft tissue injuries that lead to chronic conditions and impaired agility. |
| Moderate Back Injuries (iii) | £27,760 - £38,780 | There will be residual disability but it will be less severe than in above cases. |
| Severe Neck Injury (i) | In the region of £148,330 | Injuries can include incomplete paraplegia and permanent spastic quadriparesis. Little to no movement in the neck with severe headaches. |
| Severe Neck Injury (ii) | £65,740 - £130,930 | Injuries include serious fractures and damage to discs in the cervical spine. Involves permanent damage to the brachial plexus and little to no movement in neck. |
| Severe Neck Injury (iii) | £45,470 - £55,990 | Includes fractures, dislocations and severe soft tissue damage causing chronic conditions and significant disability. |
| Moderate Neck Injury (i) | £24,990 - £38,490 | Severe symptoms from fractures or dislocations such as chronic pain, impaired function and limitation of activities. |
| Moderate Neck Injury (ii) | £13,740 - £24,990 | Soft tissue injuries or injuries that wrench the neck. Causing serious limitation of how the neck moves. |
| Moderate Neck Injury (iii) | £7,890 - £13,740 | Moderate soft tissue injuries with a protracted recovery, for example. |
The Whiplash Reform Programme has changed the way claims are made for certain low-value road traffic accidents. The Whiplash Injury Regulations 2021 is a piece of legislation that has introduced a set of tariffs for certain whiplash injuries.
Furthermore, injuries sustained by drivers and passengers over the age of 18 that are valued at £5,000 or less must be claimed through an online portal. Our whiplash compensation calculator does not use these tariff amounts, but we have included them in the table below:
| Duration of Injury | Compensation for Pain and Suffering | Compensation for Psychological and Physical Injuries |
| --- | --- | --- |
| 18 to 24 months | £4,215 | £4,345 |
| 15 to 18 months | £3,005 | £3,100 |
| 12 to 15 months | £2,040 | £2,125 |
| 9 to 12 months | £1,320 | £1,390 |
| 6 to 9 months | £840 | £895 |
| 3 to 6 months | £495 | £520 |
| No more than 3 months | £240 | £260 |
These tariff amounts might still be applied to some claims that don't need to be made through the portal. If you're considering making a claim, we would recommend that you get in touch with our team first; you might be underestimating how much your injuries are worth.
What Is Whiplash?
The NHS define whiplash as a neck injury which is caused by sudden jarring movements. It often occurs in road accidents. but could also occur as the result of a slip or fall. Recovery time can vary depending on the severity of your injuries.
Some of the symptoms of whiplash include:
Pain and stiffness in the neck
Difficulty moving your head and headaches
Spasms in the arms and shoulders
The symptoms of whiplash might not be apparent immediately after your accident. In some cases, it might take several hours before you realise the impact that the accident has had on you.
We would recommend that you seek medical attention after an accident. If you would like free legal advice about making a claim, you can speak with a member of our team today.
Examples Of Accidents Leading To Whiplash Claims
In order to make a personal injury claim, you must be able to prove three things:
Firstly, you were owed a duty of care
Next, this duty of care was breached
Finally, causation/damage occurred due to negligence
Whiplash can occur as the result of a car accident. The Road Traffic Act 1988 outlines the duty of care for road users. The Highway Code is a set of guidelines and regulations, of which some are backed up by law.
Negligence can include:
Driving over the speed limit
Using a phone while driving
Failing to follow road signs and markings
Driving under the influence of drugs or alcohol
As well as drivers and passengers of cars, other road users could be involved in an accident because by a breach of duty of care. For example, motorcyclists, pedestrians and cyclists could all be injured on the road as a result of negligence.
If you're interested in finding out how much you could receive, why not use our whiplash compensation calculator? You can also get in touch with our team of advisors for free legal advice.
Injury Stats For 2022
The Department for Transport has produced provisional road casualty statistics for 2021. It showed that:
The rate of estimated reported road deaths dropped by 12% from the 2017 to 2019 average in 2021, when an estimated 1,560 deaths were reported.
There were an estimated 127,967 casualties of all severities reported in 2022.
Casualties of all severities decreased from the 2017 to 2019 average in 2021 by 21%. However, they increased in 2021 compared to 2020.
Potential Impact of Suffering Whiplash
Whiplash can affect people differently. In some cases, you might have aches in your neck and your back that stop you from being able to live your life as you usually would. For example, if your neck is stiff, then you might not be able to play tennis despite usually doing so weekly before the accident.
You could also suffer psychologically as a result of your injuries. For example, if your injuries impact your mobility, then you might become depressed.
Furthermore, you may have sustained mental injuries because of the accident itself. You may feel anxious about other road users and fearful that the accident will happen again. This might affect your quality of life. You could develop a condition such as post-traumatic stress disorder (PTSD).
For more information on claiming compensation for PTSD and other mental injuries, as well as the physical injuries you have sustained, get in touch with our team today. Alternatively, you can value your claim using our whiplash compensation calculator.
Can I Use A Whiplash Compensation Calculator?
You can use a whiplash compensation calculator to work out what you could receive in the event of a successful claim. There are certain steps you can take to strengthen your case.
You should see a medical professional as soon as possible after the accident. Any medical records such as prescriptions and hospital reports can be helpful evidence for your claim.
Other examples of evidence can include:
Pictures of the site of the accident and your injuries as they heal
Contact details of witnesses that saw the accident- they may be able to give a statement
CCTV footage or dashcam footage  of the accident happening
To start the claims process, you can use our whiplash compensation calculator. Or for free legal advice, contact us today.
Connect With No Win No Fee Solicitors To Start A Whiplash Claim
Are you interested in claiming with legal representation in place but are concerned about the upfront costs you could incur? If so, a No Win No Fee agreement may be beneficial to you.
A popular form of No Win No Fee agreement is a Conditional Fee Agreement. Under this kind of agreement, a lawyer will represent you in a personal injury claim with no upfront fees. In fact, there are no costs to pay during your claim and nothing to pay your solicitor for their services if your claim is unsuccessful.
In the event that you receive compensation, your solicitor will take a success fee. This is a small, legally-capped percentage of your settlement.
Our team can offer free legal advice about claiming. Furthermore, they may be able to connect you to a No Win No Fee solicitor if they believe your claim has a good chance of success.
Ask About Using A Whiplash Compensation Calculator
To talk to us about using our whiplash compensation  calculator or to connect with a solicitor, see our contact details below:
Learn More About How To Use A Whiplash Compensation Calculator
We've attached some external links that may help you with your personal injury claim:
Statutory Sick Pay (SSP) information can be seen on the government website.
The Think! campaign for road safety is accessible on the Department for Transport website.
The NHS have guidance on when to call 999
Or, to read more of our guides, click the links below:
Head Injury And Concussion Compensation Calculator
Facial Scarring Compensation Calculator – What Is Your Claim Worth?
Fractured And Broken Bone Compensation Calculator
Thank you for reading about our whiplash compensation calculator.
Writer Jess Aisling 
Publisher Fern Scott