By Marlon Harewood. Last Updated 12th October 2022. Have you suffered an injury through no fault of your own that has led to body scarring? Have you been injured by barbed wire or razor wire, which has led to a serious injury? Do you have a permanent scar due to a criminal injury or medical negligence? If the answer to any of these questions is yes, you can use our scar compensation calculator in the UK to see if and what you could be owed in compensation. 
This guide will answer such questions as: 
How much is a scar worth in the UK?

How much can I claim for a scar?

What are the benefits of using your panel of No Win No Fee solicitors? 

How is personal injury compensation calculated?
Our scar injury compensation calculator accounts for other factors that our competitors don't, such as the validity of evidence. As such, our compensation payout calculator can give you more accurate results.
Our advisors offer free legal advice and are available 24/7 so, if you would like more information, please call us now on 0800 408 7826. Alternatively, please read on. 
Jump To A Section
A Guide To Using A Scar Compensation Calculator UK
A scar injury or bodily scar can happen for many different reasons and can lead to severe physical or mental hardships, depending on the injury's severity. For example, facial disfigurement can not only be incredibly painful but very difficult to deal with psychologically due to how your appearance could change.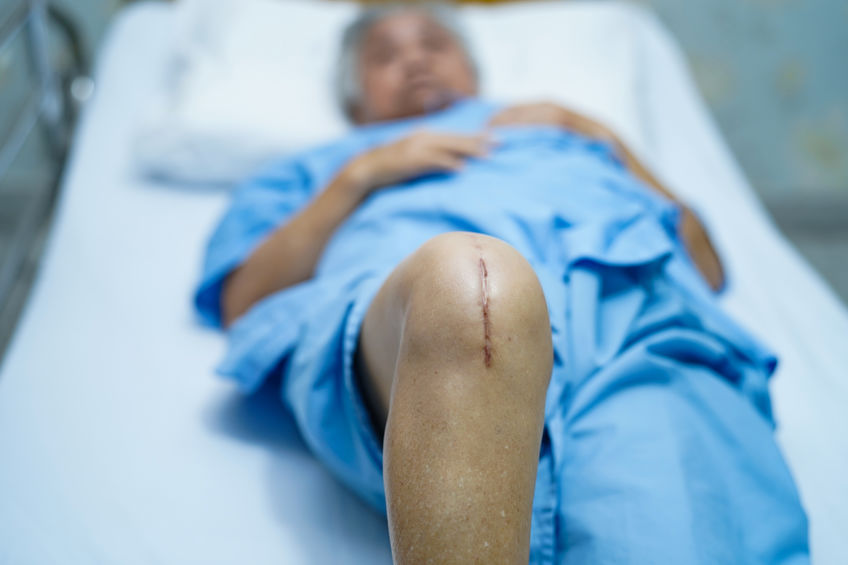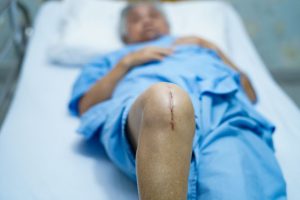 Our scar injury claims calculator is designed to make it quicker and easier to see if you can make a personal injury claim. You can find out in a matter of moments the amount of compensation you could receive. Describe your injury and confirm the financial losses due to it, and we'll then inform you of the estimated amount.
What Is A Scar Injury?
According to NHS guidance, a scar is part of your body's natural healing process after the tissue is damaged. If your skin is cut, the tissue breaks. This results in collagen being released, building up where the tissue has been damaged. It strengthens the wound, but scars usually never fully fade. They tend to stop fading entirely after 2 years. 
As such, partly due to the general nature of the injury, there are many reasons why you may look to use a scar compensation calculator in the UK. 
There are different types of scars, including: 
Normal fine-line scars:

Minor wounds that will gradually fade and flatten. These are normally present after surgery or following a wound. 

Keloid scars:

This is an overgrowth of tissue due to too much collagen being produced. The scar keeps growing and can be red, pink, the same colour or even darker than normal skin. 

Hypertrophic scars:

Again, the result of excess collagen being produced due to the wound. Unlike keloid scars, they do not extend beyond the boundary of the original injury. 

Pitted or sunken scars:

These can be caused by skin conditions, such as chickenpox and acne. 

Scar contractures:

Often caused by burn injuries and can lead to restriction of movement and tightness. 
If the injury is severe enough, some people even conduct body modification to either embrace or hide the scar. Even if you decide to do this, you could still be owed compensation.
What Can You Claim For After Suffering A Scar Injury?
You are generally able to claim compensation for two effects of an injury in a personal injury claim. Namely:
Compensation for the suffering caused by any physical and/or psychological injuries
Compensation for your financial losses
This guide can show how your compensation will be calculated, taking these factors into account. We will also discuss how psychological damage can be factored into bodily or facial scar compensation and how to make sure such effects are properly evaluated in your claim.
Scar compensation in a UK claim can also compensate a person for financial losses caused by:
Affected earnings
Surgery costs
Loss of earnings
Our advisers are available 24/7 to answer any questions you have and explain how to use our scar compensation calculator for UK claims based in England & Wales. Please reach out for any questions you may have.
Common Causes Of Scar Injuries
A scar theoretically can be created by any cut to your body. You only need to experience soft tissue damage to have a scar. As such, there are many reasons you may look into using a scar compensation calculator in the UK. 
We will now detail some examples of how you could suffer from a scar injury and why you could potentially make a claim. 
Scars Caused By Accidents At Work
An accident at work can vary wildly in severity but, at their worst, can have lasting and damaging consequences to you. 
Suffering from such an accident could result in you searching for such things as "accidents at work compensation examples" and "typical payouts for a personal injury at work." 
The Health and Safety at Work etc. Act 1974 imposes a legal duty of care on your employer to ensure the workplace and tasks you're expected to complete are safe, so far as reasonably possible. As such, if you feel your accident and injury was due to negligence on the part of your employer, you could make a claim. Examples of this include:
Slipping on a wet floor due to there being no warning signs

Working in a kitchen, you could accidentally receive a burn injury

Falling down the stairs due to a weakened bannister or poor lighting
Scars Caused By Burns
Burn injuries can have both horrific physical and psychological effects on you. Not only can they cause facial disfigurement, but the scarring can be so intense that it becomes difficult to move that part of your body. This is partly because burns result in skin cells dying. 
If you were to use a scar injury claims calculator and your claim was successful, you'd receive compensation for both the physical injury and the mental harm caused. Below are examples of how this type of injury can happen. 
A burn can occur from a faulty stove or cooker. 

You could suffer a heat-related injury due to unsafe equipment. 

Slipping and falling onto an incredibly hot piece of metal, such as a piece of plant machinery that's in use 
Scar Injuries Caused By Medical Negligence
Medical negligence can be an incredibly life-changing and debilitating experience to go through, partly due to the trust you're innately putting into the care organisation. 
Going to a hospital usually brings with it an element of vulnerability but, if trust is broken when you're in this state, it can leave you feeling jaded and upset. Examples of why you'd feel like this include: 
You could be put through a "never event" like, for example, a surgeon performing the wrong surgery on you, creating a nasty and completely unnecessary scar. Never events are called this because they're seen as being completely preventable. 

Excessive scarring could be caused due to simple carelessness on behalf of the surgeon. 

A complication in surgery due to negligence could lead to you having more scarring than originally planned. 
Scars Caused By Criminal Assaults
Criminal injuries through things like an assault or a stabbing can have lasting psychological effects that cause anxiety or fear of the world around you. The bodily scarring received from these kinds of injuries, in some cases, can be quite severe. As such, you may be looking to use a scar compensation calculator if you're in the UK to see how much compensation you could receive. 
The Criminal Injuries Compensation Scheme 2012 provides more details regarding how you can claim these types of injuries. Examples of how scars could be caused by criminal injury include: 
Being involved in a mugging which leads to an assault

A physical altercation occurring at a bar

You receive a permanent scar due to having your car stolen potentially after a road traffic accident.
Barbed Or Razor Wire Wound Scar Injuries
Barbed wire or razor wire injuries can be incredibly painful and could result in an infection. They could leave you wondering, "how much compensation per stitch in the UK could I receive?" 
This is difficult to answer, only so far as general damages compensation is not purely worked out by the number of stitches you receive but by the overall severity of the injury and how it affects you physically and psychologically. 
You may have injured yourself falling into barbed wire due to unsafe conditions or perhaps were passing a fence and were cut by loose or dangling razor wire. Either way, you could use our personal injury calculator to see if you're able to make a claim.
If you're unsure if you have grounds to make a claim, call our advisors, who offer free legal advice, using the phone number at the top of this page.
Scars Caused By Animal Bites And Scratches 
A scratch or bite from an animal can lead to a bodily scar that could vastly affect how you live your life. Sometimes, animals are poorly trained regarding dealing with humans, meaning being in the same vicinity as them could be dangerous. 
Surgery or some form of body modification may be required to repair the damage but, regardless if you've had one or both of these things done, you could still be owed compensation. You may be wanting to use our compensation payout calculator for such things as: 
A vicious dog attack you've suffered after the dog was let off its lead

An attack from a wild animal at a zoo due to poor implementation of the required health and safety laws. You can read more about the occupiers' duty of care by reading the legislation for

The Occupiers' Liability Act 1957

here. 

You could become infected after being attacked by an animal.
Workplace Injury Statistics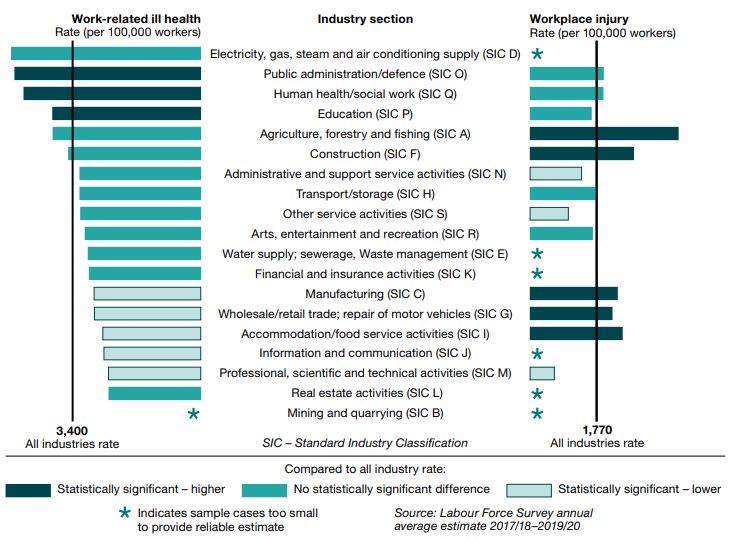 The Health and Safety Executive (HSE) monitors the number of workplace injuries in the UK. This could range from a scratch or a bite to potential criminal injuries or a normal accident at work. 
The graph above breaks down the industries in relation to the average workplace injury rate. It highlights the industries where you are more at risk of receiving a workplace injury, including agriculture, forestry and fishing, construction and manufacturing. 
It doesn't break down the severity of the injuries or the number of people suffering scar injuries, so, for example, the damage caused could range from a mild burn to a road traffic accident on company grounds, but it does show that these types of injuries may happen more than you think. 
A scar compensation calculator from the UK could help you work out the amount of compensation you could receive, helping you answer questions such as "How much can I claim for a scar?" and "How much is a scar worth in the UK?"
If you have any questions, please contact our advisors using the phone number at the top of this page.
Permanent Scar Compensation – Can I Claim?
If you've sustained the injury due to someone else's fault, you could have grounds to pursue a permanent scar compensation.
There is no fixed average settlement for scarring. The award you receive will depend on the severity of your injury and its impact. For example, if you have barbed wire scars are particularly severe and on a visible part of your body, the compensation for your injury may be higher.
You could also claim for a related psychological injury. If your permanent scar causes a psychological injury, the permanent scar compensation will be more than it would have been if a psychological injury was not part of the claim.
You could use our injury compensation calculator to get an idea of what your claim may be worth. However, you can get a more personalised free legal advice by getting in touch and taking advantage of our initial consultation.
How To Use A Scar Compensation Calculator UK
The Judicial College assesses compensation awards made by the courts for the general damages for every injury. They help determine the amount you should receive for the pain, suffering and decline in your quality of life. It depends on both the extent of your injury and the effect the injury has had on your life. 
Our scar compensation calculator from the UK uses these criteria to better estimate how much compensation you could receive. 
To view and use our compensation calculator, please head to our home page. If you'd like support and guidance with using this tool, please get in touch with our team of personal injury claims advisers.
How Much Could I Expect To Claim For A Scar Injury?
There are two heads of claim when making a personal injury claim: general damages and special damages. 
As with any special damages compensation you could receive, your personal injury solicitor will request proof of financial losses. This includes things like receipts, invoices and bank statements. 
Our scar injury calculator assesses the validity of the evidence regarding your claim, which helps provide you with a more accurate estimate. The more evidence you're able to provide, the more likely your claim will be successful. 
If you have any questions or queries regarding this, please contact our advisors for free legal advice using the phone number at the top of the page.
Scar Compensation Calculator
Our scar compensation calculator means that if you've suffered body scarring and it wasn't your fault, we can help you calculate what you could receive. 
Our calculator is simple, quick and easy to use. You can click here to view and use our compensation calculator. Alternatively, please see below a list of injuries and their compensation brackets for general damages. The Judicial College supplies these figures. 
| Injury | Severity | Compensation Bracket | Details |
| --- | --- | --- | --- |
| Facial Disfigurement | Very Severe Scarring | £29,780 to £97,330 | The claimant will be relatively young, psychological reaction severe and cosmetic effect is disfiguring. |
| Facial Disfigurement | Less Severe Scarring | £17,960 to £48,420 | A significant psychological reaction is experienced due to substantial disfigurement. |
| Facial Disfigurement | Significant Scarring | £9,110 to £30,090 | There is some cosmetic disability but the worst effects are lessened by plastic surgery. |
| Facial Disfigurement | Trivial Scarring | £1,710 to £3,530 | Claimant is affected in a minor way only. |
| Scarring | - | £7,830 to £22,730 | Single disfiguring scar on the leg/s, arm/s, hand/s, back or chest. Could also cover a number of noticeable laceration scars. |
| Scarring | - | In the region of £8,640 | An experimental laparotomy has been performed - compensation covers the surgery and the resulting scar. |
| Scarring | - | £2,370 to £7,830 | Several superficial scars on the leg/s, arm/s or hand/s with only minor cosmetic deficit. Alternatively, bracket could cover a single noticeable scar. |
| Scarring | - | Likely to exceed £104,830 | Serious burn injuries. Factors that affect the payout could include: how much of the body was affected, the thickness of the burns, the cosmetic impact, the need for surgery and the psychological effects. |
We understand that you may want a more concrete estimate, and we can help you with this. We can only provide a better estimate for the compensation you could receive once we know more about your case, so why not have a quick chat with one of our advisors? Just get in touch with our team today.
What Are No Win No Fee Claim Agreements?
Our panel of solicitors offer their services on a No Win No Fee basis. This means two things: 
Firstly, you won't have to pay for any of your solicitor's legal fees either upfront or during the claim. How does this work? Your personal injury solicitor will take a small, legally capped amount from your compensation to cover legal costs if your claim has been successful. 

Secondly, if your case is unsuccessful, you don't owe your solicitor any money. 
As such, our panel of solicitors won't waste your time. They will only take your case if they feel you have a reasonably good chance of success.
Get Free Legal Advice From Our Team
Use our personal injury calculator today to see if you're able to claim. If you want to speak to one of our advisors, we offer free legal advice 24/7. They can connect you with our panel of solicitors, who offer their services on a No Win No Fee basis.
Call us on 0800 408 7826

Use live chat by clicking on the window on the bottom right corner of the screen. 

Contact us through our website. 
Ask Our Team To Calculate Your Scar Compensation Claim
Our personal injury compensation calculator can help you answer the question, "How is injury compensation calculated?" It clearly and effectively explains and lays out the kind of things you can claim and can provide you with an accurate estimate in just a few minutes. 
However, if you're unable to use it, don't worry! Our advisors are available at a time that works for you, so simply give them a call, and they'll be able to walk you through the process. Not only that, but if you do want to go ahead with a claim, they can connect you with our panel of solicitors.
Resources And Case Studies
If you'd like more information, please use the links below.
For more information about malpractice and negligence claims, please visit the General Medical Council website. 
More statistics about work-related injuries provided by the HSE can be found here. 
The Department for Transport website provides statistics for road traffic accidents here. 
If you've suffered a broken foot and would like to see if you can claim, visit our website. 
Suffered from broken ribs? If so, click here to see if you can claim. 
Other Personal Injury Claims Guides You Can Read
Scar Injury Claim FAQ
In this final section to our guide to scar injury compensation, we've provided answers to some questions we often get asked. 
Can you sue for scar tissue?
Yes, you can attempt to sue for any injury you've suffered that you feel wasn't your fault. Our advisors will need to examine your case in greater detail to see if you have a valid claim. 
What medical evidence do you need?
Medical evidence is important when claiming general damages compensation. You'd need doctor's reports as well as a detailed list of all of the procedures and medication you've had because of the injury. 
Do you need a witness to make a claim? 
You don't need a witness as other evidence can be supplied by yourself and your personal injury solicitor, but a witness could increase your chances of making a successful claim. 
Are there time limits for scar injury claims?
There are time limits to make a claim. For example, if you wanted to use a scar compensation calculator from the UK to see if you could claim, you would need to either have had the injury in the last 3 years or been made aware of it within the last 3 years. 
Can I claim if the scar is healed?
Yes, because you can still claim for the damage caused, in the same way, you'd be able to for a broken arm after it's healed. 
Thank you for reading our guide to using our scar compensation calculator in the UK.