By Marlon Harewood. Last Updated 20th January 2023. Welcome to our metacarpal fracture compensation calculator. Have you suffered a hand injury that wasn't your fault? Was it caused by the negligence of someone who owed you a duty of care? Over the course of this article, we'll be discussing how and when you can make a claim for a broken metacarpal.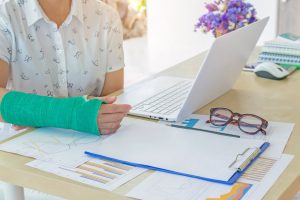 We'll also be answering the question "how do you break a metacarpal bone?", giving several scenarios in which an injury like this could occur. When trying to calculate a compensation payout, many online calculators don't collect the scope of information needed to value your claim. We can capture a wide range of details about the compensation you were involved in to give you an accurate claim assessment. 
Calculating Compensation For A Broken Bone In The Hand
The process of making a personal injury claim can be daunting to those who are unfamiliar with the process. We are here to help you get the maximum amount of compensation you deserve.
If you have any additional questions regarding the information in this guide, then please do not hesitate to get in touch. Our team of expert advisors are available to help by offering free legal advice. If you're deemed to have a valid claim, we could connect you with an expert personal injury lawyer from our panel.
So, get in touch today to get the process started. There are a number of ways that you can do this.
Otherwise, continue reading our guide to find out more about claiming for a metacarpal fracture.
Jump To A Section
A Guide About Using A Metacarpal Fracture Compensation Calculator
In this guide, we'll examine what a metacarpal fracture is and how an injury of this nature might be treated. In addition, we will look at the duty of care owed to you in different circumstances, like on the road, in public or while at work.
We'll go on to examine the different kinds of damages that could be claimed back in a compensation claim of this nature. Furthermore, we will look at how a claim for compensation is valued.
To conclude, we will look at No Win No Fee agreements and how they can be beneficial when funding legal representation. Finally, we will answer some questions that we're frequently asked about claims of this nature.
If you still have questions after finishing this guide, you can get in touch with one of our advisors. They will be happy to offer you free legal advice about making a claim for a metacarpal fracture.
What Is A Metacarpal Fracture?
You have five metacarpal bones in the palm of each hand. They are what connects your wrist to your fingers. They are numbered 1-5, starting with the thumb. So, if you have broken your first metacarpal bone, it is the one connecting your wrist to your thumb. If you have broken your second metacarpal bone, it will be the one that makes up part of your index finger, and so on.
If you've suffered a severe metacarpal fracture, surgery may be required to realign the bones. Usually, pins and plates will be inserted to hold the bones in position as they heal. On the other hand, some minor fractures may only require a splint, brace, or plaster cast.
A broken metacarpal will exhibit symptoms that are similar to other broken bones. They can include:
Pain or discomfort

Swelling

Bruising

Difficulty moving the affected area

Nausea

Hearing or feeling a snapping or grinding sensation during the impact
If you experience numbness or tingling after an injury in which you suspect you've fractured your metacarpal, you should go to A&E. This could indicate nerve damage.
Furthermore, if there is a wound on your hand or you can see bone poking through your skin, you should seek emergency medical attention. This kind of fracture (referred to as an "open" fracture) could increase the risk of infection in the bone.
However, in some instances, such as if you've sustained a hairline fracture, you may not experience any of these symptoms. You might not realise you have broken a bone at all.
If you suspect you have metacarpal fracture symptoms, then you should seek medical attention as soon as possible.
Damages Awarded For Fractured And Broken Bone Injuries
In a typical claim for compensaiton, your settlement can be made up of two different kinds of damages. Our compensaiton calculator takes both of these into consideration, and we've explained them in greater detail here. 
The first part of a compensation claim is known as general damages. This figure is awarded to you to account for the pain and suffering caused by your injuries. We'll go into greater detail on this figure later in this article.
Then, there's the matter of special damages. This sum aims to return you to the same financial position you were in before the accident occurred. There are certain things that can be claimed back if you have evidence of the expenditures. Some examples include:
Medical costs –

prescriptions, treatment and procedures that are not available for free on the NHS
Travel costs – you can claim back the cost of travel to and from hospital appointments or meetings with a solicitor
Loss of earnings –

you may take time off work, and therefore lose out on wages. Any wages you would have earned during a period where you could not work could be claimed back.
Damage to property –

the costs of items that were damaged or destroyed during the accident that caused your injuries
For more information regarding what else could be reclaimed via special damages, get in touch with us today.
What Could Cause A Metacarpal Fracture?
This section focuses on a number of scenarios that could result in an injury of this kind. In these situations, you're owed a duty of care. When breached, this could cause an accident in which you break one or more of the metacarpals in your hand. 
Motorbike Accidents
As those who ride motorbikes are not affording the same physical barrier during collisions, it's possible that they could be thrown from their vehicle after impact. For this reason, they're referred to as "vulnerable road users". 
All road users owe a duty of care to one another, and this is set out in the Highway Code. Road users should act in a way that reduces the risk of harm to others on the road.
To break their fall, a motorcyclist could hold out their hand as they hit the hard surface of the road. Alternatively, their hand could be hit by the other vehicle involved in the collision. Impacts such as these can result in features to parts of the wrist, forearm, and hand. This includes the metacarpal bones.
Cyclist Accidents
Similarly, cyclists are not afforded as much protection as road users in cars. They also ride at the side of the road, unlike motorcyclists. Therefore, the risk of them being overtaken is greater.
If the car clips a cyclist during the process of overtaking, this could lead to them being thrown from their bike. Reckless driving that leads to the injury of others is an example of how road users could breach their duty of care to the others on the road. This is when personal injury claims can be made.
Steering Wheel Accidents
Although they are not in the category of vulnerable road users, drivers are also at risk of this kind of injury. In a car accident such as being rear-ended, the driver in front may brace themselves with their hand or arm on the steering wheel. The ensuing impact could result in a fracture to any of the metacarpals.
Alternatively, a head-on crash could result in the dashboard and steering wheel being forced back into the driver. This impact could result in them suffering from a broken metacarpal.
Slips And Falls
You can claim compensation for a slip, trip or fall caused by a breach of duty of care. This is the case whether the accident happened at work or while you were in public. 
For example, if there is a wet floor in a supermarket, it must be cleaned up or clearly marked with a wet floor sign within a reasonable timeframe. If neither of these steps is taken and you slip and injure yourself as a result, then they would be liable according to the Occupiers' Liability Act 1957.
Hand Crush Injuries In Machinery
The Health and Safety at Work etc. Act 1974 states that all employers have a legally binding duty of care to their employees. This means that they must take all reasonable steps to ensure the working environment is safe to work in and properly maintained.
If their staff are inadequately trained, or the machinery is in an unsafe condition during use, then injuries could occur. For instance, you could be working on a piece of machinery where the emergency stop button is not operating. This could cause your hand to be crushed in the machinery, breaking your metacarpal. 
This would be a breach of the employer's duty of care. Their negligence could result in a work injury claim being made against them.
Manual Handling Hand Crush Accidents
As mentioned above, all employees must receive proper training to safely carry out their roles. Not being shown how to lift heavy items safely could result in limbs being crushed.
For instance, you may carry a heavier load than advised and not have been instructed on proper lifting techniques. As a result, you could drop the load instead of placing it down,w which could lead to your metacarpal being broken. 
Other Work-Related Injuries
Things such as acts of violence can also occur in the workplace, resulting in injury. However, these claims are made through the Criminal Injuries Compensation Authority (CICA).
For instance, you may have been assaulted by a colleague in the workplace. This could result in you sustaining a number of injuries, including a fracture to your metacarpal.
We can still help you pursue these claims. One of the main differences will be the amount of compensation you can receive for criminal injuries such as these. It will differ from the figures listed in this article for personal injury claims.
You also have less time to start a claim of this nature. Where the general personal injury claims time limit is three years, you only have two years to start a claim through the CICA.
Motorcyclist Accident And Injury Statistics
Injuries sustained in motorcyclists tend to be on the higher side out of all the groups of road users. Statistics from the Department of Transport show that in 2013, there was an average of 94 series motorcyclist injuries sustained per week, with a further 6 fatal accidents.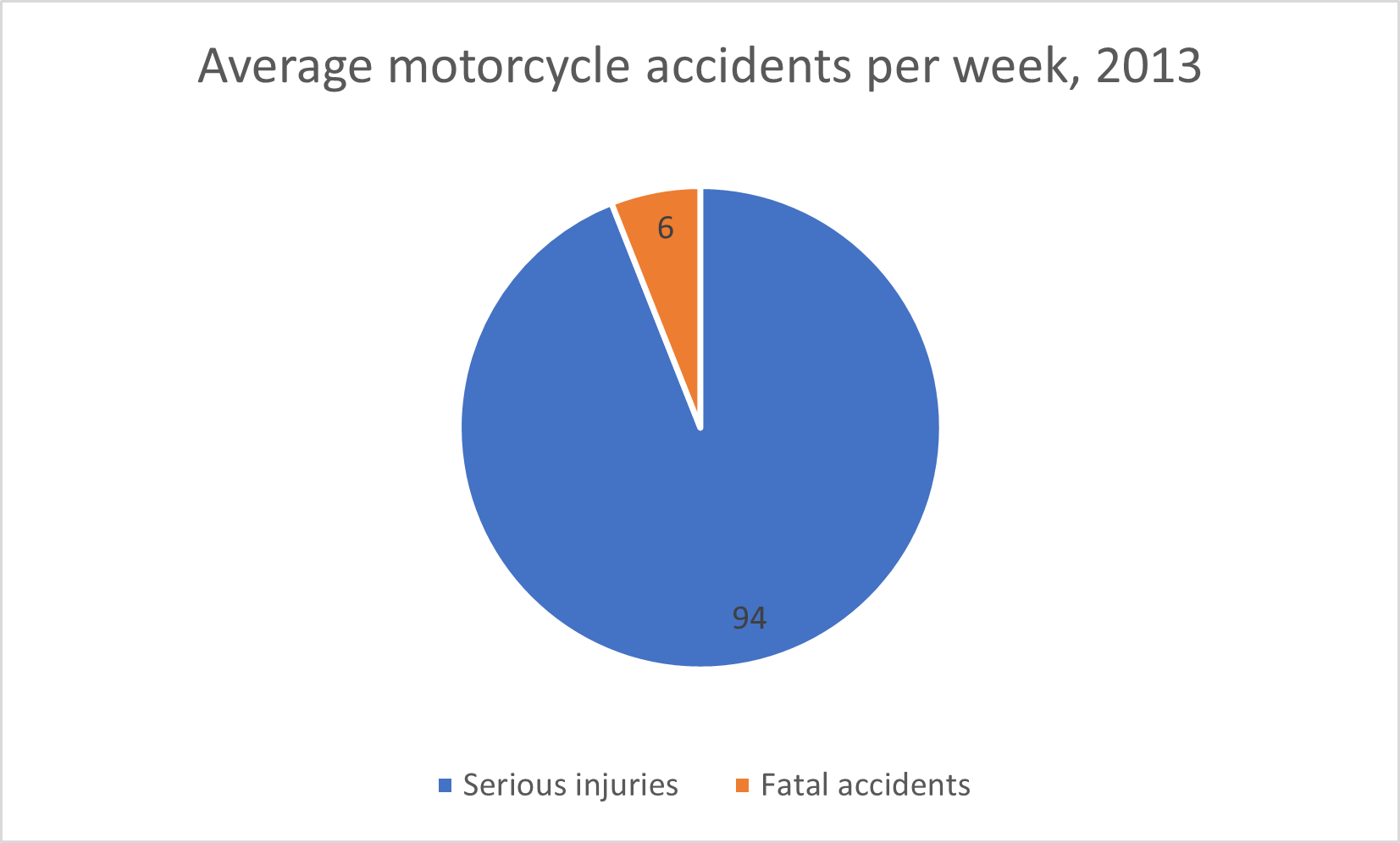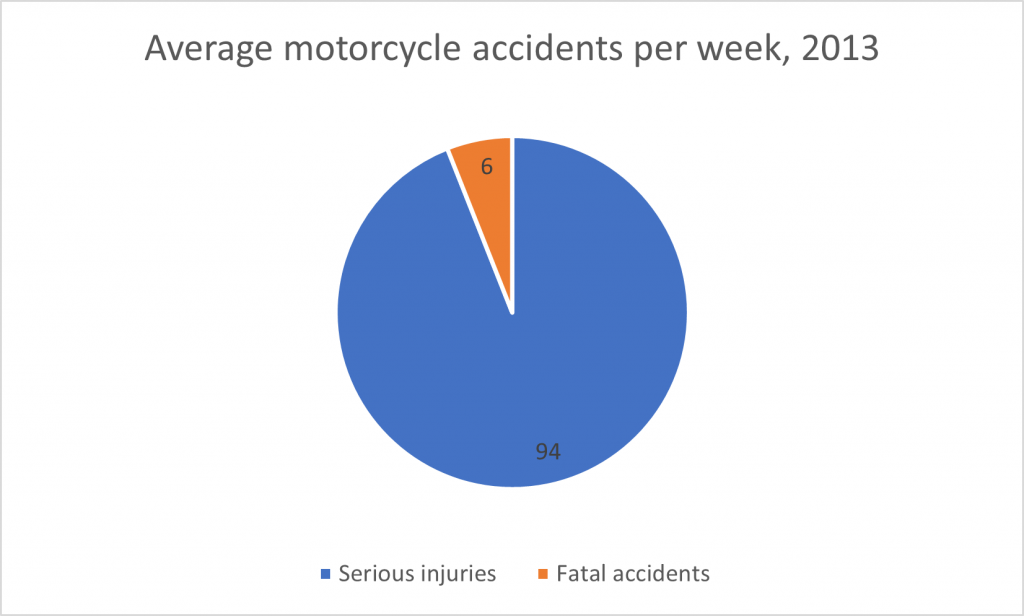 Broken Metacarpal – Evidence Examples
As we've said, medical evidence of your injury could be helpful to you if you choose to make a claim. This could prove you suffered a metacarpal fracture and the symptoms you experienced.
Outside of evidence of your injuries, evidence that shows how the party you are claiming against was liable for your injuries could also help you. For example, you could collect evidence of how your metacarpal break had occurred or of the hazard that caused it in the form of:
Pictures
CCTV or similar recordings
Contact details of witnesses to your accident.
Additionally, you can collect evidence of how your injuries have affected your day-to-day life to support your claim. If it applies to you, you could present:
Receipts of any relevant spending towards your injury
Payslips or bank statements that could show that your income was affected
Please reach out to a member of our team if you would like to receive personalised information about the evidence you could collect for a potential broken metacarpal claim.
How Do Compensation Calculators Work?
General damages, as mentioned earlier, account for the pain and suffering caused by your injuries. There is a publication known as the Judicial College Guidelines (JCG) that is updated on a semi-regular basis. It was last reviewed in 2019.
These guidelines are essentially a list of injuries and what they could be worth in compensation. These guidelines take into consideration the severity of the injury and how long recovery is likely to take. 
How Much Could I Be Awarded For A Metacarpal Fracture?
Typical payouts for a personal injury at work or in public can vary a great deal depending on your individual circumstances. For this reason, it's difficult to give one answer to the question "how much could a metacarpal fracture be worth?" without knowing more about the circumstances of the accident and the details of the injury. 
In addition, the special damages head of your claim will vary depending on the costs you have incurred as a result. 
Metacarpal Fracture Compensation Calculator
Below, we have included a table containing some example figures from the Judicial College Guidelines (JCG). Your final general damages payout could be worth more or less than the figures listed. These are, however, the figures from the most recent edition of the JCG.
| Injury | Description | Amount |
| --- | --- | --- |
| Hand (a) | Total loss of both hands - higher amounts tend to be awarded to those where prosthetic limbs cannot be used effectively | £140,660 to £201,490 |
| Hand (c) | Total loss - injury so severe that surgical amputation was required - if the hand was your dominant one, then the figure tends to be to the higher end | £96,160 to £109,650 |
| Hand (e) | Serious - higher ends of this bracket will mean the hand will have suffered roughly a 50% reduction in capacity - some fingers may have been amputated and reattached without full function returning | £29,000 to £61,910 |
| Hand (g) | Less serious - crush injury that is severe and function is impaired, but no future surgery takes place | £14,450 to £29,000 |
| Hand (h) | Moderate - soft tissue damage, deep cuts, crush injuries etc. If surgery has taken place but failed, this would earn toward the higher end of the bracket | £5,720 to £13,280 |
| Wrist (b) | Significant and permanent disability, but still with some useful movement | £24,500 to £39,170 |
| Wrist (e) | Uncomplicated Colles fracture | In the region of £7,430 |
| Thumb (s) | Very serious - severed at the base and reattached leaving it useless and deformed | £19,600 to £35,010 |
| Thumb (v) | Severe dislocation | £6,340 to £7,780 |
| Index Finger | Fracture that was quickly mended but grip remains impaired | £9,110 to £12,240 |
To calculate the general damages head of your claim, you will usually be invited to a medical assessment as part of the claims process. Here, an independent expert will determine the extent of your injuries and confirm that they were caused by the accident. They will then compile their findings in a report, which will be used to help value your claim.
No Win No Fee Metacarpal Fracture Compensation Cases
All of the lawyers on our panel offer representation on a No Win No Fee basis. This means that you won't be required to pay your personal injury solicitor if your claim is unsuccessful. You also won't be asked to make an upfront payment to them or to pay anything as your claim is ongoing. 
Following the conclusion of a successful claim, your lawyer's legal costs will be covered via a small and legally capped fee taken from your payout. 
If you would like to know more about No Win No Fee agreements and the benefits that they can offer, get in touch with our team today. If they feel you have a good chance of success, one of our advisors could connect you with a solicitor from our panel. 
How To Get Free Advice
For more information on making a claim for a metacarpal fracture caused by a breach of duty of care, contact us today. One of our advisors will be happy to take your call and offer you free legal advice about making a claim.
Remember, there's more than one way to get in touch with us for free legal advice. Our compensation calculator can accurately value your claim before you call.
Call us on 0800 408 7826

Use the pop-up live chat window in the bottom right corner

Contact us

through our website.
Could We Help Calculate Your Compensation?
You may not be familiar with the process of using a metacarpal fracture compensation calculator to value your injuries. If you have any difficulty at all using our online tool, you can get in touch with our team for guidance and support. 
Alternatively, you can bypass the online calculator altogether and use the contact details above to get in touch with our team. One of our advisors will be able to value your claim for you.
Related Guides
In this section, we've included some links to additional information you may find helpful.
Other Personal Injury Claims Guides You Can Read
Metacarpal Fracture Compensation FAQ
Finally, we've answered some of the most common questions that we're asked.
Is a break and a fracture the same thing?
Yes, they are simply two different words to describe a broken bone.
How do I tell if my hand is broken?
Broken metacarpals can exhibit a number of symptoms. Some common ones include pain, swelling and difficulty moving the injured area. 
How do I check my fracture is healing correctly?
You shouldn't interfere with your cast or brace to check on your healing progress. If you're concerned, you should make an appointment with a medical professional, and they will be able to safely confirm that your injury is healing properly.
When could I go back to work?
Some roles may be easier to carry out than others with a broken metacarpal. If you require the use of both hands to carry out your role, you may need to take time off work. Broken bones will usually take around 6-8 weeks to heal. However, some more complicated fractures could take longer.
Thank you for reading about our metacarpal fracture compensation calculator.
Guide by NB
Checked by RO